F&B
Restaurants and Bars in Singapore: New Menus and Openings in 2020
Published Date
: 22 Dec 2020 12:00

Find out what's new at these restaurants and bars in Singapore
What's new in Singapore's vibrant F&B scene? We've rounded up the exciting new openings as well as new menu launches at some of our favourite restaurants and bars in Singapore.
December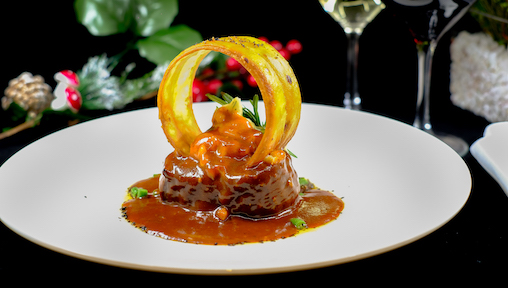 For the first time in 7 years, Shabestan's Executive Chef Hany Moustafa has curated an all-new festive set menu for those looking for a little culinary twist. Priced at S$88++ per person, Shabestan's Festive Set Menu features 7 brand new dishes available from 18th December 2020 to 3rd January 20201, for both lunch and dinner.
Starting with a healthy appetiser, Chef Hany has curated a Christmas-inspired Avocado Salad with beautiful colours of fresh beetroot, orange segments, olives, iceberg lettuce, arugula tossed lightly with cranberry pomegranate dressing. Then, warm yourselves up to a bowl of homemade smoked Cream of Pumpkin soup drizzled with cream and garnished with chopped dill. 
While deciding on your mains, awake your palette with our homemade Saffron Sorbet sprinkled with lemon zest. For mains, choose between the Turkey Skewer marinated with Persian spices cooked over a charcoal grill or the Roasted Wagyu Tenderloin 180 grams served with sauteed vegetables and mashed sweet potatoes.
For dessert, dig into the Vanilla Orange Log Cake with marmalade jam and fresh pomegranate. No Persian meal is complete without a cup of freshly brewed tea and in line of the festive season, we have a cup of Kir Royal Tea infused with blackcurrants and mixed berries.
For reservations, call (+65) 6836 1270 or book online via https://www.shabestan.sg/reservation.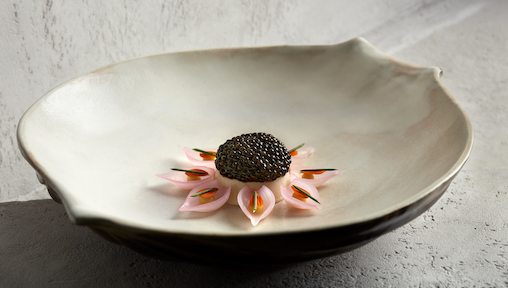 Chef Jason Tan unveils a new chapter of his culinary career with Fine Dining Restaurant Euphoria. Keeping true to his original and unique Gastro-Botanica cuisine, he gives prominence to botanical elements of vegetables, tubers, herbs, spices, and fruits.
In the process of stretching the limits of French gastronomy, Chef Jason introduces Gastro-Botanica Essences – La Symphonie de Légumes – meatless base sauces made from pure botanical extractions and reductions that flavour many of the dishes on the 6- or 8-course dinner menu.
Located on vibrant Tras Street in a conserved shophouse, Restaurant Euphoria is the quintessential stage for Gastro-Botanica with its lush indoor garden; and striking visual evocations of the Onion – Jason's signature vegetable.
The signature dish at Restaurant Euphoria is "Oignon Jamboree" which seamlessly combines various components – evidenced in the delicate Cévennes parfait; lightly pickled pearl onions; a yellow onion purée; and a subtle Légumes Essence broth flavoured with essences of charred onions and kombu; drizzled with spring onion oil, and crowned tableside with Oscietra Prestige caviar that is only served at three leading restaurants in the world and exclusive to Euphoria in Singapore!
Another notable dish is the Carrot with 5 Spice and Langoustine, topped with Légumes Vin Blanc - a sauce, enriched with Iranian saffron and finished off with whipped cream to become light and foamy. Also on the menu is a new invention unique to Restaurant Euphoria – the 'Mochishire' - born of a 'Pão de Queijo' Brazilian mochi bread and Yorkshire pudding. Served with a caramelised onion dip, this bread course is inspired by the French onion soup.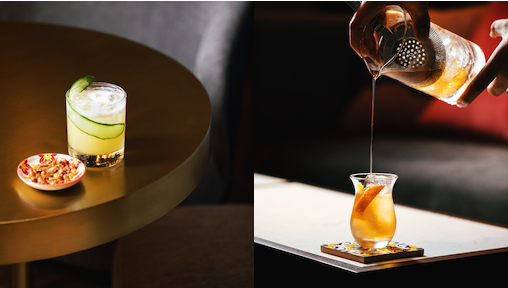 When the clock strikes '5', end your work day and enter the world of Club 5 – so named for that magic hour – for an evening of cocktails. Recently refurbished to reveal a complete transformation into a cocktail bar straight out of the Roaring 20s, Club 5 has an exquisite cocktail programme that proudly embraces the culturally rich areas of Beach Road, Kampong Glam and Bugis.
Unabashedly locally inspired right down to the ingredients and spices used, Club 5's cleverly curated cocktail menu features in-house signature infusions and syrups, ensuring that the cocktails are like none other. Noteworthy are the Coconut Oil infused Tequila – made by freezing both, Club 5 Spiced Rum – a heady 8-hour infusion of dark rum and spices commonly traded in the early days along Arab Street such as nutmeg, cinnamon, cloves, cardamom, allspice berries and gula melaka; and the intriguing Kebab Syrup which is a mix of local spices.
The masterpiece on the cocktails menu – and a signature drink – is the Nasi Lema'rgarita (SGD20) which features the housemade Coconut Tequila shaken together with Spicy Pandan Syrup infused in-house with chilli padi, lime juice, dry curaçao and cucumber, and served with peanuts and anchovies to complete the experience.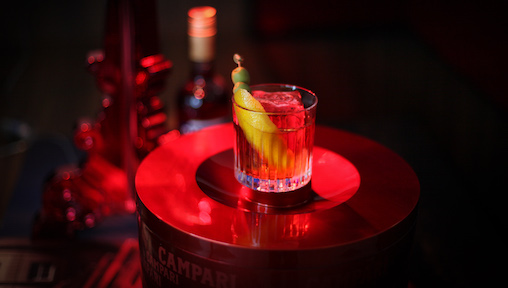 InterContinental® Hotels & Resorts across South East Asia have collaborated with Campari to launch a series of Sala Spiritello pop-ups. The partnership between the two luxury icons will also see the birth of a brand-new InterContinental Negroni, created exclusively by Campari's Regional Brand Ambassador for South East Asia, Symphony Loo.
The specially created InterContinental Negroni – Sala Spiritello edition is made with Campari, Cinzano Bianco, Cinzano Rosso, Bulldog Gin, Olive Brine, Jasmine Tea, Coffee Orange and Chocolate Bitters.
Affordably priced at just SGD 16++, other cocktails include the simple Campari Seltz with soda; Piña Shakerato with Campari, Fresh Pineapple Juice, and Coconut Oil; Cidino with Campari, Cynar, Fresh Grapefruit Juice, Fever-Tree Tonic Water; and Aero 2.0 with Aperol, Averna, Wild Turkey Bourbon 101.
Pair your drinks with snacks such as Potato Mushroom Quiche, Italian Parma Ham & Melon, and Chocolate Bomboloni.
The Sala Spiritello pop-up will run through 31 January 2021 at The Lobby Lounge, InterContinental Singapore.
November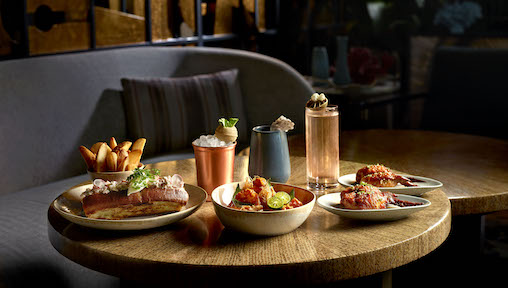 Following the bar's recognition as one of the best bars in Singapore with the Volume Two menu, MO BAR launches the third volume of its cocktail menu. 
In a time of less travelling and limited nomadic movement, the team embraced the new normal. A line-up of virtual exchanges with renowned regional bars such as Vesper in Bangkok, Alice Cheongdam from Seoul, The Curator in Manila, New Delhi's  Sidecar and more have inspired each cocktail. Following the format of previous menus, an illustrated star map introduces the collection of cocktails, with symbols indicating how strong each drink is as well as the glassware you'll be served in.
We highly recommend the locally-inspired cocktail, Thunder - a thunder tea rice-inspired beverage integrating Singaporean gin from Brass Lion Distillery, rice and herbs, served in a locally made ceramic mug. Travel to more exotic locales with Seoul's White Rabbit - tomato, kimchi and black garlic with tequila. You can also get the mocktail versions of these drinks!
The Insta-worthy cocktail has got to be the colourful Sarimonak - blending flavours of Lanao with rum, mango and citrus, topped with a picture of an Asian mythological creature. Transport yourself to Jakarta with the Moka - a sweet blend of rum, chocolate and banana.
To accompany the cocktails, a selection of bar snacks, larger specialities and sandwiches are available. Popular dishes such as Singdog, Laksa with lobster, and Tiger Prawns remain on offer. For vegetarian dishes, you may opt for the Vietnamese Rice Rolls or plant-based MO BAR Burger with an Impossible Burger patty.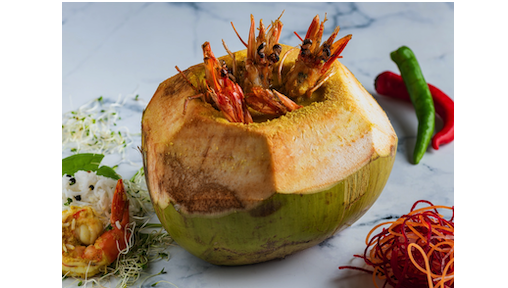 Yarana is a story of two friends who came together to bring a new dining experience to Singapore. Meaning friendship in Hindi, the menu at the latest entrant on the Stadium Walk offers a blend of high cuisine with casual street food, in a vibrant setting. 
The fully stocked bar with a variety of cocktails also boasts the city's first liquor-infused popsicle menu. The Signature Gin Delhi Belly 'Banta' Cocktails- Indian Soda Pops are made in a variety of flavours with non-alcoholic versions available for the young ones. These cod-neck bottles are filled with handcrafted concoctions and carbonated on-premises. The fun doesn't end there as Yarana bring Delhi's favourite summertime creation to the island- The Chuski. Similar to Singapore's version of ice-kachang, The Chuski is a shaved ice lolly- doused with spiked concoctions, perfect for hot weather days. 
The food menu at Yarana has been curated to offer shareable selections. The 'Junglee Jodi' Crazy Buddy Duos come in pairs are ideal to share with a drinking buddy at the bar. The Chai and Chaat platter is designed to transport you back to the streets of Old Delhi complete with the old fashioned kettle and 'cuttin' glasses.
Barbeques and tikkas reign supreme with a solid selection for both meat-eaters and vegetarians.  Expect the unexpected with Currie and Burrito Bowls and Indian-style Tacos, with plenty of usual Indian fare like Mutton Roganjosh and Butter Chicken on the menu too. A special mention for the sublime Daab Chingri - prawn in a mustard gravy served in a coconut. Don't forget to ask for Chilly Cheese Naans as accompaniments!  
When it comes to desserts, they are anything but usual.  The Bun Gulab Jamun comes with 'desi ghee' clarified butter and jaggery seared soft buns stuffed with the classic Gulab Jamun. Or try the highly Instgrammable Flaming Ladoos - Vodka infused Gram flour balls set alight on serving!
Bonus points for being Pet and Kid-friendly, with outdoor seating by the riverside!
Opening specials at Yarana include 1-for-1 Beer and a Weekend BrunGin all-you-can-eat Brunch menu at SGD30++ per pax and 5 Gin Tonics at SGD20++.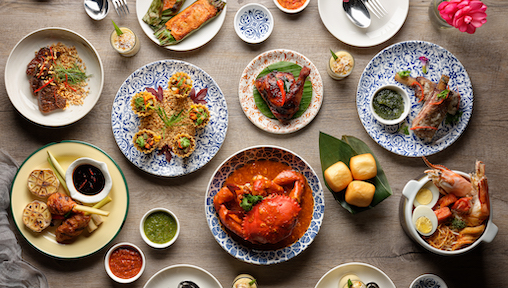 After extensive renovation, Ginger has unveiled its newly refurbished all-day dining concept that celebrates tropical beauty. Think lush greenery within the restaurant and botanical-themed wallpaper and decor. Ginger is offering an á la carte buffet that showcases the best of Singaporean flavours.
Start off with Crisps and Crackers accompanied by delicious homemade sambal. Ginger restaurant's Dried Shrimp and Garlic Cream Cheese Bun is every carb lovers dream.
Satiate all your cravings for local delights – including the Signature Crabs (Chilli, Pepper and Kam Heong) that were a wildly popular free-flow favourite from before; Slow-braised Beef Rendang; Singapore Laksa with River Prawns; Hainanese Chicken Rice; Stir-Fried Hokkien Prawn Noodles; Singapore Rojak; Chendol Ice Cream, and so much more.
There are also western options – the Impossible Burger; Salmon with Saffron and Seafood Ragout; 24-Hour Braised Angus Beef Cheek with Asparagus; and Chicken Roulade with Mushroom Stuffing and Potato Puree.
The Ginger á la carte Buffet is available for lunch on Saturday and Sunday, 12 to 2.30pm; and for dinner from Wednesday to Sunday, 6 to 10pm.
October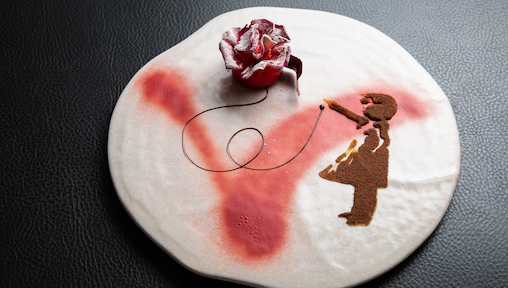 V-DINING by V-ZUG is located at Scotts Square. The laid-back fine dining restaurant with floor-to-ceiling windows and a bustling open kitchen taps on the energy of being in the heart of Orchard while offering views of the hustle-bustle in town.
The new executive chef of V-DINING by V-ZUG, John-Paul Fiechtner (or JP for short), debuts with a bold new multi-course menu that steers away from classic fine dining conventions. While it is adventurous and defiantly casual, JP's cuisine remains refined. Chef JP is quick to point out that a refined cuisine does not have to rely on flashy ingredients nor the elaborate trappings of fine dining convention. Drawing from his over two-decade-long culinary career that has taken him across the globe, the Australian chef blends his classic European training with innovative modern techniques and flavours that reference multiple cuisines and cooking techniques. Unlike most restaurants that boast commercial kitchens, the culinary team at V-DINING creates the entire dining experience using V-ZUG's state-of-the-art Swiss home appliances in the kitchen.
The multi-course menu opens with the Oyster Pearl, Nasturtium Kimchi. A playful imagination of what a pearl from someone's necklace would taste like if he could eat it, it is also Chef JP's subtly subversive nod to the convention of opening a fine dining meal with oysters.
One of our favourite dishes from the menu is the Braised Taro, Parmesan, Onion, Braising Liquor. Chef JP has taken the humble taro, believed to be native to southeast Asia, and demonstrated that even a familiar and commonplace ingredient can be elevated and transformed into something surprising and delicious.
Towards the end of the meal, you can delight in three sweet desserts, starting with the Rose, Plum, Raw Cacao that takes its form as art on a plate inspired by Banksy. This is followed by a deceptively simple yet flavourful Brown Rice and Miso Amazake Ice Cream with tea-smoked olive oil and mandarin. Finally, the menu draws to a close with Roast Jerusalem Artichoke, Grapefruit, White Chocolate. The flesh of slow-roasted Jerusalem artichoke is scooped out and turned into a sweet creamy custard before it is filled back into the skin that has been dried and coated in caramelised white chocolate.
A vegan menu is also available for those who wish to try plant-based dishes thoughtfully created by Chef JP. One of the highlights on this menu is the Salted Baked Beetroot with aged pear, pickles and preserves.
Enjoy KOMA's set lunch menus priced from S$39++, choosing from a selection of favourites that include the Bincho Sakura Chicken served with cherry tomatoes, crispy shallots and steamed rice and the unmissable Wild Mushroom Fried Rice with shiitake, shimeji and maitake mushrooms with koshihikari rice. We added on the Crispy Tokyo Gyoza and Miso Glazed Eggplant that were delicious. We highly recommend going with the 3-course set lunch menu for S$49++, which includes desserts and do try their Japanese Cheesecake with Strawberry Sorbet that is simply outstanding. It's best to dine as a group so you'll be able to share all 3 dessert options which includes their signature Bonsai, which is filled with molten dark chocolate and crunchy praline and Lemon Yuzu that's a perfect palate cleanser. 
There's also a refreshed cocktail menu at KOMA to look forward to, as the restaurant introduces several handcrafted cocktails, including a new signature cocktail, KOMA Phoenix - a refreshing mix of tequila, chilli umeshu, agave nectar and lime juice. Other new additions include the Sakura Spritz with Brachetto d'Acqui, Prosecco di Valdobbiadene and Sakura vermouth, and the spirit-forward Shiso Negroni, KOMA's rendition of the classic negroni using distilled umeshu and shiso.
For reservations, call (+65) 6688 8690 or e-mail [email protected].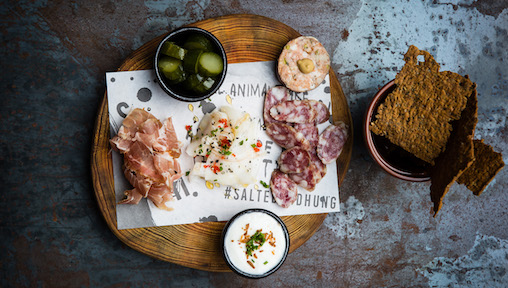 Contemporary Australian restaurant, Salted & Hung presents a new tasting menu guided by Chef Drew Nocente's philosophy of 'minimal-wastage'. The menu revolves around creative usage of every ingredient, showcasing the beauty and functionality of the forgotten.
The 7 to 10-course tasting menu starts with bite-sized snacks such as Fish & Chips which brings an elevated style of the good ol'British classic using textures of Chickpea, pea puree and Amur Caviar. Other highlights include The Jerusalem Artichoke - a party of fresh vegetables, wing beans, fresh seaweed, toasted buckwheat, confit egg and mushroom dashi; as well as the Green Lip Abalone, lightly grilled over Bincho-tan charcoal, finished with sourdough essence reduction and a side of lemon gel.
Other dishes on the menu include Salted & Hung's house-cured Charcuterie selection, and honestly one of the best desserts we've had in a while - the Gold'n Gaytime. This is a play on one of Australia's most iconic ice-cream, re-invented with Salted Toffee, Almond Honeycomb and Wattle Seed Chocolate Crème.
September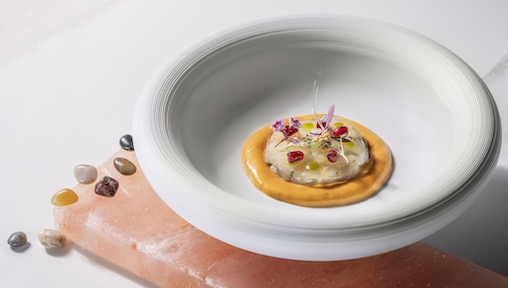 Italian restaurant Forlino is now Riviera Forlino, a new concept that celebrates Mediterranian cuisine inspired by the coastal flavours of the French Riviera. Set against the scenic backdrop of the Marina Bay waterfront, your delicious meal is accompanied by panoramic views of Singapore's stunning skyline.
Riviera Forlino's new menu is conceptualised by the star-studded pairing of Executive Chef Rémy Carmignani and Executive Pastry Chef Nicolas Vergnole. Highlighting Mediterranean cuisine's speciality which is fresh fish and seafood, the dishes are innovative and exciting. Our favourite dish by far was the Wild-Caught New Zealand Langoustine with tomato jelly, tomato vinaigrette and young shoots - fresh, zesty, and a symphony of well-balanced flavours.
Riviera Forlino serves up the Lobster & Shellfish Bouillabaisse with blue lobster, scallops and tender fresh catch, garlic parmentier and a tarragon and orange crust topped off with tableside service of lobster soup, elevating this dish from a lowly fisherman's stew into an otherworldly experience.
End of your meal with stunning desserts like the Riviera Vacherin, a product of Chef Remy and Chef Nicolas' first collaboration after they were both inspired by Chef Corrado Assenza's Ricotta Di Pecora Pistachio gelato dessert that was featured in an episode of Chef's Table: Pastry. The Riviera Vacherin features ricotta di pecora gelato that is complemented with Sicilian pistachio chantilly, Amalfi lemon gel, and meringue.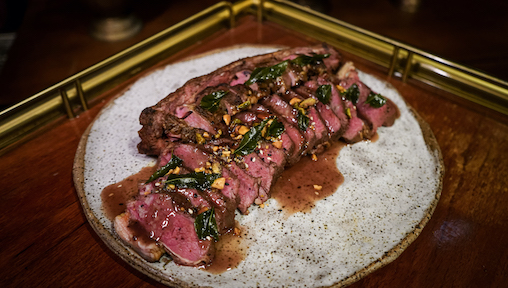 Modern Middle Eastern restaurant Fat Prince, has always defied tradition and changed the way we've viewed Middle Eastern cuisine. The new and updated dinner menu at Fat Prince pushes the envelope further with appetite-whetting mezzes, succulent roasts and grilled kebabs.
Start off the meal with Fat Prince's selection of Mezzes including the Grilled Octopus with fennel, arugula, and walnut crumble or try the newest variation of their signature hummus, the Sweet Corn Hummus, made in-house and served with semi dried tomato and crispy curry leaf. Additions to the house-grilled kebabs include the smoky Harissa Prawn Kebab with turkish hot sauce, watermelon, and buckwheat and the Roasted Pumpkin Kebab featuring pickled pumpkin and smoked cheese.
Stars of the show are the three new meaty dishes perfect for sharing and prepared in a traditional earth pit oven: Omega Lamb Porterhouse with Moroccan 7-spice, pistachio dukkah and juniper; fall-off-the-fork Wagyu Beef Cheek with fermented chilli, zata'ar and walnut crumble; as well as Iberico Pork Rack with turkish coffee, szechuan peppercorn and zhoug. The meats are slow-roasted in a custom built, underground oven that cooks in temperatures of up to 450°C and allows the meats to braise in their own juices. 
End off the meal on a delightfully sweet note with the Milk and Cookies Cake or the sinfully-moist Chocolate Cardamom Cake. 
Not to forget, their signature 'Koktails' that deliver bold, unique and creative flavours through a variety of styles. Try the Gimlet 100 with roku, japanese cucumber, cordial, citrus or the heady Negroni Rouge, a beefeater, mancino rosso, peppercorn, juniper concoction created to please. 
Want to have your own house party? Welcome Fat Prince in your home, where you can celebrate with friends or family with their House Party package that takes care of prep, food, drinks, cutlery, glasses and even cleaning up! You'll also get their playlist, pillar candles, candelabra and frankincense oil burners to get that Middle Eastern vibe going.
July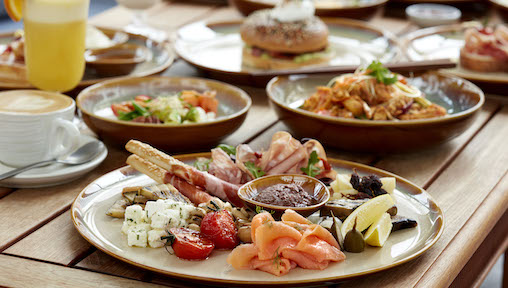 The recently renovated iconic Raffles Hotel Singapore houses an alfresco dining venue - Raffles Courtyard - which offers weekend brunch in a lush landscape right in the middle of the city.
You can indulge in a selection of fresh patisseries straight from the bakery, local delights and a hearty spread of contemporary dishes. Choose from hearty brunch classics such as Smok noed Salmon Tartine; healthy Yellowfin Tuna Tataki Bowl; or Asian favourites including Nasi Lemak and Seafood Mee Goreng. Going for brunch with a small group of friends? Get the Antipasti Platter to share. Pair your brunch with cold-pressed juices and nutritious smoothies.
The new weekend brunch menu is exclusively available on Saturday and Sunday from 9.30am to 3pm.
The first restaurant in Singapore to combine the taste of India with fixed roots in American barbecue, Meatsmith Little India offers an interesting fusion of barbecue with an accent of Indian flavours.
The menu at Meatsmith Little India combines the technique of slow cooking and barbecue, using wood and fire to grill, smoke, char, roast and burn the best ingredients from the local Tekka market and around the world.
We've been fans of their existing menu and our favourite dishes are their Crab Biryani, Madras Pork Cheeks and Veal Brisket Chapati which you can still order. 
We were really impressed with their Tasting Menu which is well priced at SGD85 and you can opt for an additional cocktail pairing for SGD65. Our favourite dishes include Potato Pani Puri with Coriander, Biryani Nigiri, Leek and Foie Gras, Brisket Donuts, Fish and Chips, Tandoori Beef Cube Roll and the list goes on.
We're not going to spoil the surprise for you as you guess each dish and the flavours of the cocktails with alcoholic twists such as honey + tea, coconut + mango, coffee + sakura and more. We had good fun guessing the alcoholic base of each drink and the various flavours that was just bursting with each sip.
Stellar presents an all new alfresco dining experience at 1-Altitude's rooftop. Located on the 62nd level of One Raffles Place, you can now indulge in a gastronomic dining experience matched with unobstructed views of Singapore's cityscape.
With both à la carte and 5-course dinner options available, you can also opt for wine pairing to complete your dinner experience. Arrive at 6.30pm, just before sunset, and start your evening with wine or cocktails. If you're lucky, you'll get a beautiful sunset dinner experience which can get really mesmerising.
Here is the list of dishes we tried and enjoyed:
German Smoked Eel with Asparagus charred over wood fire, parmesan cream, chives and Greek feta sprinkled over it (SGD28++)
Pickled and braised Devesa Argentinian Angus Beef Tongue that was brined for 3 days and then braised with vegetables and dressed with herb vinaigrette, finely chopped carrot, zucchini, bell pepper, shallot, capers, gherkins and lemon zest (SGD29++)
Seared Canadian Scallops with roasted sweet potato, red endives, Australian Avocado, herbs and toasted pine nuts (SGD32++)
Sustainable Red Snapper with Allium, Anchovy Shallot Butter, Poached Leeks and Hazelnuts (SGD38++)
Tasmanian Ocean Trout with Zucchini, Kampot Peppercorns, Pickled Red Cabbage with Chive Butter Sauce (SGD48++)
1kg Wood-fired Sanchoku Wagyu OP Rib with Thinly Sliced Nicola Potatoes Cooked in Goose Fat and Garlic, Pickled Carrots and Charred Kale to be shared (SGD220++)
We tried all 3 desserts which were presented in a Dessert Art format consisting of their Pavlova, Chocolate Cloud, Floral Infused Marshmallow, Kaffir Lime Leaf Curd, Coconut Sable Wheel that are SGD18++ each.