It has been almost 10 years since the end of Sri Lanka's civil war and Sri Lanka has been named as the top country for travel in 2019 by Lonely Planet. The country has a lot to offer and explore for tourist, which can easily take days up to weeks. Yet, something to include in your travel itineraries is whale watching in the South of Sri Lanka.
We travelled from Galle to Koggala Airport which took less than 30 minutes in a 'Pick-Me' cab in order to experience whale watching in Sri Lanka for ourselves. Koggala Airport was originally a Royal Air Force Station and is now used by F-airways and the Sri Lankan Air Force.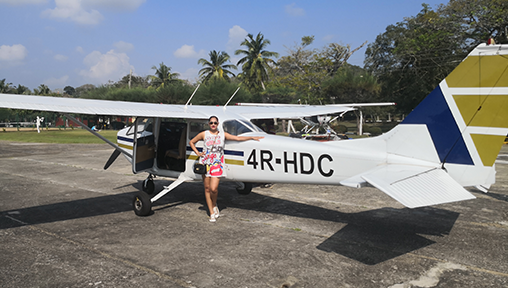 Scenic Views
The first thing that blew our minds was the breathtaking view of the entire South Coast of Sri Lanka. We could see the beaches of Mirissa, Unawatuna and Galle which is a scenic composition of several different hues of blue and turquoise. We had visited these places the day before but our view from the sky gave us a whole new perspective to it and to Sri Lanka's natural beauty.
We were flying over the Indian Ocean, about 20 miles off the coast at 500 plus feet, trying to spot a whale and we saw over 15 boats filled with tourists in the ocean. When we spotted a whale, it took our pilot a few seconds to bring us closer to see the blue whale up close but within a safe distance so as not to disturb the whale in its natural habitat. It was an incredible experience watching the 70 to 90 feet Blue Whale breathe at the surface from its blowhole. This whale watching experience immediately became the highlight of our Sri Lankan trip.
What really disturbed us while whale watching was how the boats were aggressively trying to chase the whale, and due to their sudden acceleration, instead of breathing for a minute, the whales dove into the water in less than 30 seconds. It is also concerning to know that the whales are starting to swim further away from the coast as their natural habitat is currently being disturbed by boats.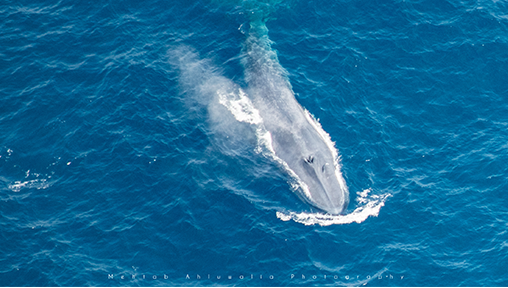 Observing the majestic nature of the largest mammal in the world, the Blue Whale, from an aerial point of view and seeing the natural beauty of the South coast of Sri Lanka has got us in love with this country all over again. We absolutely recommend adding whale watching in Sri Lanka to your bucket list the next time you visit.
Whether you're a solo traveller, a couple travelling together, or families with children, F-airways has flights 7 days a week that starts from 8.00am till 3.30pm. Whale Watching in Sri Lanka with F-airways starts from USD$150 per person for 45 minutes. It is USD$90 for children between 3 - 14 years old.