F&B
Non-Alcoholic Drinks in Singapore To Quench That Thirst
Published Date
: 18 Aug 2022 10:00

Thirst-quenching zero alcohol beers, teas, iced coffees, wines and more to cool down in the sweltering heat
Beat Singapore's heat with these thirst-quenching summer coolers! From refreshing bubbly non-alcoholic drinks and classic alcohol-free cocktails with a twist to iced teas and flavoured iced coffees, these non-alcoholic beverages will cool you down while keeping you hydrated. 
As seen in recent news, there has been a surge in people opting for zero-proof or low-ABV(alcohol by volume) beverages in Singapore. Some say its down to the alcohol restriction during the pandemic, while others suggest health concerns as a major factor for the shift. Regardless of whether you need that post-holiday detox or are just looking for non-alcoholic drinks to quench your summer thirst, you will find a wide range to satisfy every craving.
To save you some time, we have collated a list of the best non-boozy drinks you can get to cool down in the heat. Scroll down and score your favourite alcohol-free drink in Singapore today!
Summer is in full swing with TWG Tea's newest Summer Holiday Iced Teabag Taster from the Iced Teabag Collection. A refreshing invitation to a chic summertime soirée, enjoy the endless days of summer with chilled teas and perfect accessories for the tea table.
Beat the summer heat with TWG Tea's selection of exclusive blends and whimsical varieties of iced tea bags. Inspired by the trends of the summer season, this Iced Teabag Taster is filled with an assortment of 15 invigorating varieties, including some of our most beloved tea blends like 1837 Black Tea, French Earl Grey, Cocktail Hour Tea and Eternal Summer Tea. Large hand sewn iced tea bags in the shape of the summer sun showcase the beauty of our whole leaf teas and give ample room for the leaves to expand during infusion. Extra-long strings thoughtfully allow you to infuse your tea bag directly in a large carafe or jug.
Beautifully packaged in arctic blue, this sleek gift box slides open to reveal a colourful curation of 15 handcrafted iced tea blends which will uplift the senses and refresh your palate on warm summer days.
https://www.freespirit.com.sg/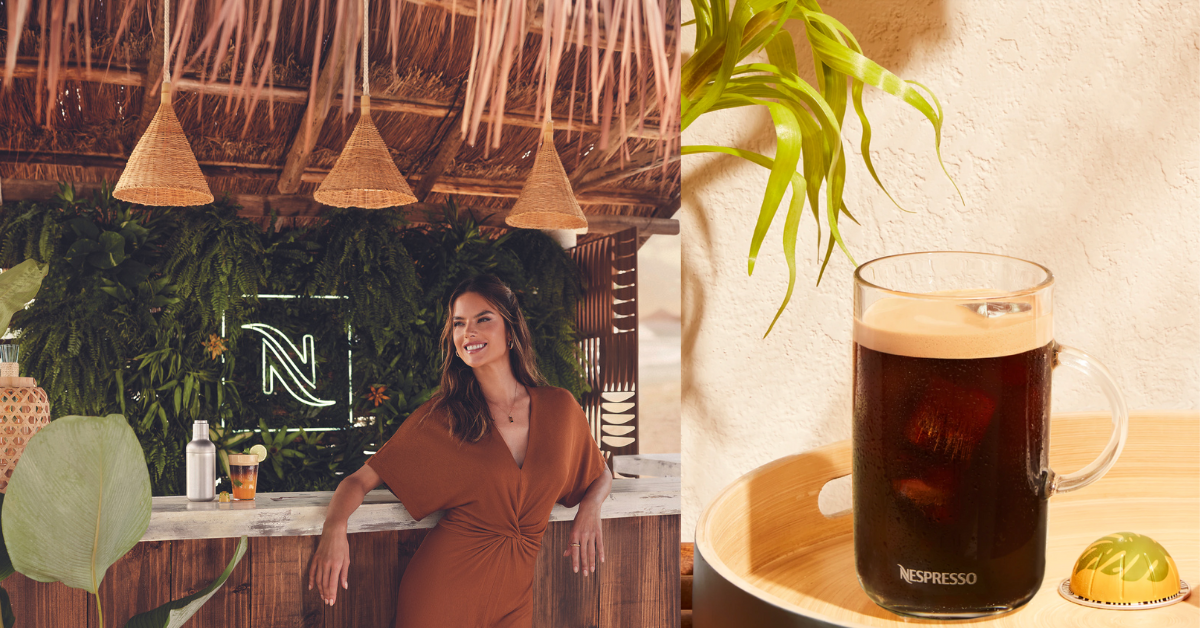 ​Nespresso Summer Collection
Nespresso's summer 2022 collection has arrived, making waves with a tropical Brazilian-inspired range and fronted by Alessandra Ambrosio as the campaign's muse. Inspired by the delicious flavours of the tropics, lime, mint and coconut take centre stage, resulting in the refreshing new Barista Creations Liminha over Ice and Coconut over Ice flavoured coffees. The sunlight lemon yellow and tropical leaf print that adorns Nespresso's latest summer designs also pays homage to Brazil's vibrant landscape, ready to unite coffee lovers globally through positivity and good vibes.
In addition to embodying positive vibes, the campaign encourages coffee lovers to make time for wellness practices. To channel this mindful energy, Nespresso will put forward positive mantras throughout the summer season, with two of them – 'Brew, Breathe, Bloom' and 'Inhale, Exhale, Enjoy' to be featured on limited edition coffee mugs.
This year's refreshing additions to the Nespresso Barista Creations for Ice range are tropical lime and mint sensations that'll keep the heat at bay. The Liminha over Ice flavour is inspired by zesty Brazilian flavours and is accompanied by brand new innovative recipes for indulgent iced coffee moments to enjoy in the tropical Singapore weather. The new coffee is available alongside the popular Coconut over Ice Flavour that is making a comeback.

Nespresso's thirst-quenching summer coffee recipes can be found at www.nespresso.com/recipes.
Are you looking to decrease your alcohol intake but not miss out on any fun while socialising? As Singapore's biggest alcohol-free bottle shop, Free Spirit are home to some of the finest non-alcoholic beverages from around the world.
Born when two female entrepreneurs discovered a problem in Singapore – the lack of alcohol-free drink options, Free Spirit offers a carefully curated list of alcohol-free beverages that taste as good as the real thing. To make drinking an inclusive activity for non-alcohol drinkers, Free Spirit makes it easy and accessible for all to enjoy incredible drinks without any hangovers. 
Take a whiff of the Zero Point Five Pinot and appreciate the well-balanced scent of red currants and strawberries met with well-structured tannins. With a dry finish and a rich taste that showcases all the distinctive characteristics of a classic pinot noir, you would not believe that it has only 0.5% alcohol! Get ready for a cosy comforting evening as you pair this aromatic wine with a meal of lamb and grilled vegetables. 
For a fizzy pick-me-up throughout the day, the Drop Bear Tropical IPA Beer is sure to pack a punch. Vegan and gluten-free, this traditionally bitter alcohol-free beer is perfect for IPA lovers. With an alcohol percentage of 0.3%, the Drop Bear Tropical IPA has a strong roasted coffee and dark chocolate base with blasts of passion fruit, stone fruit, and citrus. The best part? Feel free to indulge in this without worrying about a beer belly and horrible headaches. 
Shop on their website and enjoy free next working day delivery for orders over S$80 placed before 5 pm! 
Still in your 'post-covid' celebratory dinner and drinks phase? You will be glad to find a better and healthier way to celebrate with your loved ones - without missing out at all. Kickstart your sober month by simply swapping out your alcohol for some refreshing non-alcoholic spirits and cocktails from Lyre's award-winning range! Spoilt for choice, explore their 18 non-alcoholic spirits and five ready-to-drink cocktails.
Turn your kitchen island into a bar by having these lovingly crafted alcohol-free beverages to help you impress your fellow cocktail aficionados. Need some help? Why not sign up for the free private mixology lessons with Lyre's brand ambassadors! With over 60+ recipes to choose from, recreate your favourite cocktails at the bar in your very own kitchen. 
Introducing the most awarded range, the beverages are made from a mix of natural flavours, extracts and distillates derived from fruits, botanicals, spices, seeds and other natural sources. Offering a healthier choice with lower calories, and being 100% vegan, nut and gluten-free, their spirits make it so easy for you to stay on track for your sober months! 
Who says you can't commit to sober months when you're out? With Lyre's Store Locator , you can easily plan your next night out without being pressured to have alcohol! Pick your choice of bar from the lists of top bars on our island that offer a variety of non-alcoholic cocktails made up of Lyre's extensive range. Some of our favourites include Manhatten's MARTY'S SOUFFLE which features Lyre's London Dry, lime vanilla curd, cream, egg white, yuzu bitters and soda, or a drink with a whimsical twist – Peter Pan from Revival, a combination of Lyre's Dark Cane, Lyre's Absinthe, watermelon cordial, Vietnamese coriander, and citrus. 
To sign up or learn more about Booze-Free Months, click here.
Offering you the choice of a flavourful, sophisticated and adult option, Seedlip has been embraced by the world as a pioneer of the ever-growing no and low alcohol beverage category. With his first launch of the Seedlip Spice 94 in 2015, Ben Branson's handmade bottles have been well-received and were sold out within 30 minutes of its third launch! 
Rather than mimicking alcohol, Seedlip has chosen a different unique and complex set of plants for different flavour profiles. Upon crafting it with dedication, the crisp and floral Seedlip Garden 108 (S$59) is born. Just like how you would enjoy a gin with tonic, you could also top off 50ml of the Seedlip Garden 108 with tonic and a mint garnish. Did I also mention that it is calorie-free? So you won't have to worry a thing about your waist size as you chug the refreshing drink down on a hot humid day. If you prefer something more citrusy, opt for the Seedlip Grove (S$59) – a zesty and complex blend of three types of orange and uplifting spice distillates. Replace the mint garnish with orange peel to top off the drink! 
Purchase these delightful non-alcoholic spirits from Seedlip here! 
Founded in Singapore, Melati believes in crafting restorative drinks inspired by ancient Asian recipes to influence more to make better choices as they celebrate precious moments in their life. Infused with healthful botanicals from the Far East, the complex flavours of the non-alcoholic drink: fruity, floral and spicy, create an inviting aroma.
Wind down and set the mood with a Classic Starter Set. Priced at S$38, the set is perfect for those new to Melati. Presented in a sleek signature blue box, this friendly gift pack has a customisable handwritten note, recipe card and 200ml Perrier along with the Melati Spritz. Of course, this could be a great gift for a friend who may be attempting to reduce their alcohol intake as well! Enough for four classic serves, the Melati Spritz is best enjoyed with the Perrier to experience the purest expression of Melati's non-alcoholic aperitif. Do also take note that is a Singapore exclusive and its limited edition! Grab it while it's still available and it is undoubtedly a great gift for your friends and family when they come to visit Singapore. 
Known for their "whiskey without the wobble", Monday Distillery allows you to party on all days of the week without having to worry about the morning after. Non-alcoholic and sugar-free, these Australian-made drinks will blow your mind. 
Any whiskey-sour lovers? While this all-time favourite sweet and sour alcoholic drink may be tempting, it is definitely not the healthiest option. For high spirits and clear minds, Monday Distillery's Non-Alcoholic Dram Sour (S$30 for 4x300ml) is fruity and floral with slightly tart notes of perfectly ripe lemon. Mixed with wooden undertones of a finely-aged whiskey, you would have never noticed the absence of the alcohol. 
For passionate and bold flavours, go for Monday Distillery's Non-Alcoholic Paloma (S$30 for 4x300ml) which features sweet citrus notes of finger lime, yuzu, grapefruit and a pleasant tequila taste. Sip on this simple yet refreshing alcohol-free cocktail and have your tastebuds do the salsa. 
The first to create and develop the world's first range of non-alcoholic gin (Sapiir), Brunswick Aces is the destination to go for the same botanical flavour profiles as your usual botanical gins. To make everyone feel welcomed in all social situations, Brunswick is determined to produce inclusive non-alcoholic drinks for non-alcohol drinkers. 
Inspired by savoury fresh gin, the Spades Sapiir 0% Alcohol Gin (S$70) from Brunswick Aces has a delicate flavour and aroma which is perfect to have at dinner. Distilled by using distillation methods from the 17th century, extraction is done meticulously to give Sapiir their uniquely distinct flavours. For something with a little kick, get yourself the Hearts Sapiir 0% Alcohol Gin (S$70). Inspired by spicy warm gin, the Hearts Sapiir is made up of cassia bark and ginger that are beautifully balanced by citrus and native Australian Wattleseed. Packaged in an exquisite bottle, impressed your loved ones by gifting them these 0% Alcohol Gin bottles. 
Surely you have heard of Heineken before! Brewed to be the best since 1873, Heineken has also hopped on the wagon of the alcohol-free trend with the release of Heineken 0.0. For those of you who enjoy treating yourself to a cold bottle of beer in the sweltering heat, Heineken 0.0 will be rejuvenating. A refreshing non-alcoholic lager brewed with a unique recipe for a distinct balanced taste, enjoy the same fruity notes from a regular Heineken bottle but with a softer malty body for the Heineken 0.0. 
Aiming to transform traditionally non-beer moments into opportunities to enjoy a beer(without the alcohol), Heineken hopes to give you the option of grabbing a beer as and when you would like without worrying about the after-effects. To illustrate that moderation and being health conscious can be cool, get yourself that bottle of Heineken 0.0 during your next night out!