Where do you go when it strikes beer o'clock? Mumbai's first franchisable micropub, Kaitlyn's Beer Garden, is a first-of-its-kind beer garden and pub in Bandra offering an exceptional variety of different beer brands along with delicious world cuisine.
From beers on tap including Bira and Kingfisher to bottled beers including Corona, Singha, Hoegarden and Budweiser, Kaitlyn's Beer Garden is an exciting addition to Mumbai's emerging pub and bar scene.
Owner Dhanraj Shinde founded Kaitlyn's Beer Garden in 2016 to create a local community bar where people could have relaxed conversations without blaring music jarring their ears. So, head on down with friends and colleagues after work, as this lively pub in Bandra keeps you company until the wee hours!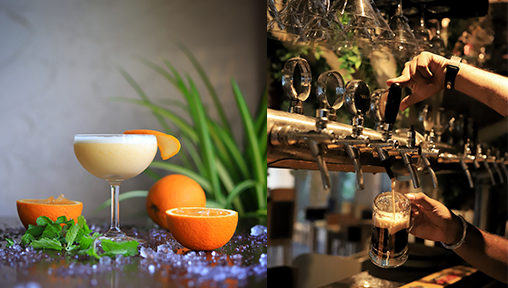 Drinks at Kaitlyn's Beer Garden, Mumbai
Kaitlyn's Beer Garden has something for everyone to enjoy. Indulge in a carefully curated selection of premium beers, cocktails, wines, spirits and more. Keeping guests preference in mind, the creative beer menu has been designed with taste notes. So, if you're not sure what type of beer you like or you're in the mood to try something different, it's the perfect pub to experiment. The range of beers includes lagers, pale ales, Belgian wits, stouts, blonde beers, ciders and over 30 other varieties.
What's a beer pub without beer-based cocktails? The menu features five special beer-based cocktails mixed with other spirits such as dark rum, vodka or whisky offering different flavour profiles from zesty and fruity to sweet and sour.
Another highlight at Kaitlyn's Beer Garden is their innovative mini cocktails with mouth-watering names such as Beetroot with a Twist, Espresso Martini, and Banana Coconut Daiquiri. For those who love their classic cocktails, you'll still be able to get the eternal favourites such as Cosmopolitan, Screw Driver, Mai Tai and Long Island Iced Tea. And if you can't do without your wine, you won't be disappointed either. Here's a tip - try the Floral Sangria for something special!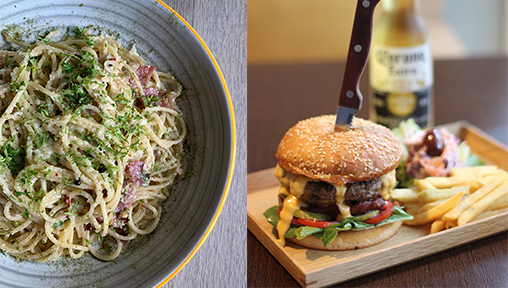 Food at Kaitlyn's Beer Garden, Mumbai
Who doesn't love good old finger-licking pub grub washed down with cold beer? Well-known and awarded chef Karan Bane, with his expertise in continental, world and Japanese cuisines, has curated the classic pub-inspired food menu at Kaitlyn's Beer Garden.
The piece de resistance is undoubtedly their old school classic pub grub burgers. You can also opt for the Parma Ham with Arugula or Uncle Martin's Buff Chilli. If red meat isn't your thing, then take your pick from Texan-style BBQ Chicken Wings or Beer Infused Chicken or the classic Fish and Chips to get you going.
For die-hard pasta lovers, the Tom Yum Spaghetti is an interesting dish to try. Vegetarians can opt for the Cajun Baby Potatoes, Homemade Indian Style Soy Paneer Tacos, Hass Avocado Toast, Uncle Martin's Soy Paneer Chilli and other equally delicious items from the menu.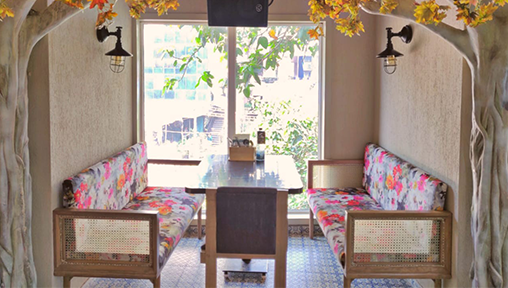 Ambience at Kaitlyn's Beer Garden, Mumbai
Located in the posh locality of Bandra, Kaitlyn's Beer Garden will truly feel like you are dining in an indoor garden. Reminiscent of the French countryside, the pub has pretty floral interiors from its sofa settings to tree archways.
Choose from different seating styles for your different moods - romantic, chatty or casual. The floral decor of the pub also changes twice a year; spring-themed from April to September and autumn-themed with dried maple leaves from October to March.
Events at Kaitlyn's Beer Garden, Mumbai
The pub has weekly events such as Gentlemen's Night every Tuesday from 8pm where blokes can indulge in bottomless beers and cocktails. Every Wednesday is Gin and Tonic night at 8pm onwards.
If you're up for belting out a few tunes, Karaoke Bar Night is every Thursday from 9pm with a discounted bar menu to complement your singing. On Sundays, Kaitlyn's Beer Garden has brunch specials such as Mojito buckets.
Keep updated with their latest happenings on Kaitlyn's Beer Garden Facebook Page and on Instagram at @kaitlynsbeergarden.
Kaitlyn's Beer Garden is a franchisable concept with low capital expenditures and streamlined operations. For franchising enquiries, contact Dhanraj Shinde at (+91) 97699 78255.
Address: 202, 2nd floor, Khan House, Hill Road, Bandra West, Mumbai-50