F&B
Limited Edition Impossible Foods Dishes You Need To Try
Published Date
: 07 Apr 2020 10:00

Try a vegetarian or plant-based diet this month with Limited Edition Impossible Foods dishes from 10 restaurants in Singapore
Impossible Foods wants Singaporeans to see the positive environmental impact of choosing plant-based meat over its animal-based counterpart which is directly responsible for one of the most immediate threats our species face such as devastating climate change.
Impossible Foods replicates the meaty taste and deliciousness that people love by using plant-based ingredients which has a significantly lower environmental impact.
The Impossible Burger (of 113g serving size), compared to ground beef from a cow, uses 96% less land, 87% less water and 89% less greenhouse gasses. For the consumer, this means that eating Impossible meat made from plants saves 7 square meters of land, 3 kg of CO2, and 84 litres of water.
Throughout the month of April, Impossible Foods will be offering customers dishes made with Impossible Foods at restaurants in Singapore. At the end of the month, Impossible Foods will unveil the total sustainability impact across all of the 100 participating restaurants in Singapore, driven entirely by the planet-conscious choices made by Singaporeans.
Here are 10 limited edition dishes made with Impossible Foods to try: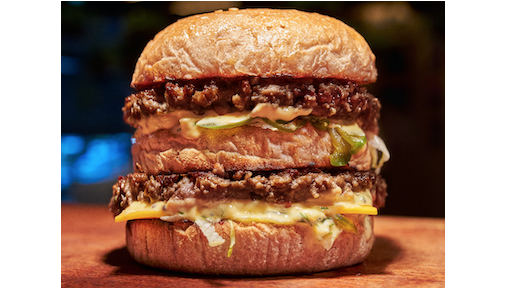 Special Earth Month dishes include a new plant-based menu from Three Buns, featuring new Impossible burgers like the Impossible Hombre (S$26++), a Mexican-inspired stack with Impossible hot chilli and roasted peppers; and Le Big Mock (S$28++), a plant-based take on the famous burger with dill, toasted caraway and vegan cheddar on a toasted mango-flour sesame bun.
Order via Deliveroo from Keong Saik or Robertson Quay.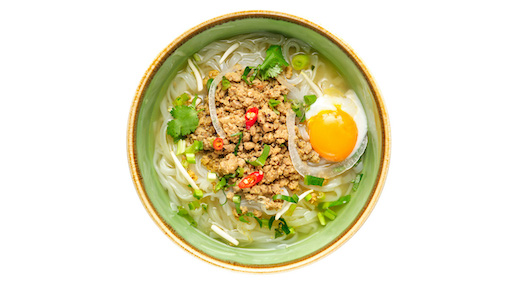 This Vietnamese restaurant in Singapore is set to serve some Saigon street favourites with an Impossible Foods twist.  The Pho Impossible (S$15.90++) comes in a vegetarian broth with a soft-boiled egg; Banh Mi Impossible (S$15.90++) with lemongrass tofu and braised mushrooms; as well as Dry Braised Impossible (S$15.90++) yellow noodles. 
Order via Deliveroo from Wheelock Place.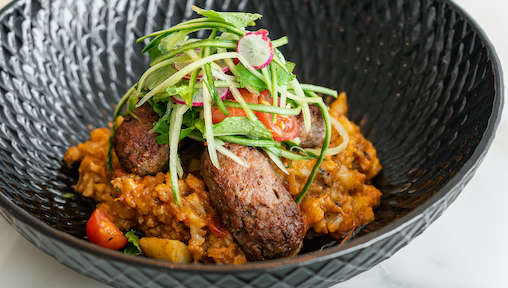 PS. Cafe Impossible Bombay Kofta
PS. Cafe will launch the all-new Impossible Bombay Koftas (S$28++) served with a cauliflower and potato hash exclusively at their Great World City outlet. The cafe is also offering their version of the PS. Impossible Burger (S$32++); PS. Impossible Cheeseburger Wrap (S$21++) at Tiong Bahru Petit; Impossible Meatball Ragu Spaghetti (S$27++) at Harding and Raffles City outlets; and Impossible Bolognese Pizza (S$25.50++) at Fullerton and East Coast outlets.
Order via Deliveroo from Great World City.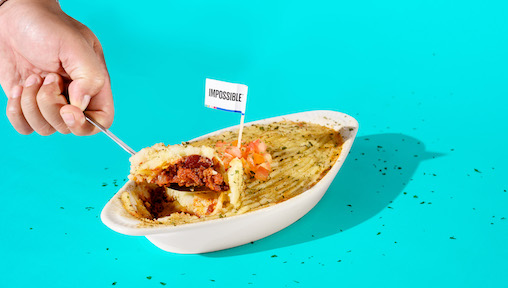 Fatboy's Impossible Cottage Pie
Fatboy's has introduced a delectable Impossible Cottage Pie (S$18++). You'll also get the usual Fatboy's Impossible Cheese Burger (S$18++) served with aged cheddar, lettuce, smoked chipotle sauce on a Carbo-lite Chia seed bun.
Order via Deliveroo, FoodPanda or GrabFood from multiple outlets.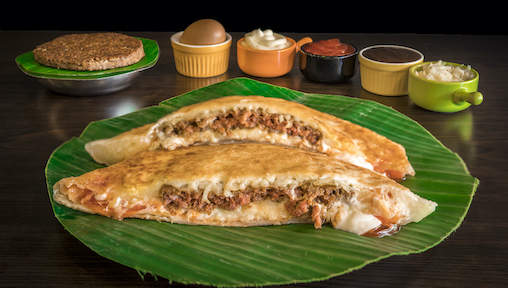 This is a great one to share with the family! Springleaf will introduce its Impossible Foods version of the famed Murtaburger, featuring Impossible patties wrapped in egg, mayo, oozy mozzarella cheese and prata. There's also a vegan version of the Impossible Murtaburger with vegan cheese, vegan mayonnaise, and no eggs (S$10.50++). 
Order via Deliveroo, FoodPanda or GrabFood from multiple outlets.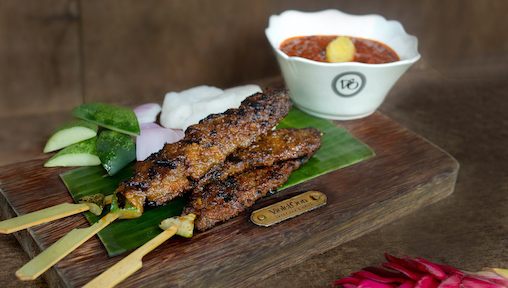 One of the best Peranakan restaurants in Singapore is serving the Impossible Satay (S$17++) - Impossible meat marinated in spices, grilled and served with a spicy peanut sauce topped with grated pineapple, steamed rice cake, cucumbers and red onions.
Order via https://violetoon.com/delivery-takeaway/.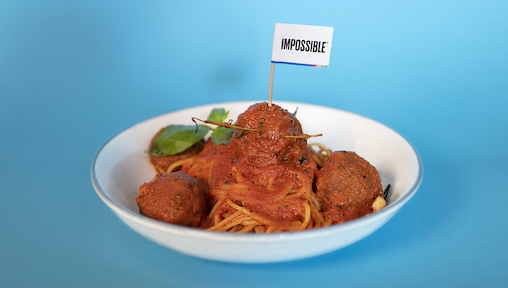 Prive Impossible Meatball Spaghetti
Prive Tiong Bahru has skewed towards plant-based food options that will satisfy even the most die-hard carnivore. The restaurant in Singapore has a number of Impossible Foods dishes lined up on their menu including the Impossible Meatball Spaghetti (S$19++) with tomato ragout and basil. 
Call or WhatsApp (+65) 8621 3661 to place your takeaway orders.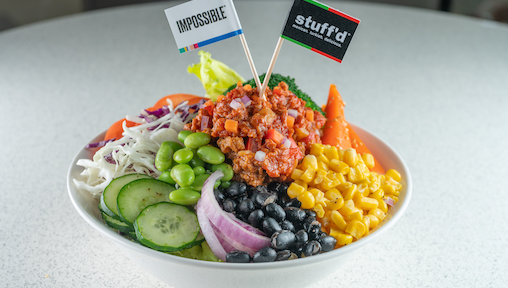 Stuff'd Impossible Daily Bowl
Looking for something healthy and quick? Get your fix at this quick casual restaurant in Singapore that lets you have it your way. Get to choose your base, toppings and sauces with The Impossible Daily Bowl (S$10.50++) from a variety of fresh ingredients.
Order via FoodPanda.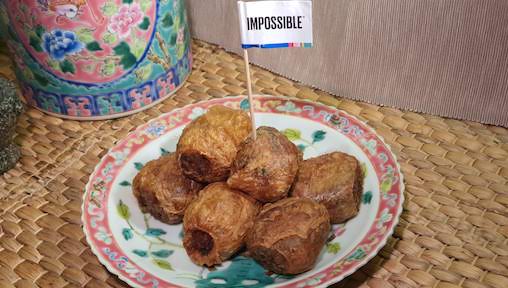 The oldest Nonya restaurant in Singapore has jumped on the Impossible Foods bandwagon too! Straits Chinese's Impossible Nonya Nogh Hiang (S$20++) is made with a fragrant house blend of spices.
Order via https://straitschinese.com/freezepackdeals/.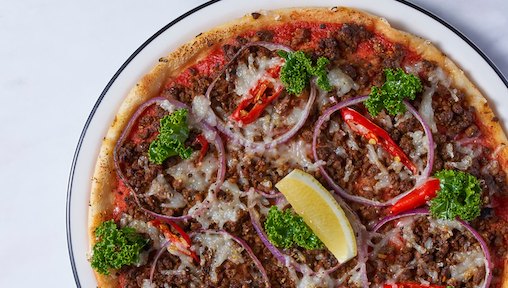 Enjoy Britain's favourite pizza that now comes with an Impossible meats option. The Impossible Curry pizza features Impossible meat with mozzarella, passata, red onion, red chilli, garlic oil and kale, served with a lemon wedge.
Order via Deliveroo, FoodPanda or GrabFood.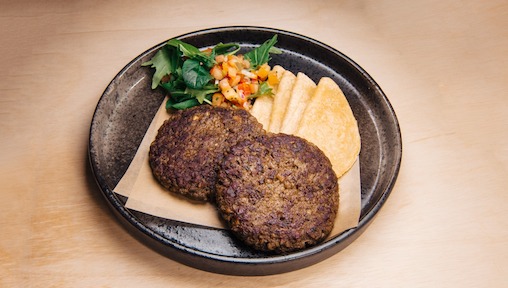 Chimichanga Impossible Carna Asada Hamburg Steak
Craving Mexican food for supper or simply just feeling peckish? Enjoy Chimichanga's signature Carne Asada meat-free steak served with pico de gallo, greens and soft corn tortillas. If you want something to share, the Mexican dive bar also offers quesadillas with Impossible Meat fillings.
Simply order via https://www.chimichanga.sg/delivery, GrabFood or FoodPanda.