Known to harbour some of the best breweries in India, Bengaluru has so many names to boast about and The Bier Library is not just one amongst many but a must-try for beer lovers.
"A library is a place where one finds knowledge. We're a bunch of beer lovers that wanted to create a place where people can learn everything about beer and experience it all under one roof, hence the name,"  says Prashant Kunal, CEO and Founder of The Bier Library.
Located amidst the hype of Koramangala, The Bier Library is a hidden gem spread across 20,000 sq feet over two floors. As you push through the big broad bronze door, The Bier Library opens up to a world of beers. An impressive central courtyard, a fishpond right at the centre and open spaces all around, the microbrewery offers compelling views from every corner.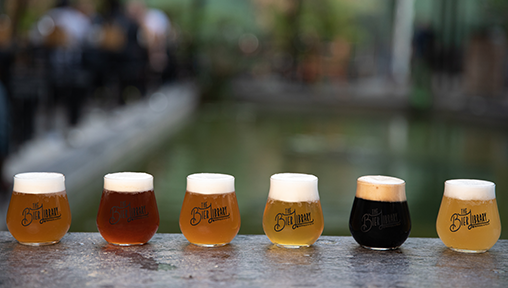 For those who think Beer is Bae (before anyone else), The Bier Library is the place for a perfect tasting experience. With seven beers on tap, every beer has been handcrafted with carefully chosen ingredients and designed in small artisanal batches that can break boundaries of imagination, brewed by Master Brewer Ishan Grover and Head Brewer Amit Mishra.
From Belgian style WitBier with guava and hibiscus to Stout with a hint of chocolate, and Red Ale with a hint of caramel, The Bier Library offers an impressive selection of beers. For those who love something classic, choose the South German-Style Hefeweizen and their signature Lager. Are you a hop head? Try the Double IPA that has a citrusy hoppy note along with hints of litchi. You can also choose the New England IPA with intense fruity aromas with a hazy body, and smooth mouthfeel.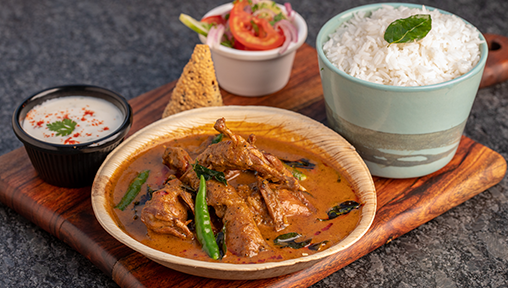 The Bier Library in Bengaluru holds an extensive menu of local favourites to compliment your beer. The Andhra Chili Chicken, known to be served with caution, has a fiery taste and the spices are certainly not for the faint-hearted. Offering a palate of continental food as well, The Bier Library hosts both the likes of Butter Chicken to a slightly exotic Kodava Pandi Masala. Bar snacks like the 'Pickle Board' or 'Chakna Board' offer a creative twist to some good old pub grub.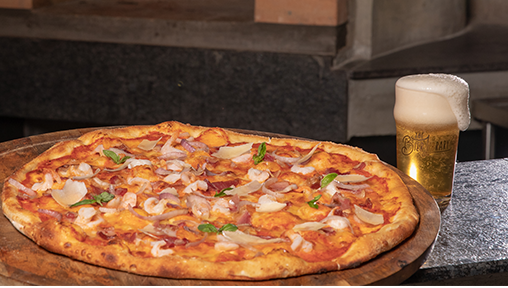 That's not all! There's more goodness at The Bier Library. Haven't you heard that pizza and beer make the perfect combination? The Bier Library also caters to various dietary restrictions with gluten-free pizzas available for both vegetarians and non-vegetarians. The Bier Library's crisp, gigantic, 21-inch pizzas baked in full view is guaranteed to make you ravenous. But just in case you have supreme self-control, you can also order a pizza by the slice, a la New York!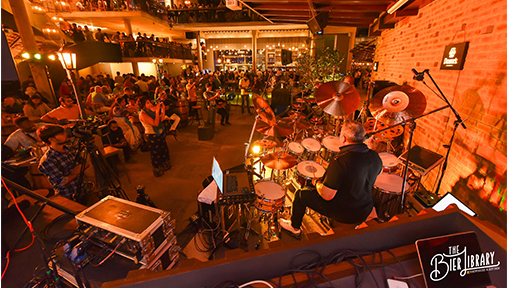 The Bier Library has an earthy, organic and nature-inspired décor with exposed bricks, Mangalore tiles and natural stones. With different seating arrangements spread across two floors, you can choose to sit by the pond or opt for the heavens deck and run an eagle eye over the entire restaurant.
The Bier Library has live music featuring genres such as Retro, Rock and Jazz Bands. Follow their Facebook page to know what's happening.
What's more? It is pet-friendly and perfect for soaking in some fresh air. The Bier Library in Koramangala, Bengaluru is ideal for a date night or for a fun evening with friends and family.
Where: The Bier Library, 14, Patel Narayana Reddy Layout, 80 Feet Main Road, 6th Block, Koramangala, Bengaluru
Cost for two: INR 1500/-
Timings: 12pm to 12am
Contact: 080 6818 0000