Singapore-born Sashi Cheliah won MasterChef Australia Season 10 and the hearts of people all across Australia and Singapore. A popular contestant from the start, Sashi was a favourite amongst fans with even fellow contestants rooting for him till the end.
This festive season, Sashi together with habitat by honestbee, invites you to bond with family and friends through heritage recipes and nostalgic noshing. With more than 15 F&B concepts and over 20,000 unique grocery items, you can shop for ingredients to recreate your favourite dish from your childhood. Enjoy a seamless, cashless experience from shopping till check out, all powered by honestbee technology.
Sashi will be having a Meet and Greet at 3pm and 6pm on 24 and 25 November. He'll also be demonstrating his winning dishes at 2pm and 5pm. On the 24th, Sashi will be cooking his finale winning dish, "Sambal Prawn with Crispy Prawn Heads and Herb Salad". On the 25th, he'll be making his "Roast Lamb with Pea Puree and Beer Battered Cauliflower".
Vanilla Luxury: Tell us more about your journey after winning MasterChef Australia.
Sashi Cheliah: I've been cooking and travelling a lot. I've just wrapped up my pop-up restaurant 'Gaja by Sashi' in Melbourne. You can also catch me on two episodes of The Cook's Pantry (Season 2) with Matt Sinclair. I have been doing cooking demos and there just might be a cookbook on the way!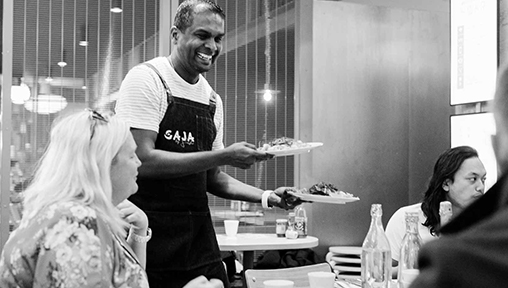 Vanilla Luxury: What are some of your special food memories from Singapore?
Sashi Cheliah: Oh, there are so many! I grew up in Bukit Timah as a kid and have lots of memories of that area. I used to frequent Hillview Hawker Centre where they had amazing Carrot Cake, Wonton Noodles and Indian Mee Goreng but most of the stalls have now moved to other parts of the island. As an adult, I used to go to Beach Road for Mee Goreng and Tanglin Halt, where I used to work, for Fried Oysters.
Vanilla Luxury: We saw you make Chicken Rice on MasterChef Australia. Have you been recreating Singapore's local dishes while in Australia?
Sashi Cheliah: When I moved to Australia six years ago, I missed my local Singaporean food. Although I tried a few Singaporean and Malaysian restaurants in Melbourne and Adelaide, I could not find the same authentic taste and flavours. Hence, I started cooking these dishes myself.
Vanilla Luxury: What Asian ingredients do you like cooking with? Are they easy to find in Australia?
Sashi Cheliah: Definitely, lemongrass! Coriander, chillies and lime are also a must and can always be found in my fridge.
It is now very easy to find Asian ingredients because there are so many Asian grocers here in Australia and things are flown in from all over the world on a daily basis to major states like Victoria and New South Wales. There are even some vegetables being grown locally in Queensland because of their favourable tropical climate.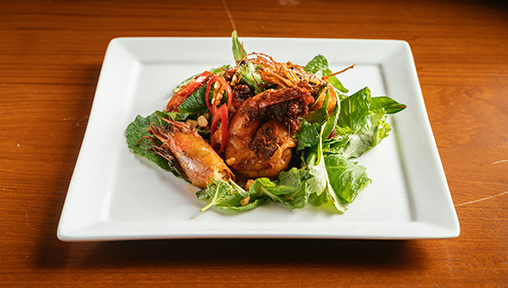 Vanilla Luxury: What's your Food Philosophy?
Sashi Cheliah: I'm all about flavours and it's something that I pay a lot of attention to. My cooking is very rustic and bold on spices. Having said that, I believe food should appeal to all five senses. Besides tasting good, the dish must also look and smell good.
Vanilla Luxury: What made you decide on habitat by honestbee as the host for your first public appearance and showcase in Singapore?
Sashi Cheliah: It's such an honour to be invited by habitat by honestbee to cook in Singapore. I've heard a lot about habitat by honestbee and am very eager to explore their grocery items from all over the world including the 1,000 exclusive items. In fact, I will be using ingredients from habitat by honestbee in my live cooking demonstration such as Olsson's Raw Macrobiotic Sea Salt, Amelia Park 35 days Grain Fed Lamb from Australia and Red Legged Prawns. You'll be able to recreate my winning dishes with ingredients found at a specially curated corner.
Event Details
Dates: 24 & 25 November 2018
Time: 2 pm & 5 pm
Location: habitat by honestbee (next to Mapletree Business City)
Address: 34 Boon Leat Terrace, Singapore 119866
Download the honestbee app for your "Bee Pass" entry into habitat by honestbee that enables cashless transactions! There is no need to queue at habitat by honestbee. When you shop for 10 items or less, use the "Scan & Go" feature on honestbee's app to take your purchases with you instantly. Simply push your trolley into the "Checkout Point" and collect your groceries once you're ready to leave from the "Collection Point".
For more information, visit https://www.facebook.com/events/505325646638505/.