lifestyle
International Women's Day 2021: Inspirational Women in Singapore Who #ChooseToChallenge
Published Date
: 08 Mar 2021 11:00

This International Women's Day, we speak to 8 inspiring women who chose to challenge themselves by becoming entrepreneurs and national athletes.
International Women's Day falls annually on 8 March celebrating women's rights and bringing to light gender equality issues. This year's IWD 2021 campaign theme is #ChooseToChallenge. We speak to 8 inspiring women who chose to challenge themselves by becoming entrepreneurs and national athletes. Let's find out more about why chose to do what they do.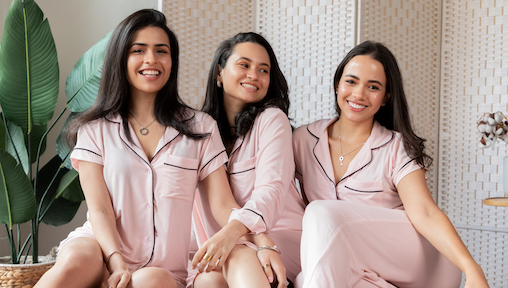 Soukaina Faruq, Boutaina Faruq and Amira Faruq - Founders of Rawbought
Founded by three sisters, Rawbought offers comfortable and sustainable friendly sleepwear.
"For all the three of us, the Road to Rawbought began when we were children and our parents started their business manufacturing clothing in Bangladesh. The family business was a part of our childhood, our dinner conversations, and our family. As the years went by, it became a subconscious aspiration for the three of us, we all always knew that we wanted to work for our parents' business, but also create a branch that grows from the base that they've given us."
Vanilla Luxury: Why comforting PJs? What made you choose this niche?
Faruq sisters: Working behind the scenes of fashion on the manufacturing side, we always valued comfort above all. We're passionate about high-quality materials, the feel of fabrics and clothing that feels good against your skin.
 
Through the pandemic, our homes started to lose the cosy feel they once had and instead started to feel a little suffocating. For the three of us, our PJs bring us happiness, and we wanted to create and share clothes that truly bring people comfort. We all deserve to feel good, sleep well and look amazing while doing it!
Vanilla Luxury: What would be your advice for women looking to launch a fashion label in Singapore?
Faruq sisters: Our main advice for women looking to launch a fashion label is to find a niche that speaks to you and use that to guide your journey. If you find yourself lost or meandering, go back to the beautiful products that you've created and love, and let everything else build from there.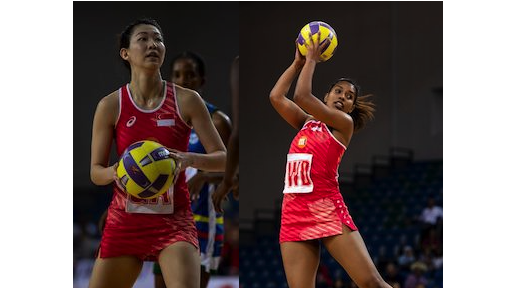 Charmaine Soh and Aqilah Andin - National Netball Team sponsored by ASICS
Juggling professional careers in areas such as consulting and law, family and high-standards on the court, these women in sport are a force to reckon with.
"I have been playing Netball for close to 2 decades. More than half of my sporting career was spent with the National team. Being in the most elite team in the country requires me to have a sound mind and sound body all the time – a belief that is shared by ASICS – to ensure that I am always on top of my game." - Charmaine Soh
"My name is Aqilah Andin, a national netball player and the vice-captain of the team. I have been playing netball for 14 years now and in the national team since I was 16 years old. Netball is my passion and it feels great to be able to do what I love almost every day apart from my daily full-time job, and in line with ASICS' belief in "Sound Mind Sound Body", I am inspired to focus on my physical and mental wellbeing through netball. My netball journey has been challenging yet so enjoyable, and it has groomed me to be the person I am today." - Aqilah Andin
Vanilla Luxury: Why was Netball your chosen sport of choice?
Aqilah Andin: l love how fast and quick the game is. It challenges my mind and body in an interesting way. It is amazing to see what my body is capable of doing.
I enjoy being in a team sport, being able to work together with inspiring females and having similar goals to achieve. Knowing that I am not alone, simply having the support and ability to share the high and lows together. The joy of accomplishing something together is another feeling I love as well.
Vanilla Luxury: What would be your advice for women trying to juggle their careers, families and their passion?
Charmaine Soh: Control what you can and take things one step at a time! Believe YOU! Bringing it back to ASICS' "Sound Mind Sound Body" tagline, I hope all women are inspired by the good sport can do not only for your body but for your mind as well.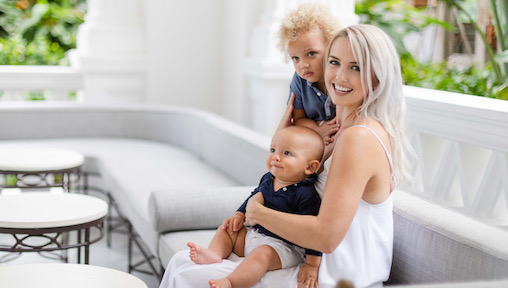 Tiffany Okumu - Owner/Creator of RAPH&REMY
RAPH&REMY is a stylish baby gifting brand carrying a range of baby clothing, toys and everything lovely for that little one.
"After the birth of my first boy Raphael, I really struggled with the thought of returning to my corporate job, which I did enjoy, but was also very demanding and required long hours in the office. I knew I would be sacrificing a lot of the magical moments between mother and child. So I decided I had to set up my own business and from then on it was a case of when, not if.
Vanilla Luxury: Why babywear? What made you choose this line of work?
Tiffany Okumu: I had my eureka moment just after we named Remy, in-utero, at three months pregnant. The journey to conceiving both of our boys wasn't a quick and easy one. Remy happens to also be our rainbow baby, after losing our second pregnancy 5 months before his surprise conception. I, therefore, wanted everything to be perfect for our miracle child.
 
One thing I always struggled with was finding high quality, affordable, modern and well-designed baby products that are safe, eco-friendly, built for comfort in our tropical climate, and that always arrive beautifully packaged. Something was always missing for me, I found it incredibly frustrating and as a result, I found myself constantly ordering items from oversees. So, I began designing the products I'd love to be able to buy myself. It was an incredibly inspiring and empowering time for us, designing and creating anything we can think of and watching our designs become reality.
Vanilla Luxury: What would be your advice for women looking to launch a fashion label in Singapore?
Tiffany Okumu: There's no perfect time to launch any business, you just need to start.
You will need to back yourself and your vision wholeheartedly, especially in the beginning when you're finding your footing and be prepared to work incredibly hard. You really just have to go for it!
Stay flexible about your approach, be open to change and adapt as necessary.
Quality is everything. Identifying manufacturers who will be trustworthy, reliable and will share the same uncompromising view on quality is so important to any business, especially those in the fashion industry. Know your "why", and you can handle almost any "how"!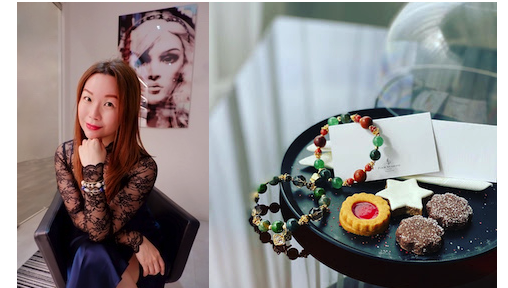 Artist Shu, Founder of Healing Jewellery Label Covet Crystals
Covet Crystals is a homegrown premium crystal healing jewellery label founded by Singaporean crystal jewellery artist Shu that crystal healing with artistry.
"I had to overcome a tough patch in my life and stumbled upon the benefits of crystal healing. Being an avid fashionista, I scoured locally and globally but could not find stylish natural crystal jewellery. Thus, I decided to tap into my Fine Arts Education and started creating wearable Art using natural crystals and gemstones."
Vanilla Luxury: Why fashionable crystal jewellery? What made you choose this niche?
Shu: I started my crystal healing journey by carrying stones and rocks in my pockets and bags. After 2 years, I couldn't take it anymore as it was truly cumbersome to keep switching bags of stones for each manifestation of the day. I came to the conclusion that crystal wearing would be the most convenient way to experience healing. Crystals can provide a direct benefit for your body, mind or emotions when they are in direct contact with the skin.
Being an avid fashionista, I knew that combining crystal healing with fashion is a great way to enjoy the healing benefits of crystal wearing and bring swag to any outfit.
Vanilla Luxury: What would be your advice for women looking to turn to crystals as a form of healing?
Shu: I would advise them to keep an open mind. They can start wearing CCJ jewellery and enjoy them as jewellery first. Based on our experience over the years with our clients, they wear jewellery as a fashion statement and slowly start to experience a certain calmness which leads to more contentment in life. From there, they begin to listen to their inner wisdom and venture to trying on different gemstones to experience various healing benefits.
Sharmila Logan is a professional Makeup Artist who started her own line of cosmetics to address the lack of products suitable for medium to tanned skin tones.
"6 years ago when I first started, there weren't many brands that catered a wide range of products and shades for our skin and the ladies I've worked on have always expressed this concern to me. I really wanted to help them in whichever way I could hence I started my journey and the first product I ever created were my matte lipsticks!"
Vanilla Luxury: What encouraged you to start your own cosmetics line despite there being tons of brands in the market?
Sharmila Logan: Being a Makeup Artist for over a decade, I've worked on tonnes of beautiful faces who've constantly asked me for suggestions and tips for makeup and skincare products that would suit their skin tones.
My lipsticks were an instant success only because of the various skin tones I've constantly worked on that helped me with coming up with the right shades that would be loved by many. The tricky part was perfecting the formula to be as long-lasting as possible yet not make our lips crack. This took almost 6 months of back and forth testing and remaking different formulas until I was completely satisfied along with 20 other ladies who tested my lipsticks. I only went ahead when it was a "yes" from all 20 of them.
My skincare came later as I started wearing lesser makeup. After becoming a mum, I aimed to head out with bare to minimal makeup. I started fully focusing on skincare so I could achieve what I wanted. I feel women need to be comfortable in their own skin. I would just smile from ear to ear every time I received feedback that my skincare have changed their lives and given them the confidence to go out barefaced. Can't explain this feeling but it's definitely made me want to do better each time. 
Vanilla Luxury: What is your advice for women looking to launch their very own cosmetics line?
Sharmila Logan: Always be authentic. Keep up with the trends and always study other brands. Get inspired but never copy and always have your own unique touch to your products. 
The learning process even after having a successful brand never ends. You will never learn enough. Always encourage your customers to give feedback so you can constantly improve as you evolve. Work towards the feedback and demands of customers and you will never have to depend on advertising as your customers will start doing it for you via word of mouth.