The Indian Heritage Centre in Singapore is inviting the public to revel in the rich culture and traditions of the Indian communities in Singapore. They have collaborated with NPS International School to display artworks done by the students from now till 29th April 2021.
As part of NPS International School's efforts to embark on a learning experience beyond the classroom, here is a glimpse of their student's artworks that have been displayed in Indian Heritage Centre to showcase the diverse festivals celebrated across the various Indian communities in Singapore through unique customs.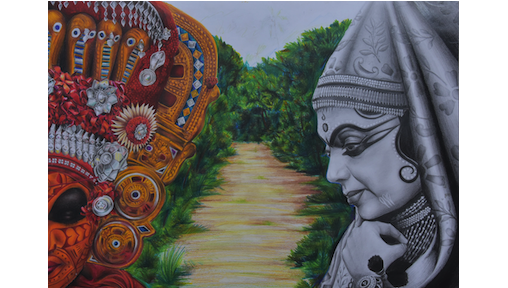 Vishu by Malavika Ramesh
16-year-old NPS International student Malavika Ramesh has created a series of Vishu to rediscover the diversity of his heritage and spread awareness about the richness of Kerala.
Malavika Ramesh: Just like how we celebrate the festival of Vishu with ornate and colourful decorations to welcome spring, Kathakali is an example of the vivid hues that Kerala has to offer as part of its long history. Both being icons of the Malayalee culture and Hinduism, the scintillating, carefully arranged ornaments and idols in "Vishukkani" are similar to the elaborate and detailed handiwork required to craft the Kathakali accessories and costumes, presenting an array of diverse colours of "God's own country" Kerala.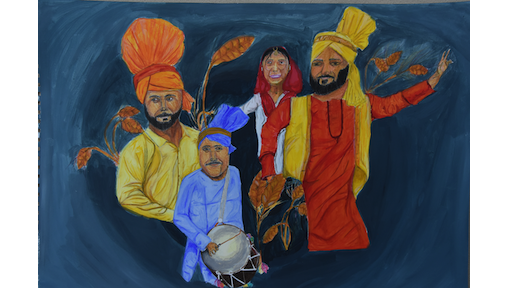 Vaisakhi by Aadia Kuttappa
15-year-old NPS International student Aadia Kuttappa has done a painting on Vaisakhi in line with the existing Sikhs in Singapore exhibition held at the Indian Heritage Centre.
Aadia Kuttappa: Vaisakhi, also known as Baisakhi, is a traditional harvest festival celebrated by Sikhs and Hindus, in the Punjab region. To celebrate Vaisakhi, Sikhs visit their place of worship called Gurdwaras which are decorated for this occasion. Sikhs also partake in Nagar Kirtans which is a processional singing of holy hymns throughout a community.
Through my artwork, I have highlighted the beauty of music, a folk dance called Bhangra to celebrate the harvest. Through the use of vibrant colours, I have focused on the joy and happiness of the Sikh community in their traditional attire.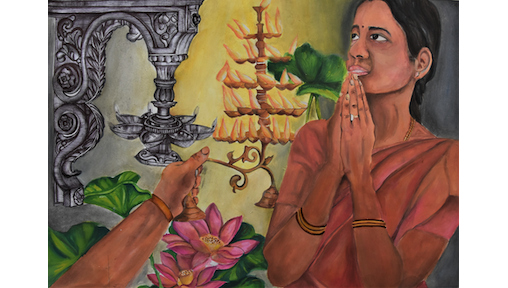 Tamil Puthandhu by Vishali Subramanian
16-year-old NPS International student Vishali Subramanian has handcrafted a series on Tamil Puthandu to signify an auspicious beginning.
Vishali Subramanian: The diya is essential in Hinduism as it signifies the victory over darkness and evil forces. To celebrate the Tamil New Year, my painting focuses on shining lamps and lights, worships and offerings, positivity and beauty. I drew my inspiration from the tiny detailed patterns of lamps, lights and flowers in different mediums, with both wet and dry paint, pen and coloured pencils.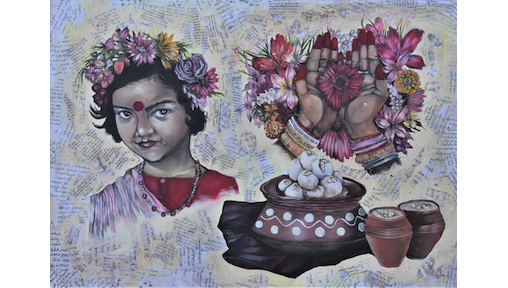 Poila Boishakh by Sarah Maria Menezes
15-year-old NPS International student Sarah Maria Menezes has hand made an art piece entitled "Poila Boishakh" which is celebrated on the first day of the Bengali calendar.
Sarah Maria Menezes: Poila Boishakh is a colourful celebration and flowers are often worn during this celebration that is reflected in my painting. Any Bengali celebration is incomplete without Roshgolla and Mishti Doi which is featured in my painting. As Poila Boishakh is celebrated through poetry and dance in the form of Rabindra Sangeet that is performed in the days leading up and during the festival, the background are poems handwritten by Rabindranath Tagore to emphasise the beauty of the Bengali language.
Indian Heritage Centre. 5 Campbell Lane, Singapore 209924