Craving local, healthy food brands that make their produce fresh on the island? This list of our favourite locally-produced food brands will lead you right there! What's more, they also include plenty of allergy-friendly and dietary options such as almond milk, gluten-free bread and an unforgettable sugarless, almond chia cookie dough! 
Whether it's healthy nuts and snacks or the freshest bakes for the whole family, these local food brands have just what you need.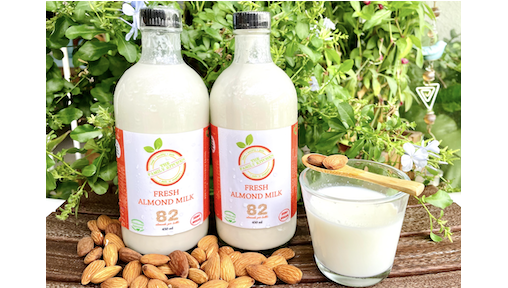 Searching for the best, locally-produced almond milk in Singapore? The Family Kitchen makes Fresh Almond Milk which is 100% clean, healthy and free from preservatives! More wholesome than other plant-based milks, cleaner than mass-produced brands and freshly made right here in Singapore, makes it planet-friendly and sustainable compared to brands that travel miles to get here.
Whether you are allergic to dairy, lactose intolerant, trying to adopt a vegan lifestyle, or are looking to incorporate a healthy, protein-packed, zero-sugar drink in your diet, The Family Kitchen's Fresh Almond Milk is the answer. This delicious milk is 100% plant-based, vegan and nutritionist-approved! The best part? Their Fresh Almond Milk is free from preservatives, stabilizers, chemicals, hormones, artificial flavouring and additives and each bottle has 25% almonds whereas commercial brands put only 2-5%.
Mass-produced brands also have additives such as carrageenan and vegetable gums which are added to achieve a thicker and smoother texture. While giving milk longer shelf life, these thickening agents can cause inflammation and gastrointestinal issues, which negates the benefits of adopting a dairy-free lifestyle. The Family Kitchen does not use any of these harmful ingredients which is why their Fresh Almond Milk only lasts a week in the fridge! 
How can you use it? Drink up straight or add to shakes, soups, smoothies, pancakes and cake batters, or your coffee and tea! Bonus? Make delicious babyccinos for the kids!
We also love that The Family Kitchen is a zero-waste company, and their Fresh Almond Milk is packed in recyclable, glass bottles and delivered right to your doorstep. Customers love their almond milk for its no nasties, all-natural deliciousness!
Can't wait to try? Use promo code "FRESH" to get the 2 bottles bundle for S$25 including delivery (usual price S$30)!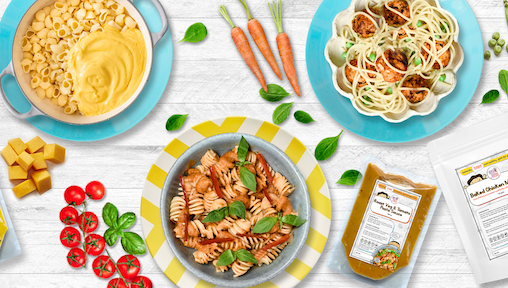 Struggling to find healthy snacks and food brands for your kids? Fusspot and Foodie is Singapore's first kid-focused brand that is on a mission to make healthy eating easy and fun!
Made using high-quality fresh produce and superfoods, their products ensure clean, healthy, delicious grub with lots of allergen-free options to choose from! Fusspot and Foodie takes special pride in creating products that do not contain any unhealthy oils, artificial flavours, food colour, preservatives, refined sugar or msg. Just all-natural deliciousness with none of the nasties.
Founded by Tanya Soman, a Singapore based designer turned chef-entrepreneur, F&F have a range of ready-to-eat, convenient AND healthy, kid-friendly food to please the pickiest palates!  Think nut-free spinach pesto mini pizzas to get your kids to eat their greens or their best-selling hormone & antibiotic-free baked chicken tenders and hidden-veggie chicken meatballs! For a healthy treat, bake your own flour-less, egg-less, dairy-free, and sugar-free cookies with the almond chia cookie dough.
At Fusspot & Foodie, they make products that the entire family can enjoy. With special attention to where raw materials are sourced, cooking methods used and even how they are packaged, you'll find the products stay fresh and delicious right till they make it to your plates. 
As a mum-led company Fusspot and Foodies' mission is simple – replace unhealthy junk from the table with tasty, healthy food (#kid-approved) and help fellow parents to raise a generation of happy healthy children.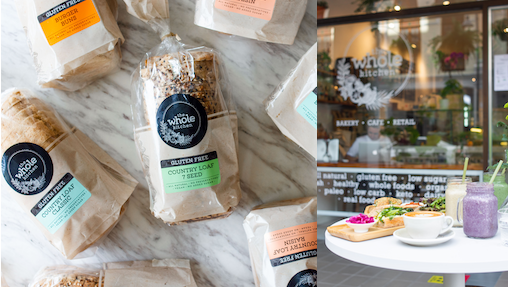 The Whole Kitchen is a gluten free bakery crafting freshly baked goods, full of flavour and natural goodness. On a mission to help everyone feel their best through nourishing, real food, all of their products are 100% natural, gluten free and low in sugar. They also cater to specific eating regimes; vegan, keto and dairy free, as well as other allergen sensitivities to support healthy food lifestyles.
The Whole Kitchen has a wide range of delicious baked goods and healthy snacks; including gluten free breads, cakes, muffins, energy pearls, granolas and baked nut mixes. There's even a healthy pantry range to help you to make healthy recipes at home. Today, The Whole Kitchen is present in over 100 online & traditional retail stores and F&B outlets in Singapore such as Fair Price Finest, Redmart, Little Farms, Supernature, Opentaste, Tangs, Eat Organic, Vegan Grocery.
The Whole Kitchen, gluten free bakery, has opened its very first café in Katong for you to enjoy good food, coffee, company and to make yourself at home. Go and try their freshly made, delicious gluten-free sandwiches and healthy cakes, fresh smoothies and enjoy great coffee from Allpress.
As well as dining in, you can also grab-n-go all your favourite, freshly baked TWK products, including gluten free breads, sourdough, cakes and muffins. What's more, all of their delicious spreads and condiments are made in-house, including; peanut butter, hazelnut cacao spread (your healthy Nutella alternative!), berry chia jam, pink kraut, cucumber pickles and green chutney.
As ever, everything on the menu is gluten free, all natural, nutrient-packed, refined sugar free, and made with whole food ingredients. There are also plenty of options for vegan, dairy free, paleo, keto, and low carb diet followers.
The Whole Kitchen. 11 East Coast, #01-16, Odeon Building, Singapore 428722. Phone: (+65) 81283562. Open Monday to Sunday from 7:30am-5:30pm.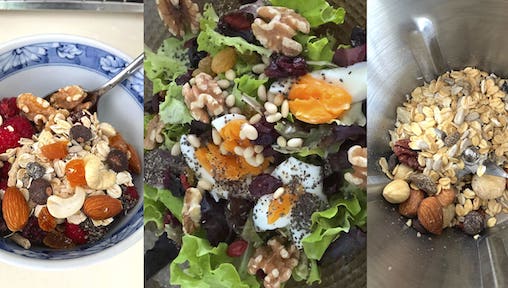 Need to buy good quality nuts and healthy snacks in Singapore? Nuts And Snacks as its name suggests is a top online retailer with a wide selection of premium nuts, mixed nuts, dried fruits, and snacks.
Their main speciality is the 'mixed nuts' range which boasts 18 different options for customers to choose from. If you are a nuts lover, we'd highly recommend buying the Deluxe Natural Nuts selection that comes with 6 different kinds of baked nuts. There is also a mixed nuts variant that contains 70.4% Belgium dark chocolate!
Thinking of a gift? How about a healthy food gift box by Nuts And Snacks? Choose from either 5 items or 10 items and add your own personalised message for free. You can also have your gift box wrapped up nicely for a small fee.
For those who want more convenience, you should try out the Single-Serve Snack Packs. Simply tear, eat and enjoy! Great for pairing with yoghurt, cereal, or salad. Best of all, pricing is really affordable starting from $1 per pack.
Nuts And Snacks is also an active corporate nuts and snacks supplier for businesses, schools, and government agencies. They cater to all budgets and are fully customisable based on your requirements including brand collateral such as branded stickers. From trail mixes to healthy snacks and nut packs, be sure to check out Nuts and Snacks for your next shopping haul!
Ri's is an absolute labour of love that marries holistic nutritionist, Riyana Rupani's passion for health with real-food deliciousness. Having advised many clients around the world on their health and nutrition, Riyana is on a mission to change the way people think about healthy food. It is anything but plain and boring! In fact, Riyana has her own range of clean chilli sauces and seed crackers to prove just that.
Headlining Ri's is a line of four chilli sauces - a red chilli sauce, a garlic chilli oil, a mala chilli oil and a sambal. These flavourful chilli sauces go well with everything, from boiled eggs and salads to pizza and fried chicken.
Even though "cleaner" chilli sauces are starting to pop up on grocery shelves, many still contain inflammatory seed oils or added sugar, which are not great for our bodies at all. The plus point about Ri's range of sauces? All of them are vegan, paleo, and made only with real, quality ingredients with no added sugar and preservatives. 
If you're not a fan of spicy food, then her latest addition of grain-free seed crackers might just be what you're looking for. It adds a wonderful crunch to your mezze platter or charcuterie board too! But, if your sweet tooth needs a quick fix, then the dark chocolate version is that perfect treat, without the guilt. Whether it's adding that extra kick to your favourite recipes or setting up a DIY grazing platter at home, you'll find Ri's hits just the right spot. Good-quality ingredients that are indeed healthy-ish!
If you are working from home all day, then you know the importance of having healthy snacks to help you power through the day. A nutritious morning bite or midday snack can provide you with the energy you need to stay focused until it is time to clock off as well as provide a short resting period.
REVIVE offers wholesome snacks made with clean and nutritious, simple and quality ingredients. Designed to tempt the taste buds while fulfilling your nutrition needs, every product is handmade and hand-packed, ensuring the best quality before delivering it to you. The snacks are energizing, sustaining and nutrient-dense in the form of fat, protein and fibre
REVIVE's Granola is handmade in small batches to ensure freshness and quality. Perfect for a nutritious breakfast or a healthy snack, they come in several flavours to keep you excited each morning. You can eat them right out from the bag, on your Greek Yoghurt Parfait, and add them to your Chia Pudding or Smoothie Bowl for that extra crunch.
REVIVE's vegan Overnight Oats are loaded with nutrients like fibre, protein, magnesium, potassium, and omega 3 fatty acids, among other things. They provide you with the right nutrients for a good start to your day and can be prepared the night before for a nutritious and hassle-free breakfast in the morning! Prepare it in 3 easy steps with the milk of your choice and enjoy it with toppings of your choice such as fresh fruits, nuts and seeds.
Keep your snack game fun and exciting with REVIVE's Nut Butters that are free from added sugar, salt, hydrogenated oils and palm oil. You'll find Peanut Butter, Cashew Butter, Almond Butter, and ABC Butter (almonds, Brazil nuts, and cashew). Spread it on slices of fruits and you've got an easy healthy snack within reach, but it is best eaten on your finger!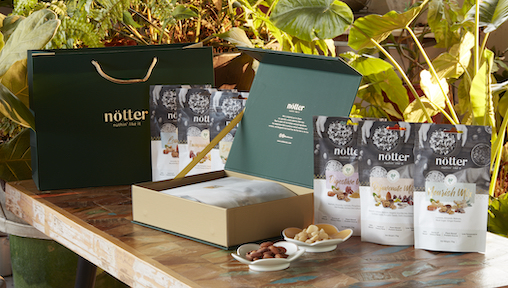 nötter is a new and trailblazing homegrown Singapore brand that specialises in crafting a premium range of quality nut blends. Founder Emily Tang believes taste need not be compromised when it comes to healthy snacking so nötter products are made in small batches with meticulously sourced top-quality ingredients from around the world.
The nuts are baked at a specific low temperature over an extended period of time – this preserves the innate nutrients and natural sweetness of the nuts while imparting a pleasant crunch. Packed with vitamins, minerals and protein, each nötter blend is delicious on its own, and also excellent for sprucing up or complementing a meal.
Promising quality with every bite, each nötter blend retails at S$5.90 to S$6.90 per 75g pack, and the range includes Immunity Mix, Digestive Mix, Rejuvenate Mix, Energy Mix, Lean Mix and Nourish Mix.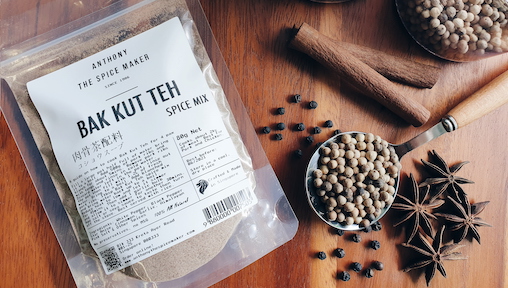 Mass-produced spices are so passé! Amp up the taste in your kitchen with Singapore's local spice crafter Anthony The Spice Maker. Crafting authentic, traditional flavours of Singapore since 1986, Anthony's parents were first-generational spice makers. Having grown up in a spice family, he always has a heart for spice crafting and creating flavours. After leaving his job as a design draftsman in a shipbuilding company, Anthony started his own spice business by providing ethically- sourced, quality spices and crafting authentic traditional flavours of Singapore for all to enjoy. 
At the same time, Anthony wanted to practice this age-old craft with a modern take in the hope to attract more young and cosmopolitan consumers to start cooking, eat healthy food and encourage bonding with their loved ones with home-cooked fare.
What started with a humble stall in the wet market at Chinatown Complex is a known spice brand that many local and international chefs shop at! Anthony The Spice Maker also ships worldwide and makes for great, and authentically Singaporean gifts for relatives and friends. Best of all, Anthony only uses quality raw, natural and unadulterated ingredients in all his blends. 
Anthony The Spice Maker. Blk 335 Smith Street #B1-169, Chinatown Complex, Singapore 050335. Phone: (+65) 9117 7573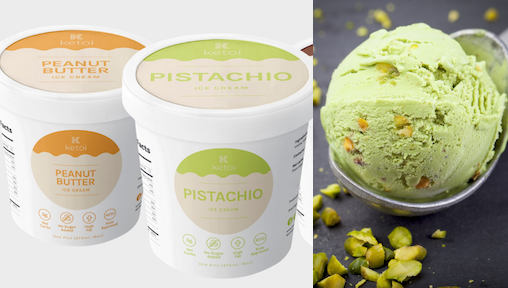 100% keto-friendly ice cream made locally from the highest quality ingredients! Started in 2020 by a mother of two to fill the nascent keto dessert market in Singapore, Ketoi believes that healthier ice cream options are possible! 
Leveraging on her passion for cooking and baking, the founder spent months experimenting to perfect her keto recipes. After going through this personal journey and successfully improving her health, Ketoi was created with a mission to energize the world with healthy food and dessert while remaining tasty and fulfilling.
Whether you follow a strict keto diet or are simply looking to lead a healthier lifestyle, you'll definitely be able to find something you like here. 
As an added bonus, their products are gluten free with ingredients that are natural and non-GMO. With Ketoi, you will be able to enjoy a wide array of ice cream, dessert, snack and healthy food that are not only lower in carbohydrates but also contain no added sugar. This way, you get to keep eating foods you love while being able to stay on track to reach your health goals. Popular flavours include Salted Caramel, Pistachio and a dreamy Butter Pecan, you need to try - keto or not!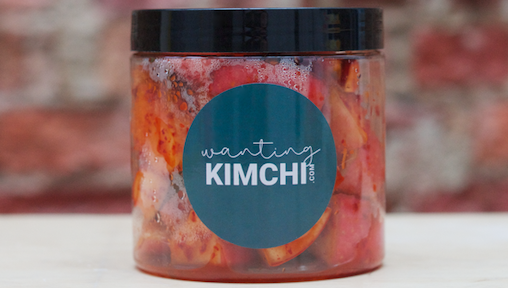 Is kimchi the next healthy food on your list? Delicious and MSG-free Wanting Kimchi is ripe and full-flavoured while being low in salt and sugar. The signature and best-selling Whole Leaf Cabbage Kimchi is an artisanal handmade kimchi, created from scratch with the freshest, quality produce. Naturally rich in antioxidants and probiotics, and of course super healthy, it is designed to knock your socks off!
You can even choose the way you like your kimchi: Aged, Fruity Floral or Feisty Fire for a rich, robust full flavour!
For those willing to experiment, do try the Addictive Apple Kimchi. As a flavour of kimchi that's the right mix of sweet and sour, customers say they've finished off jars in just one sitting! Fresh, juicy apples are marinated in a made-from-scratch, rich, and spicy kimchi paste. The savoury, hot umami paste, juxtaposed with sweet, crunchy apple cubes gives an experience like no other. Better still, it is void of any MSG, low in salt and naturally sweetened with honey and fresh pear.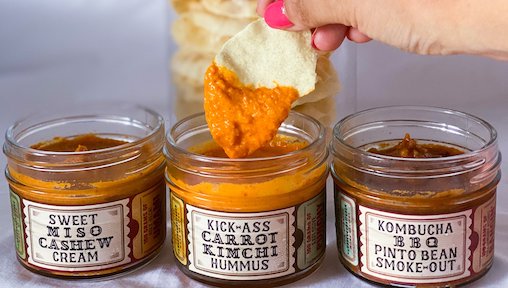 Healthy food that's flavorful too? These plant-based dips by Loaded Gun Kitchen can be eaten with crackers, crudites or even straight up! They also function as pasta sauces, condiments, sauces, marinades or even as fillings for dumplings and ravioli. This means whipping up a healthy, tasty plant-based meal in half an hour is now possible.
Try the Booty Call Party Pack which gives you three different plant-based, dairy and gluten-free dips with a pack of poppadums. Each set includes three 100g jars of plant-based, dairy and gluten-free dips & 70g of poppadums. Mixed fresh on the morning of delivery, all of their ingredients are made from scratch! For instance, the Kombucha BBQ Pinto Bean contains home-brewed Kombucha, naturally cultivated with organic black tea and cane sugar. Fermentation takes 13 days, and no two brews are exactly the same, lending a unique flavour to every batch of BBQ!
Worried about added sugar? Loaded Gun Kitchen uses only natural sweeteners such as Cashew Milk sweetened with Dates (in the Sweet Miso Cashew Cream) and Green Apple Kombucha for the Kombucha BBQ Pinto Bean. Snacking on healthy food was never this fun!