Looking for the best home decor and home furnishing brands in Singapore? Our list of current favourites includes statement pieces, modern tableware, affordable art, and home accessories that add just the right amount of colour and style to your home. Read on for a window to the top home decor shops in Singapore and what you can look forward to buying from them!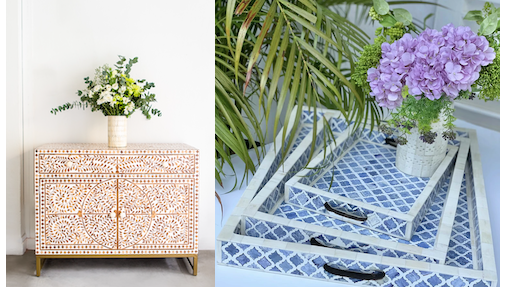 If you are after distinctive, hard-to-find and affordable bone inlay and mother of pearl homeware and home decor, you'll love Hacienda Blue! Founded in Singapore by Designer, Josephine Blunck, Hacienda Blue designs and sources unique, high-quality homewares and furniture. The collection of products ranges from small home accessories such as jewellery boxes, gorgeous bone inlay trays and lamps to their well known large pieces of custom made furniture.
Each piece of the Hacienda Blue range is made by hand using traditional techniques created by generation-to-generation artisans from India. Josephine finds her inspiration through fabrics, tiles and colours that resonate in today's world whilst respecting the craft and the artisans she works with. Designed for the home lover, Josephine enjoys mixing the traditional craft of bone inlay with modern designs and colours creating striking pieces, which complement modern, contemporary and traditional décor. 
As a result, each Hacienda Blue piece is unique, striking, vibrant and colourful, and every item serves as a home centrepiece and a covetable keepsake.
If you'd like to customize your own home decor and furniture, contact the team at Hacienda Blue and they'll create a piece that combines functionality and is an embodiment of you. 
From trays, vases, lamps, photo frames and furniture to hand-crafted mango wood cheese boards and platters, there's enough here to add as a feature home decor item to your home. Pssst….they make incredible house-warming gifts too!
Hacienda Blue. 17 Woking Road, #02-04 (Opposite Tanglin Trust School, Gate A and B).Singapore 138696.Ph: +65 9866 1024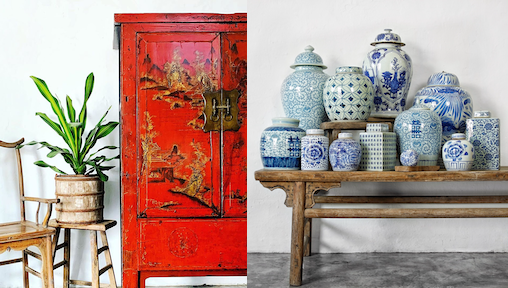 China Collection is a leading Chinese antiques and vintage furniture store that opened in Singapore in 2001. For almost 20 years, their loyal customer base has found elegant, beautiful and unique furniture to feature in their homes. The eclectic selection of rare antique pieces, unique vintage furniture and home accessories holds wide appeal as does their old elegant shophouse with its colourful Peranakan architecture and stained-glass windows. 
Within the bright and airy store, set over two floors, there is an impressive array of original elmwood cabinets, painted sideboards, trunks, consoles and altar tables. Interspersed amongst these genuine antique pieces, China Collection also features a colourful array of Asian inspired home accessories and home decor including lamps, porcelain jars, bronze rain drums and their signature jade and silk tassels. 
China Collection's knowledgeable store owner Doug Lockett is a passionate expert on Northern Chinese country antiques, and hand selects and curates the collection. China Collection's in-house interior stylist is also available to assist customers with their selections and offer home decorating advice. China Collection is a rare jewel and makes for a truly memorable shopping experience.
With the launch of their new website, China Collection extends this experience by offering a window to view their impressive collection online. China Collection's new web store allows customers to shop from the comfort of their home, and for overseas customers to easily place online orders. Whether at their physical store or the newly launched online shop, China Collection is truly a Singapore shopping excursion to savour!
China Collection, 252 Joo Chiat Road, Singapore 427506. Opening Hours: Monday to Saturday 10am to 5pm, Sunday 12pm to 5pm. Phone: +65 9858-6889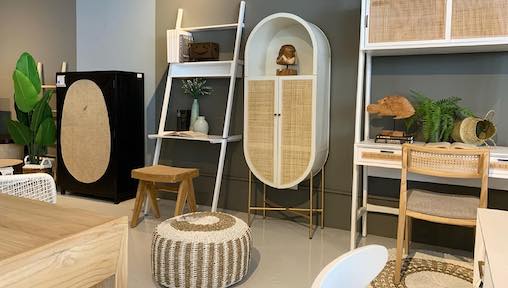 Want a timeless piece of home decor that's low maintenance too? Spanning a whopping 4 showrooms and 12000 sq feet worth of space at the Tan Boon Liat Building, Rooma is a furniture and home decor retailer that sells unique rattan and solid wood furniture and accessories.
They specialise in rattan and wood furnishings in various finishes, textures and forms. 
Since its start in 2018, this homegrown, and can we say affordable manufacturer, has been providing homes in Singapore with eclectic, statement home decor that speaks volumes via their simplistic but beautiful designs.
Take their huge range of dining chairs for instance - elevating the Wishbone chair via different mediums, colours and textures such as loom seats, they immediately bring warmth into any space. 
The majority of Rooma's pieces are designed in-house by the team and work across a range of home styles and looks. Whether you are after a Balinese setting, shabby chic decor or modern accents that will make your house a home, there's a piece (or 3!) at Rooma with your name on it.
But that's not all! Apart from a huge ready selection of home decor and furniture in their showrooms, Rooma also specialises in custom furniture; and has supplied to a couple of boutique cafes/restaurants and home decor photoshoots in Singapore. 
Wicker lovers will love the range of rattan furnishings including laundry baskets, lamps, cabinets, stools and more. For something that's made especially for the tropics, don't forget to check out their synthetic rattan furniture, which is purpose-built to withstand the outdoors!
Rooma. 315 Outram Road, Tan Boon Liat Building #13-01/02/06 and #12-04. Singapore 169074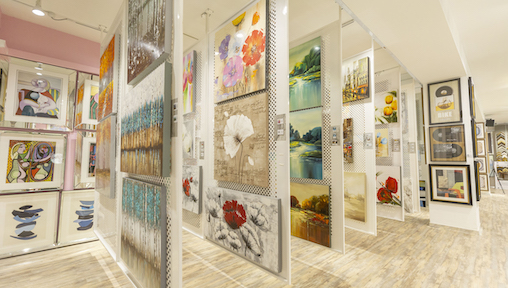 If you are looking for paintings, sculptures or artworks to elevate your interior space in Singapore, LivingwithArt Singapore is the best place to visit.
The flagship gallery in the Tan Boon Liat Building comprises more than 3000 works of art, vases and sculptures. Artists are selected from around the world, with a particular emphasis on supporting local artists. LivingwithArt houses local artists in Singapore's art and photography scenes such as Tan Tui Gee, Jaime Teo, William Lee, and Linda Preece. The sheer volume and variety on offer make for a fantastic choice for homeowners, with no limitations in terms of style, design, or size.
Besides that, a new fine art wing, Gallery 1819 Singapore, was added to offer an investment into emerging Asian artworks, featuring Senior Artist Thomas Yeo, Wang Miao, Ong Kok Peng and Aaron Gan.
Can't find a painting to your liking? Pieces can be customized in terms of colour, theme, size, style and medium, giving the customer greater flexibility. Framing works are provided as well.
Just in time for Mother's Day, get 20% off floral paintings as a gift for your mums. Excluding consignment, artist and customisation works. Instore and online.
Online promo code: ILYMUM. 1st May - 15 May 2021
Shop here: https://www.livingwithart.com.sg/Art-Painting/Floral-Art-Painting
Living with Art. Flagship Gallery at 315 Outram Road, #02-05, Singapore 169074 Phone: (65) 6917 6503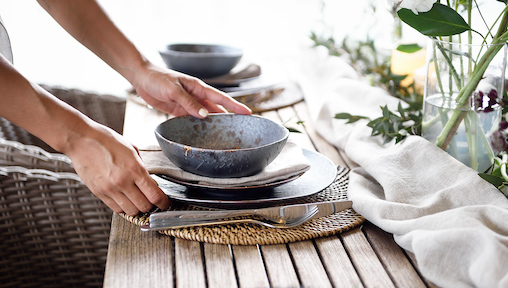 Seeking unique tableware that's built to last? KRA Sanctuary curates timeless, modern designed handmade ceramic tableware from their partner artists in Thailand. They source from a third-generation family-run factory in Lampang, a province near Chiang Mai famous for its expertise in ceramic production.
Each piece of handcrafted dinnerware, tabletop accessories and serving ware has been handcrafted and curated for quality and lasting appeal in the home. Their glazes are naturally and responsibly derived from the environment around us — brown pigments are made from iron, for example, and blue from cobalt. This prevents harmful chemicals from leaching into your food and beverages, making our ceramics safe for you, and for the earth. 
Kra Sanctuary truly believes in investing in versatile pieces that will be loved for years rather than following trends and producing excess wasted consumer items. Unlike plastic or wooden dinnerware, ceramics last far longer and are also leach-proof and water-resistant. With proper care, you'll find that Kra Sanctuary's artisan-made, small-batch ceramics can last you a lifetime, so you will no longer have to replace your bowls, plates, and other dishes every so often. What's more, they make for beautiful talking points at your dinner table!
Currently an online, home-based business, Kra Sanctuary are happy to arrange private viewing appointments for those who would like to take a close look and feel of the pieces or need help selecting the perfect set for their table. Reach out to them on Kra Sanctuary or email [email protected] to make an appointment for in-person viewing or check out their Instagram @kra.sanctuary for more inspiration!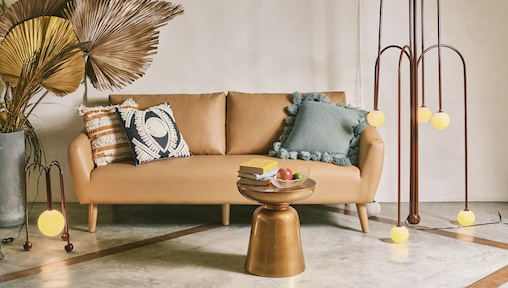 Inspired by the space at Crane's flagship location, Crane Living was borne out of their community's desire to take parts of their aesthetic home for themselves. Slowly but surely Crane Living grew into a curated collection of homewares that reflects their modern taste.
Rooted in accessibility and sustainability, the team aims to have something for everyone, from large outdoor planters to small bedroom and kitchen trinkets. Sourced both locally and internationally their pieces encourage curiosity and community, just as their brick-and-mortar-cum-social space, Crane, tucked away in the cosy River Valley district does. 
You'll find a range of ceramics, home decor, flatware and cutlery, lightings, pillows and plenty of other home accessories here. But that's not all! At Crane, members enjoy co-working, workshops, events, F&B, and more, all surrounded by Crane Living's treasures.
Together, the brands are expanding both online and into more physical spaces in Funan and at Joo Chiat - stay tuned @crane_living and @crane.official on Instagram! 
We've got quite the treat for you! Vanilla Luxury readers can enjoy a 10% discount on any Crane Living items at crane-living.com using the code VANILLALUX10 (shareable link: https://www.crane-living.com/discount/VANILLALUX10) and a complimentary one week trial of Crane membership by emailing [email protected] and quoting Vanilla Luxury. See you there!
Crane Living. 46 Kim Yam Rd #01-05/06/07, The Herencia. Singapore 239351. Pop-ups at Le Toucan, #01-05 Tanglin Mall and the American Club (Members Only).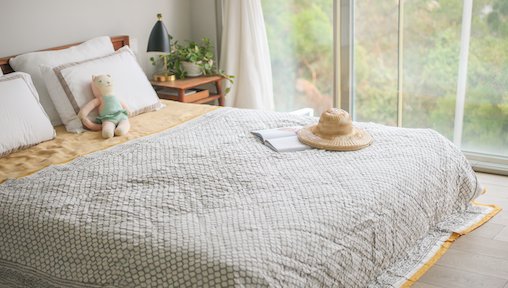 We already love baby gifting and newborn essentials brand Malabar Baby for their hand-made, block-printed crib bedding sets and separates for our little ones! But did you know that the Hongkong-based brand also makes the most beautiful blankets, dohars, pillows and other home accessories for adults too? All quilts come in a variety of sizes and prints, including a larger twin size for morning cuddles! Luxuriously soft, these hand quilted and block printed blankets come with a natural hypoallergenic cotton voile exterior. This makes them unbelievably lightweight, breathable and perfect for Singapore's weather! All bedding sets come gift-ready in reusable muslin pouches that look chic and are also very useful for storing diapers, socks and sundries.
You'll also find versatile, decorative cushions for every home on here.  Pillows, cushions, and bolsters come in a number of prints that match all their baby, toddler, and King-sized quilts. Of course, there's plenty more at Malabar Baby for your little ones including super-soft bath towels, organic muslin swaddles, sleeping bags, playmats and even matching pyjamas for the whole family!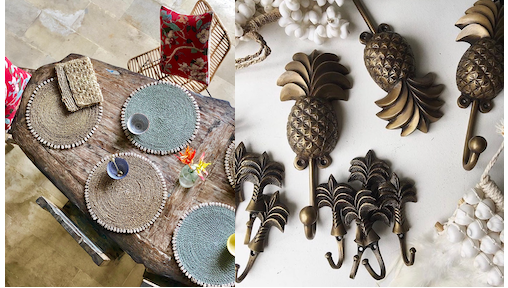 Missing your Balinese holidays? At INBALI you'll find a range of handcrafted furniture and home decor in a 'traditional Balinese meets contemporary' design. Their philosophy is based on sustaining traditional and natural production processes and the products support and empower small, local and family-run businesses. The partners INBALI work with support their local communities through employment opportunities and the preservation of rare and diminishing artisanal skills.
Each piece is handcrafted using solid exotic hardwood found in Bali and Java. Uniquely designed and styled with the same attention to details using natural organic materials they focus on intricate details that make a piece iconic and exceptional. 
So what can you buy for your Balinese dream home? From furniture and lamps to organic dyed bed linen, bamboo fibre baskets and adorable palm tree hooks and tableware, you'll find a range of home decor and home accessories on here to give your house an extra something!