Phuket is the epitome of everything Thai – beach, fun and hospitality! Saying that, while finding family style villa accommodation in Phuket maybe easy, it's the proximity to local restaurants and shopping that is often a big ask.
In our quest to find luxurious villas that are child and family friendly, we recently chose to stay in the heart of Karon and at the much talked about Movenpick Resort and Spa.
Location. Check
After holidaying at some of the other big chains in Phuket, we knew it was time to indulge in local flavours and take in a vacation smack bang in the centre of action. Not quite Patong (which isn't really suitable for kiddie holidays anyway), Karon beach is a gorgeous stretch of powdery sand with plenty of shallow shores to sunbathe on. Restaurants, bars, massage parlours and tons of shopping included, make this a fabulous location for any Phuket holiday. Water sports on your mind? Don't miss the para sailing and snorkeling opportunities at the beach!
And this is what makes the location of Movenpick Resort & Spa, nothing short of exceptional. The resort is right next to the beach with easy access to everything that Karon has to offer. Need a quiet retreat instead? Simply enjoy the facilities at the resort (and there are plenty!), surrounded by the shade of stunning treetops and Thai-style tropical gardens.
Villas. Check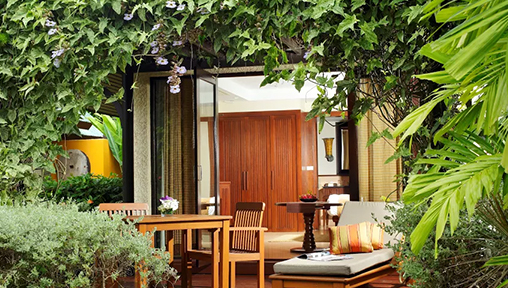 So, while several properties have fantastic locations in Phuket, and by that we mean proximity to a busy beach and local eating options, they often lack accommodation that can house a family. At the Movenpick Resort & Spa, you get your choice of villa options – one, two or three bedrooms.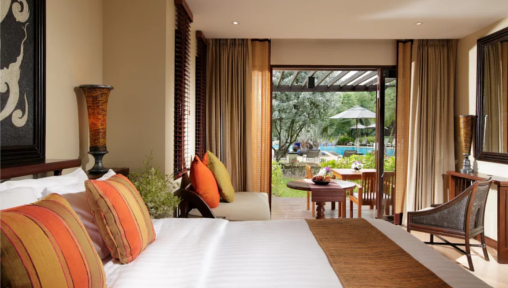 Hate sharing bathrooms while on holiday? The villas here come with a separate bathroom for each bedroom, which means you have plenty of space and can truly spread out as a family! All villas come with a spattering of Thai culture and the world renown Movenpick efficiency that ensures you have everything important in your room! From mosquito machines (and you'll need those in Thailand!) to coffee makers and international adapters, there's not much you'll be left wanting of at these luxurious suites.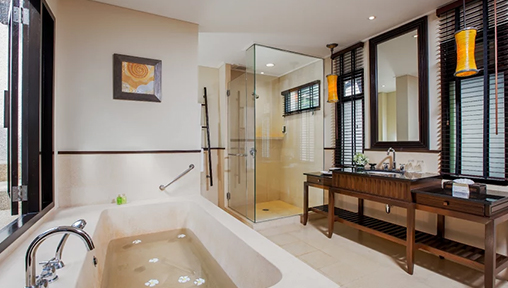 Kids Club and Facilities. Triple Check!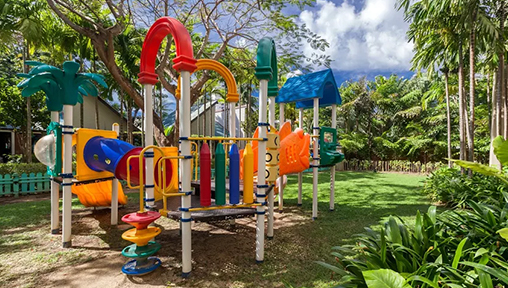 Happy kids make for happy parents and trust us when we say you'll fall in love with the resort, once your kids have been to their Play Zone! Open from 9am to 7pm daily, the kids club offers endless indoor and outdoor options for children between the age of 4 and 12. From sports activities, art and craft lessons (Batik T-shirt making anyone?) and a dedicated child-safe play area with enough toys to keep them busy for weeks; this is truly what kiddie dreams are made of!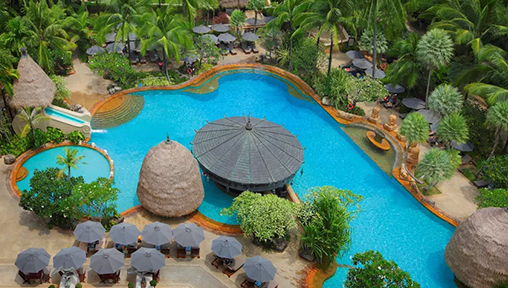 3 pools, 4 restaurants and a much-coveted spa will keep the adults equally busy at the resort too. For those of you who love Thai food, the cooking lesson taught by one of the skilled chefs at Movenpick is an excellent and a surprisingly well priced activity to pursue. Want to take an island tour or a diving lesson instead? Simply speak to the concierge team and they'll arrange whatever is needed, pronto!
The Food!
Here's another reason to wake up every morning! The sumptuous buffet at the hotel is massive and covers everything from English, Thai, Asian to Gluten-free options too. Oh, and don't miss the Swiss Rösti that is made fresh to order. Pro tip – eat your breakfasts at Orient Asia (only for Villa guests) and not only will you get breakfast sans the crowds but also a spectacular ocean view.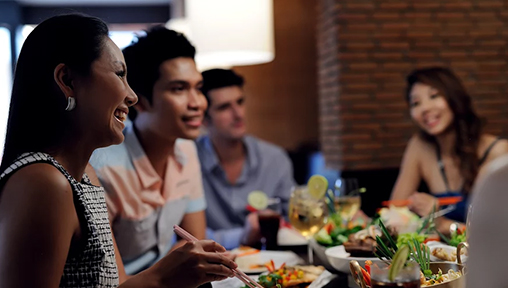 While there are plenty of great local restaurant options around the resort, do try and make the time for the daily Thai Extravanganza Buffet at the Movenpick Resort & Spa. The spread made up of traditional Thai cuisine and culinary classics cooked by their chefs is delicious and a great introduction to different Thai dishes. And did we say it's just THB 499 net? Appetizers, a full spread all-you-can eat mains buffet, dessert and a beer or non-alcoholic drink included make this exceptional value too!
Final Word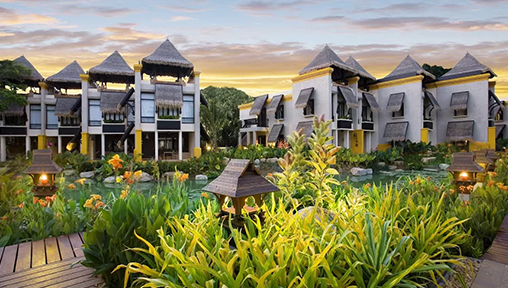 We are often asked if we would go back to the Movenpick Resort & Spa, Karon Beach? And the answer - a resounding yes! From location to the amenities and accommodation on offer, the resort ticked all the right boxes for us. If you too are looking for a luxurious family villa that's close to a great beach and everything Thai, set your eyes on the Movenpick Resort & Spa.
For reservations and further enquiries visit Movenpick Resort & Spa, Karon Beach, Phuket