From job cuts in offices to exams in schools, from sudden surgeries to long drawn divorces, one thing is common. Stress! A six letter word, which has begun to define our lives. Whether we are 7 or 70 years of age, we have all experienced stress. Some people handle it well and some don't. Most people don't realise the damage caused by it. Stress can cause a lot of temporary and permanent changes not only in body but lifestyle too!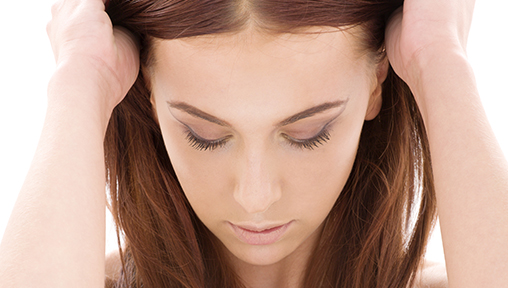 One of the changes is related to hair and scalp. Most of us experience hair loss and scalp issues like dandruff when we are under stress. Cases of severe stress can cause handful of hair loss at a time. Women can start developing alopecia areata (hair loss in spots or areas). Some experts believe that people who are susceptible to stress related hair loss are the people with genetic predilection to hair loss. This could mean that stress affects the hair growth cycle. Recent studies have shown chronic stress to be associated with inhibition of hair growth and perifollicular inflammation. Furthermore in vivo and in vitro studies have revealed that typical stress mediators inhibit hair growth.
You may experience excessive itchiness, redness and dandruff during a period of stress. Some experts believe that dandruff may be caused by stress. A study featured in Archives of Dermatology found that stress has a negative effect on the barrier function of the skin, resulting in water loss that inhibits the skin's ability to repair itself after an injury. This shows that any pre-existing hair or scalp issues may be aggravated under stressful situations.
The obvious solution to this problem would be to reduce stress! That is easier said than done. A number of authors have written about meditation and yoga to reduce stress. Most people who have tried meditating say it works. It reduces, stress, blood pressure and heart rate. Author David H. Kingsley, in his book The Hair-Loss Cure: A Self-Help Guide says exercise, relaxing & meditation and talking to people help reduce stress.
Hair and scalp issues associated with stress can be overcome with a simple change. Swap your current shampoo with BioRoyale GroBack Shampoo. It is a truly natural shampoo, so no stressing over the chemicals! It has ingredients rich in nutrients, essential for hair and scalp. Active ingredients like Calendula, Aloe, Rosemary extract, Jojoba oil etc. help reduce hair loss. Lavender and rosemary are well known for their calming properties. It has ingredients which are natural antimicrobial and anti-inflammatory, which help to combat scalp issues like dandruff, itching, scaling and flaking. While the shampoo itself may not reduce your stress, it will definitely reduce the hair loss and scalp issues associated with stress.
So next time when stress builds up, don't pull your hair out! Just keep calm and BioRoyale on!