F&B
Diwali 2020 Guide: Special Menus and Mithai for Deepavali in Singapore
Published Date
: 03 Nov 2020 14:00

Top Indian restaurants in Singapore to celebrate Diwali 2020 with special menus featuring Indian food favourites and mithai
The festival of lights is almost upon us! Little India celebrates Deepavali with the stunning annual light-up and decor along Serangoon Road, as well as workshops and other festive events. Find the full list of events on The Deepava-List 2020.
Diwali also means sumptuous feasts and delicate mithai from some of the top Indian restaurants in Singapore. Here are our favourites.
Modern Indian Bistro & Bar, Gabbar, has curated must-try dishes this Diwali including an all-new Indian-Fusion Dal Burrata. Dal (lentils), a staple in Indian cuisine, has been a comfort food for centuries and who doesn't love Burrata? Gabbar decided to create a fusion dish by mixing these two popular dishes, and it has turned out to be a real winner!
Non-vegetarian lovers can look forward to Gabbar's Shikampuri Lamb Chops which is inspired by the Royal Corridors of Hyderabad, marinated with hung curd and spices, succulent in every bite. Another highlight is Gabbar's Murg Gulabi Tikka combining two popular flavours - rose and cardamom. Understanding that local Singaporeans love their Dalchas with their Roti, the culinary team at Gabbar has created a Dalcha Chicken which is a delicious boneless chicken, cooked in lentil gravy that is creamy and sinful.
For vegetarian appetisers, Gabbar's Mushroom Galouti - Kebab of Kashmiri button mushroom, topped with tangy pineapple sauce with a crispy bottom - simply melts in your mouth. Their Paneer Paan Patta are tender pieces of cottage cheese infused with Paan Patta, which is betel leaf that is an addiction amongst Indians. Gabbar's vegetarian main course this Diwali includes Paneer Pasanda, a rich curry of cottage cheese stuffed with paneer, Khoya, dry fruits, with creamy golden brown gravy. There's also the spicy Kolhapuri - vegetables tossed in the famous Kolhapuri Masala, a Maharashtrian speciality for spice fanatics. Finally, Amritsari Makai Palak, a nutritious bowl of Amritsari corn tossed in a smooth spinach gravy.
Gabbar's Weekend Diwali Menu is available on Friday, Saturday and Sunday from 5pm to 10.30pm till 15 November 2020.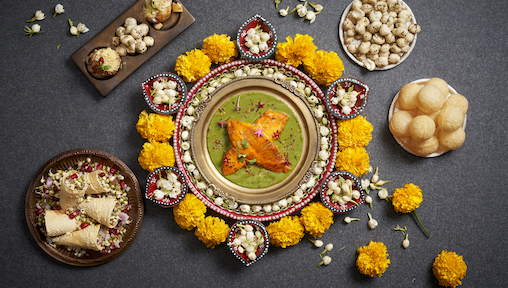 Celebrate the festival of lights with an exceptional Diwali menu specially prepared by award-winning Chef Kuldeep Negi at Tiffin Room.
The Diwali Experience menu takes diners on a traditional epicurean journey beginning with appetisers including Dahi Puri, as well as mains Achari Mahi Tikkaand Dill Palak Ka Gosht, showcasing traditional dishes with fresh flavours and vibrant colours, mirroring the exuberance and warmth of the festival. Look forward to completing the entire experience with desserts which are exclusive to the occasion with Mango Ghevar and Mithai, an array of Indian speciality sweets like cashew nut, date and fig.
Both non-vegetarian and vegetarian menu options are available. During this promotional period, a limited selection of the regular Tiffin Room à la carte menu will also be made available.
Tiffin Room's Diwali Menu is exclusively available at Raffles Hotel Singapore from 5 to 15 November 2020.
In keeping with tradition, Shahi Maharani presents a Diwali Celebration Week with a special Diwali Set Lunch and on Diwali day itself with their Dinner Celebration menus.
This Diwali, Shahi Maharani will showcase their timeless classics – dishes which we crave for from the Shahi Kitchen! This includes Chaats, Chicken Makhanwala (Butter Chicken), Rogan Josh, their Shahi's signature Raan, Murgh Malai Tikka, Seekh Kebab (Lamb Kebab), Lahsuni Jheenga (Garlic Prawns) from the tandoor and many more.
For sweet endings and guilty pleasures, be spoilt for choice with Rasmalais, Jalebis, Gulab Jamuns, Kheer, Gajar Halwa and other lip-smacking goodies.
Shahi Maharani's Diwali specials are available for lunch from 9 to 13 November 2020 at SGD42++ per head; on 14 November 2020 for lunch at SGD48++ and for dinner at SGD68++; on 15 November 2020 for lunch at SGD48++ per head.
In the spirit of Diwali, Shangri-La Hotel, Singapore offers an elaborate a la carte buffet featuring an expanded selection of traditional Indian dishes at The Line, and exquisite mithai presented in specially designed gift boxes which make for elegant gifts to bestow upon loved ones.
Hailing from Bhubaneswar, Odisha Chef Dillip Nayak will prepare a special line up of family favourites perfect for connecting with loved ones over a meal during this special occasion. Get a taste of traditional Indian dishes such as Bharwan Baingan with Salan Sauce (Stuffed Baby Eggplant with Coconut and Peanut sauce), Garlic Grilled Seabass, Crab Kofta with Moilee Sauce, a mild coconut sauce with a touch of tartness from Kerala, South India, and Tandoori Malai King Prawn, offered exclusively for Diwali.
A variety of sweet treats made just for the occasion ranging from traditional Kaju Burfito classic desserts modernised with a touch of Indian flavours in the form of Masala Chai Crème Brulee will also be served.
Deepavali a la carte buffet at The Line is available during lunch and dinner from 12 to 15 November 2020, priced from SGD58++ per adult.