Diwali or Deepavali, the festival of lights, symbolises the victory of good over evil and light over darkness. Deepavali is traditionally celebrated all over India by lighting diyas or oil lamps, playing with sparklers, adorning new clothes, visiting friends and relatives, indulging in delicious Indian food, and exchanging Indian sweetmeats.
Celebrated on 27th October 2019 this year, Deepavali in Singapore comes with several festivities, events, special lunch and dinner menus at some of the best Indian restaurants in Singapore, as well as yummy Indian sweets and treats. Celebrate by treating yourself and your loved ones or gifting your corporate clients sweets and savouries and everything nice!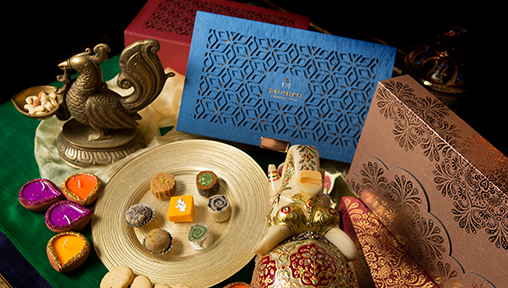 Shahi Maharani's finest selection of vegetarian, home-made Deepavali goodies are packaged in elegant gift boxes and jars especially for the festive season. The Royal Savoury Treats Box comes with 4 jars of spicy snacks while the sweets box comes with mithai and cookies that pair wonderfully with a cup of masala chai.
Specially crafted by their Halwai or Dessert Chef this Deepavali, are nutrient-packed Indian sweets using ingredients such as figs, nuts and chia seeds that will be mildly sweetened, unlike traditionally extra sweet mithai. Mouthwatering Deepavali classics including mango and white chocolates, milk cakes, stuffed cashew and pistachio rolls, almond blueberry rolls, and walnut ladoos will also be making a comeback this Deepavali.
From 25th to 28th October 2019, Shahi Maharani will be having their Deepavali lunch buffet while Deepavali dinner buffet will be offered on the weekend of 26th and 27th October. Look forward to Chaats from Mumbai, Butter Chicken from Punjab, Dum Biryani from Hyderabad, and much more. To add to the festivities, live musicians will be performing live ghazals and Bollywood tunes in the evenings.
For more information, email enquiries@shahimaharani.com or call (+65) 6235 8840.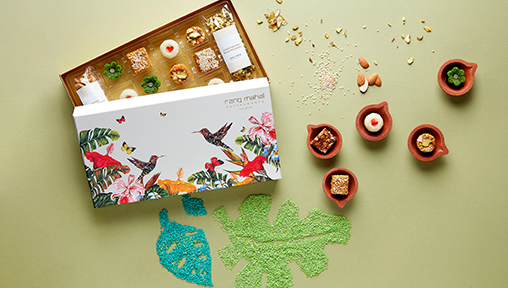 Rang Mahal, one of Singapore's leading Indian fine-dining restaurants, has launched its Deepavali collection of mithai comprising a range of healthy ingredients and wholesome flavours. These handcrafted sweets have been prepared without the addition of any preservatives or food colouring. In its continual efforts to support the community, the restaurant will also be donating 10% of profits from its mithai sales to the Breast Cancer Foundation this year.
This year, Corporate Chef Milind Sovani and his culinary team pay tribute to tradition with a variety of classic mithai flavours such as pistachio barfi and slow-roasted lentil barfi. The Deepavali collection features ingredients such as gum herb which helps prevent strokes, coconut which is energising and boosts metabolism and pistachios which are a rich source of protein and antioxidants.
Exclusively available from Saturday, 26 October 2019, to Monday, 28 October 2019, indulge in Rang Mahal's Deepavali buffet spread of favourites from various regions across India. Highlights on the menu include Kesari Malai Kofta, Kashmiri Lamp Chop Roganjosh and the ambrosial Hyderabadi Vegetable Biryani. There will also be three live stations making fresh Gujarati Kadhi Khichadi, dosas and chaat. End off on a sweet note with Rang Mahal's speciality crispy Kesar Jalebi with Rabdi and Mango Shrikhand.
Get your Deepavali mithai in-store at Pan Pacific Singapore or online. For enquiries or corporate purchases, please call (+65) 6333 1788 or email rangmahal@rangmahal.com.sg.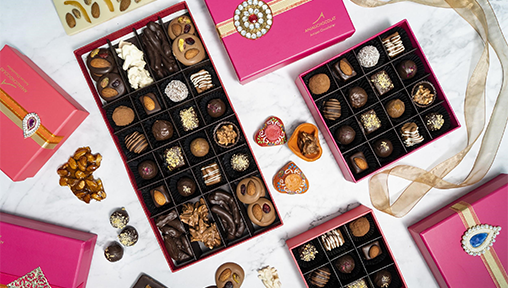 Artisan Chocolatier ANJALICHOCOLAT is offering a Deepavali special chocolate collection. Each gift box contains luxury, hand-made bonbons and truffles, made with the season's finest ingredients: cashew nuts, pistachios, almonds, mango and rose. You can choose from the Deepavali Box of 9 Chocolates, 16 Chocolates, Premium Deepavali Gift Box, Luxury Deepavali Gift Box or Deepavali Chocolate Platter.
Indulge with the family and loved ones or buy them as a perfect corporate present to delight this Deepavali.
Order your Deepavali chocolate gift box here.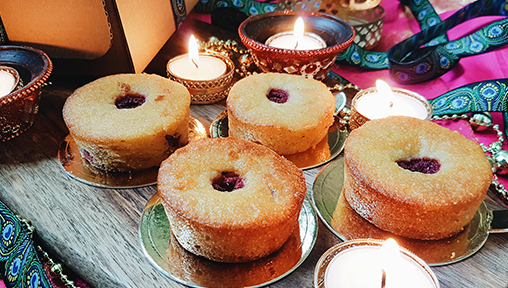 We know just how challenging it can be for our vegan and gluten-wary friends to enjoy Deepavali treats as most tend to have dairy or eggs - but not to worry, Oh My Goodness! has got you covered. This Deepavali, celebrate with their gorgeous gift boxes featuring 8 lemon-raspberry mini cakes in festive pink and yellow that just melt in your mouth. They are vegan, gluten-free, dairy-free and even Halal!
The Deepavali gift box comes with a complimentary tea light in a sparkly gold holder, all tied together with a lovely peacock ribbon in a rustic box. Simply the perfect gift for the Festival of Lights!
Place your orders online and get delivery to your doorstep in Singapore in just 48 hours. Available for delivery until Saturday 9 November 2019 (last order by Thursday 7 November).
Order your Deepavali gift box here. Vanilla Luxury readers can get 10% off corporate orders with a minimum purchase of 10 boxes. Simply place your corporate orders here!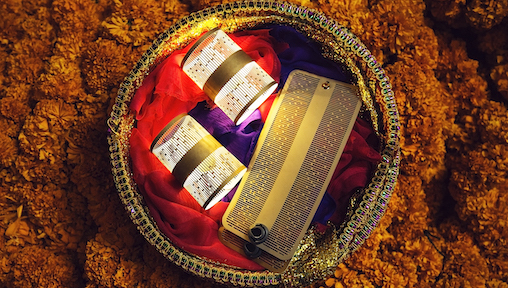 Looking for a unique way to light up your home this Deepavali? Diah by Mana is a perfect way to celebrate a bright Deepavali in a safe and eco-friendly way. You have the choice of outdoor or indoor Diahs; outdoor Diah lights have a laser cut an intricate pattern, are weather-resistant and are perfect for a range of outdoor activities; indoor Diah lights are crafted out of 300GSM recycled paper, aren't laminated and are 100% recyclable. Plus, their flat-pack design makes for easy storage.
Get creative with Diahs this Deepavali and wrap them around marigold garlands, curtains or pots. Snap 4-6 Diahs and place them on the floor and sprinkle your favourite flower petals around them to create your own version of rangoli. Grab some string and create a beautiful lightscape on your balcony for a gorgeous Instaworthy photobooth or hang the Diahs on tree branches. Light your entrance walkway with Diahs and let the world know it's time for Deepavali festivities to begin! These Diahs also make for the perfect gift for any occasion.
Order you DIWALI DIAH here. Enter "LUXEDIWALI" at the checkout for 10% off!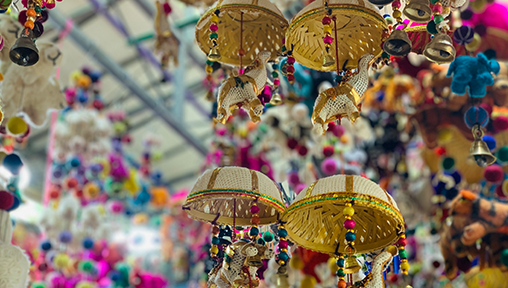 Deepavali Festival Village in Little India
You can't celebrate Deepavali in Singapore without making a trip to Little India. The dazzling display of Deepavali lights along Serangoon Road turn on from 7 pm till midnight until 10 November 2019.
Head to the Deepavali Festival Village at Campbell Lane, which will be on till 26 October 2019, to see beautiful decorative and festive items. You can get anything you need to decorate your house from candles to rangoli as well as find festive Indian outfits and snacks. There is also a Deepavali Hipster Bazaar being held at the field beside Tekka Lane, next to Race Course Road, from 10 am to 10 pm.
The Indian Heritage Centre is organising an open house on 12, 19, 26 and 27 October 2019 where you can participate in a saree draping workshop, attend a cooking demonstration for Deepavali special dishes, engage in friendly competition through traditional Indian games, and much more.