F&B
CoronaRita: Bars in Singapore to get your Coronita Overturned in a Margarita
Published Date
: 22 Oct 2019 14:00

Here's a list of bars in Singapore to get CoronaRita, a Coronita beer overturned into a glass of margarita
A perfect complement to life's simple pleasures, Corona is "The Number 1 Mexican Beer" in the world. Iconic around the world, you can easily spot a Corona with its golden colour, light refreshing flavour and iconic hand-painted bottle topped off with a freshly squeezed lime.
Introducing Corona's little brother, Coronita, a smaller 210 ml bottle of Corona beer as compared to the existing 335 ml bottle of beer. Coronitas have been created especially for beer lovers who love their beers ice cold.
What is a CoronaRita? A CoronaRita is an overturned mini Corona Beer bottle draining into a margarita.
Here are several bars in Singapore for you to get your hands on some delicious CoronaRitas:
Blu Jaz has a 15 year legacy in capturing the hearts of anyone who wants to enjoy some good music and international cuisine. Sip on Coronitas and CoronaRitas and wind down amidst the vibrant lights of Arab Street, letting you indulge in an unforgettable ambience, that is uniquely Singaporean.
At only $7++ for a bottle of Coronitas and $22++ for CoronaRitas, you will definitely be wanting more than just one Corona overturned into a margarita!
Address: 11 Bali Lane, Historic Kampong Glam, Singapore 189848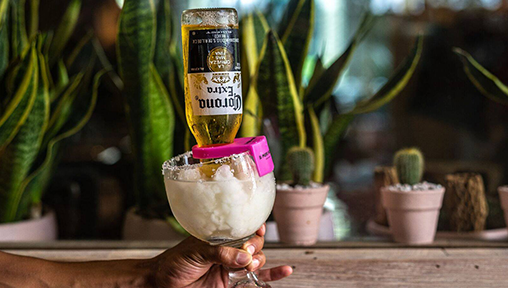 El Mero Mero means 'the best' in Mexican lingo and is out to prove that modern Mexican cuisine is about more than just burritos and tacos. The team at El Mero Mero hand-picks their selection of tequilas, margaritas, beers, Hispanic wines in order to bring a vibrant selection of flavours from various regions of Mexico to foodies in Singapore. What's more, you can now enjoy both the Coronita and CoronaRitas at El Mero Mero!
Address: 30 Victoria St, #01-20 Chijmes, Singapore 187996
Señor Taco is the first Taqueria in SIngapore, serving Mexican-style street food. A perfect place for a get-together, share and enjoy a delicious array of Tacos, quesadillas and burritos. Indulge in a variety of drinks such as beer, tequila shots, freshly made margaritas and Señor Taco's famous CoronaRitas to create an intoxicatingly fun new experience all night long.
Address: 3A River Valley Road, #01-07 Clarke Quay, Block A, 179020
Nestled right in the heart of Orchard Road, No.5 Emerald Hill serves as a cocktail bar and a lounge. A pioneer in all things cocktail, this bar is a must visit. Enjoy the finer things in life while sipping on a range of cocktails such as Chilli Vodka or the latest margarita edition; the CoronaRita while relaxing with your friends surrounded by the charm of the bar.
Address: 5 Emerald Hill Rd, Singapore 229289