Whether you're into the classic Chinese New Year goodies or looking for something unique, our list of snacks will have you drooling by the end of it. This year, the variety is vast from traditional bak kwa, pineapple tarts and chocolate gold coins to pastries with local-flavoured twists including salted egg yolk, durian, gula melaka, and mala.
So, celebrate the year of the pig with these yummy treats!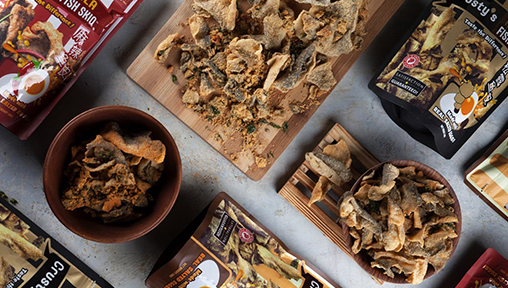 With mala hotpots being all the rage now, how could we not have included a mala flavoured snack? Crusty's offers fish skin and potato chips in three different flavours - Original Salted Egg, Salted Egg with Sichuan Mala, and Salted Egg with Truffle. Only top quality ingredients and spices, 100% free from preservatives are used and the snacks are freshly prepared from their local factory in Singapore. You can find these delectable treats and their 3-in-1 CNY Pandora Gift Box at their store in Chinatown, Golden Village cinemas, Cheers, NTUC Fairprice and all major gas stations in Singapore.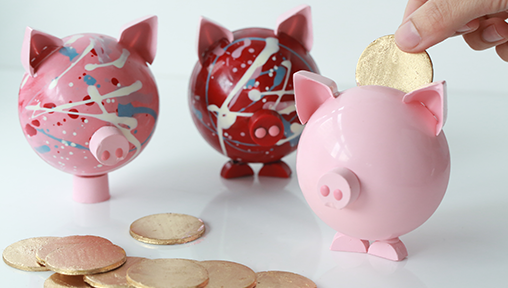 Unleash your inner child and celebrate the year of the pig with Janice Wong's playful Chocolate Piggy Bank, complete with chocolate coins to slot in! Other Chinese New Year goodies include her signature Dark Chocolate Pineapple Tarts, Cookie Tin, and Cookie Hamper featuring Nian Gao and Carrot Cake. Great for gifts and to delight the kids!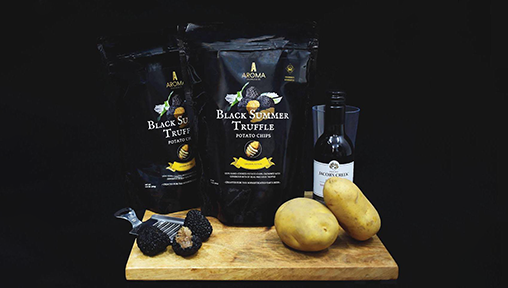 From the brothers behind Singaporean-flavoured Snacks & Crisps, comes a new gourmet snack - Aroma Truffle chips. Handpicked Black Summer truffles from Spoleto, Italy are flown into Singapore and glazed onto the chips which are then tossed in olive oil. Truffle bits and other secret spices and herbs such as such as parsley, dill, garlic and sea salt are then grated on to the snack.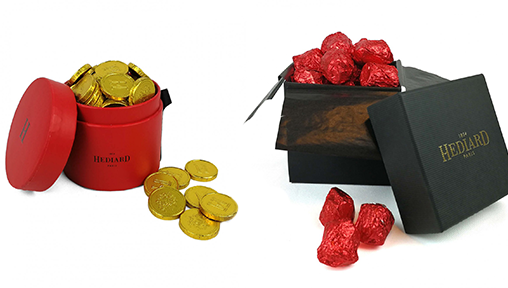 Looking for personal or corporate gifts? Hédiard is offering a range of gift hampers and boxes all with the prestigious Hédiard hallmark and classy red packaging. They include Cocoa Fantasy Truffles, "Ferdinand d'Or" Milk Chocolate Golden Coins, and Gold Praline Pearls consisting of crunchy nougatine shells filled with traditional praline and coated with milk chocolate.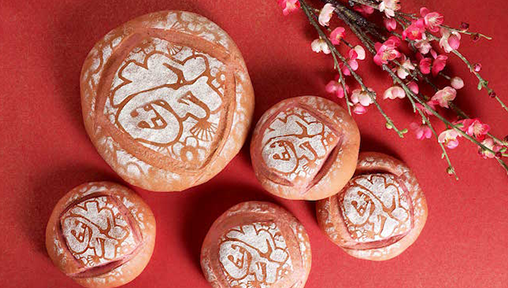 Antoinette reinterprets the nian gao, or glutinous rice cake, in a bun - The Hong Bao made with the French poolish and Japanese water roux methods, infused with red dragon fruit juice and filled with pork floss, house-made mochi or nian gao, salted egg, candied yam and fried shallots. There are also other treats such as Mala Chips, pork floss meringue, haebee hiam cookies, spiced salted egg cookies and kopi susu cookies.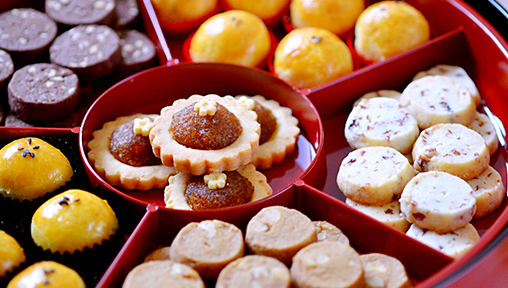 Image Source: Simple Indulgence Patisserie
All natural 100% handcrafted Chinese New Year delicacies? Simple Indulgence Patisserie is offering melt-in-your-mouth Salted Egg Pineapple Tarts made with fresh bits of pineapples, are less sweet, and even has a gluten-free version. You can also opt for egg-free treats such as Chocolate Almond Cookies, Coffee Walnut Cookies, and Madagascar Vanilla Cranberry Cookies that pair perfectly well with a cuppa coffee or tea.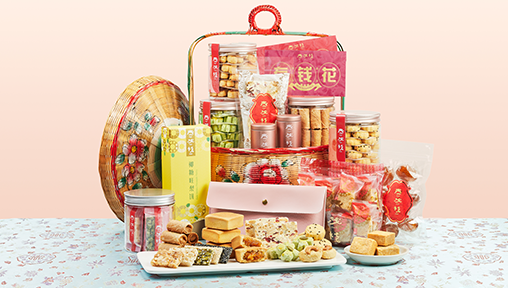 Long-standing local Teochew confectionery, Thye Moh Chan, presents a new festive creation this year – Golden Yam Mochi; a delectable pastry featuring yam filling, complemented with black sugar mochi. They are also offering a variety of differently flavoured pastries including durian, gula melaka, longan pineapple, and green bean cookies. Perfect to share with the whole family!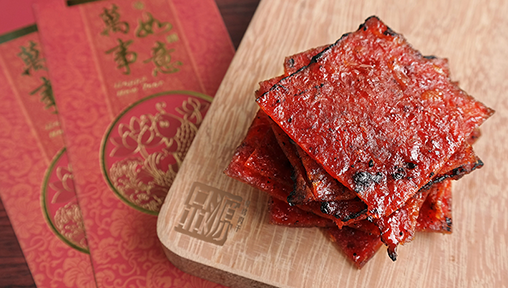 Image Source: Peng Guan Facebook
Synonymous with the Lunar New Year is, of course, the Chinese pork jerky. Peng Guan takes pride in hand making their bak kwa from scratch - from the preparation of raw ingredients, the creation of their special marinade recipe to the barbecue process. Every package is freshly made to order and is the perfect Singaporean Chinese snack! Also, a perfect gift if you're visiting relatives overseas.