F&B
#BlingEmpire Inspo: Top Fine Dining Restaurants in Singapore
Published Date
: 19 Jan 2023 10:00

Looking for top fine dining restaurants in Singapore for a luxurious fine dining experience? Here's a round up of the best
Top fine dining restaurants in Singapore on your mind? With the latest Bling Empire launching its new spin-off season in New York City, fortunately, you don't have to travel all the way to New York to have a taste of the posh lifestyle. Singapore is packed with tons of options and definitely not short of fine dining restaurants - onboard their fancy dining experiences and have your own Crazy Rich Asians moment. From Michelin Star awards, World's 50 Best Restaurants to amazing reviews across the board, you would not want to give these top restaurants a miss! 
#BlingEmpire Inspo: Top Fine Dining Restaurants in Singapore
Decked with three Michelin stars, Les Amis is an award-winning French fine dining restaurant that will never miss. Opened in 1994, they specialise in delivering the ultimate French fine dining experience - dishes are crafted with the finest ingredients sourced from France. Well known for their hospitality and friendly service offered by the Les Amis team. If you want an extraordinary dining experience, go for the exclusive private dining option such as the Chef's Table - where you can spectate your meals being prepared. What's more, this restaurant is conveniently located at Shaw Centre, right at the heart of the Orchard Road shopping district. 
Les Amis is located at 1 Scotts Rd, #01-16 Shaw Centre, Singapore 228208. For reservations, email [email protected] or call (+65) 6733 2255. 
Located in the National Gallery Singapore, the top fine dining restaurant Odette specialises in Modern French cuisine. This restaurant carries three Michelin stars and is helmed by Chef-Owner Julien Royer, who started the restaurant by drawing inspiration from his grandmother Odette. While the menu follows the principles of French cuisine, Julien's approach is also influenced by his years in Asia - bringing ingredients sourced from all over Asia. Asides from the restaurant's focus on seasonality, terroir and artisanal produce, the dining experience is elevated with creative installations led by Singaporean artist Dawn Ng. 
Odette is located at 1 St Andrew's Rd, #01-04 National Gallery, Singapore 178957. For reservations, email [email protected] or contact (+65) 6385 0498. 
Zen is a popular fine dining destination for those looking for modern French restaurants in Singapore. This restaurant especially uses organic produce from all over the world - including locally-grown vegetables when they are in season and sustainable seafood from Europe, Africa, South America, Australia and New Zealand. End off your luxurious meal with some drinks as Zen offers top wines and champagnes in their comprehensive range of beverages. Their fixed menu style - priced at SGD 580++ per guest excluding your choice of beverages. Feel free to add on beverage pairing with both alcoholic and non-alcoholic options available. 
Zen is located at 41 Bukit Pasoh Rd, Singapore 089855. Make your reservation today at [email protected] or contact (+65) 6534 8880.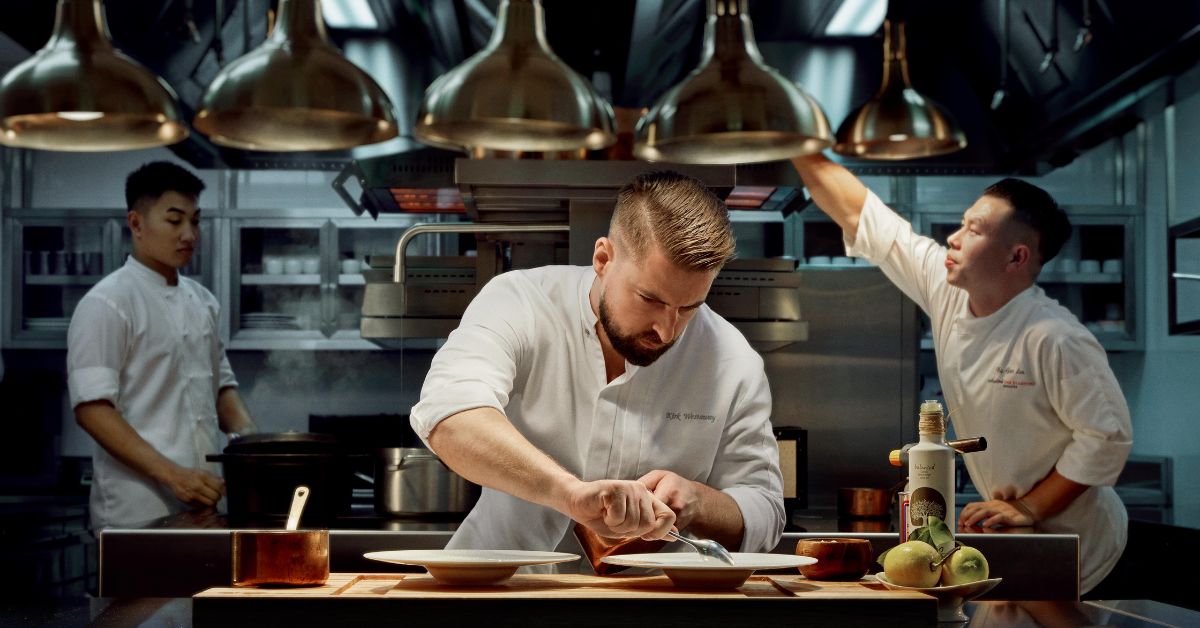 JAAN, led by Executive Chef Kirk Westaway, is dedicated to making an indelible mark on modern British cuisine. A top fine dining restaurant in Singapore with a menu that is continually evolving and embracing a seasonal concept to highlight British dining in a modern light. Enjoy nature's finest with a harmonic interplay of premium ingredients, each of which is preserved true to nature's perfection inside each meal. Explore their Reinventing British Dinner Menu that is simple yet complex, with British Roots (Black Truffle), Hen's Egg (Cornish Yarg) and more - starting from $388++ per person. 
JAAN By Kirk Westaway is located at Level 70, Swissotel The Stamford 2 Stamford Road, Singapore 178882. 
Head down to Saint Pierre for Michelin-star fine dining in Singapore. Essence-centric cuisine, which uses cutting-edge extraction processes to extract potent, essential essences from the purest, natural materials, is at the core of Saint Pierre cuisine. Global travels have influenced Chef Stroobant's culinary approach - which is a tasteful fusion of European and Southeast Asian elements that puts flavour at the forefront of every meal. Enjoy the Opulence 6-course tasting menu from $388 per person that includes caviar, scallop and turbot delights (subject to availability). With a stunning view of Marina Bay in Saint Pierre's intimate 24 persons-seating main dining room. 
Saint Pierre is located at 1 Fullerton Road, #02-02B, One Fullerton, 049213. For reservations, contact (+65) 6438 0887.
Burnt Ends serves modern Australian barbecue and boutique wines and spirits in a casual, laid-back setting. A modern barbecue restaurant featuring four elevated grills and a unique four-tonne, multi-cavity oven in its open-concept kitchen. Get to enjoy new menus and fresh dishes from Burnt Ends daily. Premium meat delights such as the Flatiron steak, Hida wagyu, King Crab & Garlic, Smoked Quail Egg & Caviar and more. This fine dining restaurant has held its One-Michelin star since 2018 and is also part of awarding restaurant lists like the 2022 San Pellegrino World's 50 Best Restaurants and 2022 San Pellegrino Asia's 50 Best Restaurants.
Burnt Ends is located at 7 Dempsey Rd, #01-04, Singapore 249671. For reservations, contact (+65) 6224 3933.
A bold, refined grill, top restaurant Revolver features Indian cooking sensibilities incorporating international elements and seasonal ingredients and spices from all around the world. With a dynamic open-concept kitchen, dishes are prepared with their custom-built wood fired grill. Expect smoky bold and refined charred flavours as they incorporate fire as an essential element in their progressive menu. Go with the full Experience Dinner menu that starts from $229 per person. 
Revolver is located at 56 Tras St, Singapore 078995. Make your reservations via their website or contact (+65) 6223 2812.
Prepared by Michelin-starred chefs, dine in Sushi Sakuta to experience the pinnacle of Japanese craft. With a 16-seater fine-dining omakase concept, you'd get to indulge in their premium selection of seasonal ingredients at their peak. At SGD 500++, enjoy their omakase course that comprises 5 appetiser dishes and 10 sushi pieces. 
Located in The Capitol Kempinski Hotel Singapore in the heart of the Civic District of downtown Singapore. Book your reservation via their website or contact (+65) 6214 9477. 
Indulge in a local fine-dining experience at the World's first New Singaporean 1 Star Michelin Restaurant. Restaurant Labyrinth brings to you delicacies that honour the chef's own history in Singapore and the true flavours of the city-state. With a goal to provide a distinctive Singaporean culinary experience - creating episodes that evoke all the senses through memories and stories through their seafood-centric tasting menus. Tasting menus at Restaurant Labyrinth start from $208++ (lunch) and $298++ (dinner) per person. 
Restaurant Labyrinth is located at 8 Raffles Avenue, Esplanade, Mall, #02-23, 039802. For reservations, contact (+65) 6223 4098. 
Basque Kitchen by Aitor opened its doors in October 2018 as Singapore's first Basque-focused fine dining restaurant honouring the nation's original culture and cuisine, with 1 Michelin Star in the 2019 edition of the Michelin Guide Singapore and kept it in the 2022 edition. This top restaurant showcases contemporary Basque cuisine reinterpreted by Chef-Patron Aitor Jeronimo Orive. Starting at $328++ per person is the dinner menu - with dishes that feature a fresh variety from sea and land, strong flavours and smokiness. 
Basque Kitchen by Aitor is located at 3 Fullerton Rd, #02-01/02/03 The Fullerton Waterboat House, Singapore 049215. For reservations, contact (+65) 6224 2232. 
Local-owned, Michelin-star fine dining restaurant serving Modern-Contemporary cuisine. Iggy's offers contemporary European delights that reflect the vitality of the global culinary scene in the way of the Singapore palate. With its tasting menus revised every micro-season to feature the greatest food, Iggy's works with the top gourmet purveyors from all around the world to bring in the freshest seasonal produce. An extensive wine selection of a 25,000-strong bottle wine list with highly regarded wines that go well with their food.
Iggy's is located at 581 Orchard Rd, Level 3 Voco Orchard, Singapore 238883. Make your reservations via their website or contact (+65) 6732 2234.
Hazuki is a Kyoto-style fine dining restaurant with an ever-evolving menu that is firmly anchored in Kyoto-style traditions while displaying a modern, global flair. Situated in a quiet 12-seat dining area with exquisite place settings made from 1,000-year-old yakusugi and Kagami crystalware.  
At Hazuki they make every effort to source rare and high-quality ingredients, such as wild-caught seasonal fish and shiro miso from a renowned Kyoto producer that only supplies to selected restaurants in Japan. Each ingredient is thoughtfully turned into expressions of the season through 5 menus.
Hazuki is located at 391 Orchard Rd, #04-18A, Singapore 238872. For reservations, contact (+65) 6893 1555.
Have you ever tried Korean fine dining? Check out NAE:UM which offers dishes part of contemporary Seoul cuisine. Since young, chef-owner Louis Han has lived with a juxtaposition of Western cultures and Korean traditions. Here at NAE:UM, you can expect a harmony of modern Western techniques and Korean heritage flavours. Expect to see a twist in dishes you would not expect - such as their Kimchi which appears in white instead of the usual red. 
Located along Telok Ayer Street, be sure not to miss fine dining restaurant NAE:UM with its modern interior decked with wooden elements. Reserve via Chope or contact (+65) 8830 5016.