Are scalp treatments important? When it comes to your hair, real nourishment and health start at its roots - aka your scalp. As the experts put it, a healthy scalp indeed means healthy hair. 
A damaged, scaly or dry scalp on the other hand can lead to dandruff, oily hair, weak hair follicles and even hair loss. So, no matter your age or hair troubles, you can always benefit from a scalp treatment. Think of it as a way to keep your hair environment clean, and free of any damage-inducing elements. 
Also, if you suffer from hair loss, regular scalp treatments in salons are actually an effective way to prevent further hair loss. Clogged hair follicles can lead to oily hair, dandruff and hair loss, and scientifically-backed scalp treatment can allow your hair to breathe and flourish! 
Ready to book a scalp treatment at one of the best hair salons in Singapore? Look no further!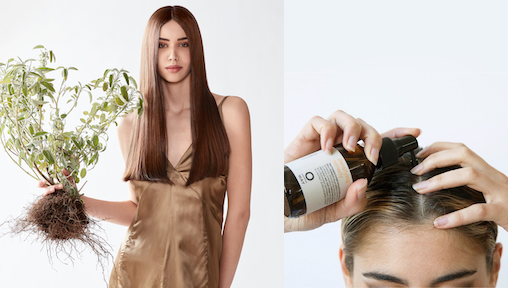 Want a scalp and hair regrowth treatment that combats hair loss? The Oway Hair Loss Treatment at Apgujeong Hair Studio is a micro-stimulating treatment that encourages hair growth. 
Hair loss is often the outcome of many factors and to effectively counter this delicate problem; a thorough diagnosis is fundamental. This is why the OWay Hair Loss Treatment uses methodical integrated synergy, via specific anti-sebum, lipid restoration, or anti-dandruff normalizing therapy. The hair loss treatment acts on two fronts: increasing hair matter and reappraisal of hair, improving its anchor point between the hair and the follicle while prolonging its lifespan (Anagen Phase). It stimulates the dermal papillae to induce new hair growth plus strengthens the cohesion and stability of the hair shaft and bulb. In addition, it encourages the oxygenation of the scalp, even for a sensitive scalp.
The best part? Oway only uses natural formulation with biodynamic, organic, and fair trade ingredients. Its agricosmetics® is a way of thinking, a way of life, a conscious choice. It puts care, conscience, and attention in every choice and action and creates quality products that respect the environment and people.
agricosmetics® means growing zero-mile plants, and medicinal and aromatic shrubs on Oway's ORTOFFICINA estate, on the hills of Bologna. It also means choosing the biodynamic method - the healthiest and cleanest, which does not require the use of chemicals - to obtain pure, ultra-effective essential oils, hydrolates, and extracts that become active ingredients in OWAY treatments. This extends to packaging formulas only in glass, aluminium and completely recyclable materials. So, if it's a natural formulation backed scalp treatment you are after, make sure to book your appointment at Apgujeong Hair Studio right away. 
Available at Apgujeong Hair Studio Novena Square 2 , E-appointment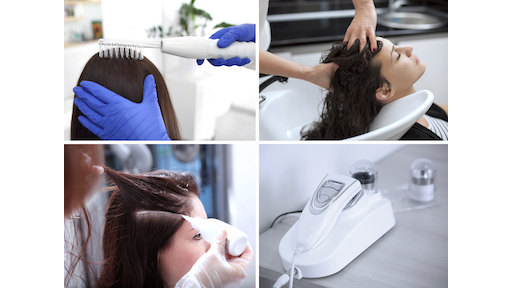 Most scalp treatments focus on just one issue, per session. However, Chez Vous Double Scalp Treatment targets not one, but two different scalp concerns in one session. And this is needed! Our scalp tends to have multiple underlying imbalances which lead to the main concern, for instance, dry and sensitive scalp, congestion and hair thinning, dandruff-prone and dehydration.   
While most scalp centres offer targeted programmes for a singular scalp concern the Chez Vous Double Scalp Treatment programme is customised based on your scalp type and needs. That is, the treatments will be finetuned depending on how customers' scalp react to them or how our scalp conditions might change over time, accordingly. 
Many scalp centres also use only one brand of products for these scalp treatments. However, every scalp type needs different ingredients and strengths - there is really no one-size-fits-all solution when it comes to scalp treatments. As the leading  hair salon in Singapore, Chez Vous has more than 7 different brands of products – from natural-based to more stimulating growth factors – and all of these can be used in the Double Scalp Treatment Programme. This way, Chez Vous can better tailor each treatment depending on the customer's scalp needs and type - including those for pregnant women!  
Lastly, many scalp treatment programmes focus on short term and quick results. Fast results are no doubt important, but long-term strengthening and balancing the scalp internally is equally important to sustain the benefits of the earlier treatments. Chez Vous' Double Scalp Programme balances between these two, where the second phase focuses on using natural ingredients to fine-tune, strengthen and rebalance the scalp internally so that the scalp can be healthy enough to sustain the benefits of initial treatments.
Ready to book? If you're looking for a scalp specialist who knows what she's doing, NOT just a scalp therapist who executes cookie-cutter scalp treatments, look for Yvonne at Chez Vous. Yvonne has over 13 years of experience and has helped over 5000 customers resolve their scalp concerns!
Chez Vous, 391 Orchard Road #05-05 Ngee Ann City Podium Singapore 238872. Phone (+65) 6732 9388, email: [email protected]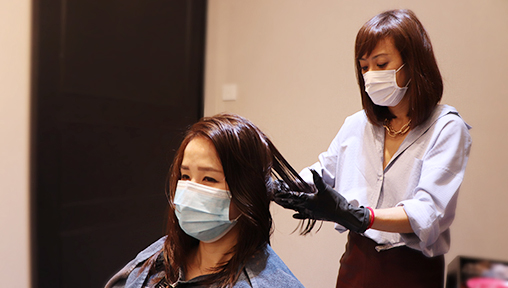 Leading hair salon, The Urban Aesthetics have the best hairstylists and expert trichologist that have been cherry-picked by founder Dr. Yanni Xu. Their in-depth expertise in all things hair means that they provide expert solutions for any issues, all the way from roots to tips.
They also understand that a healthy scalp is key to having healthy hair! With innovative treatment systems pioneered by their skilled trichologist, The Urban Aesthetics are committed to supporting you from the very foundation and their variety of scalp treatments. 
Try the Tricho Scalp Treatment, for instance. This scalp treatment is customised exclusively to each client's needs, starting with a detailed scalp analysis using a micro scalp scanner. Once the scalp condition has been assessed the appropriate herbal scalp mask is applied to target specific concerns. After washing off the mask, a tricho blend tonic is applied to the scalp, followed by a second micro scalp scan to compare the condition of the scalp.
For an aromatic scalp and hair therapy instead, go with the Aqua Punch Intense Treatment. This treatment combats scalp and hair irritation and is even suitable for a hypersensitive scalp. It uses a comprehensive 3 step system with products from renowned Korean brands Olivetta and Chanamu that work synergistically with the innovative Aqua Punch scalp and hair machine to deliver key benefits to your scalp and hair. 
The Deep Cleanse Scalp Treatment is a perfect combination of both the Tricho Scalp Treatment and Aquapunch Intense Treatment. Detailed scalp analysis using a micro scalp scanner is followed by a tricho herbal scalp mask suited to the scalp condition. After washing off the mask, the Aqua Punch treatment is conducted to combat scalp and hair irritation, subsequently followed by the application of 6 types of essences to the scalp. A comparative final micro scalp scan is done to show the difference in scalp condition.
And finally, The Urban Aesthetics Royal Treatment is a winning scalp and hair combination treatment that cleanses, rejuvenates and nourishes both the scalp and hair. The treatment session starts off with a Tricho Scalp Treatment, followed by the Aquapunch Intense Treatment. Detailed scalp analysis using a micro scalp scanner reveals the difference in scalp condition post-scalp treatments. The royal experience is finished off with the luxurious Tokio Inkarami Hair Treatment which not only replenishes amino acids within hair but also strengthens the hair cortex with macromolecular keratin proteins and fullerene, a powerful antioxidant effective in protecting the hair against UVB and other heat damage.
Don't wait to book that appointment - your best hair days start here!
The Urban Aesthetics, 252 North Bridge Road, #03-27A, Raffles City Shopping Centre, Singapore 179103. Phone: (+65) 6264 9952 , Whatsapp: (+65) 8328 9809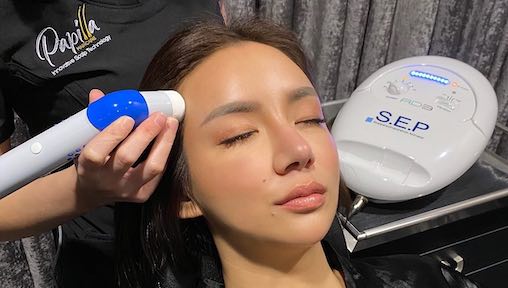 Looking for a non-invasive, pain-free, and FDA certified hair regrowth treatment? Not your typical hair salon, Papilla Haircare is a medically- backed hair regrowth centre that specialises in hair fall and hair thinning solutions. Papilla's hair and scalp award-winning protocols are non-invasive and adopt the latest nano-cell technology for scalp activation.  
Scalpelectroporation®, also known as S.E.P treatment is a new FDA approved procedure that offers a true alternative to injections. Hailing from Italy, this needle-free hair regrowth treatment allows the transdermal delivery of any substance that your doctor recommends. 
S.E.P technology makes the skin tissues permeable to macromolecules, in a non-invasive way, by utilising the skin's water-based channels to allow any ingredient to be absorbed. This means that every type of scalp condition including Alopecia Type 1 and 2 are suitable for this hair growth treatment. 
Pain-free and with no damage to tissues and cells, this safe hair loss treatment improves serum absorption into the hair follicles by 17 times!
Can't wait to find out more? Contact Papilla Haircare online or fill out an enquiry form for more information. 
Papilla Haircare. 391 Orchard Road, Ngee Ann City, Tower B #05-25AB, Singapore 238873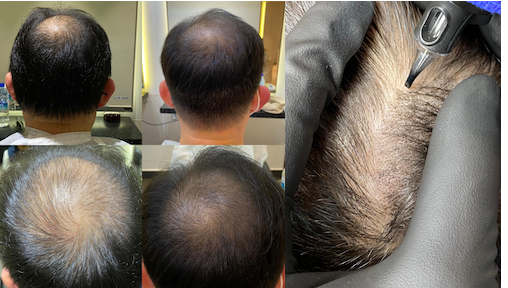 What happens when you've already suffered extensive hair loss and are looking to fix balding patches on your scalp without a transplant? Get the look of thicker hair and a beautiful illusion-like cover for thinning areas through the Scalp Micropigmentation treatment at La Source. 
During this scalp treatment, a specialised pigment is applied to the scalp creating thousands of tiny impressions, giving the illusion of fuller, darker hair and thus making grey hair less obvious. The colour of the ink and the technique used is important for an SMP procedure, in order to get the most natural-looking results. Lasting over 2 years, this new technique is a great alternative to those who want to avoid hair transplant surgery. With the art of replicating hair, you will receive a fuller-looking scalp that gives the illusion of a short haircut. 
When it comes to SMP, remember to choose your salon wisely. Although it sounds simple, the technique involved in Scalp Micropigmentation needs to be specialised to ensure you get the best and long-lasting results for your hair. This includes the quality of ink, angle of deposits, depth, consistency of colour etc need to be managed properly for a successful treatment. What's more, the SMP treatment is also great for those with greying hair. It helps to reduce the number of visits needed between colour sessions!
La Source. The Shopping Gallery @ Hilton, #02-17/18. Singapore 238883. Call (+65) 6732 1318 or WhatsApp to (+65) 9711 8707 for an appointment today!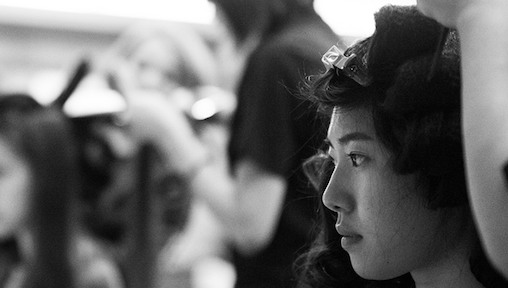 Hair loss and hair thinning are now a growing concern for younger men and women. In fact, scalp care should not be left for your older years! Start young and you will ensure that you enjoy a healthy scalp environment for better hair growth, thereby preventing hair loss. This is why regular scalp treatments in salons are one of the best hair loss prevention methods available to us today. Kimage, one of the leading hair salon brands in Singapore understands that. 
Their Scalp treatments are based on scientific research for one purpose- to improve the condition of the scalp, providing a healthy environment for your hair growth.
Scalp therapy for hair loss. These treatments at Kimage cater specifically for hair loss and hair thinning issues which contain Stemoxydine targeted to increase oxygen levels in the tiny follicles of the scalp to improve the scalp function to promote hair growth. On the other hand, the Biodynamics scalp Treatments use all-natural ingredients to cleanse the scalp of build-up with specific ranges catered for oil, dry and sensitive scalps. 
There's also the Detox Mint Scalp Treatment! If you like the minty refreshing feel after a scalp treatment, try the mint series of scalp treatments which promises to cleanse and refresh your scalp, leaving it feeling fresh and minty.
Don't know which scalp treatment to book? Simply get an appointment at Kimage and let their hair specialists assess what would work best for you! 
Kimage, Multiple locations. Book here or email [email protected] with your queries.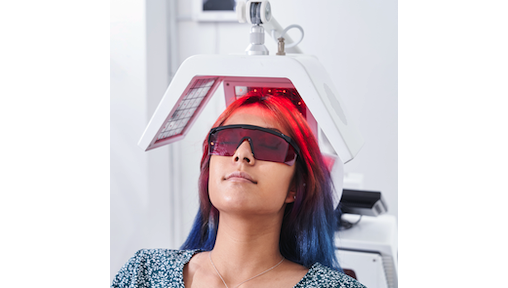 TrichoMD is popular with both men and women and works on early baldness and receding hairlines, in cases of male and female pattern baldness and other hair loss condition. 
Founder Jenny Wong is a Member of The International Board of Medicine & Surgery USA and is an American Certified Hair Restoration Practitioner. Using Low-level Laser Therapy (LLLT) she has introduced the idea of a scalp treatment that is safe, non-invasive, and an alternative to a hair transplant surgery.
Low-level Laser Therapy has been used clinically for numerous ailments in Europe for over 30 years and has been the subject of over 3,500 scientific papers published worldwide. There are also no reported side effects to the therapy, which is painless, non-toxic, and complements many standard treatments. In fact, a 2003 study showed 135 new hairs per inch with laser treatment!
Worried about lasers burning your scalp? Low-level Laser Therapy is a cool laser that does not burn tissue, produce heat or damage our epidermis during treatment. It works by stimulating the scalp area and causes an increase in blood flow called Photo-bio stimulation. It will also improve cell growth, increase protein synthesis, boost blood circulation by 54% per session, and is clinically proven to increase the capillaries' size under the hair follicle.
Low-level Laser Therapy is suggested twice a week for 30 minutes for 12-24 months to achieve optimal results.
Schedule your consultation with TrichoMD online or email [email protected] 178 Joo Chiat Road #02-01 Singapore 427449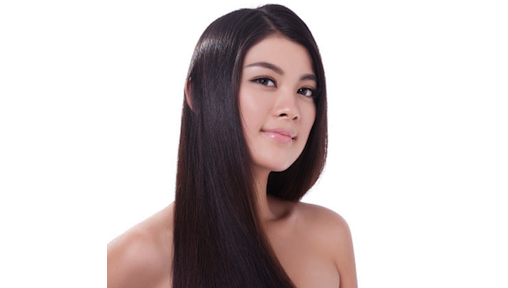 Would you prefer a herbal route when it comes to hair and scalp treatments? Take a look at the Oriental Herbal Hair Treatment by J Studios that features a blend of organic and natural TCM herbs to deep cleanse and nourish your hair and scalp. This hair treatment particularly works towards restoring its health and vitality.
The procedure aims to provide deep cleansing of the scalp ridding it of all free radicals, protecting and building up your scalp's immunity. The herbal components also help to bring about a reduction in the frequency of head-related issues such as migraines, headaches, hair loss, dry or oily hair and scalp, as well as damaged hair.
You'll also love that when you get an Oriental Herbal Hair Treatment at J Studios, you'll get a free Organic Moroccan Argan Oil to further pamper and nourish your tresses.  A game-changer for damaged hair!
J Studios, 31 Haji Lane, Singapore 189224. Phone: (+65) 9182 8565