If you've been searching for the best hair loss shampoos and products to buy in Singapore, know that you are not alone! An increasingly common ailment faced by many on the red dot, hair loss in Singapore has become quite the talking point.
So, whether it's stress, ageing, genetics or lifestyle habits, hair fall shampoos and hair loss products will probably make it to your cabinet, eventually. This list of the top hair loss shampoos in Singapore should make picking the right product for you easier.
From professional haircare to dependable drug store brands, these are the best hair loss shampoos and products to buy in Singapore.
Hair loss shampoos and products backed by a clinical professional? Yes, please! Hair growth expert TrichoMD Hair Restoration & Aesthetics is dedicated to the highest quality of (SMP) Scalp Micropigmentation and Hair Loss Treatments in Singapore, Australia and the world over. 
They produce quality natural hair loss shampoos and other hair regrowth products that are formulated locally by their Founder -  a member of the International Board of Medicine & Surgery USA. Made with USDA certified organic and 100% natural ingredients, the products by TrichoMD contain none of the 15 harmful ingredients like parabens, sulfates, silicones, fragrances, etc. Aside from its high safety assurance, this clean hair care line is designed to specifically tackle hair fall, thinning hair and scalp-related issues in the form of a hair loss shampoo, hair elixir, scalp elixir and natural hair colours.
Just Shampoo by TrichoMD is one of the best hair loss shampoos to be found in Singapore! What's more, it's even freshly brewed on the red dot using herbs and essential oils. Not only does the shampoo treat signs of hair loss and protect your hair, it is also formulated to thoroughly cleanse your scalp and unclog blocked hair follicles suffocated by use of commercial shampoos over the years. Gentle and soothing, the 100% natural and clean shampoo restores damaged hair and promotes healthy tresses without the need of conditioners thereafter. 
The Scalp Elixir by TrichoMD is a quality hair growth spray that works gently to give you fuller hair while keeping the scalp feeling fresh and clean. This scalp elixir promotes blood circulation and diminishes the appearance of thinning hair and greasy look.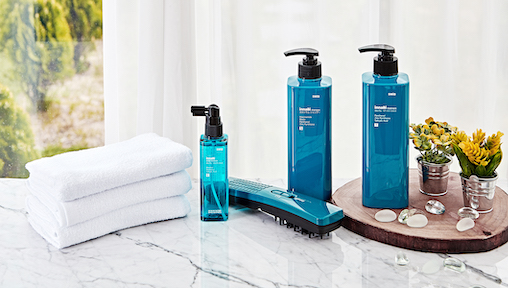 Calcium in your hair loss shampoo? Yes, this powerhouse ingredient helps maintain a healthy scalp and is one of the best components to add to your hair care range! SMIB is the first scalp health solution brand in Singapore to introduce Coral Calcium into their range of products that help to prevent hair loss, as well as pioneering Plasma Technology into a portable scalp massage device.
SMIB products primarily work towards cleansing of the scalp. When your scalp is clean, you have less oil and sebum production and lower hair fall. SMIB's Coral Calcium Shampoo maintains a healthy scalp as it relieves itching due to inflammation. It also forms a skin barrier to protect your scalp and by keeping your scalp healthy, and thereby prevents hair loss effectively. Free from 23 harmful ingredients, including silicones, this hair loss shampoo contains six protein and marine complexes such as Niacinamide and Biotin, that keep hair silky and smooth. 
If you are after holistic, real hair growth results, we would highly recommend getting the entire SMIB hair regrowth treatment set. The best-selling set comes with SMIB's shampoo, Calcium Treatment, a groundbreaking Plasma Scalp Massager and a Coral Calcium Hair Essence. A clinical test report showed that when used together as a complete set, SMIB's hair loss shampoo and products helped to soothe the scalp, reduce the number of missing hair, improve scalp elasticity and increase tensile strength. The Plasma Scalp Massager incorporates Plasma Technology and has been tested to help improve scalp health and prevents hair loss, thinning hair and other hair concerns. With over a million sets sold in Korea, and gaining equal popularity in Singapore, SMIB's affordable hair regrowth treatment and hair loss shampoo will have you sporting long, luscious hair in no time!
SMIB's best selling Complete Set includes a Plasma Scalp Massager, Coral Calcium Shampoo, Coral Calcium Treatment and the Coral Calcium Hair Essence.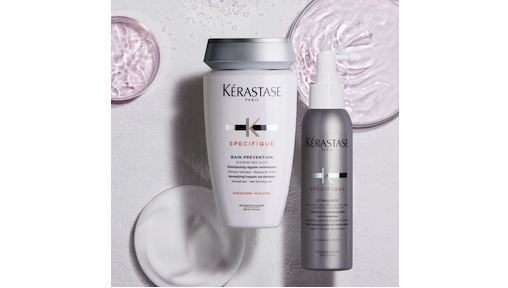 When the leading hair salon and hair-dressing brand in Singapore tell you to buy a hair loss shampoo and product range, you need to start listening! Established in 1994, Kimage is a boutique hair salon chain in Singapore that now has over 10 hair studios and a hairdressing school that's awarded the EduTrust certification by SkillsFuture Singapore (SSG).
The hair loss range in their popular e-shop or online store by Kerastase is loved by customers with hair loss and thinning hair problems. Take the Bain Prévention Shampoo for instance. A hair loss shampoo designed as a preventive solution to hair fall and thinning hair concerns, it is ideal for frequent usage. The unique Système Pro-Actif technology in this product helps optimize micro-circulation to reduce hair loss all while texturizing the fibre for an immediate volume effect.
Also highly recommended is the Kerastase Stimuliste Spray which has been developed as a daily nutri-energising treatment against hair loss for men and women. This spray stimulates hair production while improving hair density and substance - perfect for those with thinning hair woes! The Stimuliste Spray also prevents premature ageing of the hair follicle and stimulates regrowth of the new stronger and more abundant hair fibres. For those looking for regrowth of hair, Cure Densifique is a scalp treatment for women experiencing visibly thinning hair. This program helps maintain the hair density with more than 1000 new hair revealed* just after 3 months! So whether it's hair loss shampoos, products for hair regrowth or a hair care regime for thinning hair types, you'll be sure to find it at Kimage's E-Shop.
Rene Furterer is an essential oil and botanical expert advocating a healthy scalp and hair.
The brand is also the French leader of anti-hair loss products for more than 18 years. No surprise then that they also have a superior products range that helps with thinning and ageing hair. 
The renovated range Tonucia Natural Filler for thin and weakened hair comes with plant-based Hyaluronic Acid that helps to revitalize the scalps and nourish hair. The addictive fragrance of this 3-step ritual will make your shower experience a sensorial one. What's more, the range is 100% SLS-Free, Natural, Vegan and Biodegradable. 
The Tonucia Natural Filler Advance Youth Ritual Replumping Shampoo (For Thin Weakened Hair) is infused with Tamarind extract, a hyaluronic acid like a molecule of vegetal origin, and gently cleanses and rehydrates, for strong and beautiful hair. With encapsulated energizing orange essential oil, its unique texture helps revitalize and strengthen hair fibre from the roots. 
The Rene Furterer Tonucia Natural Filler Advance Youth Ritual Repluming Conditioning Mask is an aqua-gel formulation that instantly replumps the hair. Also enriched with Tamarind extract, it rehydrates, densifies and detangles without weighing your hair down. You'll look forward to stronger, shinier and incredibly soft hair! 
And finally, the pro-youth ritual Tonucia Natural Filler re-plumps, re-densifies and hydrates your hair due to its exceptional key ingredients: hyaluronic acid from Tamarind seeds that slow down collagen depletion of the scalp. 
The leave-in formula instantly densified, with hair looking thicker, radiant and beautiful. Best of all, it is invisible and has a non-greasy finish - perfect for Singapore's weather!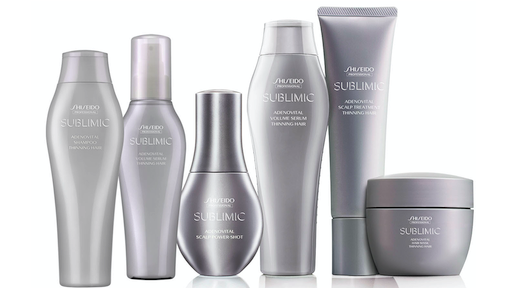 SHISEIDO PROFESSIONAL SUBLIMIC Adenovital
Notice an increase in the number of loose strands in your hairbrush, or a thinner ponytail or hairline? If so, you're not the only one.
Many people of all ages experience changes in the volume of their hair. Hair loss and thinning hair can be caused by a variety of factors such as hormonal imbalances, the natural ageing process, genetics, pregnancy, or stress. Even harsh chemical treatments and frequently wearing our hair in a tight ponytail can be culprits too. SHISEIDO PROFESSIONAL has got you covered with a revolutionary formula to tackle hair loss and thinning hair issues at the very deepest root.n SHISEIDO PROFESSIONAL SUBLIMIC Adenovital hair care revitalises your hair and scalp to harness and regain strength from the core.
The specially-curated SHISEIDO PROFESSIONAL SUBLIMIC Adenovital actives, including the patented and clinically-proven Adenosine, amp up the volume and inner strength of each individual strand of hair. Regular use of the SUBLIMIC Adenovital range helps hair roots to anchor firmly and deeply into the scalp for your healthiest, more voluminous hair ever. What's more, the Hair Reforming Technology and Self-Moisturising Technology ensures optimally hydrated and healthy hair and scalp.
SHISEIDO PROFESSIONAL SUBLIMIC Adenovital Shampoo Thinning Hair (S$44) helps you achieve hair that is light and airy while gently cleansing the hair and scalp.
SHISEIDO PROFESSIONAL SUBLIMIC Adenovital Scalp Treatment Thinning Hair (S$36) hydrates the scalp while making the hair strong and resilient from the roots.
SHISEIDO PROFESSIONAL SUBLIMIC Adenovital Hair Mask Thinning Hair (S$76) is formulated with beauty ingredients that penetrate into the hair to repair damage and build up resilience and volume from the core.
SHISEIDO PROFESSIONAL SUBLIMIC Adenovital Scalp Power-Shot (S$100) addresses the deep layers of the scalp to produce strong hair growth signals for thick, strong and beautiful hair.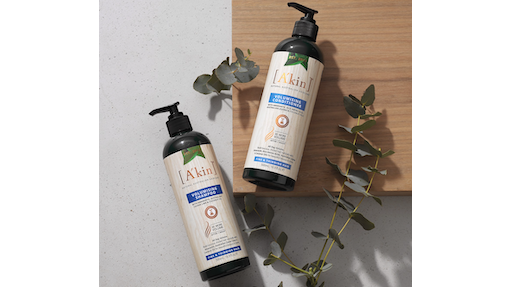 Hair and body care leaders Akin, now have a solution to flat, lifeless and thinning hair. Adding maximum body, fullness and bounce to fine and thinning hair, A'kin's new scientifically proven Volumising Shampoo and Conditioner are here to up your hair game literally. 
How much volume can you really get from shampoo and conditioner? Just 8 hours after application and under humid conditions, the hair's volume is retained by a huge 298%*. AKA, it provides all day volume so you can say goodbye to limp, flat hair forever. 
The A'kin Natural Haircare Difference: Paraben, sulfate, silicone, artificial fragrance and colour-free, it's what A'kin leaves out that makes them the brand to trust. These 'nasty' ingredients are absorbed through your scalp, inhaled once vaporised in a hot shower, and washed down the drain ending up in our waterways - they aren't doing your hair or the environment any good. 
The volumising benefits don't end there! Providing, 3x more volume after just 1 wash*, the lightweight formula is enriched with natural Australian botanicals to cleanse the scalp and remove residue, leaving hair feeling fresh and light. 
With 80% of users noticing their hair had more volume after the second wash and 81% of users agreeing their hair had more volume after 1 week of use, you'll be creating beautiful, thicker, fuller, healthier hair every wash! 
And if you are after super shiny hair, don't forget to add the A'kin Miracle Shine Conditioning Hair Mask to your routine. An intensive conditioning mask enriched with Australian Avocado Oil, Australian Jojoba Oil and Squalene to strengthen, repair, protect and lock in moisture for beautifully nourished, shiny hair. Contains Vitamin E and ProVitamin B5 to promote healthy hair and scalp. Perfect for all types of hair!
Available across Singapore at Metro, OG, Fairprice Marketplace, Lazada and Shopee (McPherson's Official Store).
*Results based on an independent laboratory study.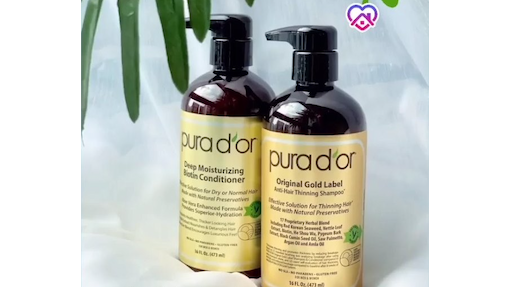 Formulated with organic ingredients, PURA D'OR's haircare products provide plant-based solutions to the toughest of hair problems. Made in the USA with renewable energy, the products are free of harmful chemicals and additives. PURA D'OR has released a new range of hair care products to deal with hair thinning and scalp concerns. Introducing a new concoction of 17 key active ingredients and essential oils, PURA D'OR strives to nourish hair follicles for better hair health. 
The new range of products comprises the Gold Series – Original Gold Label Shampoo and the Deep Moisturising Biotin Conditioner – dedicated to combat issues of hair thinning and breakage. 
PURA D'OR Original Gold Label Shampoo is suitable for all hair types and colour-safe and for both men and women. This Original Gold Label Shampoo goes deep inside the hair shafts to stimulate hair follicles and promote circulation for healthier and fuller hair. It supports a healthy-looking scalp, invigorates hair, and revitalizes the overall appearance of hair.
The PURA D'OR Deep Moisturizing Biotin Conditioner is a powerful blend of 17 key active ingredients and essential oils and leaves strands smooth and healthier looking. It consists of Biotin which aids in healthy growth and shine, Argan Oil which provides deep conditioning, as well as Apple extract to nourish and detangle. Perfect for those seeking softer and shinier looking hair!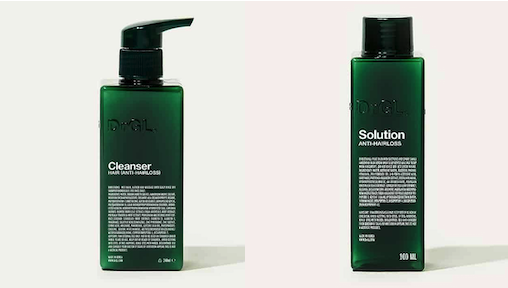 Scalp Specialists DrGL tap on the art of science, high-performance actives, proprietary formulations and treatment protocols, to give result-driven products that combat hair loss and thinning hair!
Their anti-hair loss cleanser is an advanced shampoo formula that incorporates the latest developments in cell regeneration to help prevent hair loss and stimulate regrowth. Hair looks fuller day after day, regains a glossy healthy bounce. This shampoo is suitable for all scalp and hair conditions, especially those experiencing hair loss due to stress, ageing, illness and childbirth.
As an equally important partner to the cleanse, the DrGL Solution for Anti-Hairloss is a hair serum best paired with the Cleanser Hair (Anti-Hairloss) and helps to give your mane an extra treatment boost.
The advanced peptide-rich formula prevents hair loss while also stimulating regrowth. Lightweight and non-greasy, this nourishes and strengthens hair without weighing it down or leaving a sticky residue.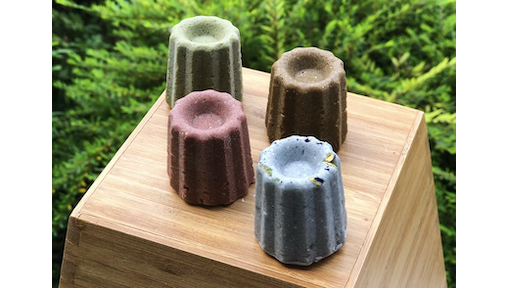 Are you after honest, organic and SLS-free solid shampoos? A Singaporean beauty brand that creates vegan products right out of their inhouse 'Beauty Kitchen', Oasis Skin is in the business of making clean beauty and hair care products. All of their products are made with carefully sourced, plant-based ingredients - from cold-pressed plant oils and butters, premium clay, organic and wild-harvested essential oils and herbs.
The Solid Shampoo collection by Oasis Skin is specially handcrafted to suit the specific needs of different hair types and concerns. They carefully select plant-based active ingredients in each formulation to gently rinse off impurities and product build-up without disrupting the scalp's natural balance.
The best-selling Organic Ginger - Hair Loss Control Solid Shampoo Bar is formulated with a specialized blend of herbs to combat hair loss and prevent further environmental damage. The formula features a high concentration of Stinging Nettle, Gotu Kola and other nourishing herbs to stimulate the hair follicles and boost hair growth. Each hair loss shampoo is also rich in Organic Essential Oils of Ginger and Lemongrass to enhance blood circulation and strengthen your hair from its roots.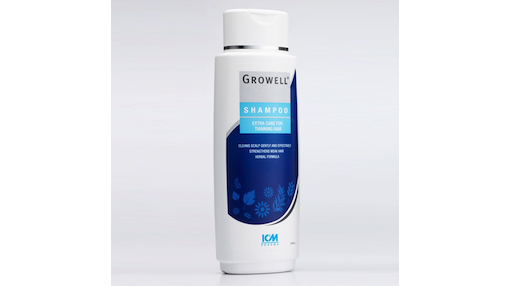 ICM Pharma's hair loss shampoo, Growell Shampoo is carefully formulated to provide extra care for thinning hair. Growell shampoo strengthens weak hair with 7 highly-regarded plant extracts while cleaning the scalp gently and effectively, making hair manageable, and adding body and volume. It is also a precursor step for your scalp to be nourished by the Growell Scalp Lotion Treatment. 
Being one of the best hair-loss shampoos available in Singapore, Growell Shampoo helps to fortify your hair with specially-formulated care. You'll notice that every wash improves the hair's volume and vividly so.
Customers often speak about the silkiness they feel after using Growell hair loss shampoo. It helps to thicken thinning hair as well as provides adequate nourishment to the scalp. Want he;p with hair growth too? The Growell range is known for its hair growth-inducing formulation that reinvigorates the hair follicles.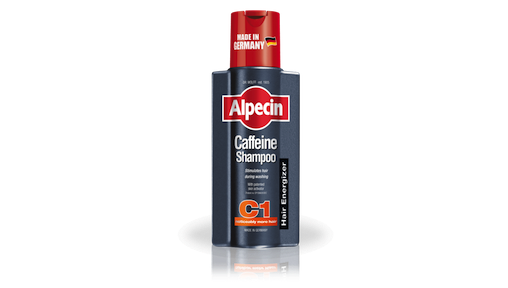 A hair loss shampoo that gives noticeable hair growth? Alpecin Caffeine Shampoo C1 is a daily shampoo that strengthens weakened hair roots and counteracts premature hair loss, increases hair root productivity and enhances the speed of your hair growth.
Caffeine promotes hair growth and has been proven in numerous Alpecin studies to slow down hereditary hair loss. The active ingredient combination goes directly to the hair roots during daily hair washing. Within just 120 seconds, the caffeine travels along the hair shaft directly into the hair follicles. If the shampoo is left on the scalp for longer, the caffeine will also penetrate into the skin around the hair roots.
Even better, the Alpecin Caffeine hair loss shampoo deliberately avoids silicones. And since no softeners are used (e.g. silicone), the structure of the hair improves and will have an enhanced grip after just a few washes. Fine and weakened hair becomes stronger and easier to style!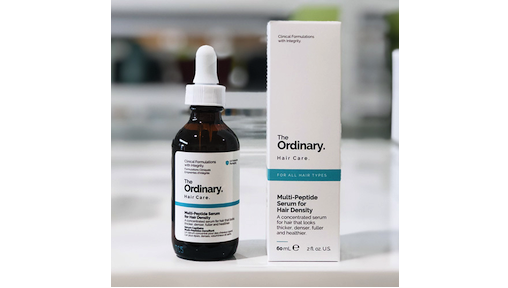 Although not a hair loss shampoo, this groundbreaking serum by The Ordinary is as effective as it is affordable. The concentrated formula of this peptide enriched serum is designed to support hair health so that it looks thicker, denser, fuller and healthier. 
With a whopping 21.15% concentration of technologies, this ultra-lightweight hair serum has a perfect emollient base for effective penetration. 
Like all The Ordinary products, the serum too is free from alcohol, silicone, nuts, vegan and gluten and is also Cruelty-free.
Can't wait to give it a shot? As simple as applying a few drops to a clean and dry scalp, and massaging thoroughly, you'll be able to see results soon enough!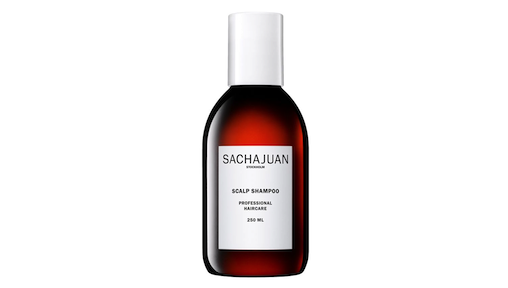 Sachajuan, a cult hair salon in Stockholm sells products that have an immediate and beautiful effect on your hair type. The experts at Sachajuan know that healthy hair starts at the roots. Especially known for their Scalp Shampoo that works as a hair loss shampoo, the soothing Scalp Shampoo contains a combination of ingredients to calm irritation, reduce dandruff, and maintain a healthy moisture balance.
The special hair loss shampoo comes with Piroctone Olamine and Climbazole that removes dandruff and soothes an irritated scalp. And we all know what a calm scalp means - luscious, long hair! 
Rosemary oil, Menthol, Salicylic Acid and Ginger extract soothes irritated, rubescent scalp and maintains the healthy moisture balance of hair and scalp.
There's even Lactic Acid to help regulate oil production, while Salicylic Acid gently sheds dead skin, promoting new cell growth. Top marks for being Vegan, cruelty-free and paraben-free!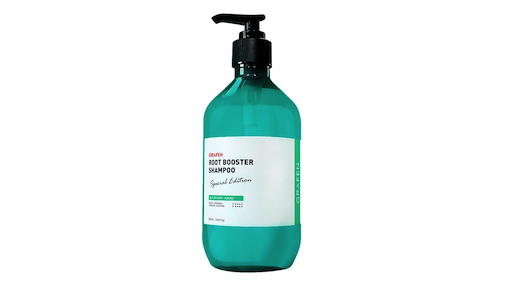 The special edition of Grafen Shampoo for dry scalps is a popular anti-hair loss shampoo! Grafen Root Booster Shampoo creates a healthy scalp environment for hair growth and strengthens the roots of your hair. An effective hair loss prevention shampoo specially formulated for dry and sensitive scalp, this gentle pure water type shampoo is infused with natural ingredients certified by MFDS for effectiveness.
Containing 22 kinds of amino acids, which are beneficial for making hair sleek and glossy. Houttuynia Cordata extract and Perilla Frutescens leaf extracts are added for scalp soothing and relieve irritation. Love oil in your hair products? Camellia Seed Oil and Olive Oil are great for maintaining sleek and healthy hair. With 6 different kinds of natural-originated surfactant, these deeply cleanse your scalp with an abundance of dense bubbles.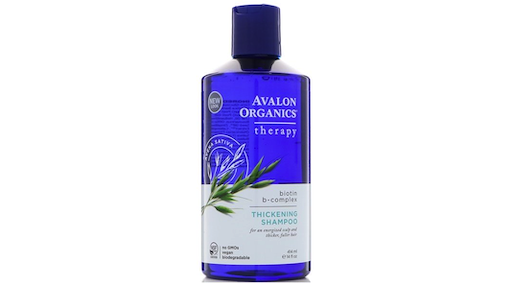 Containing anti-hair loss essential ingredient, Biotin B-Complex, the Avalon Organics Thickening Shampoo aims to gently cleanse and nourish fine, thinning hair and build volume alongside. This certified organic, plant-based formula is made with organic botanicals and essential oils
And contains no GMOs, parabens, harsh preservatives, synthetic colours or fragrances, phthalates or sulfates. Vegan and not tested on animals, this thickening shampoo helps to build body in fine or thinning hair as well as strengthen hair strands.
This Avalon Organics® shampoo formula is EWG VERIFIED™, which means it meets the Environmental Working Group's strictest criteria for ingredients, transparency, and health and features the EWG VERIFIED™ seal on its label!
**Self-evaluation by 122 users over a period of 30 days.
And there you have it, our favourite hair loss and hair fall shampoo and products that will nourish your thinning hair and reveal a mane you've always wanted!