Singapore chilli crab is arguably our national dish or at least one of the most famous local dishes that has put our little red dot on the map of the culinary world. Best eaten with steamed or fried man tou (buns) dipped into the delicious chilli crab sauce, this local delicacy can be enjoyed in the comforts of your home!
Together with an array of numerous other exciting crab dishes such as black pepper crab and salted egg crab, here's our list of the best crab delivery in Singapore to satisfy your seafood cravings.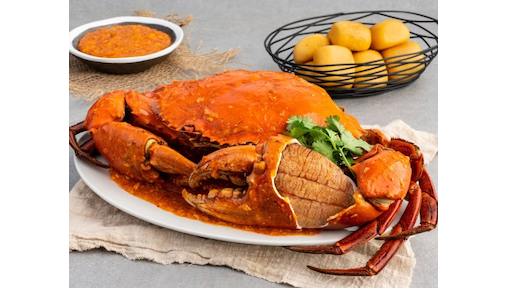 8 Crabs is the only crab delivery service in Singapore to offer grade AAA wild-caught Sri Lankan crab dishes delivered to your doorstep in an hour! Crabs are air-flown daily from Sri Lanka so that you can enjoy the freshest, largest and meatiest crabs every day.
Priding itself on serving quality food, 8 Crabs is confident enough to be the only seafood restaurant to offer a 1-for-1 replacement guarantee on unsatisfactory orders. Signature dishes include Chilli Crabs, Black Pepper Crabs, and Salted Egg Crabs.
Apart from serving award-winning crabs, 8 Crabs also offers super saver zi char combos such as the 3-4 Pax Clawsome Family Bundle, 2-3 Pax Zi Char KING Set Meal, and 4-10 Pax Signature All-Day Value Feast.
Having been featured in the media on numerous occasions, 8 Crabs has earned many satisfactory reviews from customers, old and new, so you are assured of the quality and taste.
Order online for crab delivery at S$8 from 12pm to 12am daily. Free delivery above S$120.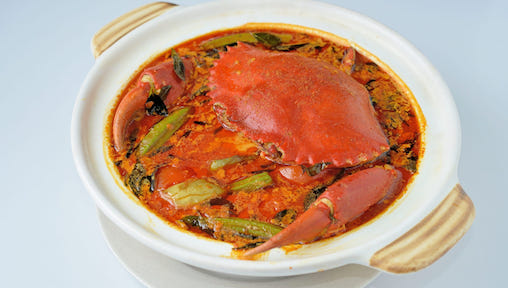 A favourite haunt for locals and celebrities alike, 3 Crab Delicacy Seafood Restaurant has been serving true blue Singaporean seafood and local delights since 2001.
Signature dishes include the quintessential Chilli Crab, Lemak Curry Crab, Black Pepper Crab, Salted Egg Crab, Butter Crab, Drunken Prawns, Drunken Cockles, and lots more.
Order online for islandwide crab delivery at S$10 (with minimum S$40 spend). Free delivery above S$150.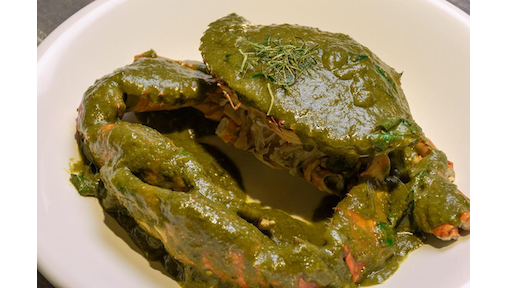 Starting out as a private dining experience by Chef Elton, HolyCrab has a come a long way since its humble home kitchen days. 
Amongst 12 highly curated crab dishes, here are some of Chef Elton's unique flavours: Chef's Signature Green Mumba with green chilli sauce generously poured over the crab with kaffir lime leaves; White Peppa Crab consists of blended pink and white peppercorns braised in crab broth with scallion strips; The Sauna is a dish of steamed and roasted crab with HolyCrab's superior blended sauce; Oooootak - crab with traditional otak-inspired coconut curry and sambal; and many more.
Call (+65) 8444 2722 for takeaway and home delivery.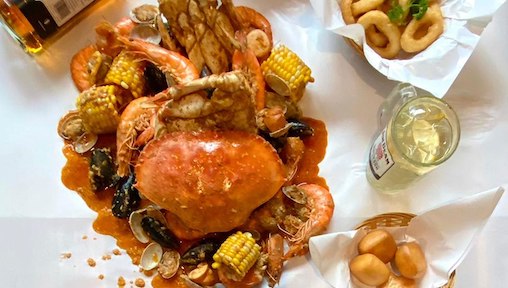 The Boiler is a seafood joint that serves up fresh seafood known as seafood boil together with strong bold sauces which are infused with both local and western spices. Celebrating rich Cajun culture, The Boiler offers a crab feast experience like no other.
The crabs come with a variety of sauces on the menu including The Works in 3 different spicy levels - mild, medium and ragin' hot, Garlic Butter, Peppa' Butter, and Sauce of the Month which is currently Laska with dried shrimps.
Boiler's Duo Plus set is great for sharing for 2, inclusive of a Sri Lanka Crab (600-650g), prawns, mussels, clams, sausages, sweet pearl corns and buns to soak up all the sauce.
Order online for islandwide crab delivery. Use code "5OFF" (minimum spend of S$150) for S$5 off delivery charges.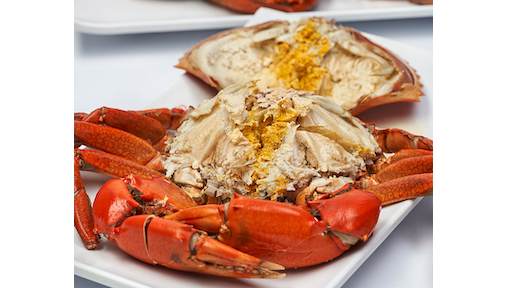 With humble beginnings from Orchid Country Club, Orchid Live Seafood offers a variety of signature seafood dishes including Live Lobster Porridge made with a secret recipe; Teochew Cold Crab - a delicacy passed down by generations and known for the irresistible yellow roe; and Chili Mud Crabs - a Singapore favourite that goes best with fried man tou. 
Order online for islandwide crab delivery. Free delivery above S$120.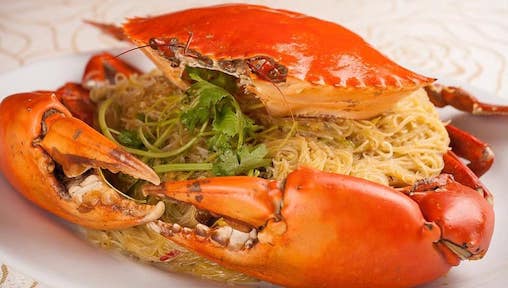 Crab At Bay specialises in Asian Chinese cuisine and, as the name suggests, is most well-known for its crab dishes. Revered by loyal patrons as the go-to place for fresh, delicious and succulent Sri Lankan crabs, Crab At Bay has a vast menu. 
The menu features so many crab dishes such as Cold Crabs, Chilli Crabs, Signature Black Pepper Crabs, Butter Crabs, Signature Crabs with Bee Hoon or Ee Fu Noodles, Flower Crab with Porridge, Salted Egg Crab and more!
Order online for islandwide crab delivery. Free delivery above S$250.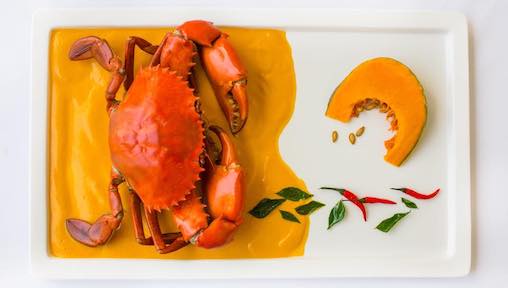 Touted to be the first of its kind, Chin Huat Live Seafood revolutionised the local seafood restaurant scene by allowing diners to select their catch of choice directly from the fish tanks.
Chin Huat Live Seafood offers the choice of Sri Lanka Crab, Dungeness Crab, and Alaskan King Crab to be made with any of their sauces - chilli crab, pepper crab, salted egg crab, golden sauce, and superior broth with bee hoon. Also on the menu are a variety of seafood dishes including Homemade Crab Beancurd.
Order online for islandwide crab delivery. Delivery fee depends on the distance.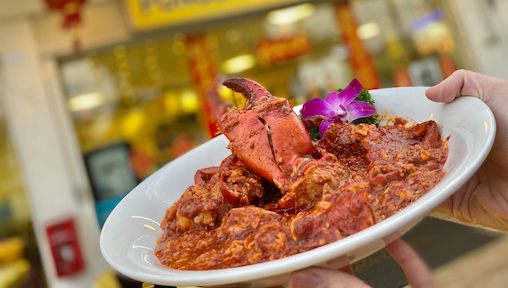 Originally known as Hock Kee Seafood Restaurant, named after the founder, Ponggol Seafood brings diners back to kampong days with its nostalgic dishes.
Of course, Ponggol Seafood has everyone's favourites Ponggol Chilli Crab and Pepper Crab in addition to many more crab dishes. These include Steamed Crab with Egg White, Creamy Butter Crab, and Soupy Bee Hoon Crab.
Order online for islandwide crab delivery from 11.30am to 10.30pm on Saturday and Sunday; 11.30am to 2pm and 5pm to 10.30pm from Monday to Friday.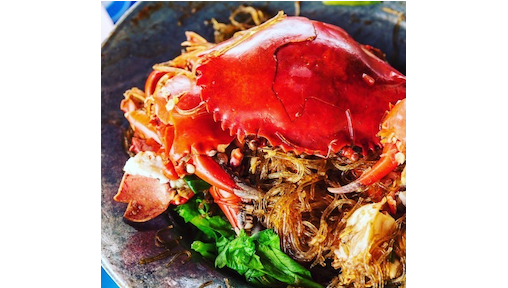 Embracing the farm to table food concept, Kai Xin Crabs let their crabs do the talking. Air flown from Sri Lankan farms daily, they ensure only the healthiest and meatiest crabs approved by their own crab graders get delivered to you.
Kai Xin Crabs signature crab dishes are Chilli Crab, Pepper Crab, Salted Egg Crab and Butter Crab. You can also opt for the Tang Hoon Crab cooked with their in-house special sauce.
Order online for islandwide crab delivery at standard delivery for S$10 and express 1 -hour delivery for S$20. Free delivery is available for all orders above S$100.
Banner image: 8 Crabs