F&B
15 Top Halal Restaurants in Singapore
Published Date
: 04 Apr 2023 10:00

Go beyond Malay cuisine and discover these top Halal restaurants in Singapore serving different cuisines including French, Japanese, Italian, and more
On the hunt for the best halal restaurants in Singapore? Singapore is a food lover's paradise, and halal cuisine is no exception to that. 
What's more, halal restaurants in the city aren't limited to just Malay or regional cuisine. With a rapidly expanding list, Singapore's halal scene offers French, Italian, Japanese, Mediterranean, and many more options! 
From fine dining experiences, to award-winning cuisine and even casual dinners, here are the 15 Top Halal Restaurants in Singapore for every taste and preference. 
15 Top Halal Restaurants in Singapore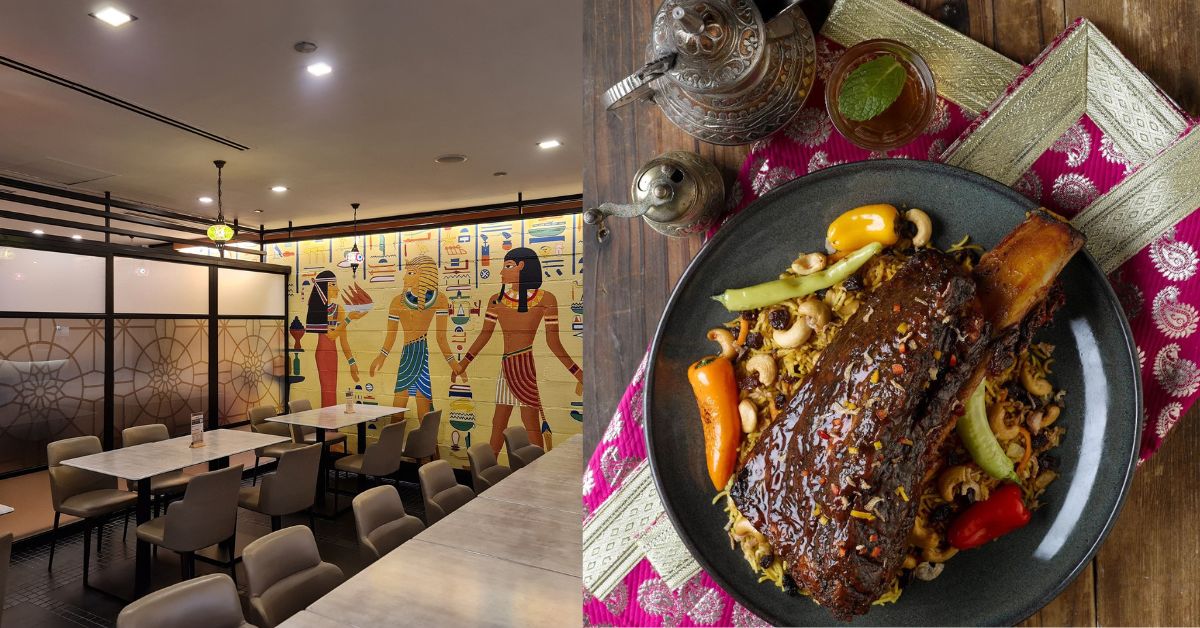 Experience the best of Middle Eastern and Mediterranean cuisine at Pistachio Grill. This halal restaurant in Orchard not only focuses on serving nutritious food that tastes great and uses premium quality ingredients but they also avoid artificial ingredients. Savour your way through their carefully curated menu, featuring popular classic dishes with a contemporary twist and the finest cuts of meat. Try the famous 200-day grain-fed Angus Beef Rib paired with Arabic briyani rice before it gets sold out too quick. Pistachio Grill also offers a delicious selection of desserts - their Baklava is made layer by layer with fillo pastry, generously filled with almonds and topped with ground pistachio, paired with warm honey syrup and caramel ice-cream.
Pistachio Grill. 501 Orchard Road, #02-04/05 Wheelock Place, Singapore 238880.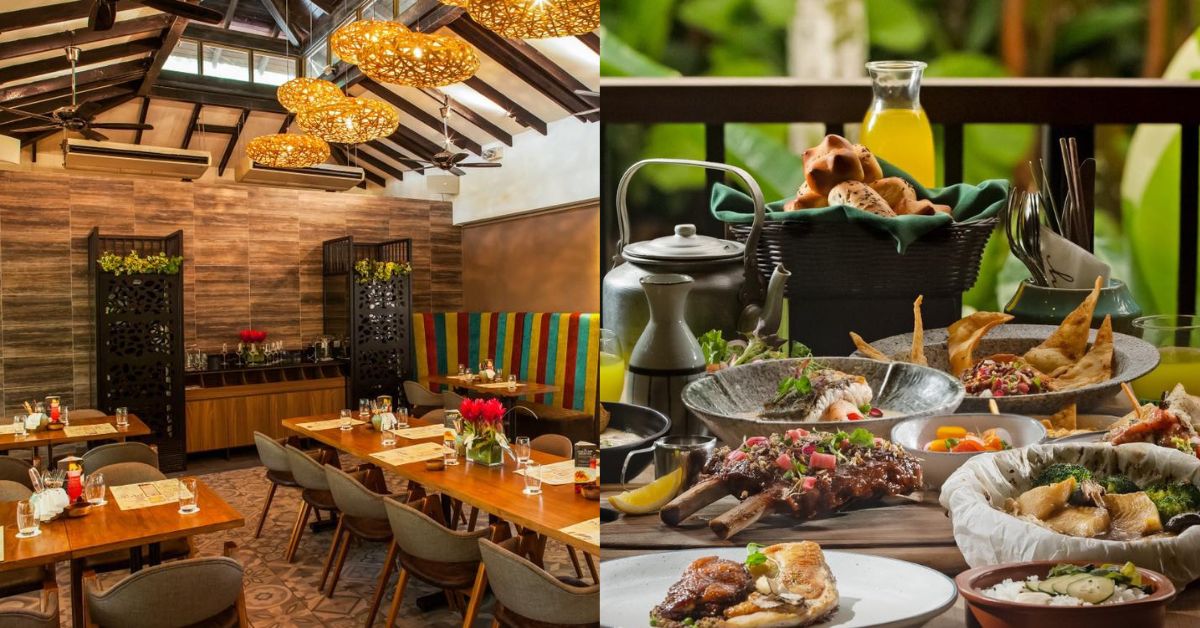 Head down to this chic halal restaurant for your next weekend brunch date! Halia, which means ginger in Malay, is housed in the beautiful Ginger Garden of Singapore Botanic Gardens. Boasting a dining room with tall glass windows that effortlessly blend with the greenery of the garden, this halal restaurant offers diners a unique dining experience in the garden while enjoying the comfort of indoor surroundings. Not forgetting to mention, the menu at The Halia offers a selection of vegetarian and global dishes including steaks, sharing platters, a variety of desserts, and more.
The Halia. 1 Cluny Rd, Ginger Garden Singapore Botanic Gardens, Singapore 259569.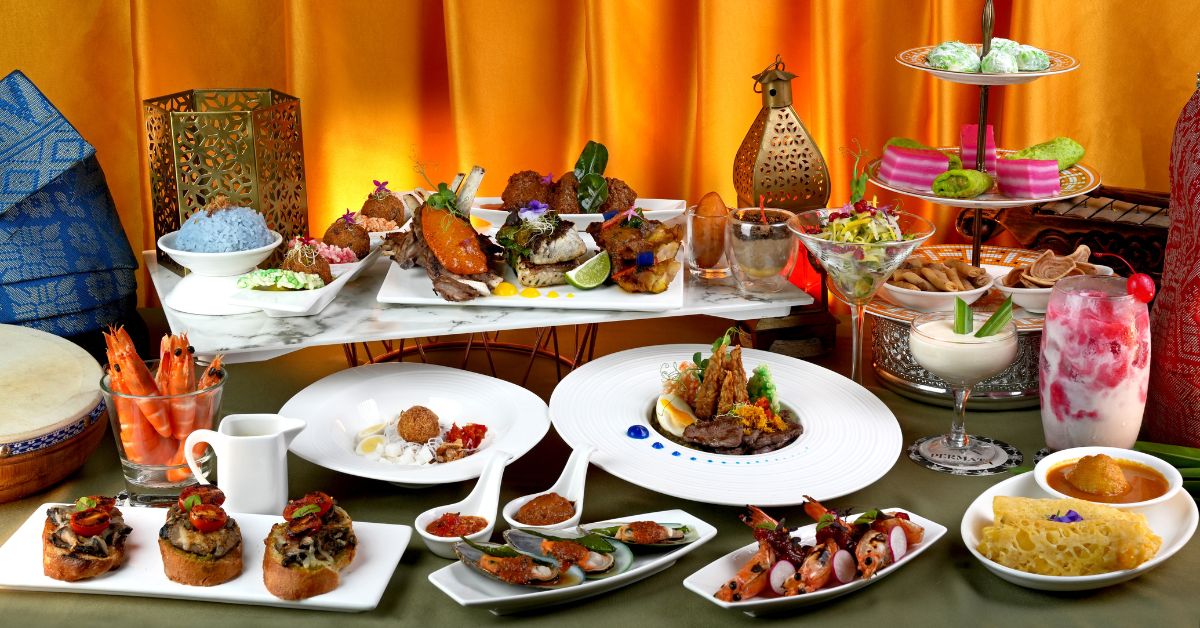 Located at the historical mansion Gedung Kuning at Kampong Gelam, Permata is a halal restaurant in Singapore that serves progressive Nusantra cuisine. Permata, which is derived from jewel in Malay, is used to symbolise the restaurant offering a modern twist on traditional Nusantara dishes and showcasing a rich diversity of indigenous ethnic flavours. Permata has recently launched their Ramadan 2023 Iftar Buffet Menu. The Permata Ramadan 2023 Buffet is renowned for its authentic blend of Indonesian and Malay cuisine, with each dish prepared using only the freshest and finest ingredients. The Ramadan 2023 Buffet comprises a seafood on ice station, appetiser station, carving live stations, Sri Paduka station, and a sweet station, so diners can look forward to indulging the night away. When you're there, try the Rawon Risotto which is their signature dish featuring rice cooked in beef broth, along with Ayam Palumara (Makasar), Rendang Tenderloin, Udang Temburung (Brunei), Asam Pedas Kupang (Malacca), and Nasi Bunga Telang. The Permata Ramadan 2023 Iftar Buffet Menu is available this Ramadan, from Mar 23, 2023 to Apr 30, 2023. You can break your fast and enjoy their Iftar 2023 buffet menu for $88++ for 2 persons and kids below 8 years old dine for free.
Permata. 73 Sultan Gate, Singapore 198497. Book here.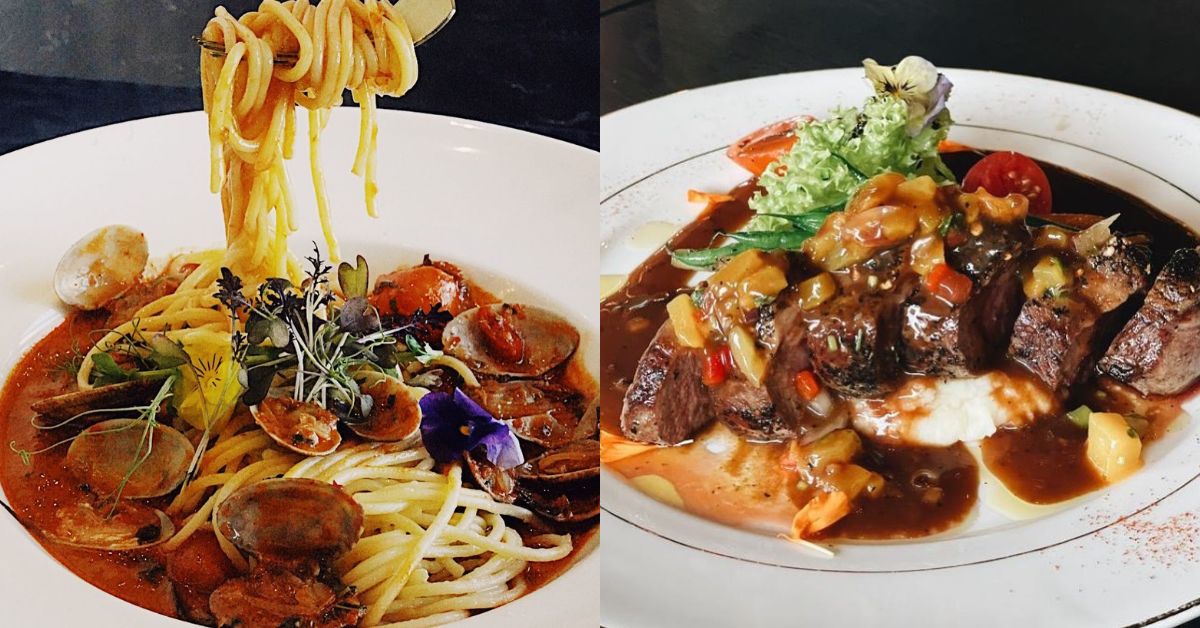 Located within the oldest heritage street and cultural areas, The Malayan Council provides a humble yet memorable dining experience in an elevated setting. They are dedicated to celebrating the love of Malay-Asian and Western fusion flavours and bringing together cultures around the table. Using only carefully selected premium ingredients and traditional recipes, they redefine the concept of a high-end Muslim-owned establishment by offering a variety of quality and exquisite dishes, including signature dishes like Roti Kirai Beef Ribs, Asam Pedas Seafood Aglio Olio, Lamb Mandhi Kabuli, Barramundi Truffle Porcini, and more to delight the curious palate.
The Malayan Council. Various locations.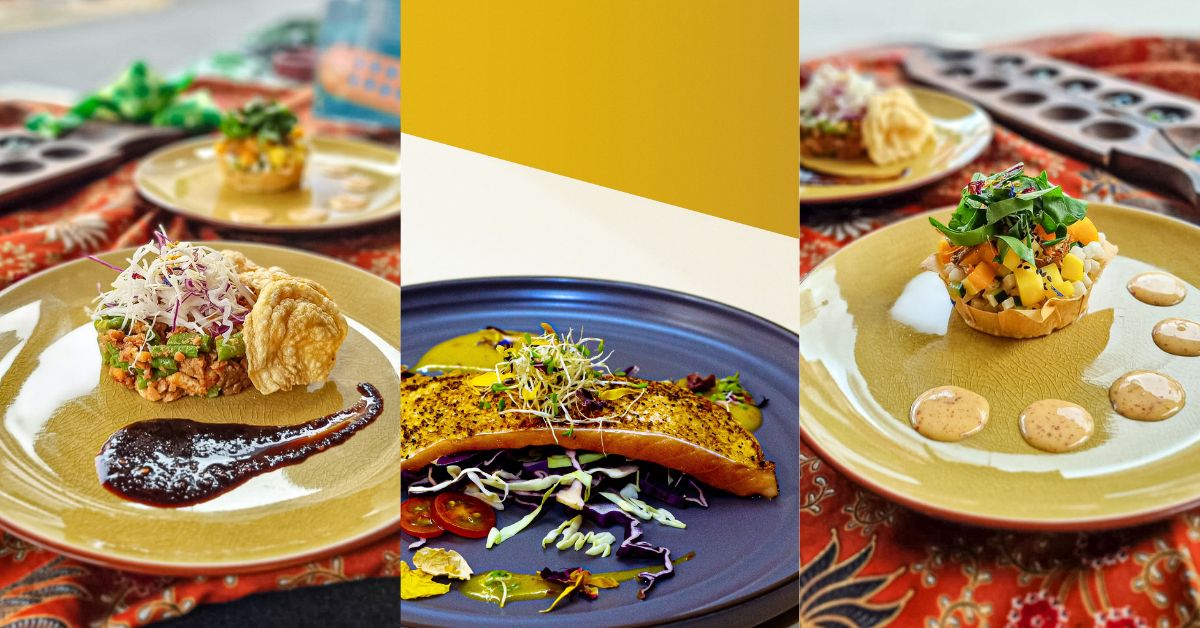 Guided by Chef Frankie and his years of experience in Asian, Continental, and Singaporean cuisines, The Secret Garden by Zeekri strives to bring cuisines from different parts of the world for local diners to enjoy in the comfort of their home country. The Secret Garden by Zeekri offers a menu that includes traditional French dishes like Potato Gratin and French Onion Soup, as well as crowd-pleasers like Smoked Duck Spaghetti Aglio e Olio. Situated in the heart of Kampong Gelam, this halal restaurant in Singapore has a cosy floral-themed atmosphere that is perfect for casual dining with friends and family.
The Secret Garden By Zeekri. 19 Baghdad St, Singapore 199658.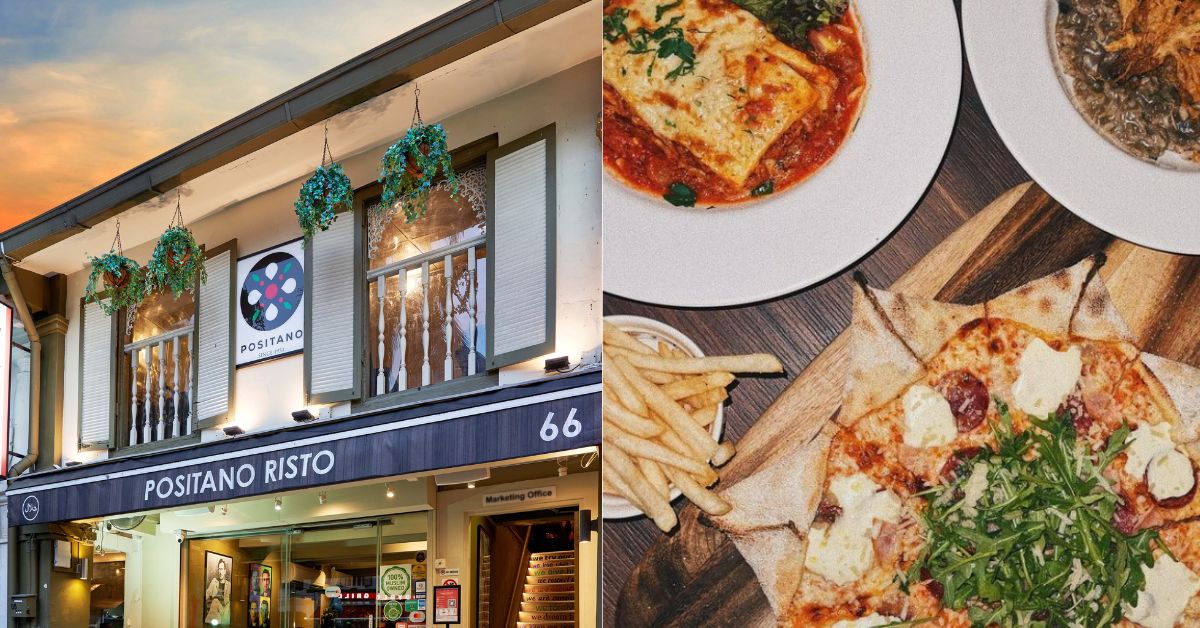 Positano Risto - Halal Italian Restaurant in Singapore
Positano Risto was started by the owners' love for authentic Italian cuisine and after realising the lack of halal Italian dining options available to Muslims while travelling abroad. With outlets in Singapore and Kuala Lumpur, Positano Risto strives to provide a halal Italian dining experience with delicious food in a unique and inviting atmosphere. Located near Sultan Mosque, Muslim diners can now enjoy casual halal Italian dining at their convenience.
Positano Risto. 66 Bussorah Street, Singapore 199479.
Situated at Bugis Plus, Wanderlost Lounge is a trendy halal restaurant in Singapore where you can enjoy tapas and burgers in a modern dining space. The most important part is, they have a rooftop mocktail bar that serves drinks inspired by the books that the owner grew up reading. From Charlie and The Chocolate Factory to The Little Prince, these stories are retold as unique non-alcoholic cocktails which are meticulously crafted using robust mixology techniques.
Wanderlost Lounge. 201 Victoria St, #07-04 Bugis Plus, Singapore 188067.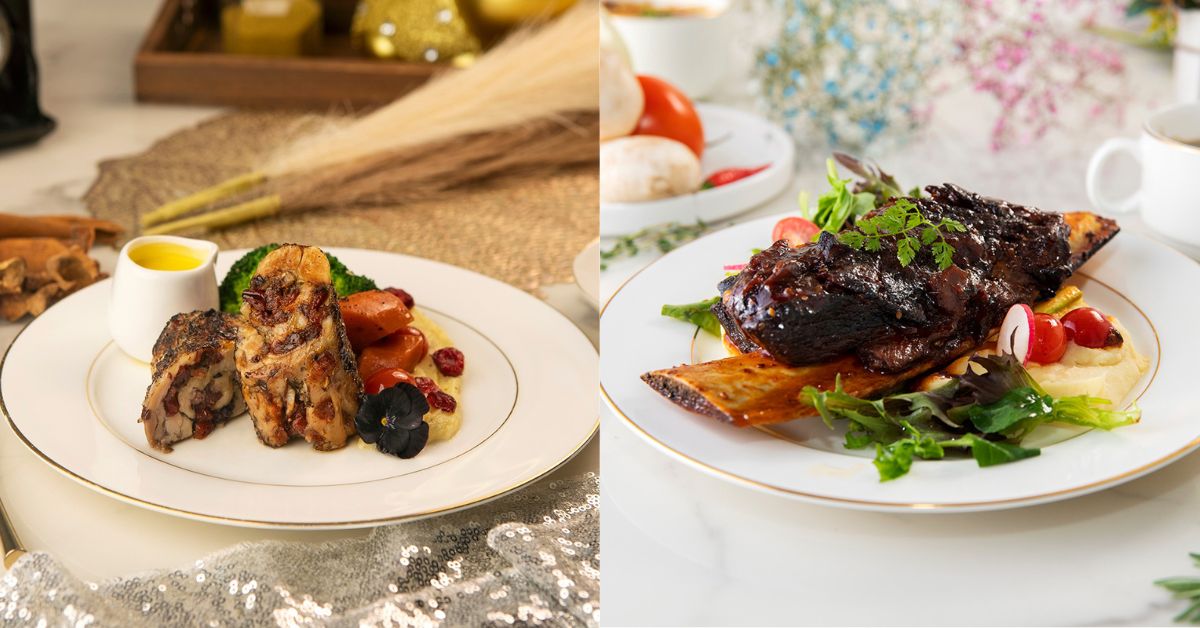 At The White Label, they strive to push the boundaries of food by infusing local flavours into classical French cuisine into what is known as French Malayan Cuisine. Expect a romantic and elegant dining experience here as the restaurant is decked in warm lights with gold chandeliers and marbled tables, and a cosy atmosphere. When you're here, try the Chicken Roulade, which comprises boneless chicken legs instead of the usual chicken breast for a more tender and juicy finish, seared and baked to perfection.
The White Label. 734 North Bridge Rd, #01-01, Singapore 198702.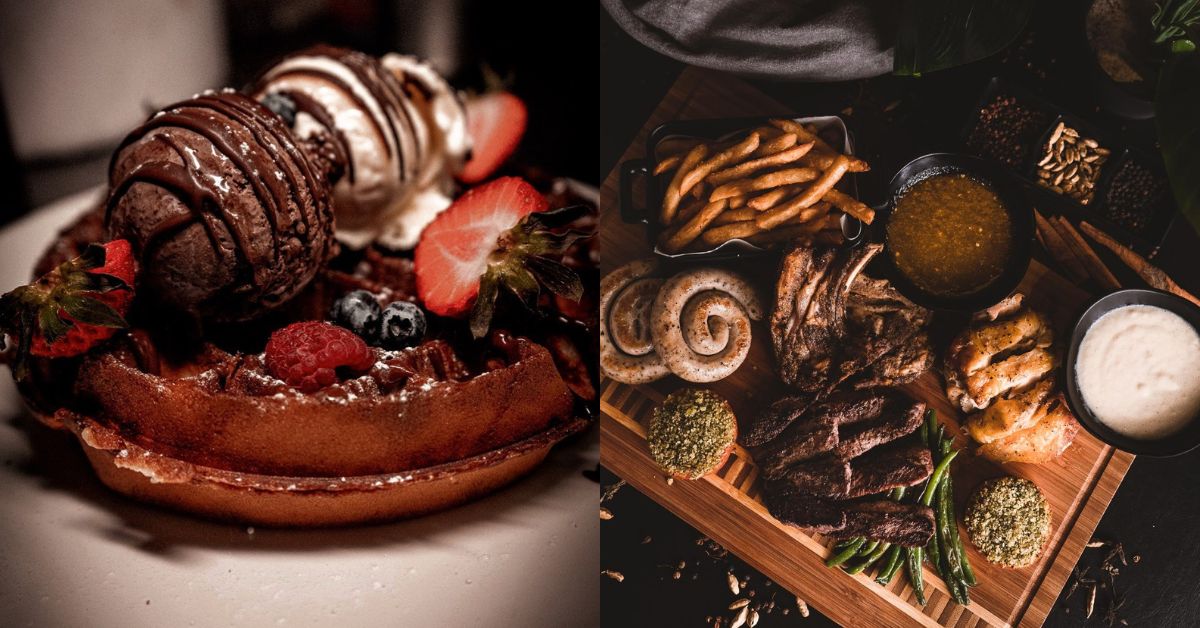 If you're looking for the best Teppanyaki experience in Singapore, check out The Straits Teppanyaki. The Straits Teppanyaki is one of the must-try halal restaurants in Singapore as they blend traditional Asian food and reinvent it with a distinctive combination of East-meets-West dining. Diners can watch their fish, prawns, and vegetables being cooked theatrically in front of their own eyes in an open kitchen directly in front of their table. Their menu offers a selection of delectable fruits, vegetables, meats, and sauces that are sure to tantalise your palate along with the excellent meats. Located near Orchard Road, locals and tourists alike can head down conveniently for an exquisite teppanyaki dining experience.
The Straits Teppanyaki. 16 Bussorah St, Singapore 199437.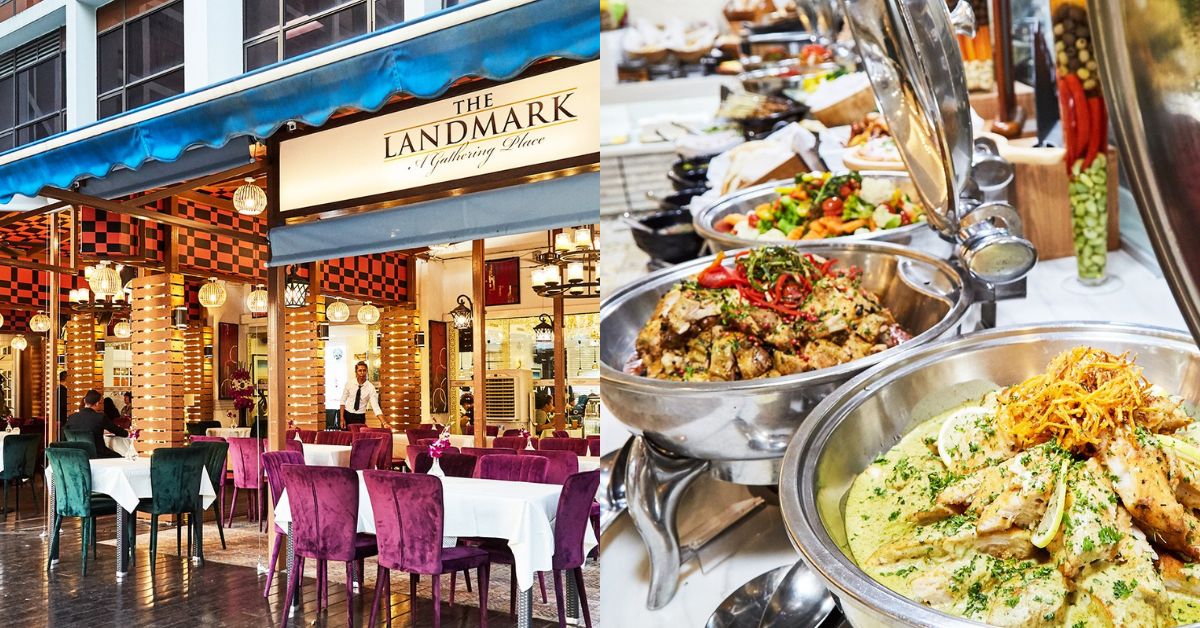 Experience the world of cuisines at The Landmark Restaurant. Here they offer an International Halal Buffet with a selection of delicacies and dishes that range from North Indian, Mediterranean, Western, Asian, and more. On weekends, this halal restaurant also has live cooking stations serving freshly made pizzas, pasta, satay, and seafood. Located at the heart of Arab Street and Bugis, The Landmark Restaurant is situated in the core of Singapore's Malay culture and heritage, making it an ideal location for Muslim diners to enjoy the finest Halal cuisine.
The Landmark Restaurant. 390 Victoria St, #05-01 Poolside, Village Hotel Bugis, Singapore 188061.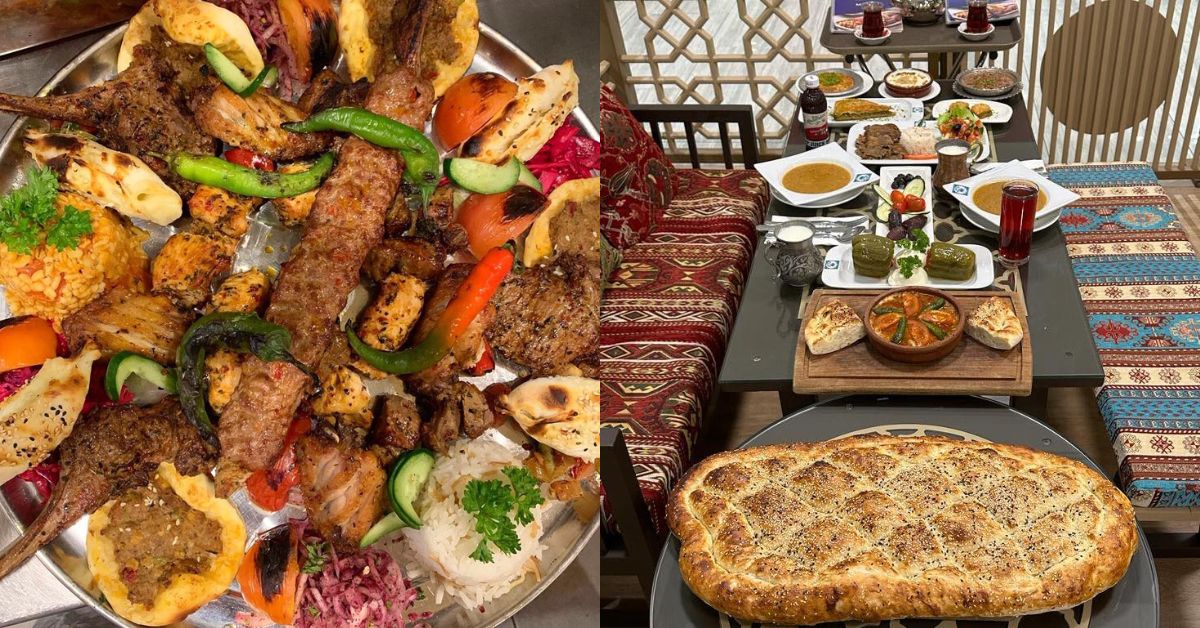 Sofra Turkish Cafe & Restaurant is a halal restaurant in Singapore that serves authentic and affordable Turkish food. With their former success at Shaw Tower, this household name is now located at Marina Square. Sofra Turkish Cafe & Restaurant houses a fuss-free atmosphere filled with intriguing objects and rustic furnishings which focuses all of the attention on its delicious cuisine. Their menu offers a wide selection of Turkish classics, must-try dishes include the Sofra Kebap which is freshly baked bread coated with generous servings of meat, walnut, tomato and cheese.
Sofra Turkish Cafe & Restaurant. 6 Raffles Boulevard, 03-129 A, Marina Square, Singapore 039594.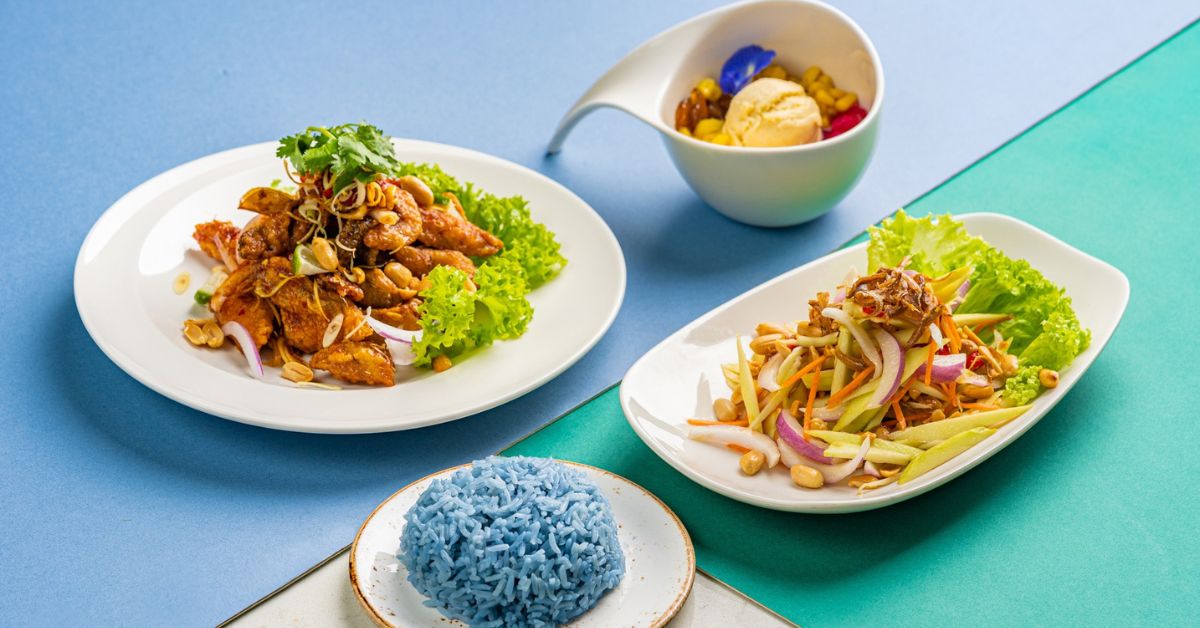 Housed in the Holiday Inn Singapore Little India, Blue Jasmine is a casual yet chic restaurant serving the best Southern Thai and Esarn cuisine. Blue Jasmine is decored with a chic setting comprising rustic red bricks and clean white tiles which provide a minimalist backdrop to the Peranakan Kebaya digital print centerpiece. Furthermore, this Halal Thai restaurant offers a menu with a selection of dishes that are all influenced by the traditional flavours and vibrant street food scene of Thailand. Must-try dishes include the Southern Roasted Chicken and Blue Mango Sticky Rice.
Blue Jasmine. 10 Farrer Park Station Rd, Level 5 Holiday Inn Singapore, Singapore 217564.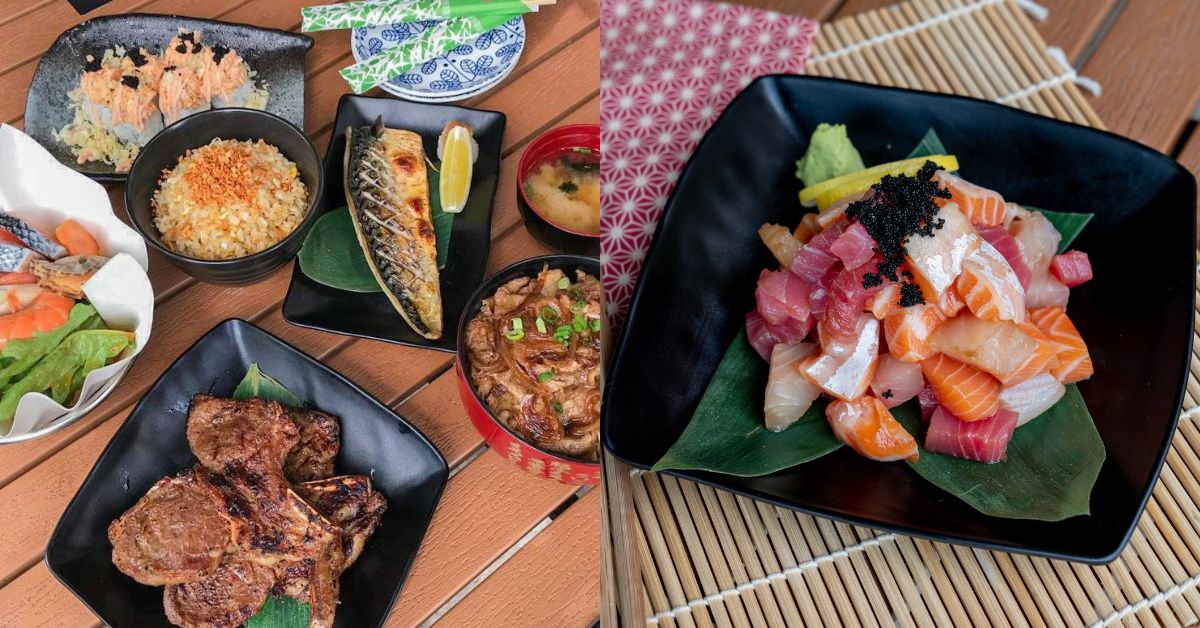 The only halal Izakaya in Singapore, Daya Izakaya offers delectable halal Japanese dishes and beverages. Be spoiled for choice with a variety of delectable izakaya foods, including cooked dishes and fresh sashimi. When you're there, try their Kaminabe which is a mini paper hotpot with either a spicy or clear soup base, and is served with either seafood, chicken, beef, or oyster. What's more, this halal Japanese restuarant also serves other Japanese selections like sushi platter and rice bowls, agemono and nimono, udon and ramen, kushiyaki, and desserts.
Daya Izakaya. 254 Jln Kayu, Singapore 799481.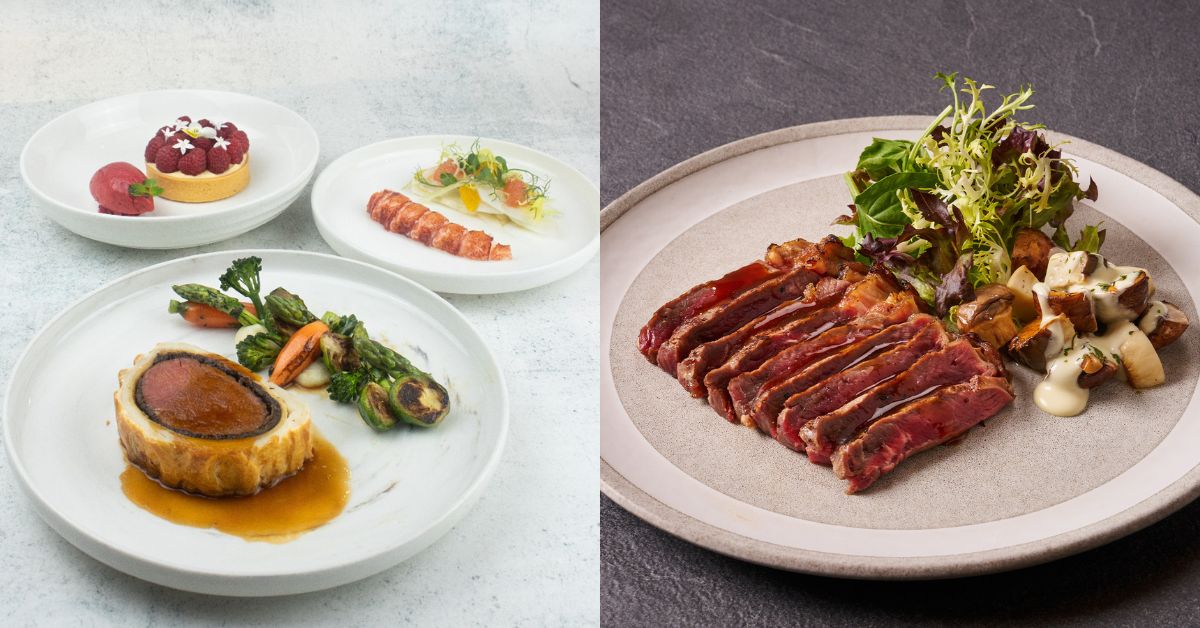 Elfuego is launched by Collin's which is highly popular for its Western cuisine. Elfuego is a halal restaurant which strives to expand its reach by presenting halal dishes and elevate the dining experience with their team of award-winning local chefs to craft with their curated menu. Elfuego also features a contemporary open kitchen concept with a state-of-the-art Mibrasa oven, which enhances the flavors of all ingredients. Both Muslim and non-Muslim diners can look forward to their premium selection of European cuisine that is enjoyable for all.
Elfuego by COLLIN'S. Jewel Changi Airport, 78 Airport Blvd, #02-216, Singapore 819666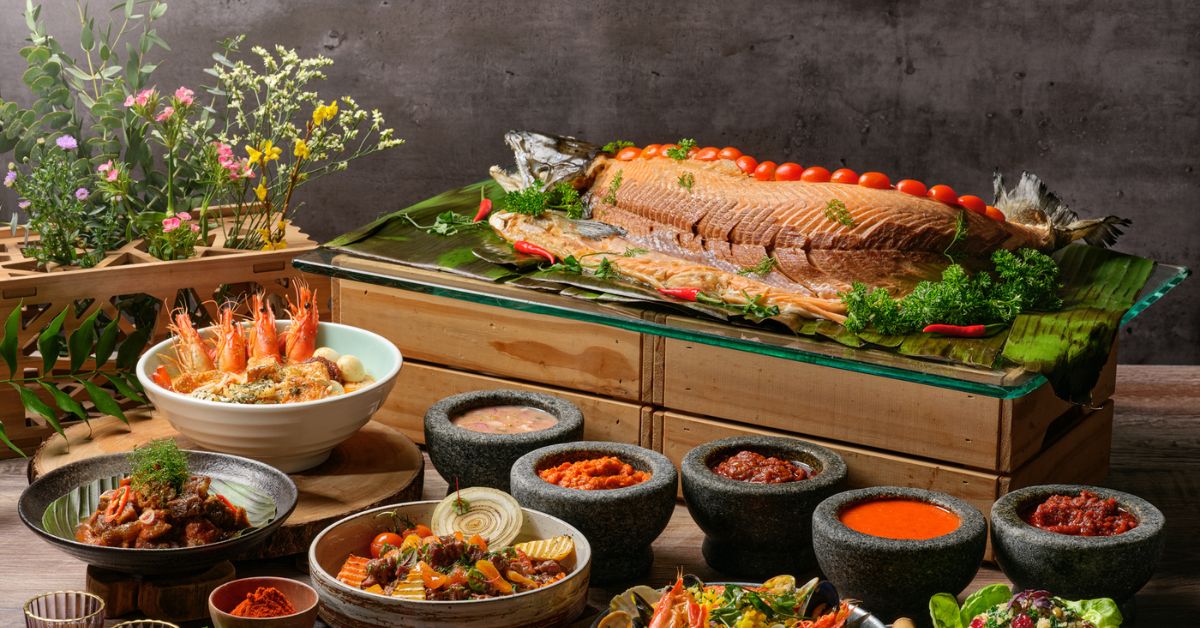 Enjoy a delightful culinary journey at the halal-certified Atrium Restaurant, located in Holiday Inn Singapore Atrium. With an extensive selection of international and local flavours, Atrium Restaurant serves breakfast, lunch, and dinner as an all-day dining a la carte and buffet restaurant. Their hotel halal buffet menu is affordably priced and serves signature favourites like Beef Rendang, Roti Prata, Hainanese Chicken Rice, and more.
Atrium Restaurant. Holiday Inn Singapore Atrium, an IHG Hotel, 317 Outram Rd, Singapore 169075.