We love bespoke gifts and gift hampers at Vanilla Luxury! There's something about a thoughtful, personalised gift that says volumes about how much you care. From personalised gift hampers with handwritten notes to carefully curated gift boxes for special moments in your life, this bespoke gifting guide is one to bookmark right away.
As Singapore's choice gift hamper and care package brand, local gifting company The Hamper Story sell some of the most beautiful, personalised gifts in Singapore. Whether you buy them for personal use or as corporate gifts, you'll find that these gift hampers are made with well-curated brands and thoughtfully selected items that everyone will love.
Need a gift to celebrate a couple? Then you'll like the Love Affair gift hamper by The Hamper Story. Some people believe in fairytales, then there are some who make us believe in them. This hamper is an ode to couples who do the latter. Their union gives us hope, happiness, and the spirit to rejoice in life. This hamper comes with a luxe set of perfumes and other personal care arsenals by Mont Blanc for him and Coach for her. 
For them to enjoy a lit private soiree of their own, there is also a premium bottle of Jacob's Creek Classic Shiraz 2019 - Red Wine. Add to that two beautifully designed ceramic cups with customized tags, botanic scented candles and fairy lights in a multipurpose wooden crate, it makes a stellar present for any couple with a taste for the finer things in life.
Another best-seller, the High on Life gift hamper is the ideal present for those that enjoy every moment that life offers, or those about to take on new thrilling adventures.
With 8 bottles of Laiba Handcrafted Cocktails and 2 tins of Awfully Chocolate goodies, a JBL Bluetooth Speaker along with a radiant LED Tree and Hooga Photoframe wrapped up in a sleek multipurpose elevated wooden crate, this becomes the perfect present for that one friend, colleague, or relative that inspires you to live wholly.
Want to shower instant happiness on someone you love? The Token of Love gift hamper by The Hamper Story is a gourmet assortment curated to offer instant pleasure, especially in times of quarantined distances. This marvellous mix includes nutritious snacks including premium The Hamper Story walnuts, cashews, pistachios and almonds, a punnet each of strawberry, raspberry and two punnets of blueberries. There are also 12 bags of fine flavoured coffee by Bacha Coffee along with 25 sachets of Twinings Flavoured Green Tea. Oh, wait there's more! The hamper has a tin of Awfully Chocolate delicacies, M&S Date, Plum & Hazelnut Biscuits, Eureka Popcorn and Arnott's Cracker Chips, all embellished with fairy lights and decoratives, in a special multipurpose gift basket.
And if you are after a more personalised gift, just ask the team for ideas along with a request for a hand-written note! Small, personal touches make The Hamper Story a special gifting destination that you and your loved ones will love, no matter the occasion or recipient.
Personalised gifts that will make them go 'aww'? When it comes to baby gifts in Singapore, RAPH&REMY lead the way with their stylish baby essentials and personalised gift hampers. Designed with our tropical climate in mind, these luxurious and sustainable baby products include everything that new parents would love. Expect a large selection of baby essentials such as rompers and zippies, blankets, personalised baby gifts, apparel, accessories, toys and more!
We have to add that all of RAPH&REMY's apparel and textiles are made with bamboo, an all-natural material that is kind to our body and to our earth. As an eco-friendly, sustainable and renewable resource, bamboo is three times more absorbent and softer than cotton and keeps babies feeling fresh in Singapore's warm climate.
They also offer personalisation of gifts! These range from teethers, organic bamboo blankets, best-selling premium bamboo zippies, swaddles, hooded towels and mitts to baby comforters, plush toys and the baby's first outfit complete with a bow!
Alternatively, shop RAPH&REMY's range of pre-made gift sets and value bundles that save you 15-20% compared to the originally priced items. If you prefer more flexibility to choose, simply create your own by adding their gift box and gift card bundle deal to your cart before checking out! 
Did we say they are beautifully wrapped too? RAPH&REMY take immense pride in the entire gifting journey - this means you'll get luxurious, premium-quality items wrapped up in a beautifully packaged gift box to create an unboxing experience like no other. 
One look at their Instagram stories and you'll want to order these for a special tiny someone!
You can shop for these luxe essentials and baby gifts at http://www.raphandremy.com/, or browse their collection at Takashimaya, Motherswork Great World City and Tanglin Mall, Tangs, Mummys Market Raffles City, Mother & Child and Raffles Hospital.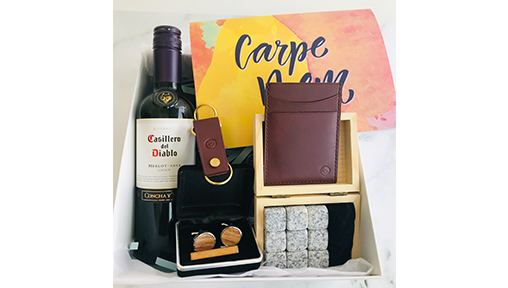 Surprise Gift Atelier, Okimochi Box take away all the pressure of choosing a present. Simply describe your recipient and they will lovingly curate a surprise box on your behalf to send anywhere in the world!
Not just a gift provider but a service that interprets the description of the recipient, curates products to match and personalises the final gift with all the surprise of an unknown delivery - Okimochi Box do take care of everything. And it is indeed as hands-off as gifting gets. There are no in-depth product descriptions or details on what the hamper will look like. Just know that the contents will be curated with simple, yet practical products and backed with a theme in the most stunning packaging, inspired by the Japanese art of Origami.
The concept of Okimochi Box works best when the recipient is kept in the dark right till they receive the box. Also, known as the Okimochi unboxing experience, they take pride in making the recipient feel special and cherished - a moment of receiving something lovely and an unexpected surprise. So whether it's a new mum, the bride-to-be, a birthday surprise or simply a gesture to say you care; you can just lie back and relax while the gifting fairies at Okimochi Box weave their magic. It'll be as much a surprise for you as it is for the receiver - and an incredibly pleasant one at that!
Alskar's Personalised Vivid Skinny Tumbler is a great gift for so many reasons! Looking for a personalised gift for your bridesmaids? The skinny tumbler is great for sipping on cocktails during the bachelorette party. Or maybe you want to give personalised tumblers to your fitness squad to keep them motivated and hydrated.
Have a colleague moving on from the company or are you a graduating student who wants to give your classmates something to remember you by? The Alskar's Personalised Vivid Skinny Tumbler also makes for a great parting gift and farewell keepsake that will last. So, you can continue to keep in touch and stay connected with friends and colleagues.
A 16 oz double wall acrylic tumbler made with high-grade BPA-free acrylic plastic, this tumbler is the ideal cup for everyday use. A new, redesigned plastic lid accommodates straw usage as well as easy sipping and an inner seal ring completes the secure, push-on lid to minimize accidental leakage. The body also provides a condensation-free touch.
Shop for the tumbler and many more personalised gifts at Alskar.co.
Want the perfect birthday gift for a child? You'll want to take a look at Puttot who sell unique-to-the-market, premium baby and kids brands in Singapore. These include some of the top companies around the world including Moulin Roty, OOLY, Trixie, LOKI, Kemy Kids, Polaroid Eyewear, and Childhome.
For babies, you'll find a range of toys, plushies, wooden rattles, comforters, pacifier holders, rocking scooters, wooden strollers or walkers and more.  While older kids will literally scream for joy when they see the selection of crayons, art kits(including gem art!), gel pens, eraser sets, and other art supplies that Puttot carry. 
They've also got a new brand addition Trixie, that offers everything you need to welcome a newborn, gift a toddler or send your child to school with. The textile collection is brimming with animal designs as backpacks, satchels, and pencil cases, all in organic cotton. You'll also find matching, non-toxic stainless steel bottles that are a great alternative to single-use plastic ones. For babies, there are wrist rattles, wooden ring rattles(for better hold), and an adorable FCS-Certified wooden toy range to choose from! 
Prefer unique and personalised gifts for the little ones? Puttot allows you to add names or initials to their products with embroidery service. It's as simple as choosing from their lovely soft toys, towels, and backpacks, selecting a thread colour, font, and typing your characters, and submitting your order!
You can also choose to build your own gift hamper or choose from Puttot's curated thoughtful gift sets that include a range of exclusive international brands. And it's free delivery over a spend of S$40!
The idea of Gifts Less Ordinary came to its founder when she received a personalised baby blanket and a pair of shoes with her newborn son's name embroidered on it. 
"I was so overwhelmed with how beautiful and personal the gift was, it made me realise that we needed these kinds of gifts to be available in Asia and beyond." - Amy, Founder.
Gifts Less Ordinary was born, as a one-stop marketplace that brings together the world's best small creative businesses to present the most beautiful and unique products that are near-impossible to find anywhere else. 
Each product featured on the site has been lovingly handpicked to showcase only the most luxurious, bespoke gifting ideas, and with more than seven thousand unique gifts to choose from. Whether it's finding a gift for a special occasion such as Father's Day, Mother's Day, a birthday, anniversary or a wedding,  Gifts Less Ordinary has you covered.
Want to send over a special personalised gift for a newly-wed couple? Don't let the lockdown come in the way of sending beautiful gifts to your loved ones. This Personalised Heart and Arrow Wedding Cheese Board Set, that is lovingly made in Great Britain by Dust and Things. Inspired by the classic cupid's arrow tattoo motif, the wooden cheese board is individually designed to your specifications and is laser engraved with the heart and arrow in its centre, and your choice of text in the middle using beautiful vintage and handwritten style fonts. 
The cutting surface of the cheese board turns to reveal an inner compartment for storing the cheese tools included in the set. Personalise with any text such as titles 'Mr + Mr' or first names and wedding date or a phrase you love. You can even add a secret message for the happy couple on the bottom of the set and a Dust and Things kraft gift box to show how much you care!
Searching for the perfect fragrance that matches your loved one's personality and preference can be an arduous task. Finding gifts for men is even harder. Bespoke Parisian perfumery house, Maison 21G, offers tailor-made scents for every personality type - suitable for men and women!
Made with the finest natural ingredients, you get to customise your fragrance by picking your own perfume concentrate from 33 different scents. Using purest natural oils from France, every perfume is free from phthalates, CMRs, NGOs, formaldehyde, and is at least 90 per cent biodegradable. Your creativity combined with the team's perfume design knowledge gives you an opportunity to create a great bespoke gift for perfume lovers. If you're not sure what matches your personality, take their online quiz which will help personalise your Signature Fragrance.
Friends leaving Singapore? Then you'll love the personalised art that Livan Designs sell! Livac Designs is an exclusive gift and deco shop of personalised gifts in Singapore that brings you unique designs like the city's skyline, minimal maps, landmarks and iconic places - all reflecting your life and experiences. 
At Livac designs, they don't just sell artwork, but personalise your art deco designs with a strong connection to your emotion, memory, feeling and smile. 
Almost all of their products can be personalised with words like name of family members, pets, condo, street, touristic locations, places, sports or activities, name of friends, special phrases - anything that signifies your moments together. 
You can also opt for posters with motivational quotes and funny words to cheer up your day or get custom prints for the baby's nursery. Regardless of the format you use, there's every guarantee that you'll leave your gift recipient beaming!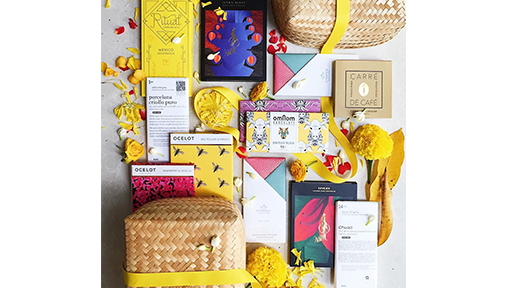 Who doesn't have a special place in their hearts for luscious and exquisite chocolate? Hello Chocolate has the perfect way to gift chocolates to chocolate lovers in the form of specially curated hampers for every occasion! Anniversary Gifts, Birthday surprises or even Teacher's Day appreciation, Hello Chocolate has you covered with a vast selection of delectably bespoke gifts.
Made with premium-quality ingredients harvested from all around the world, Hello Chocolate also delivers pre-made chocolate gift hampers for stress-free gifting in Singapore, that will guarantee utmost happiness from the receiver. For a more hands-on gifting experience, you can also create your very own personalised gift set for your dear ones by selecting your choice of chocolates from their Chocolate Shop and adding them to your hamper basket. Voila! You have successfully created your very own bespoke chocolate gift hamper!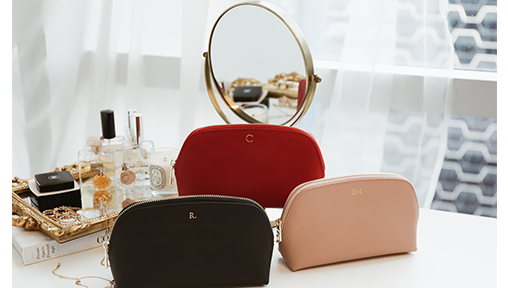 An elegant and bespoke leather statement wallet or pouch to gift your stylish friends, Luxemono offers a wide selection of leather accessories that can easily be made into personalised gifts.
Customise the leather accessory of your preference by monogramming initials, personal logos or signatures and make it an intimate gift. Luxemono has it all, choose your customisable accessory from name tags to beauty pouches, and you are even entitled to complimentary characters to monogram depending on the accessory. Your loved one will gain a classic and trendy piece of accessory and a functional asset to show off.
Top Banner Image: Gifts Less Ordinary