Did you know that most of the lagoon crabs we rave about in Singapore actually come from Sri Lanka?
Founded by Restaurateur and Celebrity Chef Dharshan Munidasa who partnered with two of Sri Lanka's cricket legends, Mahela Jayawardane and Kumar Sangakkara, Ministry of Crab is Sri Lanka's first restaurant dedicated to serving export quality lagoon crabs.
Dharshan says, "On one of the episodes of my TV Show Culinary Journeys with Dharshan, which aired in 2010, the focus was showcasing Sri Lankan crabs. One segment of the episode was shot in Sri Lanka with my crab supplier, Sisira, and a few segments were filmed in Singapore where we showed our audience where to buy crabs, where they serve it, and how they cook it. When the program aired, my friend asked me why I wasn't starting a crab restaurant and that triggered the inception. The name came about because my friend suggested a boring name and I blurted out 'Ministry of Crab' and we stuck to it."
This restaurant is one of Asia's 50 Best Restaurants and Chef Dharshan takes pride on serving the best catch of the day. He does not believe in serving small, meatless or even unevenly sized claws but only the real export quality giants. And trust me when I say he really knows his crabs!
The seafood at Ministry of Crabs tastes superior because the seafood is never frozen. The oceans in Sri Lanka are clean and prawns or crabs are caught and served fresh on the same day. Being half Japanese, Chef Dharshan uses techniques from Japanese culinary practices which can be seen in his other award-winning restaurant, and one of The World's 50 Best Restaurants, Nihonbashi.
Here are our top 5 recommendations:
1. Oysters Sixters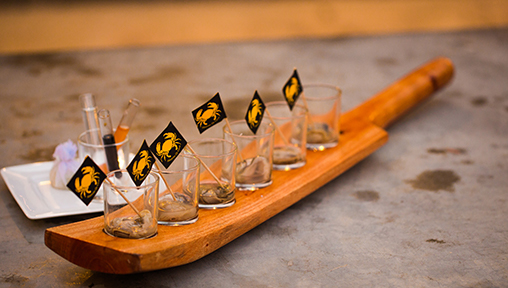 It is no surprise that cricket has come into play! Served with an aged soya sauce created by Dharshan 20 years ago, and a homemade hot sauce, these shooters are a great starter! There is even an option to have it with Vodka!
2. Garlic Chilli Prawns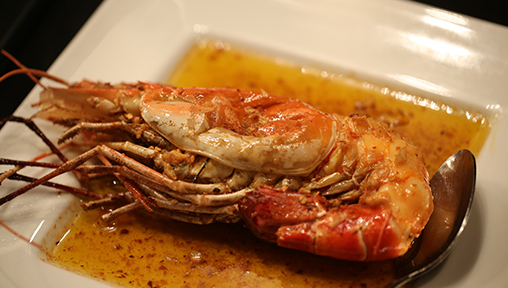 One of our favourite dish that got us thinking about it 5 days later has to be this Garlic Chilli Prawns! The trick to really enjoying this dish is to dip freshly baked bread with the sauce made out of olive oil, soy sauce, garlic and chilli flakes. This freshwater prawn is so succulent and sweet. A definite must try!
3. The Chilli Crab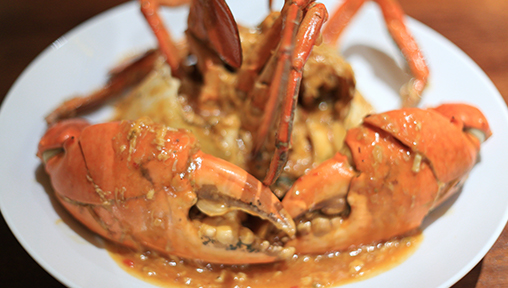 Chef Dharshan loves to thank Singapore for making Sri Lankan lagoon crabs a branded product. Chilli Crab has an iconic status and Ministry of Chef uses a variety of chillies available in Sri Lanka to create an incredible depth of flavour that is warm yet sweet.
4. The Black Pepper Crab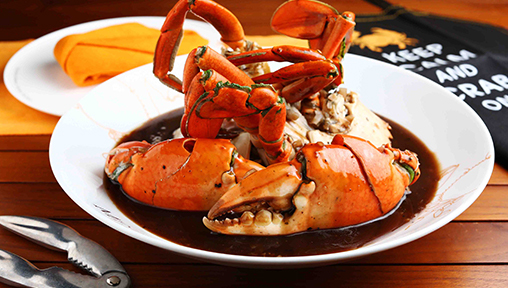 Pepper lovers, this one is for you. Black Pepper has been the king of spice in Sri Lanka for centuries and the peppercorns in Sri Lanka are not the same as the rest of the world. This dish is made using hand-crushed peppercorns, whole peppercorns, and a pepper stock. This dish is sure to blow your mind.
Ministry of Crab is housed in the renovated 400 year old Dutch Hospital in the heart of Colombo. We recommend making reservations as they're always busy!