Are you looking for an anti-itch cream or something to soothe your sensitive, dry skin? When it comes to skincare we've written a lot on the best solutions for brightening, acne, sun protection, anti-ageing and so on. There is however another skincare problem that most of us face, and we don't bring it up often enough! That of itchy, dry skin. 
Itchy or irritated skin can be caused by dry skin, allergies, contact with a skin irritant, long term medication, lifestyle changes and plenty more. You can also get itchy skin as a result of clogged pores and the dryness of skin cells. Simply put, when skin becomes dry, it leads to an itch. 
The good news is, that plenty of skincare brands now offer products that help sensitised and dry skin to relieve any scratchy or itchy feeling. 
Today, we round up some of the top skincare products to soothe and nourish your skin. These include dermatologist favourites,  drugstore staples, local skincare heroes as well as popular cult brands that are loved by consumers all around the world. Read on to find out more!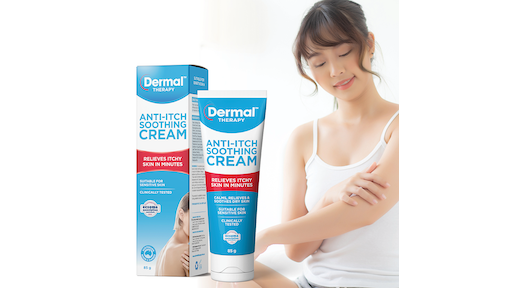 Want anti-itch or soothing skincare that has been clinically proven to deliver the highest efficacy? Then you'll want to try Dermal Therapy! 
Dermal Therapy is an Australian skincare brand with an extensive range of affordable and effective products, delivering proven results for all your skin concerns including dryness, sensitivity, Eczema and even Psoriasis. Recommended by dermatologists, their range of products are made with the highest quality ingredients to provide relief from that all-encompassing itch. 
Dermal Therapy Anti-itch Soothing Cream contains a blend of Colloidal Oatmeal, Canadian willowherb and Menthol to soothe and relieve dry, itchy skin in minutes. 
Through this unique 3 ingredient action and intense moisturising base, Dermal Therapy Anti-itch Soothing Cream also works to relieve itch, redness and swelling due to eczema, sunburn, and insect bites. The formula is also gentle enough to use on sensitive skin and suitable for ages 2 and above. 
It's also easily available island-wide! You can find Dermal Therapy's Anti-itch Soothing Cream at leading pharmacies including Watsons, Guardian, Unity and official e-stores on Lazada and Shopee.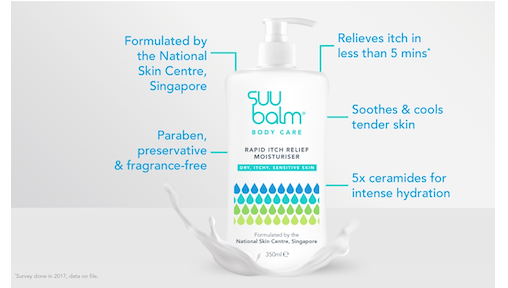 Still new to Suu Balm? Suu Balm is a range of skincare solutions formulated at our very own National Skin Centre in Singapore. Their products are developed especially for people with dry, itchy, sensitive and eczema-prone skin. 
With over 1,000,000 tubes sold globally, there's no wonder that Suu Balm is amongst the first line of skincare that many in Singapore and around choose to relieve sensitive skin!
Their star anti-itch product, the Suu Balm Rapid Itch Relief Moisturiser contains a specific ingredient to provide rapid itch relief.  Menthol acts by cooling the skin, and triggering receptors in the nerves in the skin, blocking the transmission of itch signals to the brain. At the same time, the moisturiser also contains 5 times skin-identical ceramides that help in restoring the skin's moisture.
And don't worry there are no steroids, parabens, preservatives and artificial fragrances in here, making it suitable for all skin types, even those with sensitive or eczema-prone skin. 
In a survey done by TryAnd Review in September 2021, 98% of participants agreed that the Suu Balm Itch Relief Moisturiser relieved their itch in 5 minutes. 100% said their skin felt smoother and hydrated and 98% saw a visible improvement in skin appearing less flaky and red.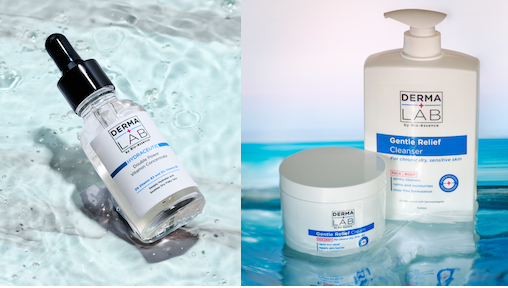 Sometimes our skin requires serious skincare that goes beyond the usual basics. Launched in early 2020, Derma Lab has grown to become the effective go-to for sensitive Asian skin in Singapore. 
Meant as SOS for your face and body, the Derma Lab Gentle Relief series of body products give a strong, yet soothing effect to irritated skin. 
The formulas are effective, yet free of alcohol, colourants, fragrances, mineral oils, parabens, soaps, SLES, or steroids. This ensures that these products are safe and free of any ingredient that may heighten skin sensitivity or cause irritation. They are also gentle enough to be used on your face, giving that one holistic solution for all your sensitive skincare needs. 
The new line includes a Gentle Relief Cleanser and Cream, specially created to relieve eczema symptoms on the body. This duo contains Derma Lab'sproprietary complex, known as the Derma Mimic Complex which repairs a compromised skin barrier and promotes intrinsic moisturisation.
Key ingredients include Ceramides, which are naturally occurring in skin and essential building blocks of a healthy skin barrier, as well as Glycerin, a superior humectant which works like a magnet to draw moisture to the skin. There's also Bisabolol in the cream, an effective anti-inflammatory agent it relieves skin itches and reduces redness.
If you suffer from sensitive facial skin, Derma Lab also have 3 skin-healing products to add to your daily routine. Derma Lab Tolerance SOS Recovery Serum gives very dry and reactive skin instant comfort through its international patented 1Neuro Biome Technology.  The serum restores the skin barrier and modulates the skin's microbiome balance to reduce skin itch, redness and inflammation almost immediately. It is also ideal for skin post-laser.
Derma Lab Hydraceutic Double Power Vitamin Concentrate comes enriched with 5% Vitamin B5 and Vitamin B3. This serum attracts and retains moisture in the skin while protecting it from external aggressors. Perfect for soothing and repairing sensitivities and irritation, it is made for rough, dry or eczema-prone skin. 
There's also the Derma Labma Lab Hydraceutic Ceramide Repair Cream for eczema-prone skin, this cream contains Ceramides 1, 3 and 6 to strengthen skin barrier and repair dry, sensitive skin. It soothes irritable skin with its anti-inflammatory properties and effectively improves skin texture. 
How's that for a comprehensive anti-itching skin regime!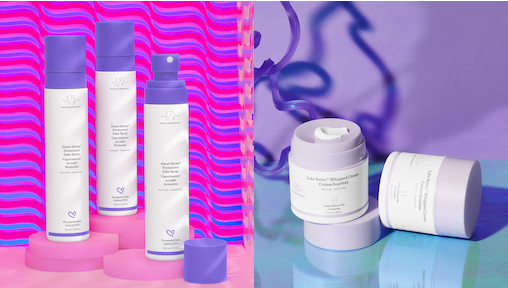 Can this cult-brand deliver skincare that is suitable to all skin types - even those with irritated skin? Turns out Drunk Elephant carries a range of products that not only soothe but also provide the necessary hydration to the skin. Take the Sweet Biome™ Fermented Sake Spray for example.  With its blend of vital amino and fatty acids, electrolytes, and ceramides, this Sweet Biome™Fermented Sake Spray supports and replenishes a healthy microbiome. Sweet Biome's cocktail of fermented sake extract, kombucha, and hops supplies skin with nutrient-dense substances that restore, soothe, and contribute to a balanced and healthy acid mantle and microbiome.
Use it to nourish and soothe skin whenever it needs a healthy dose of hydration! Follow with your usual skincare, which in this case we recommend to be the B-Hydra™Intensive Hydration Serum. Think of B-Hydra™as a cool drink of water for thirsty skin. This ultra-hydrating serum replenishes the complexion and improves the look of skin's texture and tone. Loaded with superfoods it contains a  unique lentil-apple-and-watermelon complex, B-Hydra™that helps to diminish dryness, and the appearance of fine lines. What's important here is that Drunk Elephant's formulations are biocompatible, which means they're able to easily penetrate your skin without disrupting its balance. 
Next, try the Lala Retro™Whipped Cream a product on a mission to rescue and recover the skin. Infused with six African oils and a plant ceramide complex, this deeply nourishing product reinforces the skin's acid mantle and defends against the effects of everyday stressors. Just as the name suggests, this whipped texture cream is loaded with omega acids that help the skin retain long-lasting moisture. By forming a protective layer it allows skin to function at its optimal level. Did we say how luxe its texture was? Truly a dream for those with dry, lack-lustre skin!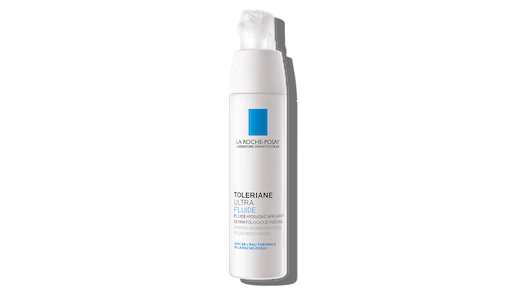 Sensitive skin stalwarts, La Roche Posay have created Toleraine Ultra Light, an intense dermatological fluid moisturiser suitable even for dry, irritated skin. Formulated to soothe and repair the skin barrier at the same time, its fresh and non oily texture contains the famous La Roche-Posay Thermal Spring Water.
This ultra-soothing daily moisturiser combines Neurosensine, a strong soothing agent that targets the signs of skin irritation and La Roche-Posay Thermal Spring water, naturally soothing and anti-irritant. What follows is intense hydration and soothing skincare that helps get rid of any stinging or itching sensations as well as visible redness. Don't believe us? Try it and you'll find that discomfort is relieved in just 1 minute*. What's more, day after day, the skin's sensitivity will be reduced and long-lasting comfort restored.
The packaging is ultra-hermetic packaging, anti-contamination, anti-oxidation, anti-dried-up-residue and anti-waste, allowing for a highly minimalist formulation and optimal tolerance. With zero fragrance, alcohol, preservatives, parabens, lanolin or any colourants, this is 'the' high tolerance moisturiser for allergic or sensitive skin!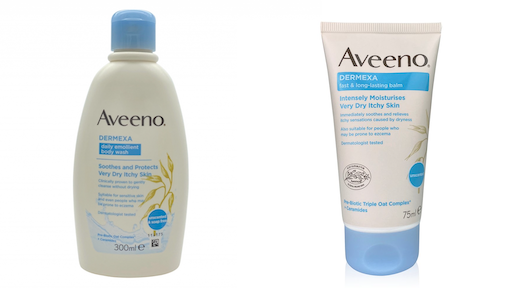 Did you know that Aveeno's Dermexa range is clinically proven to relieve and soothe common symptoms of dry and eczema-prone skin? Keep calm and switch your itch off with Aveeno Dermexa that provides lasting relief and soothes eczema symptoms from the get-go. This includes itchiness, redness, scaling, or tightness. 
Aveeno Dermexa Daily Emollient Body Wash gently cleanses without drying and leaves skin feeling soft, comfortable and moisturised. Harnessing the soothing power of natural oatmeal it provides intensive and long-lasting hydration to soothe discomfort, redness or any itching. 
If you are looking for a post-shower moisturiser, the gentle on skin, upgraded Aveeno Dermexa Daily Emollient Cream moisturises intensely to prevent recurrence of extra dry skin and builds protection against flare-ups.
Developed with leading dermatologists, this daily cream is clinically shown to help relieve the signs of dry, eczema-prone skin – itchiness, the appearance of redness, scaling and tightness. If you however need instant relief, take a look at the Aveeno Dermexa Fast and Long-Lasting Balm. This protectant and anti-itch skincare cream moisturises intensely to get rid of dry skin for up to 6 hours and helps to restore the skin's barrier in just 1 week.  Formulated with patented Prebiotic Triple Oat formula (consisting of oat flour, oat oil and oat extract) and Ceramides, essential lipids it will get your skin's protective function restores and running while preventing recurrence of extra dry skin!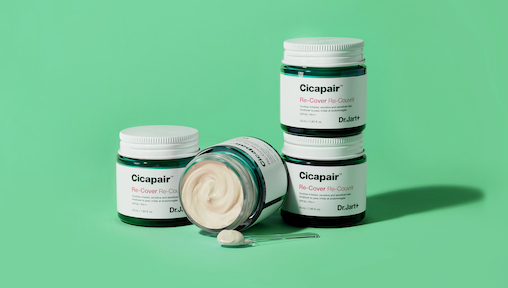 Have you tried Cica in your skincare yet? Also called Tiger Grass, Cica is proven effective at helping with skin recovery. It is also the same grass that tigers in India are known to roll in to help heal any wounds and infections!  A herbal plant native to Asian wetlands, the Centella Asiatica leaf water provides an immediate soothing effect, perfect for irritated skin. 
Leading this Cica revolution is none other than Dr. Jart! Their Cicapair™Serum hydrates and soothes redness and itchy skin harnessing the powers of herbal plants. With its newly updated ingredients, you'll find this serum to be quickly absorbed into the skin. Gentle, yet effective the facial treatment will calm redness and irritation - yes, even with a single drop! 
What we can't (and won't) stop raving about is the Dr. Jart+ Cicapair Re-cover SPF 40/PA++ CC Cream! A TikTok revelation, the product is now enjoying cult status around the world. Not meant for all skin tones, in fact, we'd say it's suitable to mostly pale to fair skin, this CC cream comes in a green paste-like format. 
A green-to-beige colour-correcting cream it reduces redness and protects skin from UV light and environmental aggressors. Simply rub on your palms and dab into the skin to cover blemishes, neutralise redness and also get that power-packed SPF40 protection. To make things easier, the Cicapair™heroes come in a set too! 
Complete your soothing skincare routine by indulging in one of the many face masks that Dr Jart is famous for. The Dr. Jart+ Dermask Soothing Hydra Solution Facial Mask is a soothing, hydrating mask made with fine cellulose fiber to help active ingredients penetrate deeply for ultimate hydration. Amongst its powerful ingredients is Aloe vera, a moisturising, anti-inflammatory, that promotes regeneration, and helps relieve acne and burns. There's also Phytoncide an anti-bacteria, anti-stress agent that prevents further skin damage.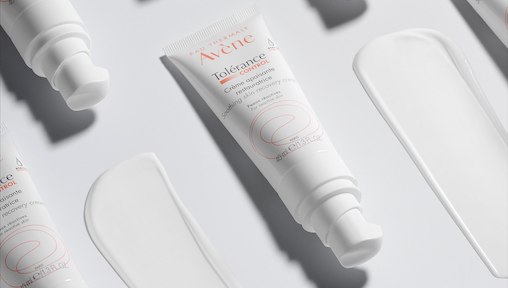 Struggling with hypersensitive skin? When your skin is hypersensitive, it means your skin has a barrier defect that leads to feelings of tingling, burning and even tightness. It is also possible that you are experiencing this reactive skin due to harsh skincare products that contain alcohol, fragrance and chemical ingredients. These can accelerate severe skin irritation especially if you have intolerant skin to begin with.
The Eau Thermale Avene Tolérance range is your skin saviour with its nourishing 99% natural ingredients. Its Extremely Gentle Cleanser cleanses and removes make-up from the face, eyes and lips. Watch the product remove impurities accumulated over the course of the day without irritating the skin. A super-silky texture allows for this lotion to melt onto the skin. Eliminates the impurities accumulated during the day without over-irritating the skin. Perfect for applying on a cotton pad and directly onto the skin. 
If you need a hydration product, the Tolérance Control Soothing Recovery Cream is an ultra-calming moisturiser that relieves any sensation of tightness, tingling and discomfort. We also love the packaging of this product! Using a New Sterile Cosmetics® tube it preserves the formula from any outside air and bacteria,  fragrance-free and preservative-free skincare product benefits. Apply to your face or spot treat any dry skin to find it intensely hydrated skin within just 48 hours! 
Everyone's favourite cleanser brand, Philosophy introduces two new 'nature in a jar' products that will help overcome harsh environmental aggressors and age naturally. 
Cue a natural alternative to Retinol. If you find that retinol further irritates your dry skin, take a look at Philosophy's skin reset serum with bakuchiol a natural retinol alternative.  Clinically proven to improve wrinkles and smoothness in 1 week, its superior clean and vegan formula comes with 95.9% natural origin ingredients. 
A youth reset complex of bakuchiol + olive leaf extract boosts collagen synthesis and gives anti-oxidant benefits all while energising and recharging the internal batteries of your skin cells. 
Another skin-soothing product in this range, Philosophy's ultra-nourishing skin rehab balm helps to immediately replenish stressed-out skin overnight. An independent clinical study by the brand showed that with 3 days, participants saw a visibly improved appearance of the skin, all in a gentle manner. Within a week 81% of women had measured improvement in wrinkles and 79% in smoothness. Two weeks later and they said their skin looked and felt more firm What's not to love! 
*8-week self-assessment study with 103 women aged 25 – 45, twice a day
**4-week clinical study with 43 women aged 25 – 45, twice a day.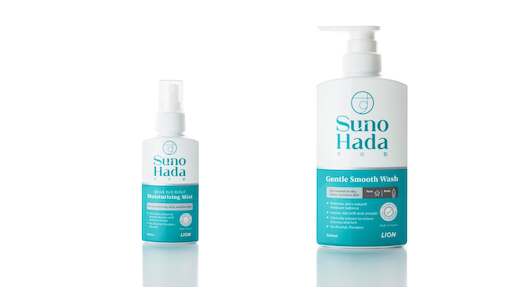 Lifestyle consumer goods giant LION has recently launched the new SunoHada range of daily skincare products for sensitive skin. Firmly rooted in the belief that daily skincare is essential to manage sensitive good skin, SunoHada's range of anti-itch skincare work to relieve dry skin of any tightness, irritation or sensitivity - every single day. 
The SunoHada Quick Itch Relief Moisturizing Mist is clinically proven to relieve dryness and itch in JUST one minute and is safe for all members of the family to use. Containing patented MTO Maltotetraose, with added I-menthol for cool relief, it is free from alcohol, parabens, steroids, colourants, and fragrance. 
We also recommend the SunoHada Soothing Lotion, a hydration product made for normal to dry, itchy skin. The lotion helps to restore your skins natural moisture balance using patented MTO technology and Hydroxphenyl Propamidobenzoic Acid. Perfect for Singapore's weather, its non-sticky formula is clinically proven to reduce dryness, itch and redness in 1 week.
Should you need a body wash, consider the SunoHada Gentle Smooth Wash, a non-foaming wash that restores skin's natural moisture balance, leaving skin soft and smooth. Or try SunoHada's Gentle Clean Wash, a low foam cleanser that makes for the perfect daily face or body wash, restoring your skin's own natural moisture balance, while reducing redness and itch that comes from normally dry skin. Regardless of what you choose, it will be an investment in skincare so you don't have to resort to managing your sensitive skin only when there's a flare-up!
Whether it's dry skin or eczema-breakouts, skincare leaders Bioderma know exactly how to treat your sensitised skin.  Take their Atoderm cleansers for instance. These cleansers are formulated with gentle, soap-free cleansing bases, making them well-tolerated and effective for the daily hygiene of dry to eczema-prone skin. Thanks to its patented formulas, Bioderma's Atoderm skincare biologically restores the hydrolipidic film of dry skin that lacks essential moisture and lipids (oils). With every use, the skin's healthy barrier is strengthened without irritation. 
The Atoderm Huile de Douche deserves a place in the shower! This ultra-gentle yet luxurious shower cleansing oil provides 24-hour hydration and comfort. You'll find it relieves any itch and irritation and swell as skin tightness. It also stimulates the production of ceramides with Vitamin PP (Niacinamide) to lock in moisture and restore a healthy skin barrier.
Follow up with a moisturiser such as the Atoderm PP Baume that seals in any needed moisture via a fragrance-free, easy to apply lotion-like texture. A handy anti-itch cream, PP Baume contains Zanthalene to soothe skin irritation. It also stimulates the production of ceramides with Niacinamide like Atoderm Huille de Douche. What's more, both of these products are absolutely safe for use on your kids too!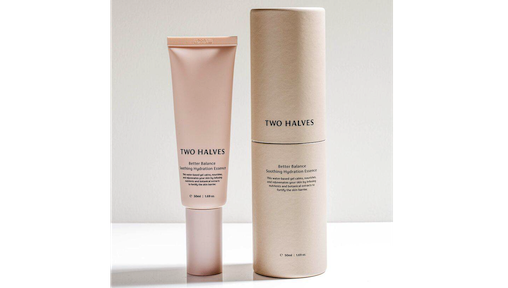 Founded by a mother and daughter team who recognise that dehydrated and dry skin can expedite ageing, Two Halves Skincare are all about building a healthy skin barrier. Incorporating skin-synchronising, plant-based and clean ingredients, Two Halves helps you set the groundwork for achieving an effective, restorative and enjoyable skincare ritual that is easy to integrate into your busy life or schedule. 
It is especially suitable for those with sensitive, dehydrated, fatigued skin or anyone with a compromised, dry skin barrier.
The Better Balance Soothing Hydration Essence is lightweight and oil-free and is formulated to comfortably glide onto the skin, nourishing it with a potent blend of botanical extracts with anti-inflammatory, anti-photoaging and antioxidant properties, providing the much-needed relief and nutrients to sensitive and dull skin. 
It also has strong humectant ingredients to allow better hydration efficacy from follow up facial masks and moisturisers.