If you've been hunting for the best anti-ageing skincare and products to reduce your wrinkles and fine lines while giving you brightened, more youthful skin, this is a list you want to save. We've rounded up some of the best skincare, serums, face creams, silk pillowcases and at-home devices that make worthy companions on your anti-ageing journey.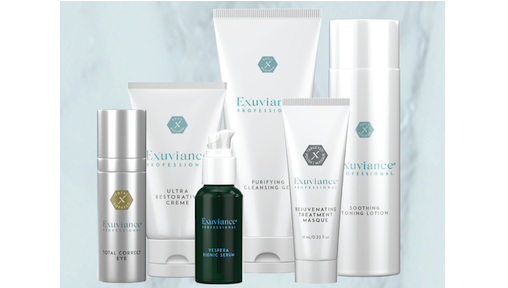 Founded by globally recognized innovators in clinical skincare and cosmetic dermatology, Exuviance is an anti-ageing skincare brand that simply delivers. Exuviance discovered the anti-ageing benefits of Glycolic Acid and created and patented the first Glycolic Peel! Since their ground-breaking discovery, the creators of Exuviance have continued to develop many new patented anti-ageing ingredients(over a 100!) backed by evidence from numerous scientific and clinical studies. 
Their star product the Exuviance Rejuvenating Treatment Masque revitalizes stressed skin while fighting the signs of ageing. This powerful deep cleansing masque combines a clinically proven blend of concentrated Alpha and Polyhydroxy acids (AHA/PHA) that offer full-strength anti-ageing benefits without irritation. Gluconolactone, a potent Polyhydroxy Acid decreases lines and wrinkles by strengthening the skin and building the dermal matrix so skin appears fuller and plumper. It also improves the skin's clarity, luminosity and refines pore size, leaving skin truly refreshed and rejuvenated!
Looking for a night-time skin transformer? Exuviance Evening Restorative Complex helps to recharge and renew your skin, while you sleep! It contains powerful Polyhydroxy Acid (PHA) Gluconolactone that decreases lines and wrinkles, evens skin tone and improves roughness and texture. Another power horse, Lactobionic Acid works as a potent antioxidant and inhibits wrinkles from forming, all while it plumps and firms the skin.
Wondering if you can use PHAs with your Glycolic Peels? The Evening Restorative Complex is dermatologist developed and gentle enough to be used following Glycolic Acid Peels and Microdermabrasion.
Anti-ageing skincare brand Exuviance is exclusively sold at Dermaskinshop – a one-stop online store that sells dermatological skincare and health products backed by science and recommended by doctors worldwide. 
Want $5 off? Get $5 off your first purchase with Dermaskinshop when you subscribe to their newsletter.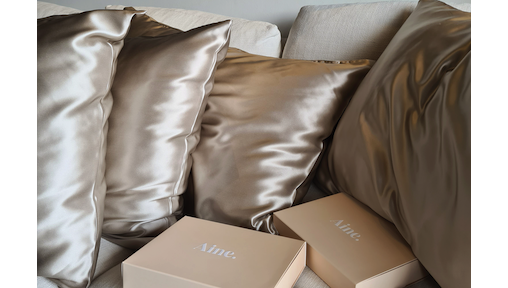 Want to buy a genuine anti-ageing product? Sleeping on a pure silk pillowcase has multiple anti-ageing benefits and can help to prevent wrinkles and fine lines. When we sleep on or the side of our face, we get what are called 'crush wrinkles'. Studies show that friction from tossing and turning in our sleep causes creases in the skin, but a silky smooth surface such as that of pure silk can reduce that effect in the long run. Silk is also great for those prone to frizzy hair as the natural fibre helps to tame your hair while you sleep and cause fewer breakages due to tangling. 
Aine is a local Singaporean brand that sells high quality, pure silk pillowcases. The silk pillowcases by Aine are made from the highest quality, grade 6A, 100% mulberry silk with a thickness of 22 momme. Their silk fabrics are also Oeko-tex standard 100, tested and certified to be free from harmful levels of more than 100 substances, ensuring that you have not only the dreamiest nights sleep but also the healthiest, most luxurious beauty sleep.
Aine was started by its founders when they couldn't find a local brand in Singapore selling high quality, silk pillowcases. Much research and aiming for the highest quality standards, led Aine to manufacture their own silk pillowcases in small batches, so quality is never compromised. By keeping a short production and selling chain, with no third parties involved, Aine is now able to offer Singapore(and slowly, people the world over) affordable, high-quality silk cases that are a dream to sleep on!
For those new to silk pillowcases, know that they are a natural anti-ageing product to invest in. Silk is a natural protein fibre, enriched with naturally-occurring amino acids that help our skin promote collagen production. Silk is also naturally hypoallergenic and hence a must-have for allergy sufferers. We love that Aine's range of silk pillowcases come in luscious, gorgeous colours - Champagne, Ivory, Petal Blush and even a luxe Charcoal so the man in your life doesn't feel left out!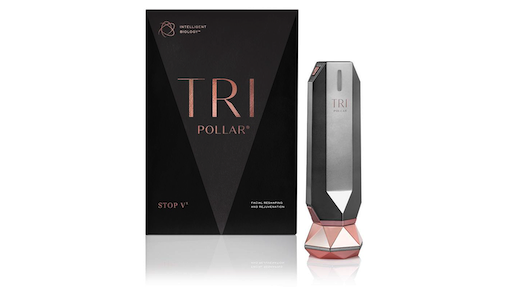 Seeking the ultimate anti-ageing product that offers skin rejuvenation and re-shaping at home? TriPollar's range of home-use products use ground-breaking technologies to provide a wide range of skin solutions with visible benefits - often evident from the very first treatment! Perfect for those concerned with skin ageing, TriPollar devices work to reduce wrinkles and keep skin smooth and glowing.
The innovative TriPollar STOP Vx combines Multi-RF Technology and DMA (Dynamic Muscle Activation) for effective and visible results. Multi-Radio Frequency Technology targets all layers of the dermis, providing a heating effect to increase collagen and elastin fibres production. This results in faster skin renewal, which brings smoother skin and reduces the appearance of signs of ageing like wrinkles and fine lines. DMA Technology improves and enhances muscle tone and lifts saggy skin, reshapes the jawline and tightens your face - perfect for that V-shaped face you've been vying for!
Multi-RF interchanging RF waves "comb" the dermis layers to provide an even heating effect on the entire band of collagen and elastin layers. This allows for shorter and faster treatments and ensures satisfactory results. Expect stronger longer-lasting rejuvenation and improved wrinkle reduction, with immediately visible results that stay with you. 
Worried about pain? The TriPollar STOP Vx is easy and painless to use and delivers immediately noticeable results with further long-term improvements. Exclusively available on MyTriPollar.com, this is the anti-ageing device to buy for reduction of fine lines, lifting saggy skin, contouring that jawline and improving overall skin texture!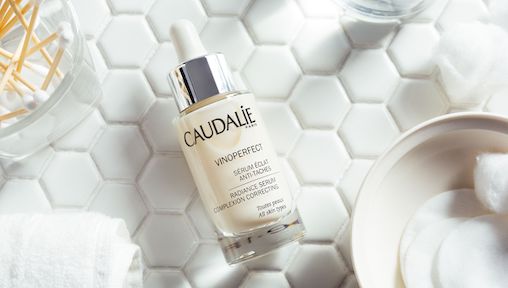 Those looking for anti-ageing skincare products will know that achieving brighter while combating pigmentation is often the biggest ask! 15 years ago, Caudalie unveiled the truth behind the spots and uncovered the star patented ingredient Viniferine, derived from the grapevine sap. Mastering the precious Viniferine with the introduction of Vinoperfect Radiance Serum and its Essence, Caudalie has given women the most natural brightening solution from the vineyard. 
Looking for that perfect anti-ageing essence? Vinoperfect Concentrated Brightening Essence is a crucial step in the Vinoperfect routine. It combines efficacy and gentleness to sweep away dead skin cells to reveal skin's original radiance. The effectiveness of a glycolic acid-based composition eliminates dead skin cells, and grape water-Caudalie's signature ingredient moisturizes while soothing. Due to the aqueous texture, Vinperfect Concentrated Brightening Essence penetrates the skin rapidly and shows instant improvement in correcting dark spots of 91% and complexion evenness and luminosity of 88%.
Celebrating 15 years of brightening skin all over the world, the multi-award-winning Vinoperfect Radiance Serum is a day-time ally of radiant complexion that corrects and prevents dark spots caused by the sun, ageing, acne or pregnancy. With a concentration of 500ppm patented ingredient Viniferine, which is 62 times more effective than Vitamin C. It is the best alternative to Vitamin C to fight hyperpigmentation without causing photo-sensitivity, irritation or dryness. Enriched with 97% natural-origin ingredients the serum helps to even skin tone and brighten the complexion effectively. Follow up with the Vinoperfect day and Glycolic night creams and you'll have your Caudalie Vinoperfect routine down to a pat!
From 1st October to 21st October 2020, head on down to visit the animated launchpad at Sephora ION Orchard featuring the Caudalie Vinoperfect 15th Anniversary Limited Edition Radiance Serum. You can also get to buy a limited trial offer of a 1-month supply of Vinoperfect Serum and Day Cream for just SGD 12!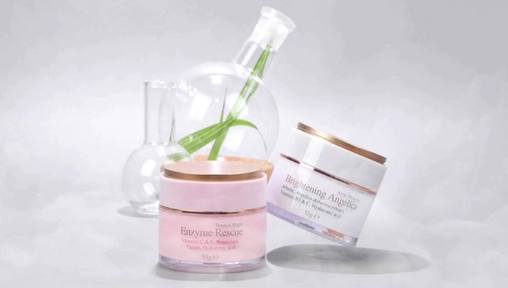 Developed by a team of scientists, premium skincare brand Rock and Herb is all about result-driven, science-backed and natural ingredients that steer ultimate skin goals for users. Started after a comprehensive study of beauty and health regimes around the world, Rock and Herb products are made from a curated collection of herbs, extracts and minerals and are amongst the best anti-ageing creams available in Singapore today. If anti-ageing moisturisers tend to be too rich for your skin type and cause breakouts, try Rock and Herb moisturisers that are suitable for acne-prone, combination, semi-dry and sensitive skin but with an anti-ageing function.
The Enzyme Rescue cream by Rock and Herb gently digests damaged protein to release 'new' peptides and amino acids to nourish the skin with the building blocks for collagen - a real winner when it comes to anti-ageing creams! Enzyme Rescue combines the goodness of papaya and pineapple traditionally used by women in South East Asia, South American and the Hawaiian Islands for a blemish-free, youthful complexion. Containing Papain, Bromelain, Vitamin C and E, the Enzyme Rescue cream improves skin texture by deeply moisturising while exfoliating dead cells and repairing blemishes. It also improves the absorbency of other skin products. Incorporation of Enzyme Rescue into your beauty regime is one way to meet your skin goals of a rejuvenated and youthful complexion.
Brightening Angelica is a gel-like cream that contains natural and safe brightening ingredients such as Arbutin and Angelica dahurica extract to brighten and reduce dark spots. Brightening Angelica has been shown to be effective in treating hyperpigmentation due to chemical or sun damage. It also gives immediate hydration, reduces pore size and appearance of an ethereal glow. This gel-like face cream comes with a powerful dose of Vitamin B and C for brightening as well as quick repairing of hyperpigmentation from sun damage or inflammation. Vitamin B3 also increases keratin and ceramide production in our skin, thus improving moisture content and reducing wrinkles that give an 'anti-ageing' effect.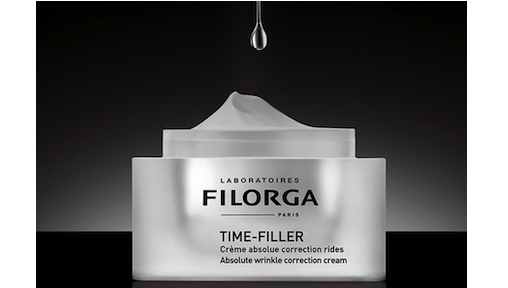 As one of the leading medi-cosmetics brand in the world, Filorga offers specialised and targeted formulas to combat ageing. Their treatments come with innovative ingredients, unique technologies and scientific research, all developed by a team of biologists and doctors giving birth to professional skincare that can work in a home setting.
You've probably heard of their iconic Time-Filler range that uses anti-ageing aesthetic medicine in the form of a gel-like cream. This popular anti-ageing skincare formula reduces the appearance of all types of wrinkles - surface, deep-set and contraction.
As the winner of several accolades across the world, the Time-Filler wrinkle cream's secret lies in tackling all types of fine lines, in one go.
Need a professional face mask that gets you glowing? Try the  Filorga Meso-Mask, an anti-wrinkle lightening face mask that enhances skin's natural radiance while targeting signs of ageing and fatigue.
The delicate cream texture delivers moisture on the skin and its dose of Rhamnose Polysaccharide ensures you have no irritation. The NCTF®  anti-ageing complex, that is often used in non-surgical procedures improves skin density for a younger-looking, more resilient complexion. You can expect skin that is woken up, plumper and radiant!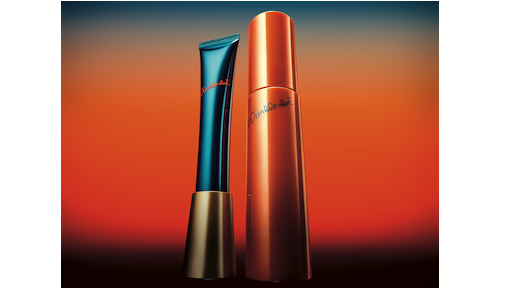 Originally from Japan, POLA has always worked on a  'Science. Art. Love' brand philosophy. Having accumulated over 18 million real skin data, POLA uses its incredible knowledge of skin to create the most effective anti-ageing skincare products.
But what makes POLA so effective? POLA has always focused on the fundamentals –gaining true insight into the nature of skin and creating solutions that truly address skin ageing at its root causes. In recognition of its breakthrough results, POLA has received the Most Meritorious Award on five occasions at the International Federation of Societies of Cosmetic Chemists (IFSCC), which is the "Olympics" of cosmetic science and technology.
What should you buy? After 15 years of research, POLA's Wrinkle Shot became the first quasi-drug clinically proven to improve wrinkles in Japan. This product broke all records and has won more than 40 cosmetic awards as of 2019. Wrinkle Shot reduces visible wrinkles and prevents the onset of further lines.
Another POLA range to invest in is B.A(Bio-Active Skincare). Taking its name from 'Bioactive Theory', B.A is said to be the world's most awarded skincare with over 560 awards under its belt. B.A's secret lies in its proprietary ability to recreate Versican, the miracle skin birth factor that prompts the first step in new skin creation. Expect better collagen and elastin production as well as firmer, younger-looking more lustrous skin!
POLA is available at Ngee Ann City, Takashimaya Department Store, Level 1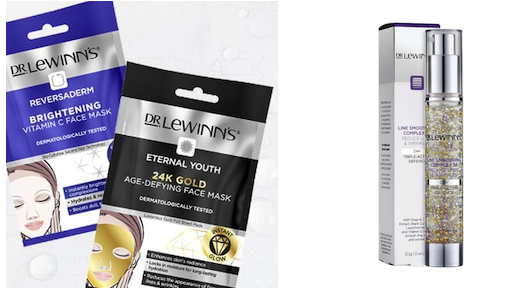 Renowned for innovations in the science of treating changing skin, Dr. LeWinn's has been pushing boundaries in anti-ageing skincare for more than 25 years. As a leader in developing advanced skincare solutions that deliver real results, they specifically address skin concerns for women of all ages.
Hyaluronic Acid delivers incredible skin benefits in conjunction with the powerful line smoothing peptide, Snap-8, both featuring as hero products in Dr. LeWinn's Line Smoothing Complex Triple Action Day Defense Serum. As an innovative anti-ageing day treatment, this serum contains vitamin c and powerful antioxidants that defend against all known free radicals responsible for premature ageing.
If you are looking for a non-invasive way to plump and boost your skin, try Dr.LeWinn's new Ultra R4 Collagen Surge Plumping Gel. This potent anti-ageing formula contains caviar-like collagen capsules immersed in a formula of superior-grade Hyaluronic Acid and ground-breaking anti-ageing active Neodermyl®, which has been touted as the 'needle-free' alternative to collagen fillers.  
For those looking to target specific skincare concerns, DR. LEWINN'S Face Masks come with a concentrated hit of skincare goodness. A great at-home facial, these skin-saving masks are armed to aid in addressing individual skin issues with a single application. Whether you need to ditch dry skin, dial-up a dull complexion or remedy your wrinkles and fine lines with masks that are anti-ageing, you'd be hard-pressed to find a skin concern that these don't address.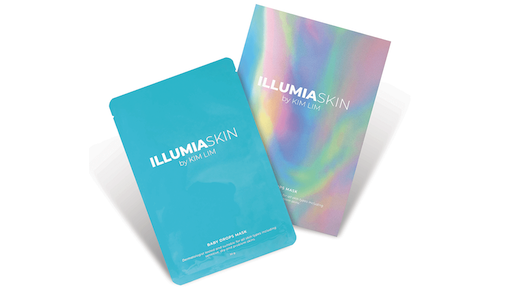 When a product is curated after testing hundreds of masks from around the world, you know it's a big deal! Newly launched, Kim Lim's beauty product line, ILLUMIASKIN is a range of anti-ageing products that feature Lim's favourites, sourced from all over the globe.
The Baby Drops Mask was finally created after Kim tested over 169 different face masks! This luxurious bio-cellulose face mask contains natural coconut extracts and stem cell culture media to improve skin elasticity, strengthen skin cells and promises to leave your face moisturized and baby soft. A natural coconut gel mask with excellent soothing and anti-ageing benefits, Baby Drops Mask comes with stem cell cultures, camellia callus culture extract, and portulaca oleracea extracts to give visibly moisturised and brightened skin.
The mask is dermatologist tested and suitable for all skin types including sensitive, dry and problematic skins. Simply peel off the protective layer on the mask and apply to your skin and reveal a glowing, baby-like texture soon after! In an age where self-care and at-home rituals are fast becoming the norm, investing in anti-ageing face masks is the way to go.
Baby Drops Mask is available for sale at Illumia Therapeutics Wheelock Place and online via Illumia's e-store.
Advocating clean beauty that isn't harmful to your skin or the planet, REN Clean Skincare makes simple products that work well. REN Clean Skincare chooses only bio-actives that benefit skin health and ingredients that protect the efficacy of the formula. 
Their Evercalm™ skincare solutions were formulated to restore skin comfort, neutralise irritation and redness while providing daily hydration for sensitive and sensitised skin. Led by the iconic Global Protection Day Cream, a targeted moisturiser for sensitive skin, the range has grown to include comforting-yet-purifying cleansers, a serum, mask and repair balm as a comprehensive sensitive skin routine. The result? An instantly more comfortable and ever-calmer complexion. The Ren Clean Skincare Ever Calm Gentle Cleansing Milk is a delicate, multi-action formula that increases skin resistance and minimises the signs of irritation and sensitivity that leads to premature ageing.  This mild cleanser gently works to remove dirt, pollution and make-up and is suitable for sensitive skin. 
Wake up to nourished skin with REN Clean Skincare Evercalm Overnight Recovery Balm, a rich, moisturising formula that works alongside the skin's night-time regeneration. Melting effortlessly into the complexion to provide instant relief against dryness and irritation, the balm helps to reveal brighter, softer and healthier skin by morning.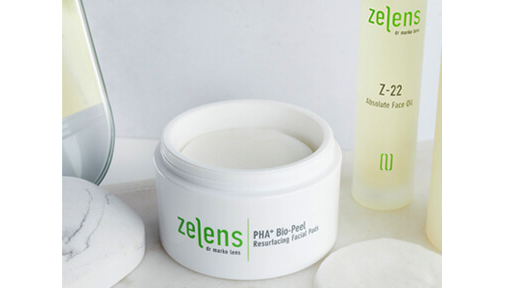 Zelens combines biotechnology with active plant-derived ingredients to create powerful and effective skincare that work wonders as anti-ageing heroes. By focusing and investing in the field of skin science and anti-ageing, Zelens continues to lead the way with the creation of high efficacy products that work to heal, repair and help you to achieve flawless healthy skin.
Zelens products combine powerful high-performance active biotechnology ingredients with the unique blend of plant-derived molecules with potent anti-ageing and healing properties.
The next generation PHA+ Bio Peel Resurfacing Facial Pads are formulated with PHA (polyhydroxy acids) plus alpha and beta hydroxy acids. This resurfacing treatment gently exfoliates the skin while providing antioxidant protection. The multi-functional peel helps refine skin texture, evens out skin tone and reduces the appearance of fine lines, wrinkles and enlarged pores. Skin looks more radiant, smoother, firmer and younger-looking. A one-step treatment, the non-irritating, anti-inflammatory formula delivers deep down to help to diminish the look of lines, wrinkles and enlarged pores for a smooth and even canvas.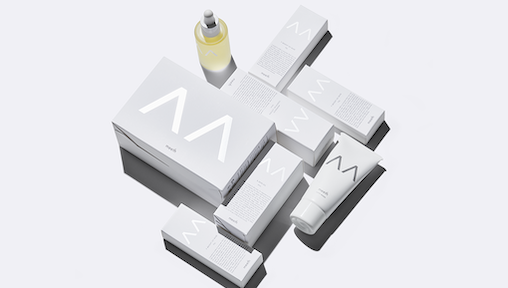 Brought to you by Sonmi, a Japanese Model, Actor and Business woman, meeth is a Japanese luxury skincare brand that marries nature with scientific rigor. meeth uses and expands on the delicate science-based formulas Sonmi relied on as a sought-after model and entertainer. With meeth, the tried-and-true staples of her skincare regimen are no longer a beauty secret to be kept, but a perfected solution to share with the world.
meeth skincare's approach is grounded in gentle, skin-nourishing ingredients and the very best of cutting-edge Japanese innovation. meeth treats the complexion like a precious jewel. That means no harsh or aggressive formulas. To achieve this, meeth skincare products use special mineral-rich water sourced from Sapporo and Iwanai in Hokkaido. Their products also feature naturally derived plant extracts that are rapidly absorbed, such as Pentavitin that binds within the outer layers of skin to ensure deep hydration, as well as Fullerenes, which is a potent antioxidant that protects against free-radicals and prevents aging, rosacea and eczema.
Every meeth skincare product aims to be more than a lotion or cream – it becomes an elixir to revitalise the body and mind. Their range of key products includes their best selling 'morerich' series, which features their carbonated 'morerich' Face Mask Packs and 'morerich' Essential Lotion. They also have their own range of Lifty Wash facial cleanser, F Bright UV Base sunscreen, and meeth Skin Oil. These products are suitable for men and women.