Mumbai is known for its lavish lifestyle and buzzing sleepless nights. Home to some of the finest restaurants in India and Asia, Mumbai offers global cuisines and exclusive dining experiences. Here are six best restaurants in Mumbai you must try.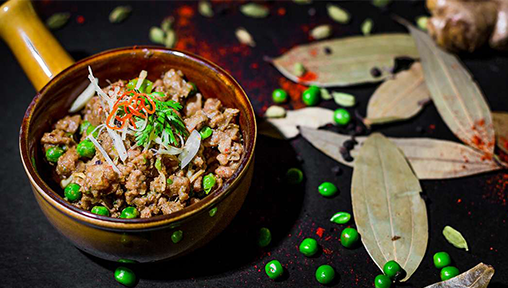 Neel - Tote On The Turf in Mumbai serves the exquisite taste of Awadhi cuisine as well as flavours of Kashmir and Hyderabad. Located in Mahalaxmi Racecourse in Mumbai, Neel - Tote On The Turf is a venture by one of the finest hospitality companies of India. Neel - Tote On The Turf exhibits rich spacious interiors with outdoors as well as indoor seating. Their restaurant in Mumbai offers guests more than 30 kinds of kebabs to choose from.
The menu at Neel - Tote On The Turf is put together by Master Chef Mukhtar Qureshi from Lucknow, one of the top ten chefs in Mumbai. Neel - Tote On The Turf offers a flavourful experience of ingredients and herbs sourced from North to South India. The best vegetarian appetisers at Neel - Tote On The Turf is their Singhada Ka Kebab, which are patties made of seared bamboo and water chestnut. Their vegetarian entrees such as their Kashmiri Seb Ki Sabzi and their unique Kashmiri Apple Curry are a must-try. Their best non-vegetarian dishes at Neel - On The Turf are their Raan-e-Mukhtar and Gosht Ki Dum Biryani.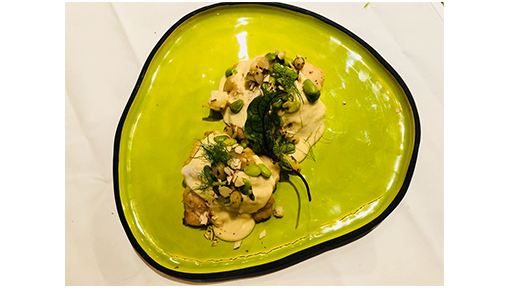 Celini in Mumbai is known for their authentic Italian cuisine in Mumbai. Their home-style cooking technique embraces using traditional Italian cooking recipes that are presented with a modern approach. Located in Grand Hyatt Mumbai, the decor of Celini in Mumbai are temporary yet simple featuring multiple seating options such as table booths or lounge. Celini Mumbai boasts a wood-fired pizza oven, a rotisserie and charcoal grill.
Enjoy Chef Alessandro Persico's Italian cooking as he invades all the senses. Chef Alessandro Persico is known for cooking wholesome Italian dishes at Celini. One of Chef Alessandro's favourite appetisers is his marinated smoked salmon with braised lettuce, caviar and lemon chives cream. The appetiser offers a gourmet delight with a collage of flavours and textures complimented with fragments of saltiness from caviar. As a luxury Italian restaurant in Mumbai, you can expect Celini to have an exhaustive list of delectable wine that goes well with an Italian meal.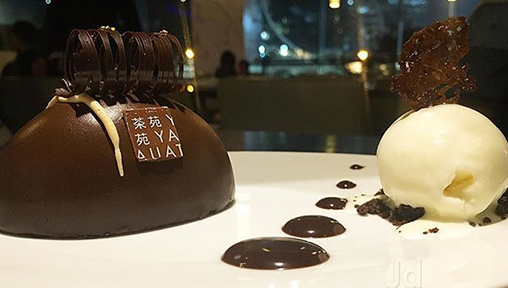 Yauatcha is a Michelin-starred contemporary dim sum teahouse that opened its first location in London in 2004. Serving modern Cantonese cuisine Yauatcha India is an affordable luxury in the world of eclectic food expression. 
Yauatcha offers an all-day dining experience, specialising in over 50 varieties of dim sum. They are also known for their extensive cocktail list which combines spirits with teas, fresh fruits, and herbs. For dessert, be sure to try Yauatcha's handmade petit gâteau, macaroons and chocolates.
Yauatcha provides an accessible fine dining experience that fuses Chinese cuisine, mixology and French patisserie to create a unique and social experience that reflects the spirit of a modern-day tea house or a chatter house. Living up to its Michelin standards of food quality and service, Yauatcha redefines the offering of Cantonese cuisine in India.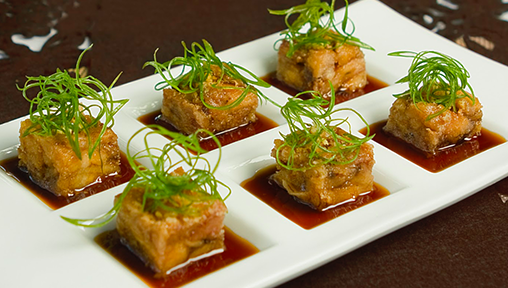 The award-winning restaurant, The Table, is located behind the iconic Taj Mahal Hotel in Mumbai. The Table has a globally inspired menu influenced by the San Francisco style of cooking. 
Since The Table opened in 2011, it has been seen as a trendsetter in many respects, from introducing the concept of small and large plates to giving diners the farm to table experience with their very own farm produce; from winning awards and recognition including TimeOut's Best Restaurant in India. 
This casual fine-diner offers its gourmands & food aficionado's a place to savour globally inspired cuisine – community style. Their ingredient-driven cuisine focuses on simplicity and purity of flavour, it is an expression of the finest available vegetables, meat, and fish, nearly all of which are procured locally and at the peak of the season.  
The Table is one of Mumbai's first restaurants to conceptualise and execute the 'Farm to Table' philosophy. With the assistance of Adrienne Thadani of Fresh & Local, The Table efficiently farms and harvests various vegetables and herbs at their Alibaug farm, for the restaurant.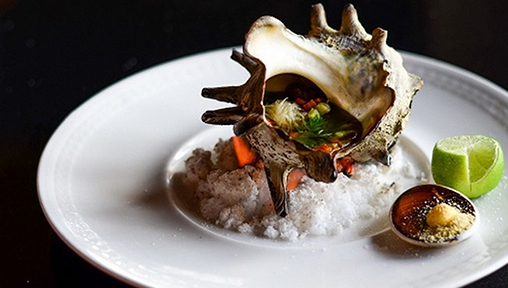 Recognised by San Pelligrino as one of Asia's 50 Best Restaurants 2018 and World's 50 Best Restaurants 2017, Wasabi by Morimoto dishes out contemporary Japanese food in Mumbai's grandest hotel, The Taj Mahal Palace. Known for being India's finest Japanese restaurant, the joint collaboration between 'Iron Chef' Masaharu Morimoto and the Taj Mahal Hotel's now-retired Hemant Oberoi will please the tastebuds of traditionalists and modernists.
The omakase menu has a contemporary slant with dishes such as black cod miso, pork kakuni (braised belly) and wasabi crème brûlée, while there is also a range of innovative meatless and fish free options including tomato carpaccio with yuzu and soy dressing. 
Wasabi by Morimoto has some of the best views of the Gateway to India in Mumbai. Sip on their superb selection of Japanese whiskies, sake and plum wines, plus a well-considered range of Japanese teas.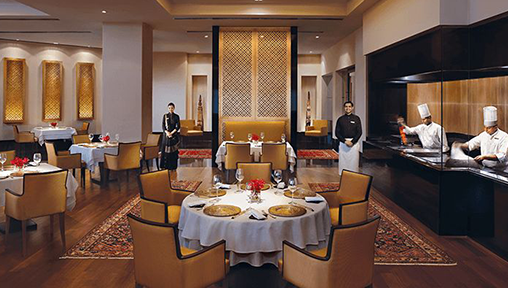 Ziya is a modern Indian restaurant located at The Oberoi Mumbai with menus by the Michelin-Star Chef Vineet Bhatia. Take your pick from carefully designed a-la-carte options or take your time over the specially curated gourmand menu which promises a culinary journey around the Indian subcontinent. Pair your dishes with fine wines to complement each course of Ziya's menu. At Ziya, classic Indian dishes are deconstructed and reinvented with a fresh perspective. A menu matched by breathtaking ocean views. And coupled with unmistakable Oberoi hospitality for a totally unique dining experience.