STYLEGUIDE is a lifestyle portal with a core focus on offering a fresh perspective on life and society in general through opinion pieces and interviews with people from all walks of life.
Vanilla Luxury: What made you start STYLEGUIDE?
Timothy Ong: Having been in the technology and entrepreneurial scene with a few startups over the last five years, I wanted to step out of my comfort zone and explore doing something different.
I also enjoy meeting and speaking to people from diverse backgrounds – from creatives and artists to entrepreneurs and professionals – as there is so much to learn from each of them.
This shaped STYLEGUIDE into a portal that serves as a medium to share their thoughts, stories and experiences with everyone.
Vanilla Luxury: What were you doing prior to STYLEGUIDE?
Timothy Ong: I was running a startup in the maritime industry for close to two years that focused on connecting vessel owners with charterers, something like a PropertyGuru for ships.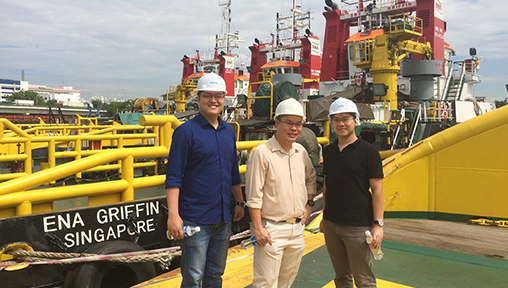 From left to right: Eric Chean (Cofounder/CEO Marine Nexus), Willy Tan (GM of Eastern Navigation), Timothy Ong (Cofounder/CTO Marine Nexus)
Vanilla Luxury: The most interesting person you've interviewed thus far?
Timothy Ong: I think everyone we've interviewed has a unique and interesting story to share. One of the most interesting interviews I've done was with Saara Sihvonen on what it's like to be a fashion model. It was an eye-opener for me and an insight into a very different industry.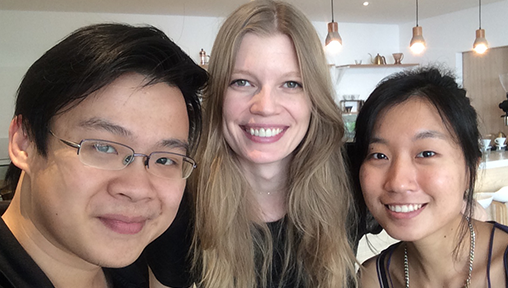 From left to right: Timothy Ong (STYLEGUIDE), Saara Sihvonen, Carol Gan (STYLEGUIDE)
Vanilla luxury: Your favourite go to restaurants in Singapore?
Timothy Ong: Hopscotch Bar – they have bespoke cocktails that you can't find elsewhere. Supply & Demand – their food is great with unique pizza flavours (chilli crab pizza, cheeseburger pizza, laksa pizza).
Vanilla Luxury: What will you be doing this Formula 1 weekend?
Timothy Ong: I'll be attending Sky Grande Prix at the martini bar, Grand Hyatt - given the exciting lineup throughout the week including the launch of Dunhill CENTURY and a gourmet F1-themed menu from Mezza9.