The Glen Grant Distillery® announces the Singapore launch of its exclusive, limited edition 60-year-old single malt scotch whisky in celebration of the storied six-decades-long career of The Glen Grant's own Dennis Malcolm, one of Scotland's longest-serving distillers. 
The Glen Grant Distillery is known for some of the world's most awarded liquids. Unlike all distilleries in Speyside, 100% barley to bottle allows The Glen Grant Distillery to focus on quality at each stage of the process. With only 10 bottles available in Singapore, The Glen Grant 60 Years Old is part of Campari Group's RARE division which focuses exclusively on super-premium and above offerings for the portfolio.
An extremely rare and precious liquid, The Dennis Malcolm 60th Anniversary Edition was bottled from a single ex-Oloroso sherry cask (#5040) that was filled on October 24th, 1960. The oldest, to date, distillery bottling in the brand's 181-year history, The Glen Grant 60 Years Old invites imbibers to celebrate a sip of the extraordinary, a theme in every selection chosen for RARE. Harnessing The Glen Grant's long, rich history and expertise of Dennis Malcolm as part of the RARE pilot, this expression marks an exciting new chapter for The Glen Grant and Campari Group, showcasing the incredible six-decade career of an iconic Master Distiller on the world's stage. We spoke to Dennis Malcolm last night, who in 1990, already knew that this was going to be a very special bottle.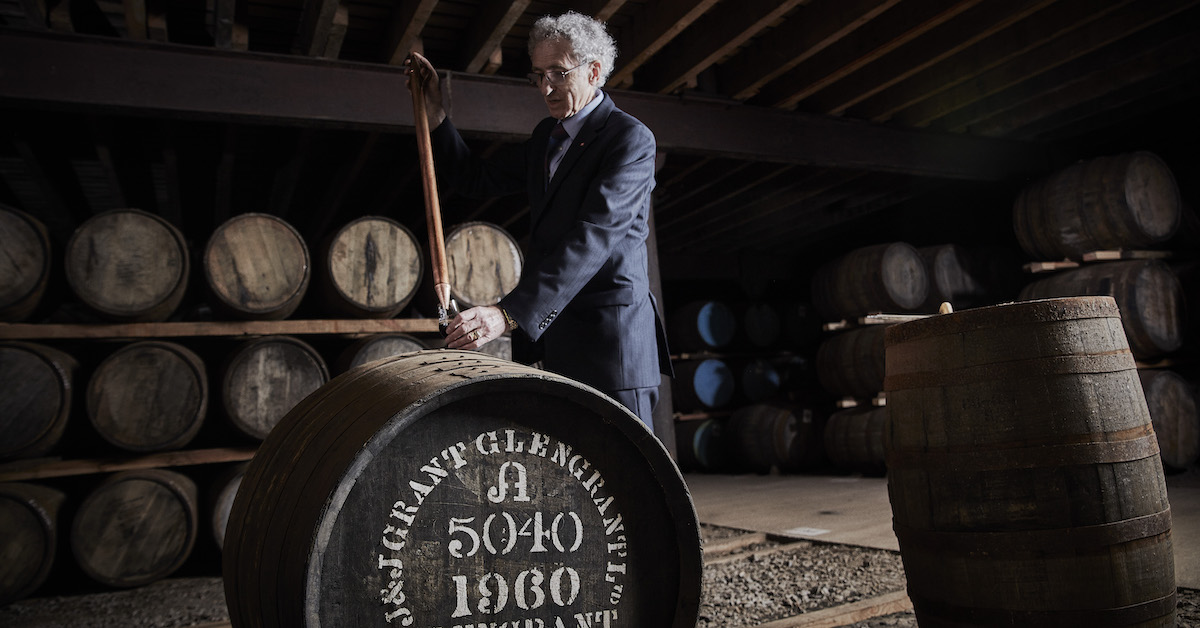 The Glen Grant Dennis Malcolm 60th Anniversary Edition, aged 60 Years is bottled at 52.8% ABV and is non-chill filtered to retain optimal flavour and aroma. With a deep chestnut colour, the aroma starts with notes of vibrant Seville orange that give way to an unravelling of rich fruits and nuts; apricot, peaches, raisins, pecan nuts, and a hint of cigar smoke. Rich and fruity in taste with a beautiful balance of dark chocolate layered with treacle toffee, the taste has elements of a liquid fruit cake, finished with long, lingering flavours of figs, dates, liquorice, and a slight hint of smoke. 
Malcolm's careful craftsmanship and attention to detail in crafting The Glen Grant's single malt scotch whiskies has received worldwide acclaim, including recognition for his service by Her Majesty Queen Elizabeth II in 2016, when he was named as an Officer of the Most Excellent Order of the British Empire. Dennis was inducted into the Whisky Magazine Hall of Fame in 2014 and in 2015, he received the first-ever Spirit of Speyside award for his achievements in the industry. Dennis also went on to receive the Whisky Advocate Lifetime Achievement Award in 2015 and was honoured with the International Wine and Spirits Competition's Outstanding Achievement in the Scotch Whisky Industry Award the same year.
The Glen Grant 60 truly embodies the idea of rarity. With only 360 bottles available worldwide and 10 in Singapore (RSP 39,888 SGD), interested parties may contact Andrew Law to inquire about availability at [email protected]