F&B
15 Best Fresh Seafood Delivery in Singapore
Published Date
: 17 Mar 2023 09:00

Looking for the Freshest Seafood Delivery in Singapore? Check out these services, featuring Premium Seafood Distributors, Famous Wet Markets and more
If you are searching for the best fresh seafood delivery in Singapore with high-quality seafood products and exceptional delivery service, look no further! Whether you are hosting an extraordinary seafood feast, or simply want to indulge in a special seafood dinner, there is something for you.
Here is our list of the 15 best fresh seafood delivery in Singapore offering the freshest selection of oysters, fish, crabs, prawns, and more. 
15 Best Fresh Seafood Delivery in Singapore
At Greenwood Fish Market, it all started with one fish. Founder David Lee first started as a distributor of Barramundi and was even the biggest live oyster importer in Singapore at one point in time. He slowly expanded his seafood portfolio and founded Greenwood Fish Market which we all know today. Greenwood Fish Market is a family-run brand with seafood restaurants and fresh fish markets serving fresh seafood in Singapore. They stay true to their humble beginnings of offering value to the table and strive to be the go-to destination for customers to satisfy their seafood cravings. 
Greenwood Fish Market offers a wide array of seafood from all-time favourites to rare varieties that are typically not found in regular local fish markets in Singapore. You will never run out of options as Greenwood Fish Market constantly fills their seafood beds with fresh catches. From giant halibuts to the elusive monkfish, customers can choose from a variety of seafood products, ranging from whole fish and fillets to sashimi and seafood platters. 
Seafood is best enjoyed when served fresh and Greenwood Fish Market understands that well. What's unique about Greenwood Fish Market is that they directly import catches from their global network of suppliers. Furthermore, since they offer next-day delivery and items are freshly packed before being sent out, you can expect your online order to be as fresh as if you purchased them in person. 
Greenwood Fish Market products are available at their wholesale seafood market or as dine-in orders at their restaurant. Shop on their website to enjoy next-day islandwide delivery at just $10 and have the freshest seafood delivered right to your doorstep.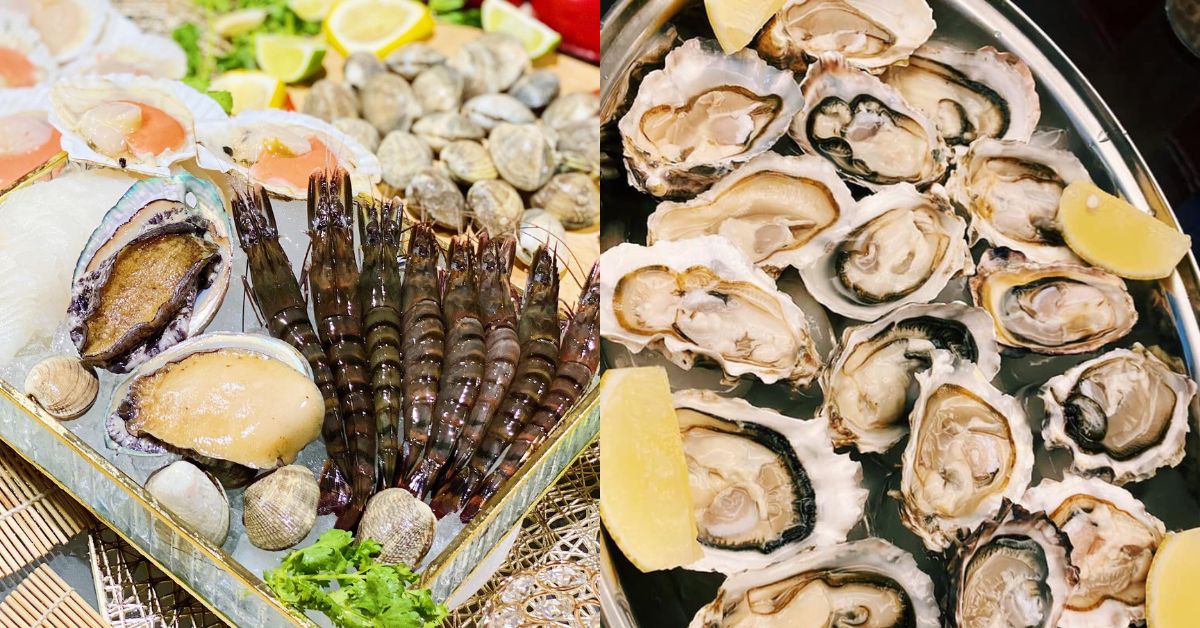 Established in 1986, The Ocean Mart is the first imported premium live seafood supplier in Singapore. They have a long history of retail and food service experience as well as a passion to bring unique gourmet seafood to their customers. The Ocean Mart has introduced various products to the Singapore market such as Geoduck Clams, Canadian Oysters, Canadian Manila Clams and more.
Expect the freshest seafood from The Ocean Mart as they own a facility that is well-built with the technology required to preserve the finest quality. Live products are stored in professionally designed water tanks to mimic conditions close to their natural habitat while chilled and frozen products are stored in chillers and freezers to ensure that there will be no compromise in quality. 
The Ocean Mart believes that gourmet seafood can be affordable and accessible, which is why they decided to go digital. Whether it is for a party, feast or simply a home-cooked meal, The Ocean Mart has you covered. Order from their website today and enjoy fresh seafood delivered right to your doorstep. What's more, there is free islandwide delivery for orders above $135.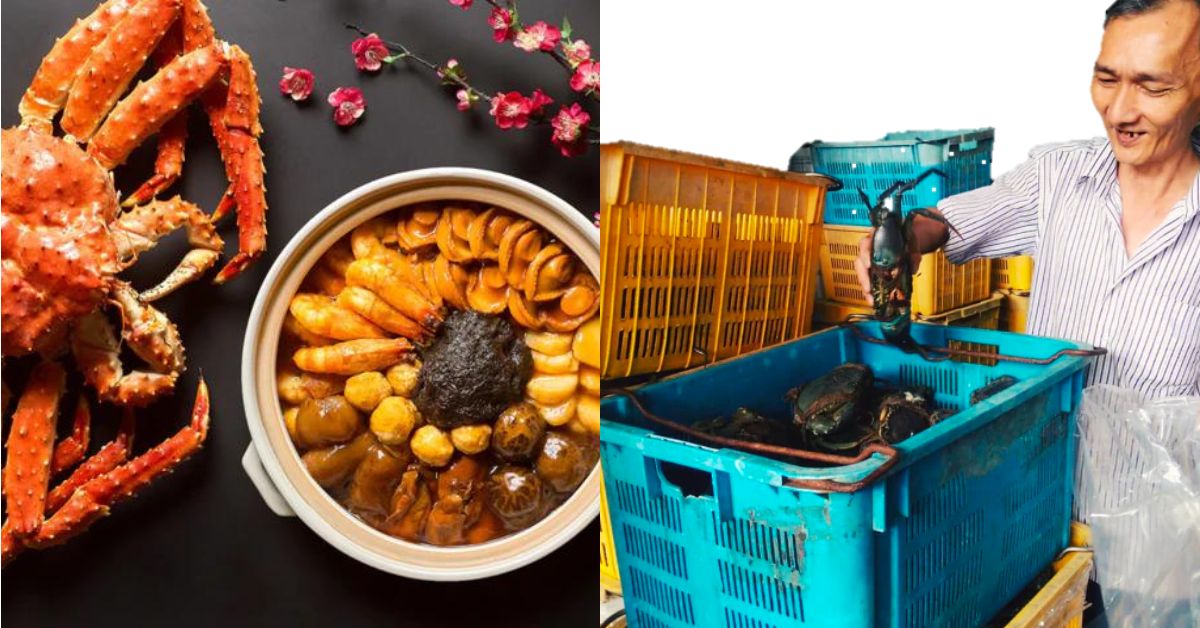 Evergreen Seafood is a Singapore-based seafood supplier specialising in the sourcing, packing, processing and supply of a variety of live, fresh and frozen seafood to hotels, restaurants and homes. Established in 1995, Evergreen Seafood carries both popular and premium seafood sourced from seas all around the world. They guarantee the freshest quality seafood that is airflown and with quality checks before delivering them to water tanks, chillers, or freezers. 
Evergreen Seafood offers a comprehensive selection ranging from crustaceans such as live Sri Lankan mud crab, Alaskan king crab, Boston lobsters and tiger prawns to molluscs and shellfishes such as oysters, scallops, abalone, and more. They also offer a wide range of fish such as Chilean sea bass (cod fishes), pomfrets, turbot fishes, salmon and more. 
Evergreen Seafood is open and delivers daily from 9 to 7 pm. Order on their website and satisfy your seafood cravings today. What's more, orders above $150 get to enjoy free islandwide delivery.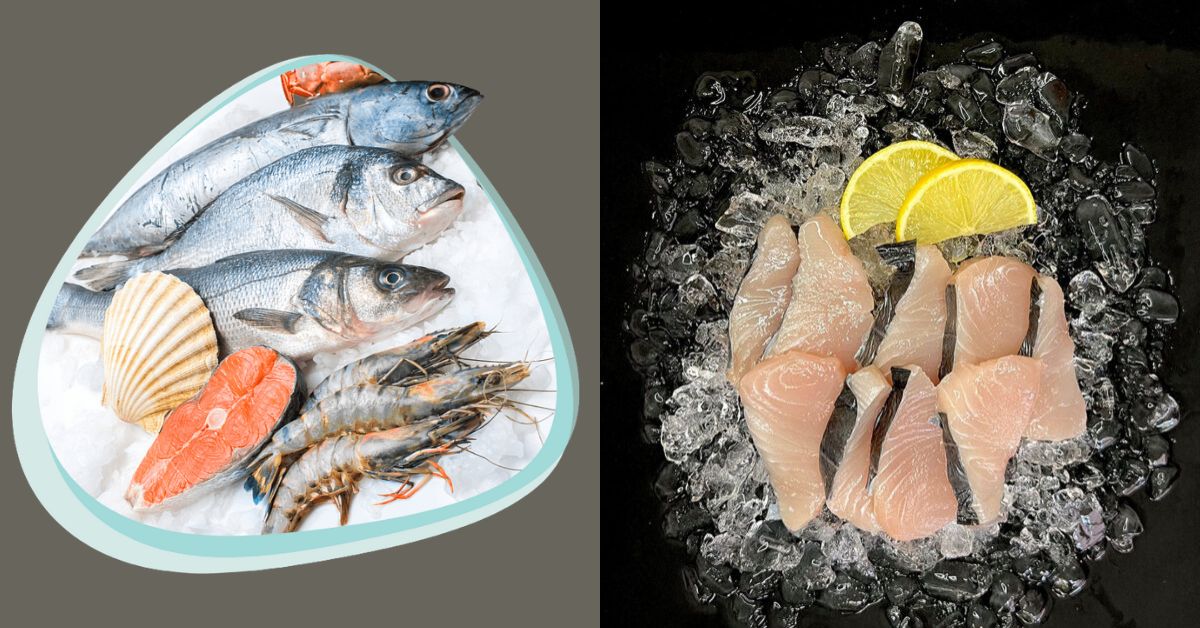 Since 1980, Tansofresh is founded by the first-generation Mr & Mrs Tan and they are located in Chong Pang City Market, one of Singapore's famous wet markets. With over 30 years of experience in the industry, Tansofresh handpicks fresh seafood products daily to provide the best selection to their customers. In addition to serving a wide customer base, Tansofresh also supplies seafood to major restaurants in  Singapore. 
With the dedication to providing convenience and a hassle-free experience to households with the utmost freshness, Tansofresh sources directly from the fishery port to maintain a lean supply chain. Their bestsellers include de shelled crayfish, threadfin slices, mackerel (batang) slices, and the Baby Essential Bundle (cod fish, threadfin, salmon).
Order on their website by 8 pm to enjoy next-day delivery. What's more, free delivery is available for orders above $58.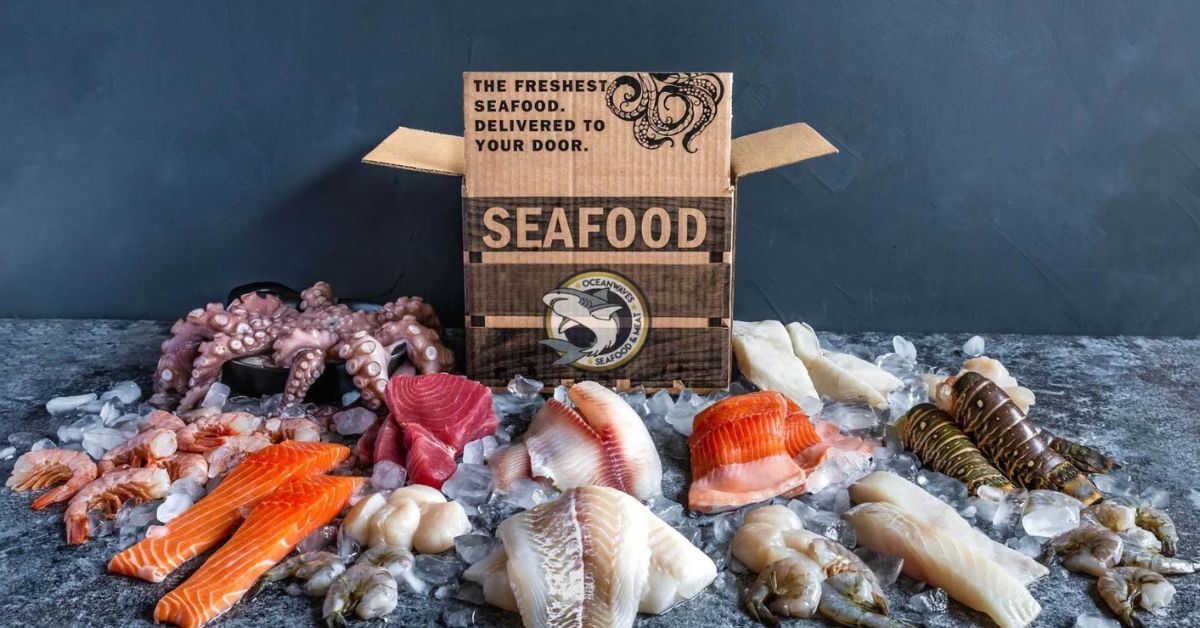 Located at Jurong Food Hub, Oceanwaves is a leading fresh seafood and meat supplier in Singapore. They distribute a wide range of food products including wholesale chilled and frozen seafood and meat, as well as other frozen food products like finger food, ready-to-eat poultry, and smoked and processed meat. Live and chilled seafood products from Oceanwaves are sourced directly from Singapore's Jurong Fishery Port while frozen seafood and premium sashimi products are imported from countries like Japan, Chile, Norway, and the USA.
Oceanwaves has built its reputation as a Wholesale Meat and Seafood Supplier in the industry. Since 1998, they offer high-quality meat and seafood products to their wide customer base. Furthermore, they supply a wide variety of chilled and frozen food to various restaurants across Singapore. 
Order from their website today and enjoy free shipping on orders above $60.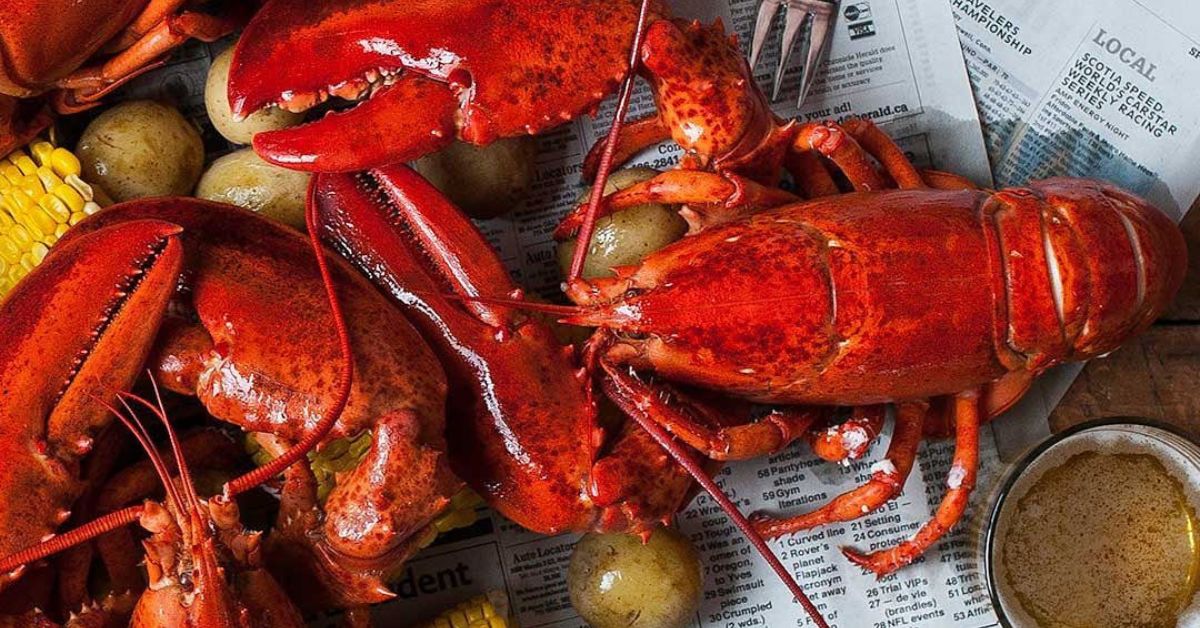 Get live and kicking with the freshest seafood from Global Live Seafood. They have more than 20 years of experience in the industry and are well- known as a premium live seafood supplier and distributor in Singapore. At Global Live Seafood, it is their utmost priority to deliver the best quality and premium-grade seafood to their customers. All their seafood products are handpicked and undergo a quality check before being delivered. 
Global Live Seafood carries the finest selection of live seafood including European Blue Lobster, Alaskan King Crab and Australian Southern Rock Lobster. All their seafood products are wild-caught and air-flown live. 
Order from their website and enjoy free islandwide delivery for orders over $100.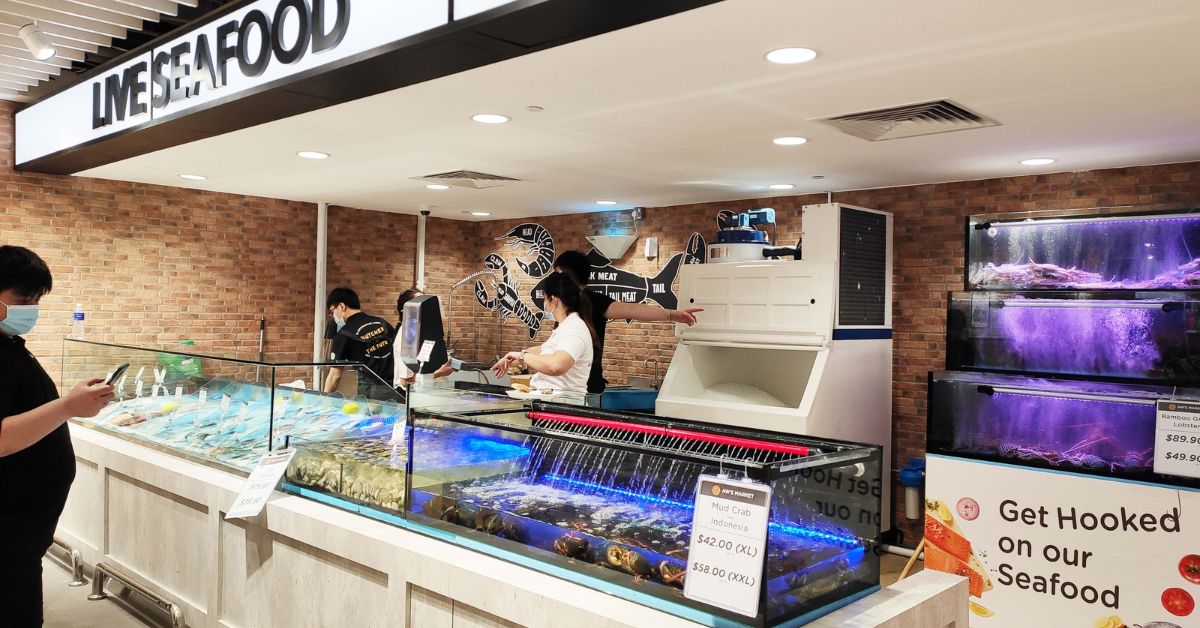 Aw's Market brings the highest quality seafood and meat products from local wet markets to your table, allowing you to save time for what matters most. Aw's Market started as a small butchery back in 1988 which grew over time and now has multiple outlets across Singapore. They deliver fresh products at affordable prices every day and customers can attest to their quality over the years. Additionally, they work closely with suppliers to regularly import unique and seasonal products.
Since 2014, Aw's Market is available online for customers to access fresh produce conveniently. Order on their website by 5 pm and enjoy free next-day delivery. Seafood and meat products from Aw's Market are also available at various locations across Singapore and online retailers such as Shopee, Fairprice, and more.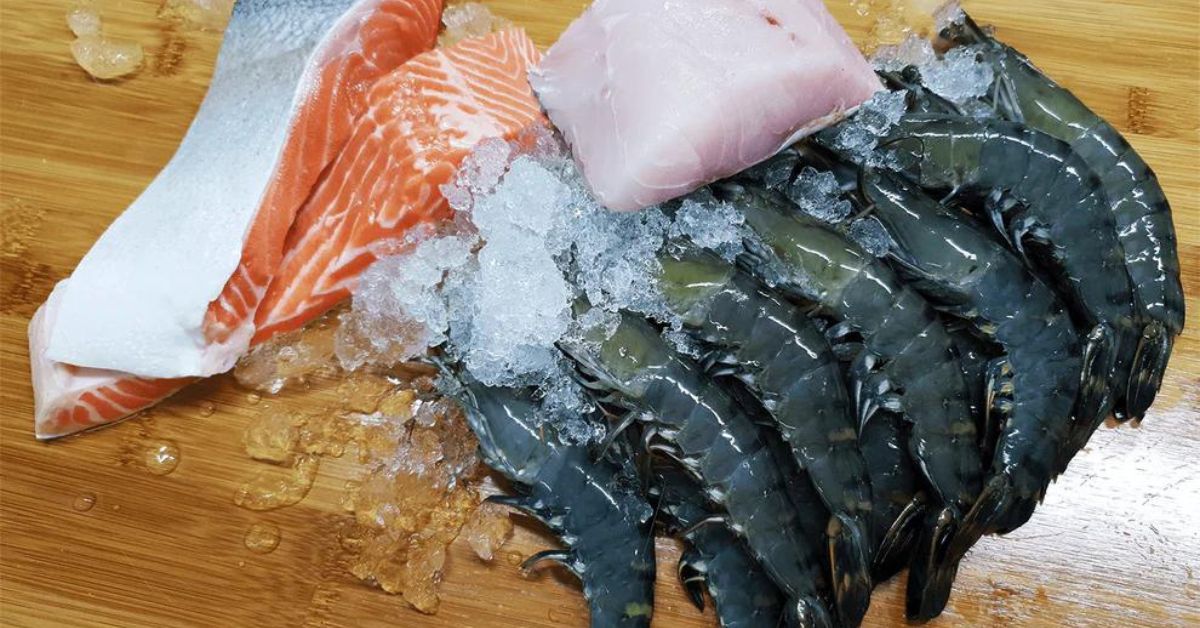 With Catch of the Day, you can enjoy fresh seafood from the port to your home in under 12 hours. As a fishery port wholesaler with over 40 years of industrial experience, Catch of the Day strives to provide high-quality seafood at affordable prices. All of their fish and seafood products are sourced daily from boats from Malaysia and Indonesia. This is so that everyone can enjoy fresh seafood from the comfort of their own homes. What's more, they supply regularly to many restaurants, hotels and tze char stalls across Singapore. 
Catch of the Day offers a wide selection of seafood products including their Seafood Bundles (from $40) that contain seabass, red-legged sea prawns, Norwegian salmon, pomfret, Chilean cod steak, and more.
Order from their website by 8 pm and enjoy free next-day delivery for orders above $70 (Tuesdays to Sundays only). Join their WhatsApp group here to receive the latest news and promotions.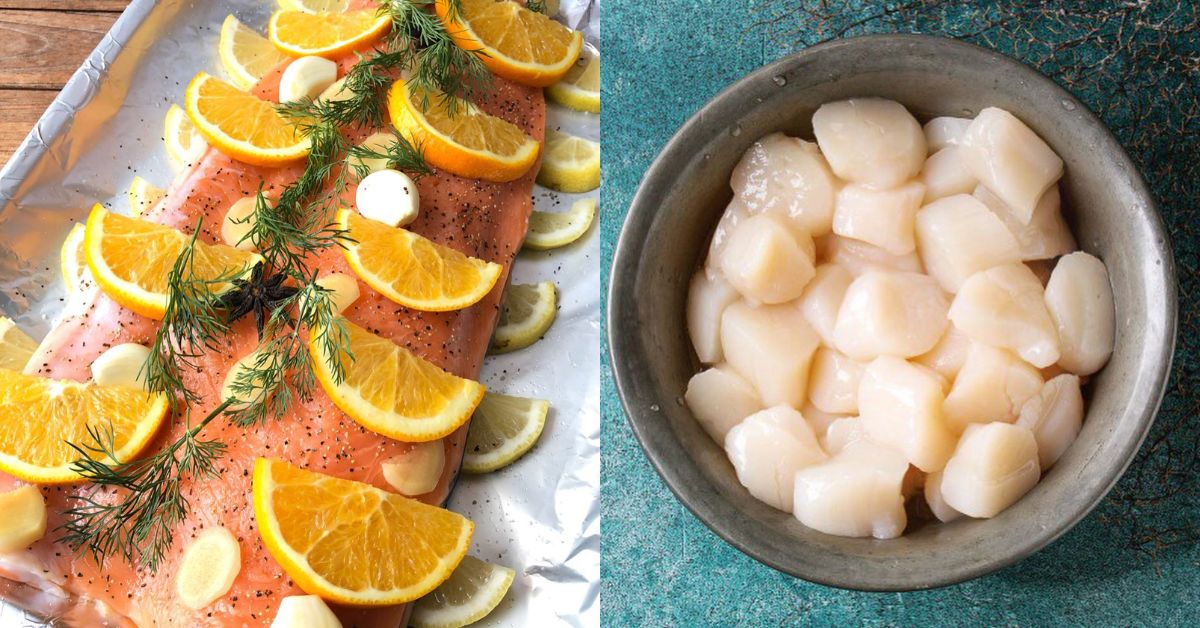 At Tasty Food Affair, their goal is to provide customers with the best products with the highest quality standard. With strong support from their trusted suppliers, Tasty Food Affair offers a wide variety of quality products from all around the world. Seafood is among the many selections available at Tasty Food Affair. Other offerings include fresh and frozen beef, pork, poultry, finger food, and more.
Tasty Food Affair also takes pride in its involvement in every step of its customers' order cycle. They proactively monitor and fine-tune their operations to offer the best service standards. Their frozen produce goes through blast-freezing to ensure food that is fresher and safer to eat. All items are delivered in their dedicated refrigerated truck to ensure items remain cold and fresh from the warehouse to home. Their products are also packed in a styrofoam box which will be collected by their delivery team on your next order should you not need it.
Order on their website and enjoy free delivery with a minimum spend of $65. Tasty Food Affair offers islandwide delivery in Singapore, 6 days a week.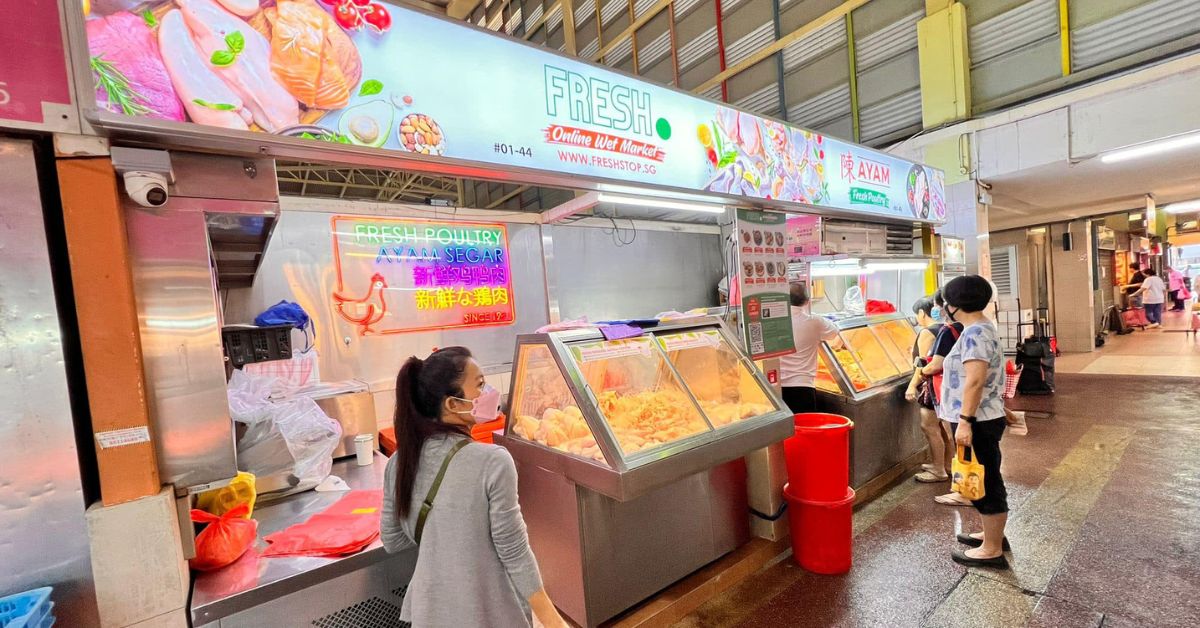 Fresh Stop is started by Gavin Tan, a 2nd generation wet market hawker. Since the 1980s, his parents have been stall owners at West Coast Wet Market and have built a loyal customer base throughout the years. Gavin aims to continue his family's legacy by sustaining the hawker tradition while going digital to provide value-added services to customers islandwide. This is how Fresh Stop was started - with a commitment to offering doorstep delivery for customers to enjoy fresh foods from their friendly wet market hawkers. 
Customers can purchase from a large selection of stalls they love in their desired portions at affordable prices. The best part is, there is no minimum order! Fresh Stop also offers delicious ready-to-cook meal boxes that contain the freshest ingredients from their specially-curated recipes.
Order on their website before 6 pm to enjoy free next-day delivery (except Mondays). What's more, free delivery is available for orders above $60. 
Taste the difference with VitaminSeafood. VitaminSeafood provides daily, fresh and high-quality seafood right to your doorstep. With more than 50 years of history in traditional wet markets, VitaminSeafood is now an online seafood supply retailer launched by their 3rd generation. 
What makes VitaminSeafood unique is that they are very particular about the quality and grade of our seafood. Their fresh seafood is handpicked daily at the fishery port by their Fish Expert who has over 30 years of experience in the fish and seafood industry. Additionally, VitaminSeafood offers a Seafood Concierge service where you can have your fresh seafood customised according to your preferences. 
What's more, their next-day delivery is subject to availability as they do not keep stock of their seafood. VitaminSeafood strives to only deliver fresh seafood daily so as to provide the best quality seafood to their customers. 
Order on their website and enjoy free fresh seafood delivery islandwide for orders above $80.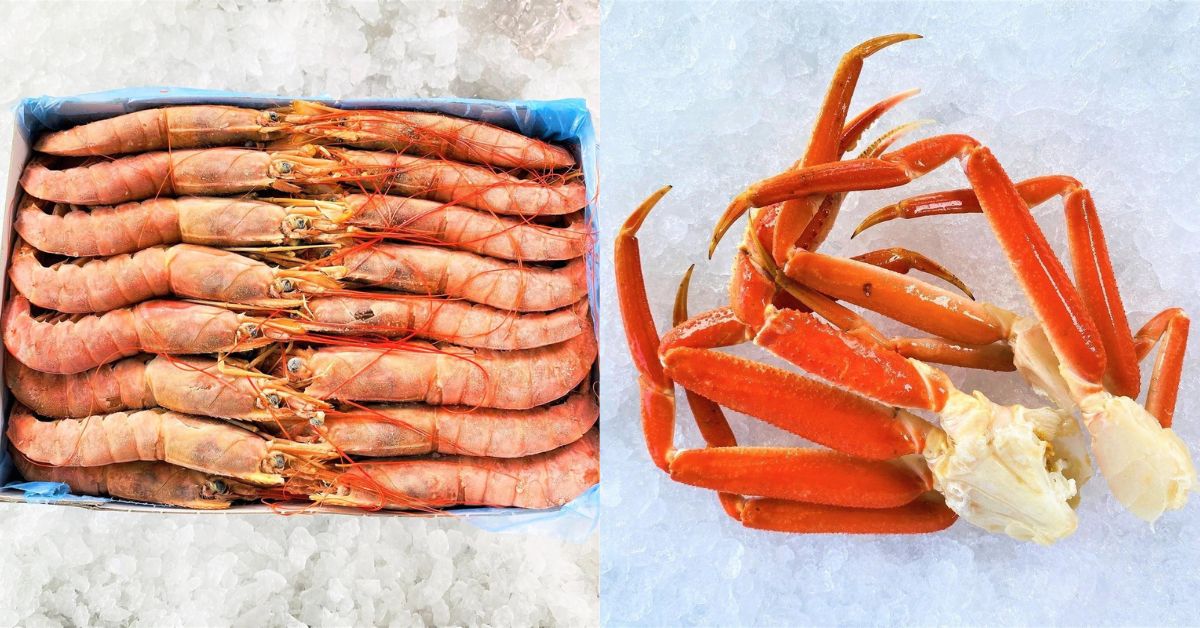 Fisk is a Singaporean online seafood delivery company. They are part of Snorre Food Singapore which has been supplying to various hotels, airlines and restaurants for over 30 years. At Fisk, they are committed to the sustainability and health of our seafood products for everyone. Quality is one of their core values, which is why their factory contains modern blast-freezing facilities to control temperature and hygiene levels at every step without compromising quality.
Fisk works with local fishermen across the globe to provide the best air-flown fresh seafood to Singapore. They offer cold water seafood sourced from the northern hemisphere and a diverse selection of seafood from Asia to provide a wide selection of seafood for their customers. 
Check out their website for ongoing promotions and enjoy free islandwide delivery for orders above $100.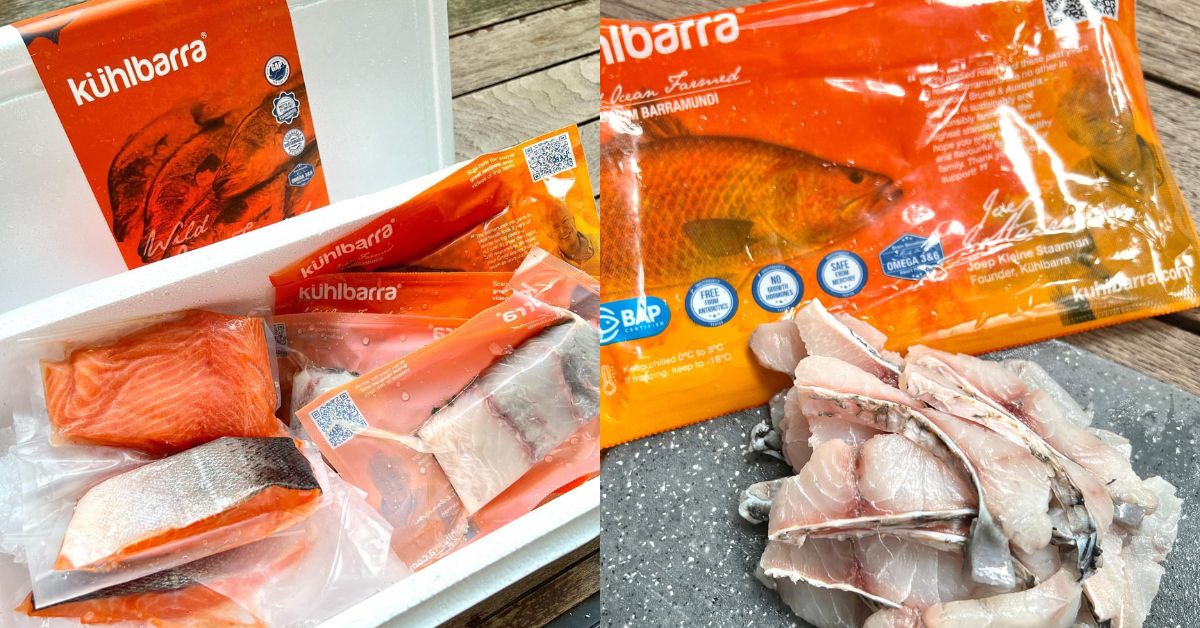 Kuhlbarra is a Singapore-based seafood brand that farms and distributes premium quality barramundi fish. They operate their own fish farm located in the coastal waters of Singapore. Kuhlbarra's commitment to sustainable and ethical practices has made them a popular choice among seafood enthusiasts in Singapore and beyond. What's more, Kuhlbarra has partnerships with various restaurants and retailers in Singapore. 
Kuhlbarra is committed to innovation and technology in addition to its focus on quality and sustainability. They use advanced methods to ensure optimal fish health and growth and prioritise transparency by sharing their farming practices and product sourcing information on their website. 
Kuhlbarra offers a wide variety of barramundi products such as whole fish, fillets, and even smoked barramundi and barramundi fishcakes. Moreover, you can enjoy $10 off and free delivery for your first order from Kuhlbarra with a minimum spend of $50.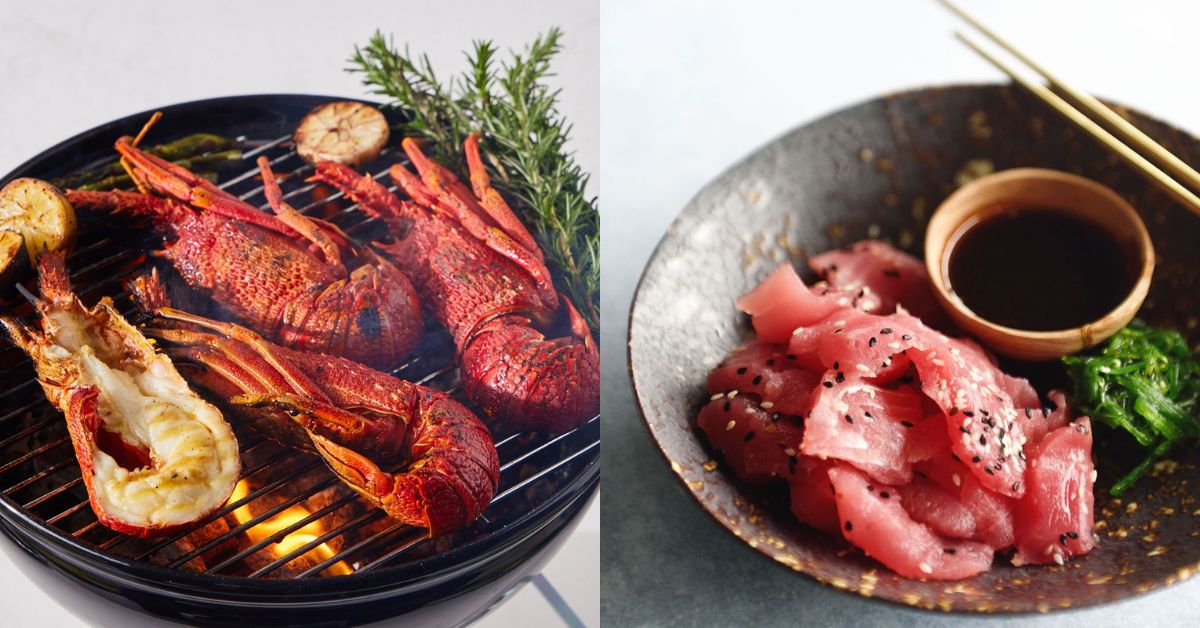 The Fishwives have always been passionate about providing healthy, sustainable, clean and fresh seafood. In today's contemporary world, food often contains chemicals and genetic modifications. The Fishwives understand that it is difficult to find food that is free of these harmful additives. That is why at The Fishwives, they constantly research and seek the best nutritious and clean food products for their customers in Singapore and Hong Kong.
At The Fishwives, you can find the finest meat and seafood sourced from New Zealand and Australia. They work closely with their reliable suppliers and use expedited logistic services to ensure the freshness of their fish and that all their meats are kept in optimal conditions. Furthermore, The Fishwives' products cater to a wide range of dietary requirements and tastes so you can guarantee to find something that you had no luck finding elsewhere. Order from their website now to enjoy next-day delivery.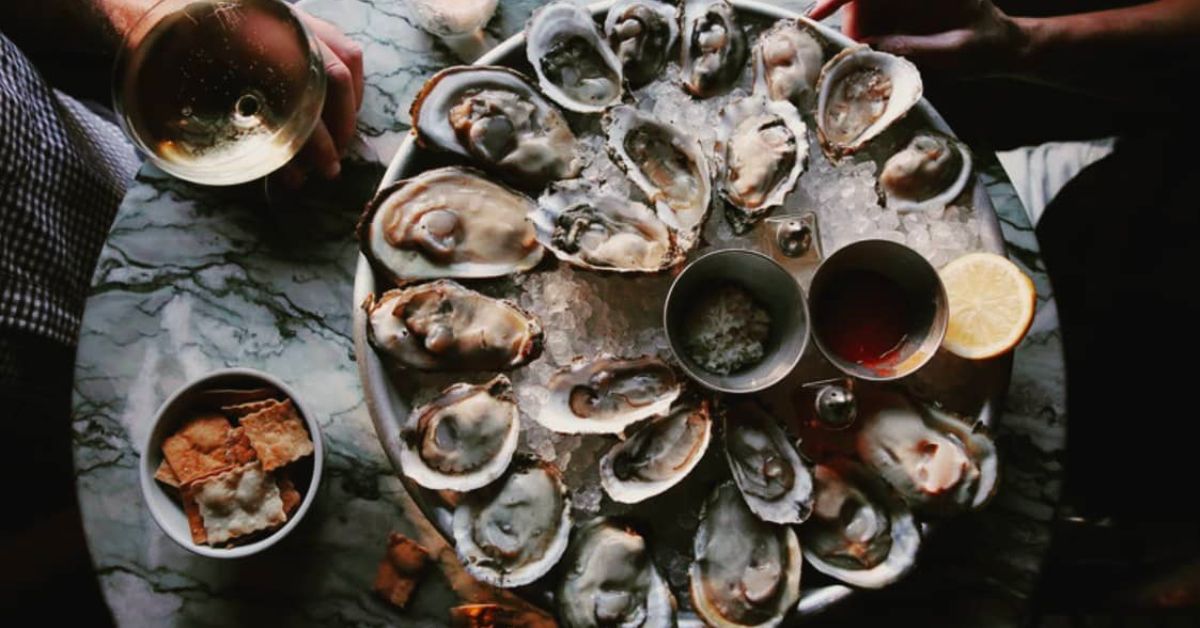 Since 2013, The Oyster Cart has been the top provider of on-site oyster shucking and delivery services. They take pride in delivering only the finest and freshest oysters for everyone to enjoy hassle-free, paired with an exceptional service standard. If you are hosting an event and want to offer an unforgettable experience for your guests, The Oyster Cart provides everything necessary you will need. The Oyster Cart caters to events of all sizes, from intimate dinner parties to large-scale conferences. 
With The Oyster Cart, you can make everyday moments special by indulging in their fresh oysters which are carefully selected, shucked and delivered directly to you. Check out their website for more information.