Limited Time Only: Lobster Frenzy Returns to PARKROYAL on Pickering
Lime Restaurant's Lobsterfest makes a triumphant return for it's third year from 26 May to 30 June 2018. Begin your journey with a variety of chilled dishes including Lobster on Ice, Fresh Prawns, Mussels and Clams. Try the Lobster Roll where generous chunks of lobster meat are doused in mayonnaise and served on freshly toasted and lightly buttered warm Ciabatta. 
Swing by the outdoor BBQ for Freshly Grilled Lobsters with a variety of mouth-watering sauces to choose from. Lastly, dig into the Singaporean-Style Chilli and Wok-Fried Black Pepper Lobsters which were our favourites! Add on their free-flow draft Tiger Beer at a top-up and end your dinner on a sweet note with options of both local and western desserts.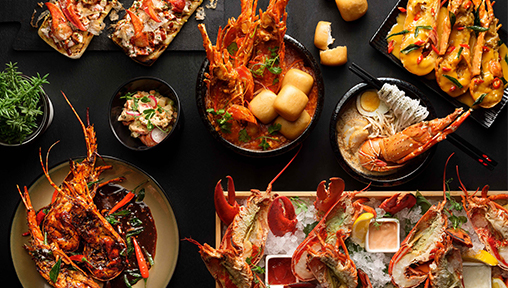 Our Tip: Do make your reservations in advance and head on down early as this is a hit with both locals and tourists!
Here's our list of 10 restaurants that serve the best when it comes to lobsters, oysters, crabs and more.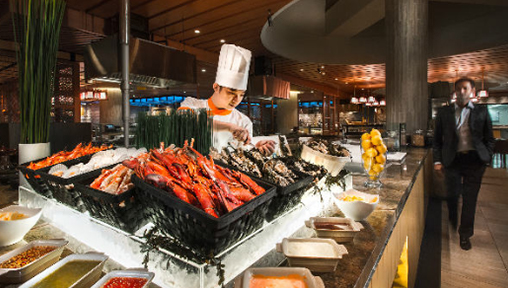 Image Credit: Edge
Edge offers a theatrical and interactive dining experience that provides a culinary tour of Singapore, the region and the Pacific Rim. Seven open kitchens provide a feast for the senses, as master chefs concoct a range of delectable Asian and Pacific cuisine – including Singaporean, Chinese, Malay, Indian, Japanese and Pan Pacific's signature "Pacific Cuisine".
Location: Pan Pacific SIngapore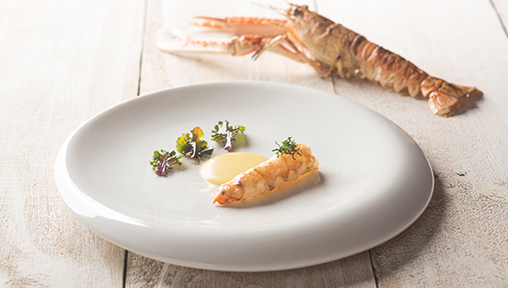 In the heart of the city, FiSK Seafoodbar & Market has newly opened as the destination for lovers of quality seafood. Steeped in Norwegian heritage, the retail section offers the best Nordic coldwater seafood including fish, prawns, oysters, and mussels, as well as other sources such as Denmark and Japan.
With career credentials that include tenures at Michelin-starred restaurants, Bagatelle in Norway(**) and Heston Blumenthal's The Fat Duck in the UK(***), as well as top restaurants Iggy's and Equinox Restaurant in Singapore, Chef Markus Dybwad heads the kitchen in the dining section. We love the Langoustine tail pan seared with beef bone marrow fat, and the Uni (sea urchin) Ice Cream is a clear winner.
Location: 30 Stevens Road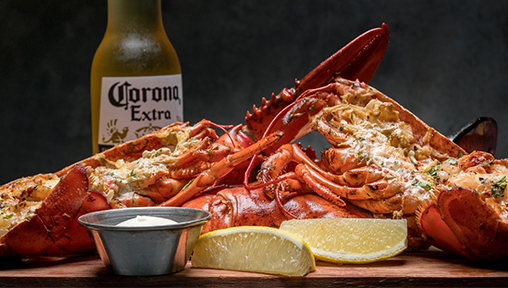 A minute's walk from Rochor MRT, in the heart of Little India, Chimichanga offers Mexican nosh and refreshing tipples at a great value. On Mondays, enjoy freshly shucked juicy oysters at just $2 each with your choice of spicy habanero or tangy mint sauce from 5pm onwards.
Every week, Chimichanga also offers the Saturday Surf & Turf all-day brunch where you'll get freshly flown in Boston Lobsters served with Mexican garlic butter sauce and Hyogo oysters. Don't forget to pair your meal with their signature frozen margaritas or simply with a bottle of beer.
From 9 - 16 June 2018, they're having a Father's Day Special - $40 for 1 Garlic Butter Grilled Live Boston Lobster and $60 for 2. Buy 2 Lobsters and get 1 free! What a steal! 
Location: 36 Dunlop Street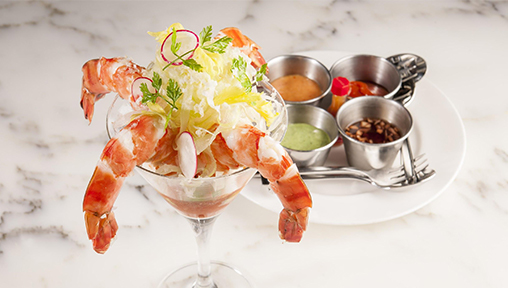 Located in the luxurious Marina Bay Sands Resort & Casino, db Bistro & Oyster Bar offers an exciting mix of traditional French bistro cooking with contemporary American flavours. The recently revamped menu brings with it plenty from the sea. Expect to find freshly shucked French and American oysters alongside Maine lobsters and Alaskan king crabs.
Apart from a daily selection of crudo and ceviches, you'll find seafood-centric dishes ranging from a classic shrimp cocktail to crowd-pleasing lobster rolls and seasonal dishes such as whole-roasted Mediterranean sea bass. The restaurant has also received many accolades and awards for its excellent wine list.
Location: B1-48 The Shoppes at Marina Bay Sands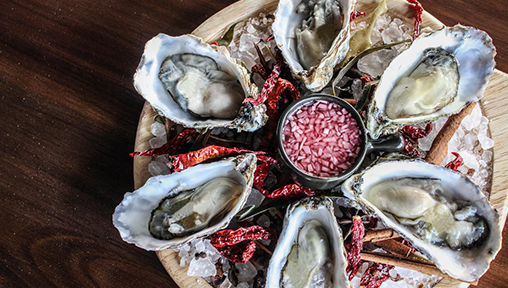 Created by an oyster lover for all oyster lovers, Angie's Oyster Bar is a French inspired bar, offering a rotating selection of freshest oysters from all over the world. The best part? $1 oysters every day from 6pm - 8pm except on Sundays when they are closed.
Perched on level 45, the bar offers views of the Marina Bay as well as an intimate indoor tasting Lervig Craft Beer Tasting Room. Bring the ocean to your table with Angie's Platter consisting of snow crab, lobster, giant prawns, diver scallop ceviche, and oyster of the half shell served with lime aioli, cocktail sauce ($68 for 2 or $128 for 4).
Location: Level 45, Singapore Land Tower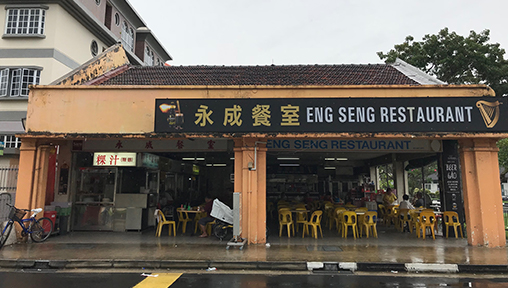 Ring in advance if you want to get your hands on the much raved about Black Pepper Crabs at this establishment. A favourite amongst many, people come down to queue for a table as early as 5pm at this corner coffee shop in Joo Chiat.
The Black Pepper Crabs are meaty and juicy with gravy being slightly on the sweet side. Other popular dishes are the Seafood Mee Goreng, Kailan with Garlic, and Pork Porridge.
Location: 247 Joo Chiat Place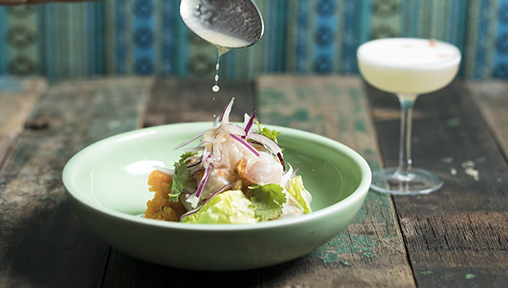 Ceviche originated in the coastal regions of Peru, producing dishes that utilised the freshest catch brought in daily by the fishermen. Keeping the tradition alive, Tono serves ceviches containing the four basic ingredients – seafood, citrus (usually lime), chillies, and onions - that form the creamy marinade called Tiger's Milk used to cure the seafood.
Ceviche is typically eaten accompanied by Pisco Sour, made of alcohol, citrus, egg white and Angostura bitters, with a foamy head. Besides ceviches, Tono also offers other authentic dishes from Peru including Tiraditos, Causas and Piqueos.
Location: #01-49/50 Duo Galleria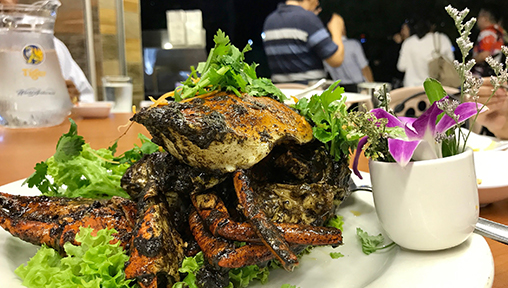 Best known as the creator of the original Black Pepper Crab that Singapore is famous for, Long Beach Seafood has been around since 1946. During that period, locals hardly ate out, except for major celebratory events such as Weddings. Located along the beach, Long Beach was frequently patronized by the British Army and soon became a bustling location as word of mouth got around of the delectable seafood served.
Popular favourites include the Air Flown Live Alaskan King Crab, Bamboo Clam, Abalone Conch, Mouse Cowrie, Tiger Sea Mantis, Geoduck, Robin Triton Clam, Japanese Hokkigai Clam, and Alaskan Hokkigai.
Locations: Various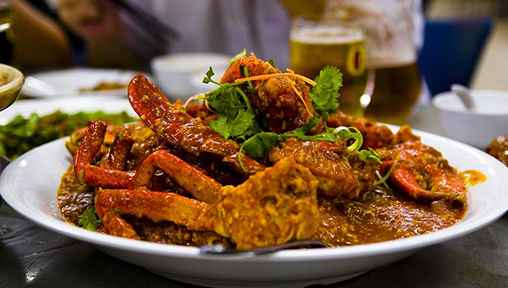 Founders of what some call the national dish of Singapore - Chilli Crab - Mr Lim Choon Ngee and Mdm Cher Yam Tian started their seafood restaurant along the Kallang River with just a couple of kerosene lamps, wooden tables and stools. The seafood was cooked using an open charcoal fire at that time.
Specialities include the Chilli Crab accompanied by local Crusty French loaf for dipping into the sauce, Black Sauce Prawns, Sambal Mussels, Fried Baby Squids, Teochew Style Steamed Fish and Cockles dip with homemade Mum's Chilli Sauce.
Location: 89 Marine Parade Central
A place for plane spotters, beach hoppers and stargazers, The Seagrill serves western style dishes that incorporate scallops, mussels, clams, and king prawns. Enjoy the fresh seafood while having an uninterrupted view of the beautiful beach and sea, along with planes taking off and landing.
Cajun Popcorn Shrimps and Asian Spice Oysters are interesting starters followed by the Clam Chowder Butternut Soup. The menu offers various types of seafood pasta and mains featuring Grilled King Prawns and Wild Barramundi. Definitely, a romantic place to bring your date for lunch or dinner.
Location: 260 Nicoll Drive, Changi Beach