What do you when the hunger pangs strike and you are simply craving for a snack? Don't cave in and reach out for junk food. Here's a list of healthy snacks and drinks ranging from vegan or gluten-free to using superfoods and plant-based ingredients. Most of these snacks are even suitable for diabetics, the keto diet and low carb diet so you can enjoy without worrying about the calories.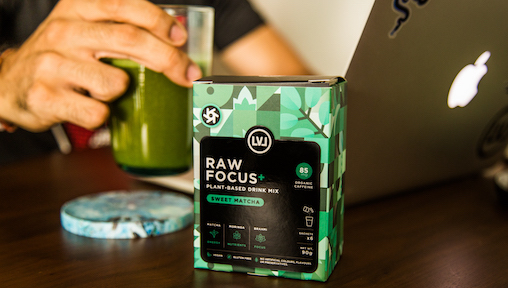 LVL offers a range of functional and healthy plant-based drinks to help you thrive in your every day. LVL has 3 varieties of BLENDS that are packed with superfoods, are gluten-free and suitable for vegans.
The Plant Protein+ is a vegan protein blend packed with pea and brown rice protein, ashwagandha, maca and turmeric for energy, endurance and recovery. Raw Focus+ is a matcha-based clean caffeine drink topped with moringa and brahmi for a brain boost. Natural Immunity+ combines orange, baobab, camu camu, ginger, turmeric and tulsi for a wholesome approach to building a healthier immune system.
These 100% natural and nutritious LVL BLENDS are conveniently packed in sachets for you to consume anytime, anywhere. Just pour, shake and drink!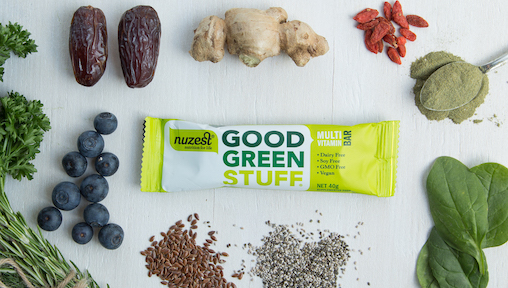 When it comes to your health, you deserve the best. Led by nature and backed by science, Nuzest premium nutritional supplements are formulated by global industry leaders. Quick, convenient and trustworthy, Nuzest wellness products are powerful, nutrient-packed, and made of plant-based formulas for stronger immunity and a more active you.
Suitable for vegans and vegetarians, the Good Green Stuff is more than just greens. A blend of fruits, vegetables and herbs with added vitamins, minerals, probiotics, antioxidants and other essential nutrients, it packs a punch with over 75 of the very best ingredients for optimum health. No gluten, dairy, soy or GMOs. One daily serve of Good Green Stuff makes it simple to be healthy.
Want your children to share the same healthy goodness? Nuzest has a new range of Kids Good Stuff offering a tasty way to help your kids get all the nutrients they need to keep them happy and healthy. The Multinutrient Smoothie Mix comes in three yummy flavours - Rich Chocolate, Vanilla caramel and Wild Strawberry - and is easy for kids to digest.
Kids Good Stuff is packed full of vitamins and minerals to boost immunity;  calcium and plant-based protein to aid growth and development; plus other great stuff that you won't get from capsules or gummy vitamins; free from all common allergens such as peanuts, soy, dairy, gluten, eggs and GMOs; and zero bad stuff such as added sugars.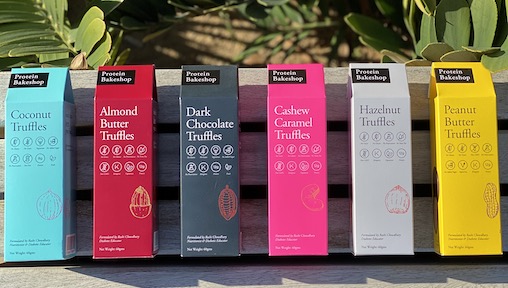 Guilt-free snacks that still satisfy cravings? Yes, please! Protein Bakeshop offers baked truffles in a variety of flavours made of whole ingredients with the intention of helping you curb those sugar cravings. Each product has been created with balanced macros and great taste, so it can become a part of your daily life and not just a cheat meal.
Whole ingredients used in the snacks such as whey protein, various nuts and coconut are great for your gut, hormones, waistline and taste buds. There are no added preservatives or artificial sugar; only dates and 70% dark chocolate are used to naturally sweeten the truffles.
Protein Bakeshop Truffles include the following flavours: Cashew Caramel, Hazelnut, Coconut, Peanut Butter, Dark Chocolate, and Almond Butter.
All products are available on Lazada.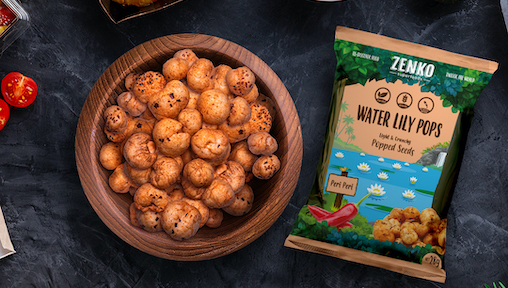 ZENKO Superfoods is a local superfoods startup committed to bringing ancient superfoods to the modern-day consumer. Their range of Water Lily Pops are 100% natural wild-harvested Himalayan "popcorn" perfectly roasted for non-stop, guilt-free snacking. It is low in GI, fat, and calories and suitable for daily consumption.
Popped water lily seeds have been consumed for over 2,000 years in the Indian and Himalayan regions. They are an excellent source of protein, magnesium, potassium, fibre, and antioxidants. Benefits include: regulating blood pressure and maintaining heart health, boosts immunity and strengthens one's body, eases stress, palpitations and insomnia, and regulating digestion and cholesterol level.
They come in 4 addictive flavours: Himalayan Pink Salt, Peri Peri, Coconut, and Cinnamon Caramel. All flavours are 100% organic, preservative-free, gluten-free, non-GMO, and plant-based.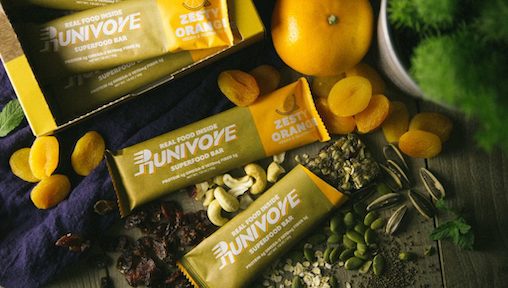 Simply Active is your one-stop-shop for premium, clean nutritional products from around the world.
Runivore Superfoods was started by three regular dudes from Asia turned ultra-runners who weren't satisfied with their nutrition options and decided to make their own. They believe that endurance sports give us a sense of happiness and fulfilment, and so should the foods we eat for everyday training and races. Runivore offers high-quality whole foods as well as energy bars created with natural superfoods that are effective and delicious. All Runivore bars are vegan and gluten-free.
All the way from New Zealand, we have EM's Power Cookies which are nutritious and delicious energy snacks made from Em's personal recipes with ingredients you can trust. They are the perfect slow-burning fuel to power up your adventures. You're in good hands with Em who is a Master's degree Nutritionist and has been making Power Cookies since way back when she was a sporty kid herself. She grew up to become a 3-time Coast to Coast Champion!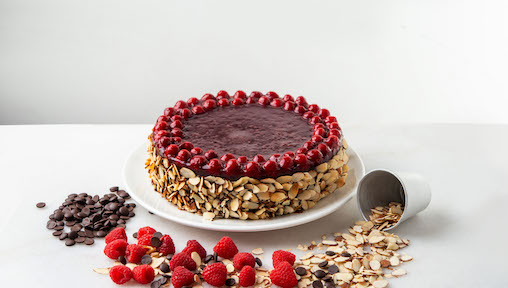 Who would have thought that we'd put cakes and desserts in the category of healthy snacks? Well, here you have it; LOCABA offers freshly baked to order low carb and diabetic-friendly cakes and desserts that help you stay in shape. Their products contain no household or refined sugar, and use ingredients that are gluten-free and grain-free. LOCABA - essentially LOw-CArb BAkery - desserts combine various nutritional trends that are metabolism optimized and even suitable for paleo and keto diets as well as diabetics.
How are these positive effects achieved? Among other things, by "clean baking" and completely banning harmful ingredients from LOCABA products that are omnipresent in conventional sweets such as low-nutrient cheap and highly glycemic ingredients such as wheat flour, household sugar, and chemicals to make the dough rise, artificial preservatives, as well as flavour enhancers. 
LOCABA desserts are also "functional food" because, in addition to valuable proteins and essential fatty acids, the body is also provided with a high proportion of valuable antioxidants. LOCABA's delicious low carb Tiramisu is a best-seller and they are one of the few offering vegan cakes in Singapore too.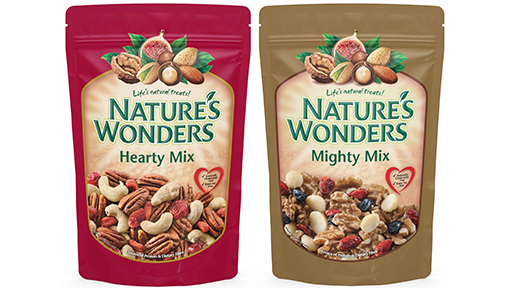 Nature's Wonders is a well-known snack brand beloved by Singaporeans, and are known for making delicious and premium-quality nut mixes. Their produce is handpicked from selective internationally-certified plantations and speciality growers from around the world. Nature's Wonders nut mixes are tasty healthy snacks rich in protein, vitamins, minerals, dietary fibre and other essential nutrients that prove to be great additions to a low carb diet. 
Nature's Wonders has recently added two new dried fruits and nuts mixes - Hearty Mix and Mighty Mix - specially made to be eaten in a handful to get a balanced burst of flavours. So, if you are particularly feeling low on energy during a long workday, nibble on a healthy snack option from Nature's Wonders selection and notice the spike in your energy levels!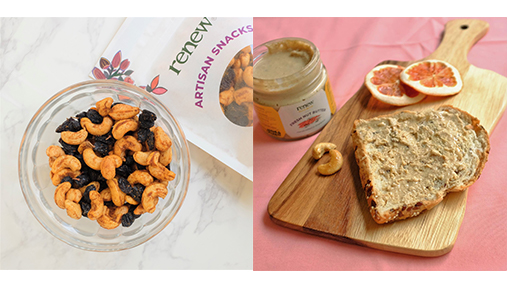 Renew Snacks is a local artisan snacks producer, offering healthy snacks that are flavourful with curated quality ingredients. Gain that little bit of extra nourishment from these handcrafted snacks that have interesting myriad flavours including local favourites such as Briyani Cashews and Sambal Almonds.
Renew snacks are vegan-friendly, diabetic-friendly and wholesome as they are baked with low GI Gula Melaka and dairy-free. Worth a mention is also their tree nut butters (no peanuts) such as Lavender Pistachio Nut Butter, White Earl Grey Cashew Nut Butter and rosemary almond butters. Additionally, you could customise your favourite tastes – Tom Yum pecans or Mala almonds, anyone?