home & living
Where to Buy Premium Silverware, Flatware and Cutlery in Singapore
Published Date
: 08 Nov 2022 03:44

Impress your guests with the best premium flatware and silverware brands in Singapore
Seeking the best silverware, flatware or cutlery in Singapore? If like us, you enjoy dining in style, adding a new flatware set can do wonders to your table dressing. 
That said, shopping for flatware is not an easy task. From deciding on weight, style, material and colour to navigating the wide assortment of cutlery choices at stores, shopping for silverware can be a daunting task.
Look no further, as we've rounded up a list of premium silverware brands in Singapore that make worthy investments. Whether you need gold flatware or luxurious pieces that will last for years to come, our list has it all. 
Best Premium Silverware in Singapore
​Kra Sanctuary - Premium Hand-Forged, Stainless Steel Cutlery 
Want to buy premium quality silverware that can last for years? ​​KRA Sanctuary seeks to pair original, long-lasting pieces while recreating the fine dining experience in modern Singaporean homes. To complement their signature stoneware collection, KRA has recently launched a premium hand-forged, stainless steel cutlery range. Each piece is made by metalworkers using traditions passed down over 500 years in the ancient Thai capital of Ayutthaya. 
Meticulously designed to suit every home, KRA Sanctuary's cutlery range was carefully curated to consist of long-lasting, sturdy pieces that can last for years. Every piece of flatware has a firm, substantial grip due to the high quality of stainless steel and is functional for daily use.
In three sleek, contemporary designs, the cutlery range is available in three different colours: titanium-plated gold, stainless steel and burnt black. Their full range expands beyond the usual flatware essentials and includes accessories such as chopsticks or cocktail spoons for a consistent dining experience.
Prefer to buy a full set? KRA flatware is available as individual pieces or as full sets for 4 table settings. Each 20-piece set comes equipped with dinner necessities and dessert utensils. 
Although an online business, KRA Sanctuary is happy to arrange private viewing appointments if you would like a closer look at their gorgeous cutlery or ceramicware. Reach them at KRA Sanctuary or email [email protected] to make an appointment.
Vanilla Luxury readers enjoy an exclusive 5% off everything for their first order (T&C apply) with discount code VANILLA5.
Zwilling is considered by many to be one of the best kitchen knife brands in the world. Here, knives are crafted with a whole lot of precision and expertise from hundred years of R&D. Although the design and materials vary by collection, every knife is ultra-sharp, made with high-quality steel, and built to last. 
Although they're best known for their top-notch-quality knives, Zwilling J. A. Henckels also produces premium-quality flatware that receives a lot of love. With a such long history and market recognition, Zwilling offers trustworthy and durable flatware that does not fail. Revamping your kitchen utensils? Zwilling has a 68-piece cutlery set for twelve people and contains cutlery for all meals, including the coffee table. The set also includes practical accessories such as meat forks, serving spoons and cake servers. The cutlery is made high quality 18/10 stainless steel (18% chrome and 10% nickel) and is therefore easy to clean and suitable for your dishwashers. The silverware features a sleek and simple design, fit for homes of any type. A satin finish also means that you won't have to worry about fingerprints on your flatware if that matters to you. This practical cutlery set right here will equip your kitchen with essentials for your everyday needs, as well as those special occasions.
Zwilling J. A. Henckels. Get the set online on Lazada.
 ​Frontiera - Unique Patterned Handles with Special Hollow Handle Technology
Frontiera products are high quality, stainless steel and handcrafted to perfection. We love what they offer - a wide selection of unique designs that no other brand can replicate. From hammered textures and gothic designs, Frontiera has every type of cutlery for your eclectic needs. The patterned designs on their silverware are exquisite and sure to become a talking point at your dinner parties or events. 
Aside from the patterned handles, Frontiera prides itself on its hollow handles that are of special technology. While its grip-friendly and sturdy handles offer a comfortable hold, the hollowness gives the utensils a nice weight that helps stabilize hand and arm movements while eating.  
Frontiera. Get a feel of their silverware for yourself at Tangs, 310 Orchard Road Tang Plaza, 238864, or order them online via their site!
 ​WMF- High-Quality, Scratch-Resistant Cutlery
Since its foundation in 1853, WMF has produced high-quality cookware and household goods. From knives to pressure cookers, the product range includes virtually all the gadgets you will need for a well-equipped kitchen today. For preparing, cooking and savouring – WMF offers the ideal tools that are "Made in Germany". 
WMF produces all its cutlery in 18/10 chrome-nickel steel, which is the highest quality material. Additionally, to ensure that cutlery provides years of pleasure and retains its high-quality visual and functional appeal, WMF also produces all its cutlery with patented surface-finish technology, Cromargan protect®. Cutlery with a Cromargan protect® finish has enhanced resistance to scratches and to signs of daily wear and tear, ensuring polished surfaces retain their shine and matte surfaces their subtle sheen. 
With an extensive cutlery and silverware range in Singapore, both equally beautiful and practical, WMF is definitely one of the safest picks when you go shopping for your kitchen and home. 
WMF. Shop silverware by VMF at their various retail sections or on their site.
 ​Christofle - An Extravagant Statement Piece for Your Home
If you're looking to splurge on a traditional silver set, Christofle's silverware may be 'the one'. Mood by Christofle is probably one of Christofle's most iconic collections and their most popular product by far in this series, is the Mood Cutlery Egg. Nothing says "extra" more than this gold egg. This eye-catching design has been spotted in many A-list celebrities' homes including that of Kris Jenner and its majestic look is enough to explain why. The egg not only serves as a functional cutlery holder but is a statement piece for the dining table and home - placed in the centre of the table, the golden egg is a real stun piece. Contained inside the chic, gleaming receptacle of gilded (24-carat) stainless steels are a stunning walnut wood interior and a 24-piece cutlery set. The cutlery is silverplated and then completely gilded with 24-carat gold or 18-carat rose gold. The cutlery sets include everything you will need at the dining table, including knives, forks, soup spoons, coffee spoons and more. 
Oh, and did we mention this golden egg comes packed in a grand gift box too? Perfect as a new home or wedding gift!
Christofle. Shop for Christofle's silverware in-person at their store at MBS, 2 Bayfront Ave #01-12, The Shoppes at Marina Bay Sands, 018972, or shop online via their site.
​Robert Welch – Silverware Perfect for Home Parties
Do you like to plan fancy dinner parties for your friends and family? We love the Caesna Air collection, designed by Robert Welch, for its exceptionally sleek and minimalistic designs, as well as its high-end quality. It features utensils with an expensive look, beautiful to see on the table and therefore, perfect for those special occasions when you want to impress your guests. 
Designed exclusively for Crate and Barrel, the Caesna Air 20-Piece Silver Metallic Flatware Set, is one of their most beloved flatware patterns.  The set features classically styled utensils with hollow, sculpturally rounded handles that call to mind elegant metallic balloons. With its mirror finish and hand-smoothed contours, this well-balanced set will shine on the dinner table alongside your other beautiful dinnerware. The mirror finish also gives the utensils a more formal appearance, making it ideal for formal events you are hosting at your place. 
Robert Welch. Get the Caesna Air 20-Piece Silver Metallic Flatware Set on Crate & Barrel.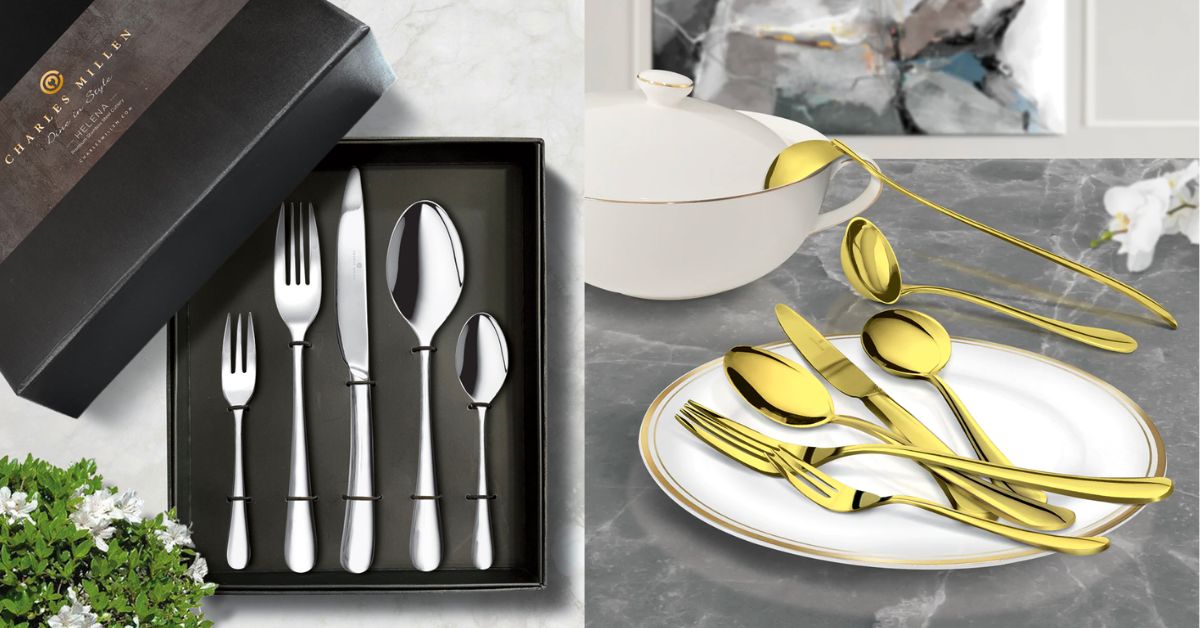 ​Charles Millen - For a Luxurious and Stylish Dining Experience
From design and concept to manufacturing and distribution of its home and lifestyle products, this luxury lifestyle brand embraces refined taste, quality and sophistication.
Our pick from their silverware range? The Adelia Collection. The silverware in this collection is made from high-quality 18/10 stainless steel, to offer discerning individuals a luxurious and stylish dining experience. There is a 20-piece cutlery set that Comprises a set of 4 dinner forks, dinner spoons, dinner knives, teaspoons and cake forks - AKA everything you need for the daily! 
The Adelia collection is available in a stainless steel or gold finish. Go for the black handles for a sleek and modern look or get the blue handles to add a spark of colour to the dining table. 
Charles Millen. Shop the collection in-stores at Tangs, Robinsons and Takashimaya or online on their respective sites. 
​Cutipol - A Cosmopolitan Selection for the Modern Home
Portugal-made Cutipol's is renowned for its extraordinary quality and design. Our favourite collection by far is their Goa collection. 
The Goa collection by Cutipol is trendy and glamorous. With such a unique and chic design, it is made for even the most luxurious events. The utensils in this collection are made of 18/10 stainless steel with a matte brushed coating, giving it that ultra-modern look. The utensils are also either 24k gold plated or 18k rose gold plated. The slender resin handles come in a variety of handle colours such as ivory, white, red, pink, turquoise and more, making this collection the ideal choice if you are looking to incorporate colour onto your dinner table!
Cutipol. Get the Goa collection on their website. They ship internationally to every country in the world.
​Gingko - Colourful, Bistro-Style Flatware for Laid-Back Settings
Ginkgo International Ltd. was founded in 1977 by Wes and Janet Helmick. Their goal was to bring to the market original, quality flatware designs at the best possible price. Now a second-generation family business, Ginkgo continues to offer consumers the highest quality flatware and cutlery products at the best possible value. 
Do you have a contemporary-style home that needs flatware of the same style? Consider the Ginkgo Stainless Collection which features the LePrix series of flatware made of stainless steel with thermoplastic handles of vibrant colours such as yellow, persimmon orange, green, blue, red and more. LePrix is dishwasher safe and makes wonderful everyday flatware for meals at the table, as well as picnics due to its approachable and relaxed look. 
The LePrix is available in a 5-piece place settings well as a 20-piece set. Get the 4-piece hostess set which includes a serving spoon, pierced serving spoon, cold meat fork, and a sauce ladle, to compliment your dining utensils.