The quest for beautiful ceramic tableware and serveware seems endless. No matter how many plates, platters or bowls one owns, they never feel enough! If like us, you too have a soft spot for serveware and all things beautifully ceramic, this is the list you need.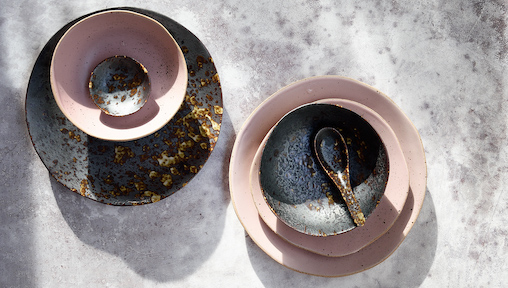 Handcrafted ceramic plates and tableware anyone? KRA Sanctuary curates timeless, modern designed handmade ceramic tableware from their partner artists in Thailand. They source from a third-generation family-run factory in Lampang, a province near Chiang Mai famous for its expertise in ceramic production.
Founder and commercial photographer/ food stylist Carli specially curated the collection to pair timeless pieces with modern home and fine dining in mind, in glaze colours that naturally complement and contrast each other to create personalized sets for any home style. KRA specializes in full dinnerware sets, and serving platters and bowls, but also carries a selection of tabletop accessories to complete any dining table.
Each piece of handcrafted dinnerware, tabletop accessories and serving ware has been curated for lasting appeal in the home and are microwave and dishwasher safe. Their glazes are naturally and responsibly derived from the environment around us — brown pigments are made from iron, for example, and blue from cobalt. This prevents harmful chemicals from leaching into your food and beverages, making them safe for you, and for the planet. 
Unlike plastic or wooden dinnerware, ceramics last far longer, are water-resistant and also leach-proof. With proper care, you'll find that KRA Sanctuary's artisan-made, small-batch ceramics can last you a lifetime, with no need to replace your bowls and dinnerware that often.
An online, home-based business, KRA Sanctuary is happy to arrange private viewing appointments for those who would like to take a close look at the pieces or need help selecting the perfect set for their table. Reach out to them on KRA Sanctuary or email [email protected] to make an appointment or check out their Instagram @kra.sanctuary for more inspiration!
Readers of Vanilla Luxury may enjoy an exclusive 10% off their first order (T&C apply) with discount code VANILLA10 throughout 2021.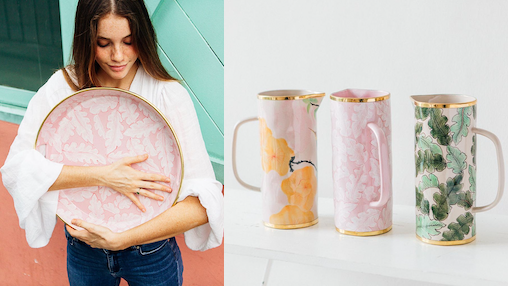 Looking for ceramic tableware that doubles up as home decor? Gasps guaranteed, Bowerbird sells an extensive and beautiful range of serveware, trays, jugs, plates, platters and more! Bowerbird has been in Singapore for nearly 18 years now and have carved a niche for themselves in the handcrafted ceramic homeware business. 
Lisa, the owner, designs and colours all patterns herself and tweaks them to give a contemporary yet Asian feel. Bowerbird Ceramics are then lovingly hand made and hand-painted by select Artisans in Vietnam making each piece truly unique and individual. Yes, no two are the same!
If you'd like a dash of tropical in your home, you'll find a wide variety of ceramic ware that can adorn your dining table, coffee table, sideboard or jazz up any other room in your home. Choose from uniquely designed bar trays and jugs, eye-catching vases, platters, canisters, plates and plenty more. Or take a look at the Tropicana collection, a stunning mix of colours, providing an elegant yet bold addition to your home. Available in jugs, vases, trays, tapas plates, coasters and tea lights.
Also know that Bowerbird is not mass-produced. When you buy a piece, it is special and unique, almost limited edition! Bowerbird is that piece people love to have in their homes here and abroad, giving them a wonderful reminder of living in Singapore. Best of all, delivery is free across Singapore!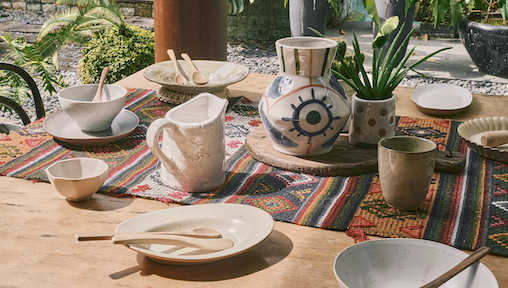 If you are after curated homeware, ceramics, flatware and cutlery, Crane Living is worthy of that visit! Inspired by the space at Crane's flagship location, Crane Living was borne out of their community's desire to take parts of their aesthetic home for themselves. Slowly but surely Crane Living grew into a curated collection of homewares that reflects their modern taste.
Rooted in accessibility and sustainability, the team aims to have something for everyone, from large outdoor planters to small bedroom and kitchen trinkets. Sourced both locally and internationally their pieces encourage curiosity and community, just as their brick-and-mortar-cum-social space, Crane, tucked away in the cosy River Valley district does. You'll find a range of ceramics, home decor, flatware and cutlery, lightings, pillows and plenty of other home accessories here. 
Together, the brands are expanding both online and into more physical spaces in Funan and at Joo Chiat - stay tuned @crane_living and @crane.official on Instagram!
And wait! Vanilla Luxury readers can enjoy a 10% discount on any Crane Living items at crane-living.com using the code VANILLALUX10 (shareable link: https://www.crane-living.com/discount/VANILLALUX10) and a complimentary one week trial of Crane membership by emailing [email protected] and quoting Vanilla Luxury.
Crane Living. 46 Kim Yam Rd #01-05/06/07, The Herencia. Singapore 239351. Pop-ups at Le Toucan, #01-05 Tanglin Mall and the American Club (Members Only).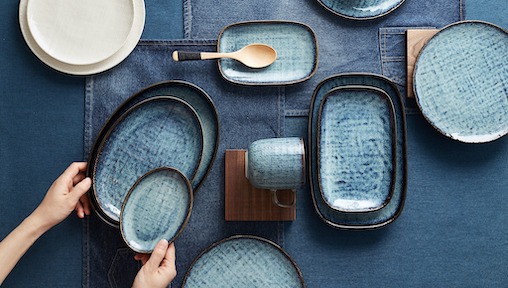 From Michelin-starred chefs to families cooking together, Luzerne's ceramic tableware and dinnerware remain a firm favourite in Singapore. Part of Hiap Huat Holdings, Singapore's most established ceramics tableware company, Luzerne's products are made in the World Ceramics Capital and the birthplace of Blanc de Chine in Dehua, China.
Indigenous kaolin clay from this historical region is fired at high temperatures to produce a clear translucent texture and a distinctive soft ivory colour. With over 800 trained artisans, quality workmanship is ensured on every piece making them long-lasting and accessible to all.
Luzerne's quality ceramic ware is used across the top hotels, airlines and restaurants, and there's plenty of reason for that. Their ceramics are stronger than Bone China and resistant to extreme temperatures - they won't crack when removed from the oven (180°C) and placed under running water (20°C). They are also completely safe and don't allow for water absorption and are highly stain, scratch and chip resistant. If it's good enough for Michelin-starred kitchens… we'll take a full table's worth!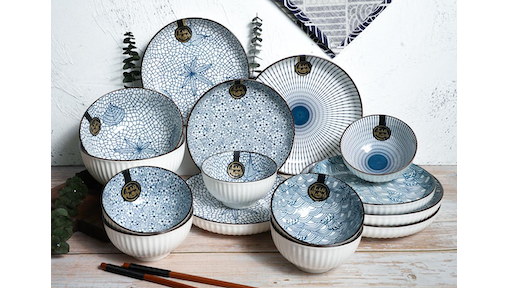 Table Matters remains Singapore's go-to brand for affordable ceramic tableware. What started as a leisurely pursuit for quality and expressive ceramic serveware quickly transformed into an intimate expression of art - Table Matters.
The brand was created to provide tableware that stands out, but for the masses. Every collection is incorporated with unique designs that use visually pleasing elements from nature and translated into intricate sketches and colours. Table Matters use finely sourced materials that are strictly tested for toughness, durability, and integrity. Each dinnerware piece is guaranteed safe for use and can withstand the test of dishwashers and time.
We love their range of Japanese-inspired earthenware, which include bowls, sake trays, plates and all things beautiful. And if you are after Peranakan-themed ceramics, or Nyonya as the creators in Malaysia call them, you'll find them at Table Matter and in a bright mix of colours. Made in stunning patterns, the Peranakan-themed ceramics from Table Matters are a great addition to your dinnerware and will upgrade your dining experience considerably. Bonus points for being easy on the pocket!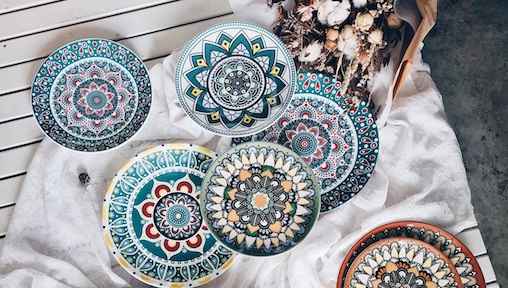 After an eclectic collection of artistically designed ceramic tableware? Lovera Collections humbly started with a couple's fascination with unique and pretty plates.
They believe that tableware plays a big role in the dining experience of a person and can accentuate the gastronomic experience in a big way. This is why Lovera Collections gives everyone the option of spicing up their homes with a touch of elegance and beautiful quirky prints with their huge range of tableware.
Lovera Collections also strongly believes in ethical trading by only directly importing products from manufacturers that are certified to produce tableware that is safe and appropriate for food consumption use.
You'll find a range of dining sets, dining plates, serving platters and deep dishes. If you like Turkish or Arabic-inspired designs, don't forget to check out the Moroccan Embossed dinnerware and drinkware collection. There are also plenty of Japanese-inspired, floral, rustic motif, botanic and shell designs to keep your home looking vibrant, eclectic and new!
Fork & Pillow was started by Anna, who belongs to a small town Bolesławiec in Poland, also called "the city of ceramics". Her heritage and the need for unique ceramic tableware in Singapore got Anna to leave the corporate world and start Fork and Pillow, a repository of many European home items including Polish pottery. 
Looking for beautiful, original, first-class plates? Shop Fork & Pillow's range of Polish pottery tableware that includes dessert plates, breakfast plates, soup and pasta plates, and dinner plates. These are all made from the highest quality ceramics to last and serve you for years to come. What's more, each plate is hand-decorated with the use of only natural paints! 
Fork & Pillow's serveware is available in a variety of shapes and patterns and is ideal for both casual and formal dining. All pieces are handmade and hand-decorated and can stand beautifully on their own on your table or you can combine them with other items from our tableware collection. Did we say they make amazing housewarming gifts too?