wellness
Health Supplements in Singapore: Drinks, Probiotics, Protein Bars, Functional Foods & More
Published Date
: 03 Oct 2023 10:00

These health supplements include slimming coffees, handy clean protein bars, functional foods, hair supplements, probiotics and more
Best health supplements in Singapore? If the last few years have taught us anything, it is that we shouldn't take our health for granted. Maintaining good health, both physical and mental is essential to keeping our bodies resilient and feeling good.
Today, we take a look at some of the top health supplements in Singapore that complement your fitness journey. These include products that speed up your metabolism, protein bars, anti-ageing supplements, probiotics, hair growth supplements and plenty more!
Here's a way to naturally speed up your metabolism! Founded by entrepreneur Kim Lim, illumiaSKIN is all about daily skin and body essentials that keep us feeling our very best at all times, and at any age.
 
illumiaSKIN's Metabolic Boost Slimming Coffee revs up metabolism by up to 5 times for effective fat burning and makes for a fab supplement to add to your fitness routine. This unique fat-burning coffee can reduce free fatty acids and block calorie absorption - all while you go about your usual day!
 
illumiaSKIN's Metabolic Boost Slimming Coffee also contains fewer calories and can help with relieving bloatedness as well as water retention. As it is sugar–free, it makes a choice purchase for those sensitive about their blood sugar levels.
 
Amongst the slimming coffee's ingredients is Garcinia cambogia, or Garcinia gummi-gutta, a tropical fruit that is known for its natural weight-loss abilities. Together with Green Coffee Powder and Microground coffee, it is able to achieve superior metabolic rates!
 
It is also super easy to take. Just dissolve the contents of the sachet in 120ml to 150ml water and stir well. Pair with the Illumia Body Coffee Mug to enjoy your coffee on the go. Insulated and durable, this pretty pink cup comes with a lid and fits most cup holders. Happy fat burning!
 
IllumiaSKIN's Metabolic Boost Slimming Coffee and Illumia Body Coffee Mug are available online on their e-store shop.illumiatherapeutics.com and at their outlets.
 
Orchard branch. Address: 501 Orchard Road, #05-12B Wheelock Place, Singapore 238880
Serangoon branch. Address: 23 Serangoon Central, #04-26 Nex, Singapore 556083
 
Website | Facebook | Instagram
Want the goodness of plant protein always accessible in your pocket? As the purest and most potent source of plant protein, Clean Lean Protein has always been highly sought after by everyone who wants to eat healthy. Nuzest deliver the same goodness of health now in a deliciously handy bar! 
Just unwrap and snack before and after your daily workout, bite away as a mid-day fuel or have it ready in your pocket, as a handy treat. 
 
Made by blending Nuzest's premium European golden pea protein with whole fruits, nuts and seeds, these bars are high in digestible protein and dietary fibre, and low in sugar and carbohydrates.
That doesn't mean they are low in taste! What they lack in sugar and carbs, they make up for in texture and flavour. Available in three delicious flavours – Coconut & Lemon, Almond & Vanilla, and Peanut Butter & Chocolate – these bars combine pure simplicity with indulgence. 
Each bar only contains the cleanest ingredients, without any fillers or refined sugar. They're a great source of iron and contain all nine essential amino acids to support recovery and repair.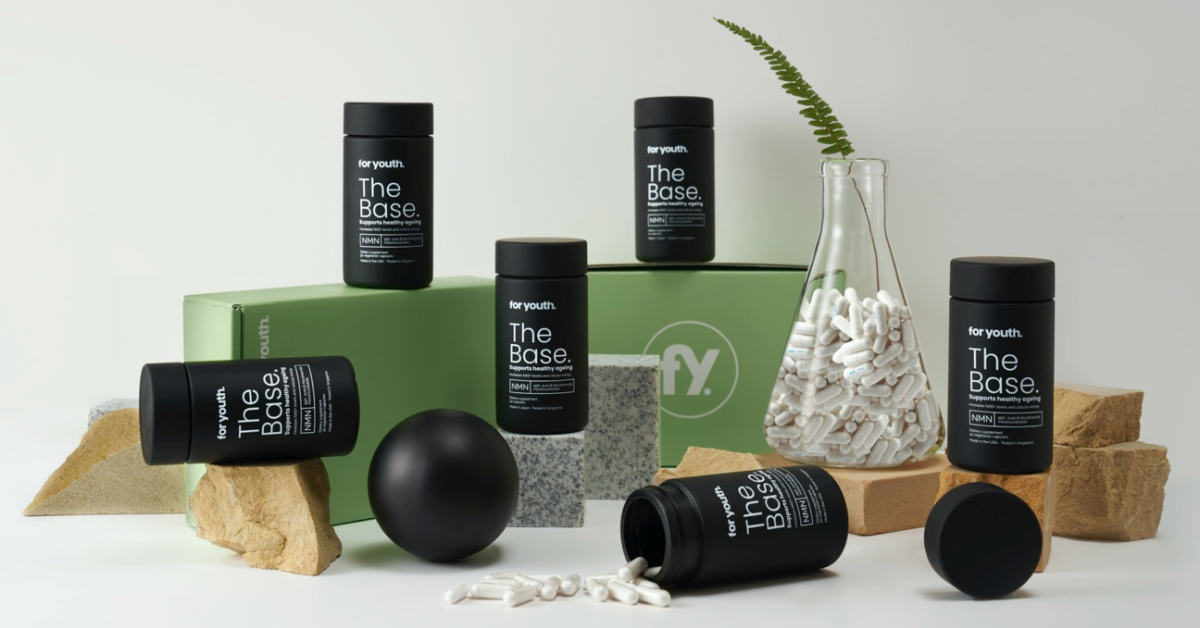 We all want to live long, healthy and happy lives. But as we grow older, we age. While ageing causes small issues, like wrinkles, it is also the root cause of many more serious ailments like cancer, brain and heart disease. 
Scientists have recently made a lot of progress in understanding ageing and finding ways to slow down or even reverse it. There's no miracle cure available yet, but there's already a lot that's proven to help against ageing.
For Youth is a Singaporean longevity company making these latest scientific developments available in South East Asia. Their flagship product, The Base, is a dietary supplement containing NMN, or Nicotinamide Mononucleotide. NMN has gained a lot of popularity in recent years due to the work of Harvard professor David Sinclair. In his top-selling book Lifespan (2019), he explains the progress of the science of ageing and NMN is playing the lead role. 
Put simply, ageing is cell damage. NMN is a substance that naturally occurs in our bodies and it boosts levels of a compound called NAD+. And while NAD+ is necessary for the repair of cellular damage, its levels decrease as we grow older. 
NMN as found in The Base, is made from vegetable extracts - one capsule of 250 mg of 99% pure NMN contains the equivalent amount of almost 40 kg of broccoli!
This NMN helps to increase your energy levels, makes your mind function better and also improves the appearance of your skin. A lot of users even report that they have better sleep while on these health supplements. *
In March 2021, For Youth will also launch a biological age test to measure how old your body really is, based on the health of your cells. This test can be done stand alone, but it can also to see whether your anti-ageing therapies are actually working.
For Youth is funded by Singaporean startup incubator Antler. To learn more about For Youth, check out www.foryouth.co or follow them on Instagram. 
*It is recommended that you take NMN for 2-3 months to start noticing the first visible effects.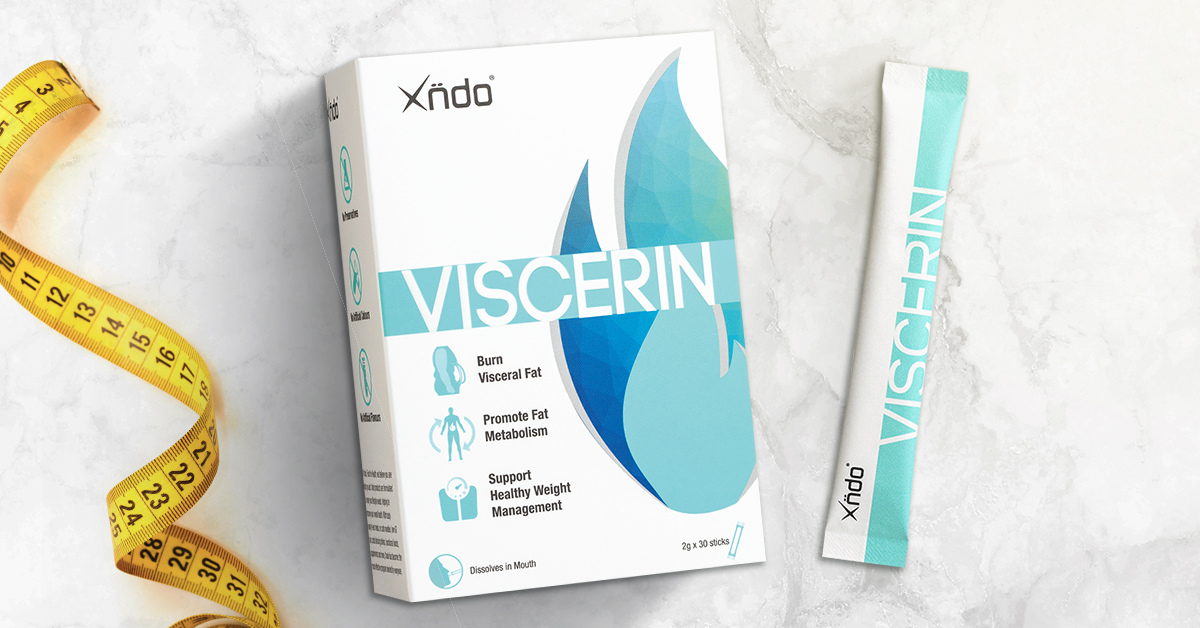 Xndo Viscerin - Best Health Supplement To Burn Visceral Fat
Xndo is a subsidiary of ONI Global Group – one of Asia's largest speciality retailers of nutritional products, vitamin, mineral, herbal and other speciality supplements and sports nutrition, diet and energy products. The health food retailer offers a range of tasty ready-to-eat meals, low-carb noodles, low GI rice, carbo blocking drinks, functional foods, supplements and more to meet modern lifestyle needs, tackle health concerns, and build a Body For Life.
What is visceral fat? Also known as organ fat, visceral fat is stored around your internal organs in your abdominal region, including your heart, liver and intestines. Healthy levels of visceral fat in our body help insulate and protect these organs. However, storing excess visceral fat can be concerning, posing potential cardiovascular and liver health problems.
One of the biggest factors that contribute to the amount of visceral fat in the body is a diet high in carbohydrates and sugar. Visceral fat can often go unnoticed because it lies beneath the firm abdominal wall and may not be visible from one's outer physical appearance.
Xndo Viscerin is a specially formulated proprietary blend of potent and scientifically proven ingredients that help burn visceral fat and boost metabolism to promote fat burn.
If you occasionally feel bloated and puffy, Xndo Viscerin also helps to reduce water retention to minimise excessive fluid build-up.
Best taken on an empty stomach before breakfast and bedtime, Xndo Viscerin comes in strawberry flavour in powder form. It is halal-certified too and suitable for those who want to support their healthy weight management programme.
The Xndo Viscerin Visceral Fat Burner comes in 30 sticks per box, and is retailing in all Xndo stores and on Xndo's webstore at 40% OFF (Usual Price: S$99.95/box).
Ever heard of the potential health and weight loss benefits of Medium Chain Triglycerides (MCT)? MCT are a form of healthy fats that can help with weight management. Extracted from coconut oil, they are readily broken down and converted into energy without being stored as body fat. Hence, foods containing MCT aid weight loss and keto diets.
The Xndo Coconut Oil Extract - MCT Enhanced Fat Burner is a tasty, smooth and fine powder (not liquid coconut oil) that conveniently comes in individual sticks and can be consumed on its own anytime, anywhere or as a midday snack. You can also add it into your morning coffee, tea or smoothie to help kick off your day in fat-burning mode or into your pre or post-workout shakes to improve performance and recovery. To eat with your keto meal, simply sprinkle the coconut oil extract powder over to add some extra healthy fat.
The Coconut Oil Extract - MCT Enhanced Fat Burner has been specially formulated to boost satiety, burn fats and calories, and promote gut health. It is lacto-vegetarian-friendly, Halal-certified, and has no added preservatives, making it a suitable health supplement for those who want to support their healthy weight management programme.
The Xndo Coconut Oil Extract - MCT Enhanced Fat Burner comes in 30 sticks per box, and is retailing in all Xndo stores and on Xndo's webstore at 40% OFF (Usual Price: S$59.90/box).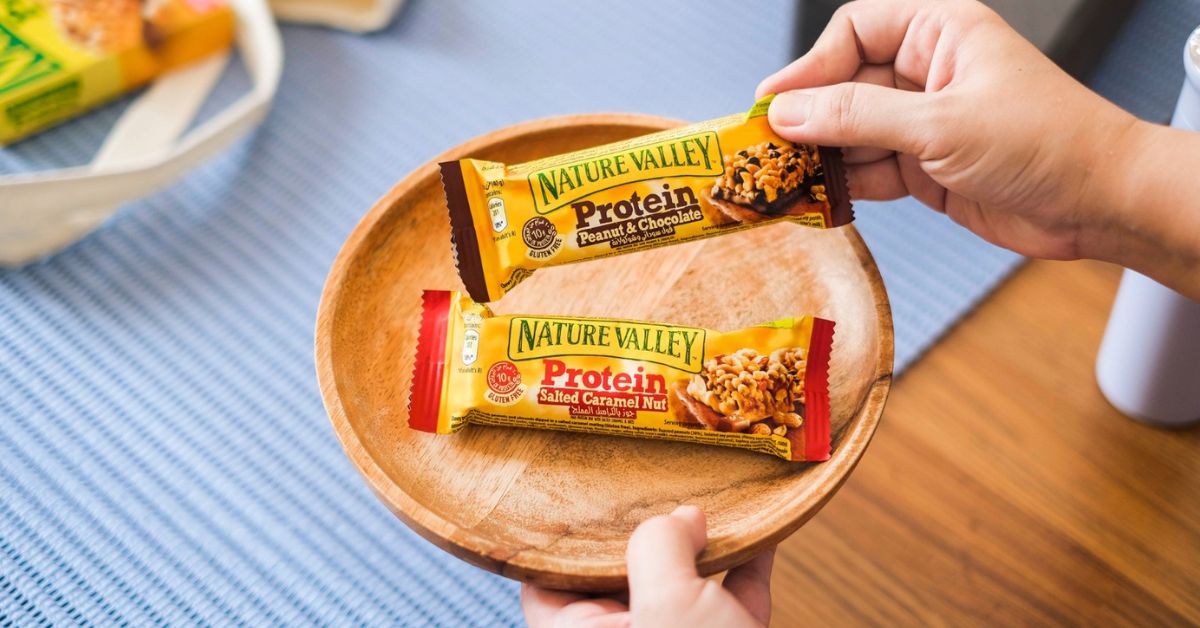 If you are on the hunt for protein bars that actually taste great, Nature Valley's latest introduction is a must-try. Inspired by nature and loaded with real ingredients, these chewy Protein Bars are packed with unique flavours and nutritional benefits to fuel you up as you go about your day. Your ideal companion for life on the go, the protein range isn't just a nutritional powerhouse loaded with real ingredients; it is truly delicious. 
Available in two irresistible flavours:
Peanut & Chocolate and Salted Caramel Nut, each Nature Valley Protein Bar is power-packed with dietary fibre and 10 grams of protein. 
Our favourite? Has got to be the chewy Peanut & Chocolate bars that have savoury lightly roasted peanuts alongside the sweet chocolate chips dipped in chocolate coating. If you prefer a crunchier bar, try the equally sumptuous Salted Caramel Nut flavour that comes with real peanuts and almonds dipped in a deliciously balanced salted caramel coating. You'll be forgiven for saving these as dessert instead! 
Nature Valley Protein Bars are free of preservatives, and suitable for vegetarians. They are also gluten-free. 
From now till 31st October 2023, purchase $20 worth of Nature Valley products at selected supermarkets and hypermarkets (inclusive of 1 box of Nature Valley Protein Bars, retailing at a recommended retail price of $8.25/box) and you can redeem your very own customisable tumbler set, available while stocks last!
​Swisse Beauty Bright Skin - Best Health Supplement for An Antioxidant Boost
Are you a fan of skin-enhancing edibles yet? As one of the popular health supplement brands in Singapore, Swisse is known for its variety of vitamins and nutrition formulas for an overall healthier lifestyle. Now, you can enjoy bright and healthy skin with Swisse too!

Swisse Beauty Bright Skin is a premium beauty nutrition formula for bright and healthy skin all year-round! A premium beauty nutrition formula, with targeted skin nutrients to support collagen formation, skin elasticity and firmness.

With a powerhouse of Nicotinamide, Vitamin C, Pomegranate and Astaxanthin, it maintains skin health and helps to reduce free radical damage to body cells.
Pomegranate, cranberry and glutathione help provide a good source of antioxidants while Rose Hip (Rosa Canina) has moisturising and anti-inflammatory properties to further nourish from the inside. Make note though, that this supplement is not vegetarian or vegan-friendly as it contains bovine collagen.

Available on Swisse.com.sg and leading drugstores across Singapore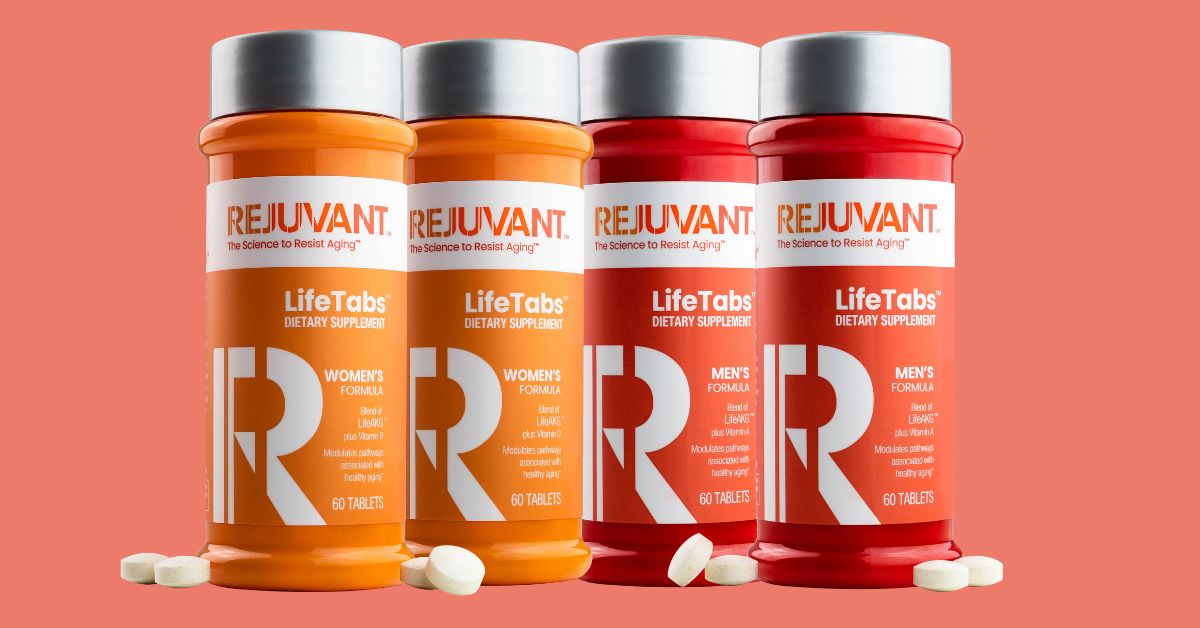 Looking for the best health supplements for anti-ageing? Rejuvant LifeTabs is brought to you by BioTech firm Regenosis which commits to its mission to extend healthspan. This health supplement not only caters to the elderly but also to anyone who wants to live a healthy life, similar to their prime years, as it boosts vitality and protects against age-related degenerative diseases that might affect one's health in the future. 
Our bodies typically produce high quantities of calcium-AKG until the age of 40, essential for cell proliferation, wound healing, and the development of muscular tissue. Even so, natural production sharply declines beyond age 40, and this deficiency significantly contributes to ageing. Rejuvant LifeTabs solves this issue by supplying our bodies with more Calcium-AKG. 
Rejuvant LifeTabs, which uses Calcium-AKG, is the only health supplement available in the market that has been clinically proven to reverse biological age by 7 to 8 years. With several formulas available for men and women, Rejuvant LifeTabs also tackles needs that are particular to each gender.
Rejuvant LifeTabs are available for purchase on Shopee and come in Men's and Women's formulas.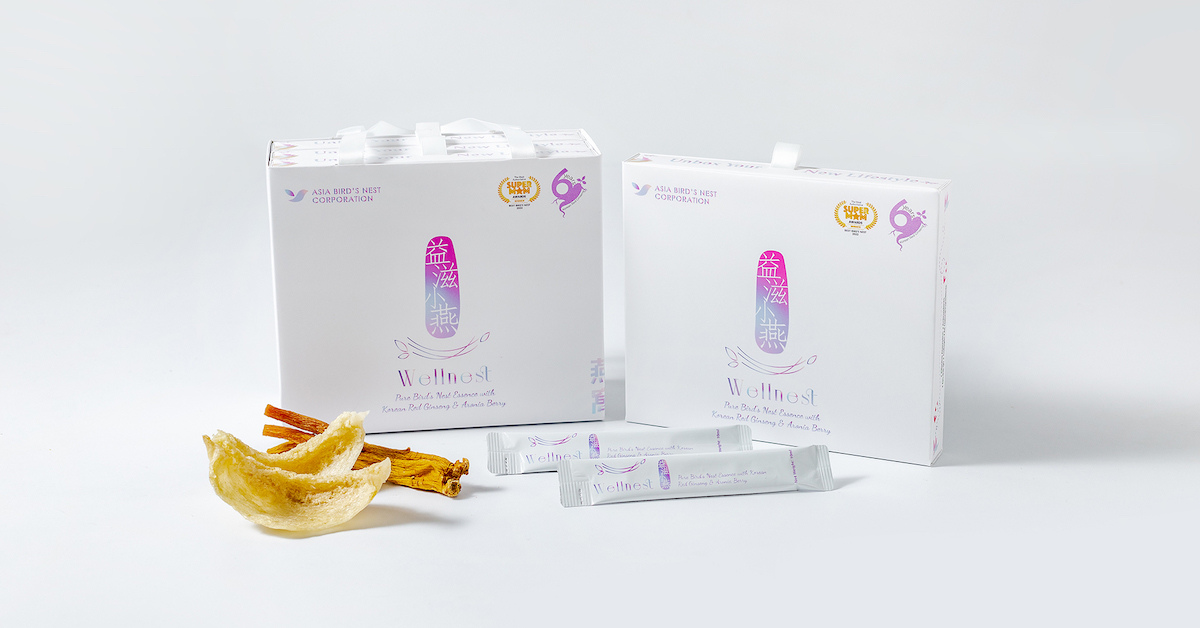 Wellnest is an innovative superfood with a first of its kind formula that boasts an absorption rate better than traditional Bird's Nest products. Packaged in a convenient sachet instead of the tedious double-boiled bowl portion, Wellnest is the perfect lifestyle product for health and beauty conscious individuals on the go. 
It is packed with micronutrients of bird's nest, prized 6-year old Korean Red Ginseng, and Aronia Berry. They add a zing of flavour and enhance the body's immune system support as well as aid digestion. 
It comes in a 10ml sachet pack that can be consumed easily at work, while travelling or playing sports. It is a convenient way to incorporate more nutrition into your daily routines. 
The efficacy of Wellnest bird's nest is proven by a registered patent, developed by a team of scientists and researchers led by Dr Lim Kah Meng, who spent almost ten years on research on molecular biomedicine to extract bioactive nutrients to create his unique 'Molecular Edible Bird's Nest'.
The one-of-a-kind product uses formulated natural enzymes to break down the bird's nest for easier absorption by the body and allows active compounds to be retained in its optimal state, thus enhancing the targeted proven benefits where regular daily intake can help one achieve better skin complexion and a healthier, stronger body.
​VÖOST Vitamins - Best Health Supplements To Fill in Nutrition Gaps 
VÖOST Vitamins, Australia's leading effervescent brand, is now available in Singapore offering a wide range of vitamins and minerals suited to help manage active and busy lifestyles.
Combining hectic work schedules, eating on-the-go and a regular exercise routine is not easy. As a result, we may not always get the essential nutrients we need in our diets. Vitamin supplements can play an important role in helping to fill in those nutritional gaps and supporting overall health.
Made in Germany, the VÖOST Vitamins range includes diverse, high-quality formulations with options that have no added sugar, no added preservatives, and even vegan variants. 
This is combined with great taste and attractive consumer-friendly packaging. VÖOST is simple and convenient to prepare. Just drop the tablet in water to dissolve, let it fizz away, and then enjoy the great tasting vitamin boost!
The range includes Vitamin C, Magnesium, Collagen, Mega B Complex, and Multivitamins. There are also two other variants that can be taken before or after a workout - Energy which supports energy production and Performance which supports muscle performance.
Available from Watsons, Guardian, Unity, Shopee, Lazada, and all other major retailers islandwide.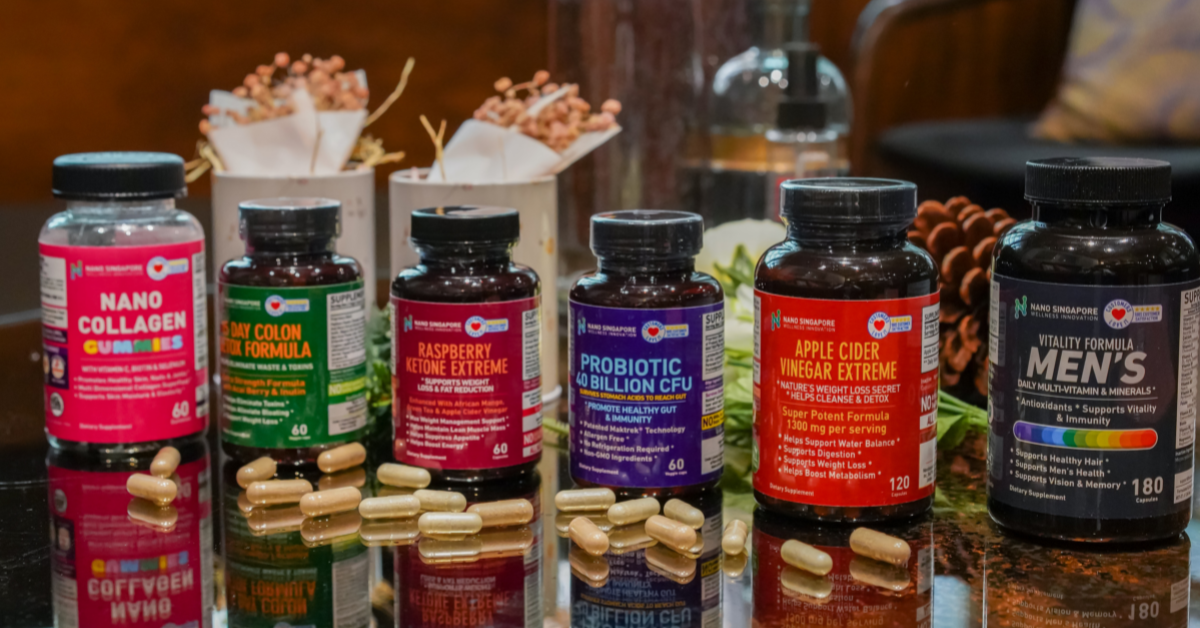 Admittedly, chasing health goals can sometimes be quite lonesome and challenging when you're keeping to a strict diet, tight workout schedule… and the people around you are not on the same journey. Well, it doesn't always have to be lonely once you have the right instruments to balance your healthy lifestyle and social life. As an award-winning solution to health and wellness concerns, that's where Nano Singapore's blends of digestive and health supplements come in.
But note! Health supplements are not miracle workers and it's not meant to get you results in a week. However, the right way of using health supplements is to provide a boost in your healthy lifestyle and keep us on track with our health goals – it allows you to stay out late and eat a little more without fully going off your set path.
For maintaining weight, Raspberry Ketones have been found to increase the natural production of Adiponectin which helps to break down stored fat cells, increasing metabolism and burning fat off your body. If you tend to experience bloatedness after meals, the Digestive Wellness Formula is a patented all-natural enzymes blend from a 365-day fermentation process of over 200 fruits and vegetables that will replenish your body's enzymes for optimal health and beauty.
For a good cleanse and detoxification of your body's digestive systems and lymphatic systems, the 15 Day Colon Detox Formula helps you out in 15 days naturally. Cholesterol issues? Apple Cider Vinegar contains health-promoting probiotics and enzymes that help to regulate blood sugar levels, help lower cholesterol levels, and promote healthy skin among other health benefits.
Especially for men, made up of 4 powerful ingredients that are natural immunity boosters – Echinacea, Beta Glucan, Spirulina, Garlic – the Vitality Formula Men's Multivitamins help boost immunity defence, provide an energy boost and improve bone and heart health.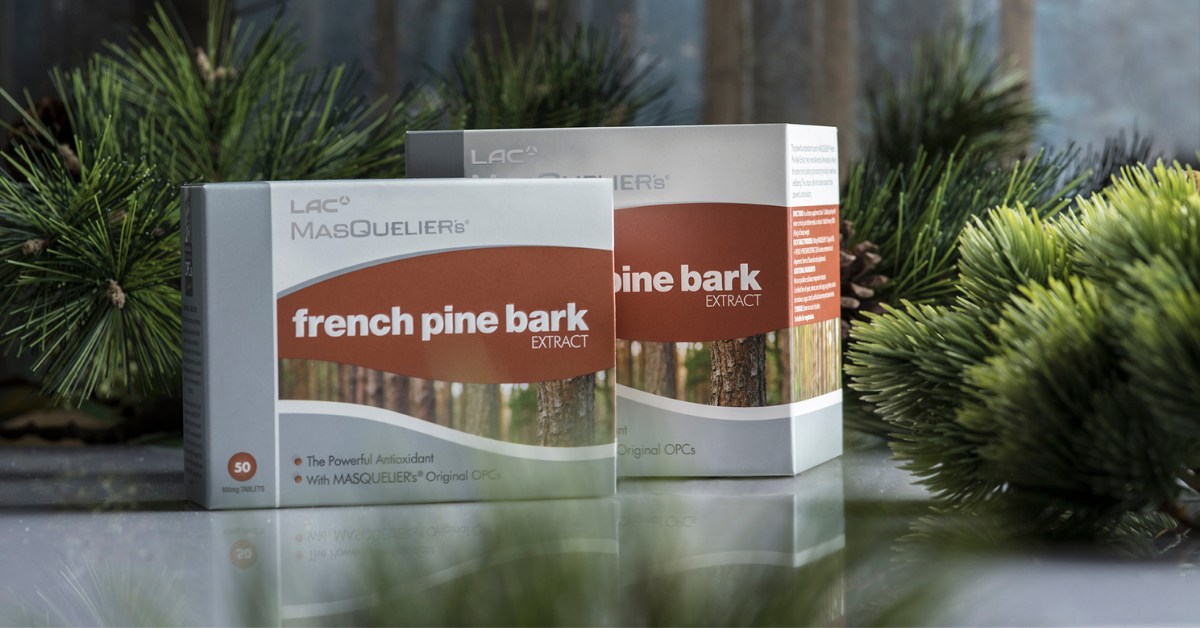 LAC (Leader in Antioxidative Control) was founded to deliver powerful antioxidants through their products to support your everyday health and wellness.
As we bustle around our busy schedules, we often leave little time for our bodies to rest. This exposes us to free radicals which damage our cells and cause our internal systems to become unbalanced. This excessive exposure to free radicals, known as oxidative stress, can lead to age-related changes in appearance such as loss of skin elasticity, wrinkles, and poor circulation – all of which can lead to premature ageing.
Combining the best of what Eastern wisdom and Western technology have to offer, LAC MASQUELIER's® French Pine Bark Extract is a powerful immune booster that harnesses the antioxidative qualities of the French pine tree for your total body protection.
Each tablet helps you to get a convenient dose of antioxidants through a safe and unique three-way action protection that: neutralise free radicals in our body to slow down ageing; improve overall blood circulation and accelerate the drainage of waste materials from our body; and strengthen and retain collagen for supple and elastic skin.
LAC MASQUELIER's® French Pine Bark Extract is retailing in all GNC stores and on LAC's e-commerce store from S$46 for a box of 25 tablets.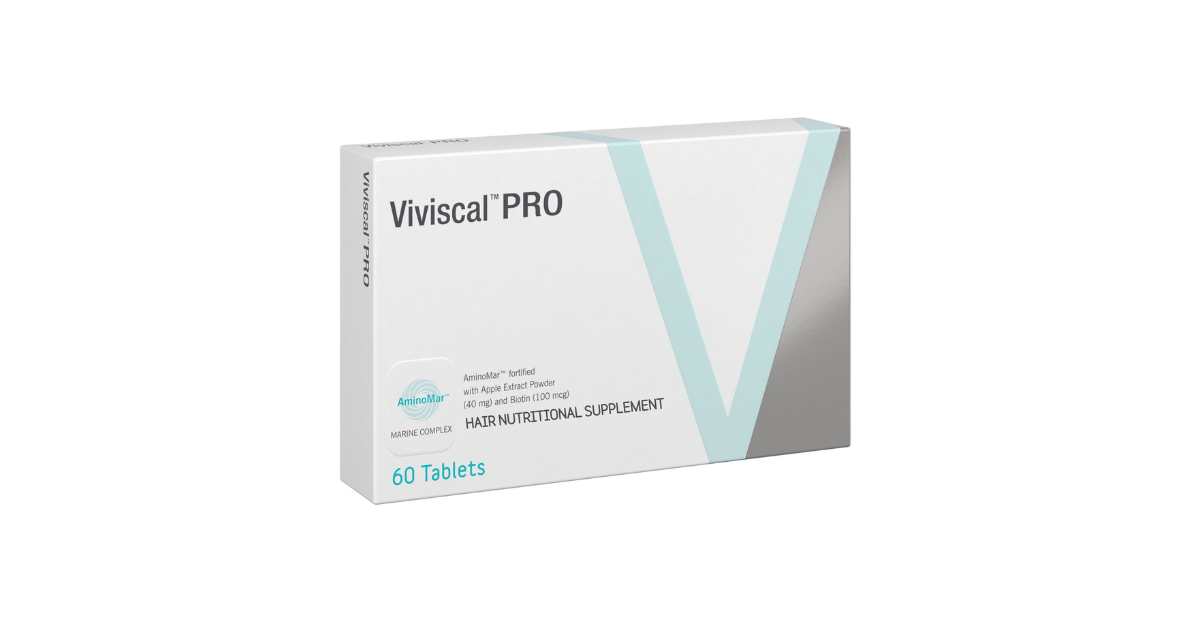 We all know it is normal to lose anywhere from 50 to 100 strands of hairper day. However, with age, stressful lifestyles, poor diets, frequent colorworks and heat styling, many men and women in Singapore are noticing an increase in the number of hair fall. Not only is our hair a reflection of our physical health, experiencing hair loss has the potential to create psychological effects such as stress, anxiety and low self-esteem.
Enter Viviscal Professional. This 100% drug-free, clinically proven, celebrity-approved haircare supplement transforms your thinning, lacklustre locks to an enviably lush one.
Backed by over 25 years of research, Viviscal PRO doctor-approved supplements nourish and strengthens hair from the inside out, providing follicles with essential vitamins and minerals for healthy hair growth from within. Its potent blend consist of the proprietary AminoMar CTM marine complex, a cocktail of vital nutrients such as Biotin, Vitamin C and Apple Extract Powder (Procyanidin B-2).
The Viviscal PRO Hair Nutritional Supplements nourish hair that is prone to breakage due to over styling, frequent use of heat tools and colouring.
Viviscal PRO is available online for S$148 for a box of 60 tablets.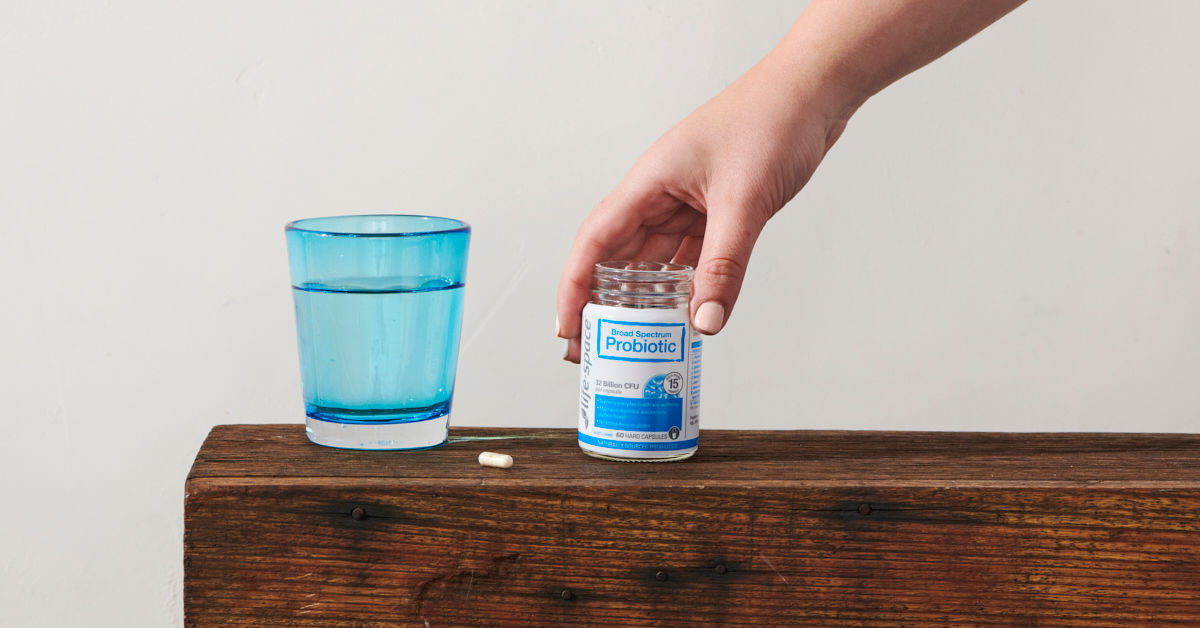 Life-Space, Australia's top probiotics, is formulated to support everyone's digestive, immune systems as well as other targeted areas to protect one's wellbeing. Premium, multi-strain probiotics suitable for the oldest to the youngest in your family, Life-Space helps to maintain a healthy microbiome.
There are currently five variations of probiotics available in Singapore. Broad Spectrum Probiotics encourage good bacterial diversity, strengthen healthy immune and digestive systems; while Shape B420 Probiotics support healthy digestive and gastrointestinal systems, aid in weight management and metabolic health.
For seniors above the age of 60, Probiotics for 60+ support stronger immune systems, improve bowel motion, and reduce the risk of upper respiratory tract infections. There's even Probiotics Powder for Children (3-12 Years) which reduce gastrointestinal, mild upper respiratory tract infections and encourage good bacterial diversity.
Lastly, Urogen Probiotics for Women support urinary tract health and function of the immune system.
Life-Space Probiotics are exclusively available in most Guardian stores and its online store from S$39.90.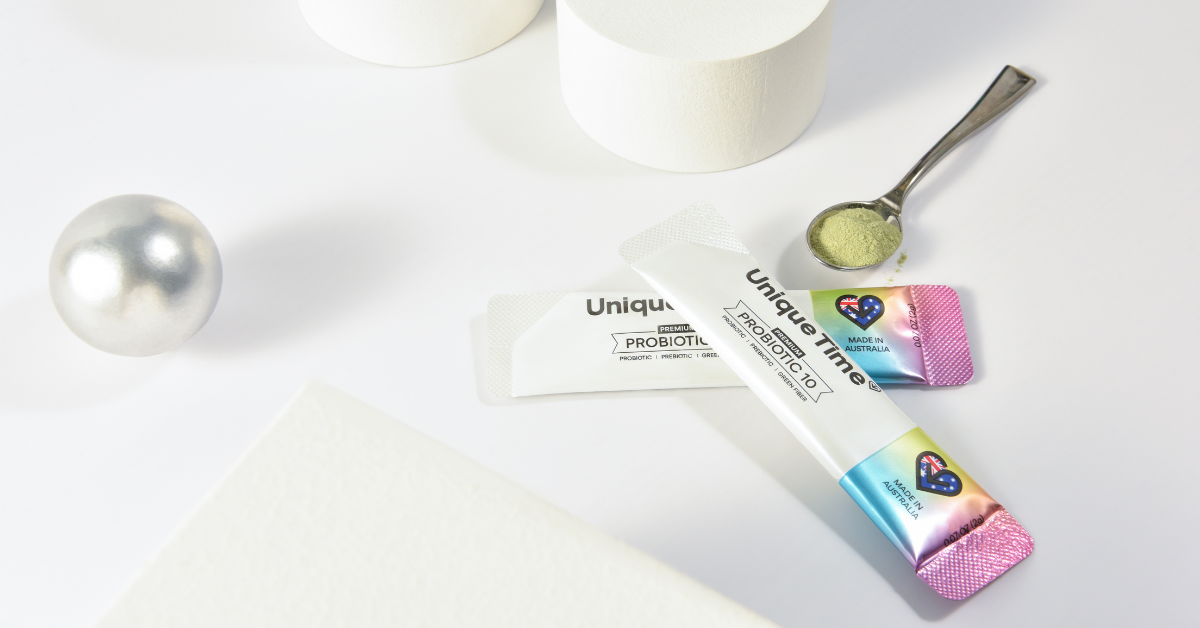 Unique Time - Best Health Supplements To Boost Immunity
Unique Time's award-winning health and immunity-boosting drink, Rejuvenate, is an antioxidant-packed health beverage, packed with vital nutrients that one would need to stay energetic. It's a convenient way to maintain a healthy diet despite a hectic schedule.
Just one shot and you're done! It's also a great way to add a little zest to your favourite juices or teas, or even as a dressing for your salads and fruit bowls. It comes in two variations, a Stamina Pack (S$33.90, 7 sachets) and a Vitality Pack (S$128, 28 sachets).
Premium Probiotic 10 is the ultimate solution for better gut function and brain health. It is a natural, safe and easy-to-prepare probiotic enhancement product that protects gut health, strengthens immune response, and promotes holistic wellbeing. Taking a serving of Premium Probiotic 10 (S$69.90, 28 sachets) daily has the ability to make a huge difference in your mental clarity and uplift your mood, changing your life for the better in the long run.
**Disclaimer: Consult a doctor before adding any of these health supplements to your diet.