beauty
Skincare Products that Are Suitable For Sensitive Skin, Dry Skin and Eczema
Published Date
: 07 May 2021 10:00
Skincare products that work for sensitive skin, dry skin and eczema-prone skin. Tried and tested!
If you have eczema, or sensitive skin you probably know that skincare is often down to trial and error and finding products that work for you. This is why, whether you have sensitive skin, dry skin or eczema, it is important to find the right skincare products for your skin. 
Here's a list of skincare products that we have personally tried and tested that worked for us. Hope they do so for you too!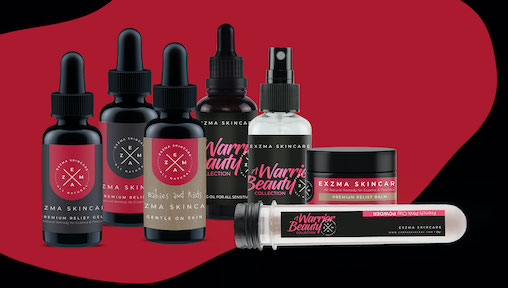 As a brand focussed on all-natural and clean products, Exzma Skincare prides itself for being organic, vegan, gluten and cruelty-free. Their products are mainly formulated for those with troubled, sensitive skin such as those with eczema, psoriasis, rosacea, acne, and red skin. Using aromatherapy as a form of healing and strengthening your skin, Exzma Skincare's team of specialists in Germany have formulated the perfect blend of essential oils, plant oils and natural ingredients that not only instantly relieve itching, but also promote healing and generation of new cells.
If you are looking for that one hero product to buy from Exzma Skincare(although the entire protocol is recommended as a set), take a look at their 100% Natural Skin Soothing Oil. This natural soothing oil provides deep hydration for dry, cracked, flaky skin, not to mention, normal skin types too. It also serves to soothe itchy, red, and inflamed skin. The Natural Soothing Oil can also be used as a moisturizer to finish off your skincare ritual for a renewed, radiant glow!
Vanilla Luxury Raves: All of Exzma Skincare's products are a 100% natural (essential oils and plant oils), organic, vegan and gluten-free. They are also free from steroids, alcohol, and all chemicals. Their skincare products allow for a holistic experience where you can enjoy the natural aroma from the essential oils that double up as great tools for relaxing and self-care! 
With results visible in less than a week, some results do take longer depending on your skin and results may vary. You'd be hard-pressed to find a skincare range this suitable for sensitive and eczema-prone skin of all ages in Singapore.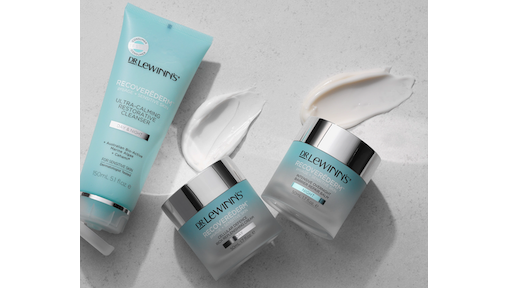 Dr. Laurence LeWinn, one of the world's most distinguished reconstructive dermal surgeons, created his range of advanced skincare products in 1989 for anti-ageing. The Australian brand has launched a new range, Recoverëderm, for sensitive skin. The products currently available for sensitive skin are mostly formulated with less ingredients, therefore do not always provide the additional effective skincare benefits you may be looking for, such as treating fine lines and wrinkles. 
The Ultra-Calming Restorative Cleanser is a luxurious, gentle hybrid gel and cream cleanser which is pH balanced and non-foaming to remove makeup and the day's grime. It works to protect and defend the skin's barrier, which is essential when treating sensitive skin.
The Gentle Skin-Protecting Toning Mist is an alcohol-free, moisture-rich toning mist which works to instantly calm and refresh the skin. The gentle Australian Marine Algae Rescue Mask is designed to calm, soothe and comfort sensitive skin, using luxurious bio-cellulose technology which acts like a second skin adhering to the face perfectly and delivering an instant and continuous moisture surge. 
In the day, use the Cellular Defence Rich Replenishing Cream - a moisture-rich cream that helps to reduce skin reactivity, the irritating feeling that comes with dryness, and over-stress or sun damage. Working to form an invisible physical protective barrier against external aggressors, the Intensive Overnight Barrier Repair Balm encourages an increase in moisture retention.
Each product within the Recoverëderm range is free from sulphates, alcohol, parabens, fragrances and mineral oils.
Dr LeWinn's skincare products are available in Singapore via Dr. LeWinn's LazMall and Shopee  McPherson's Official Store.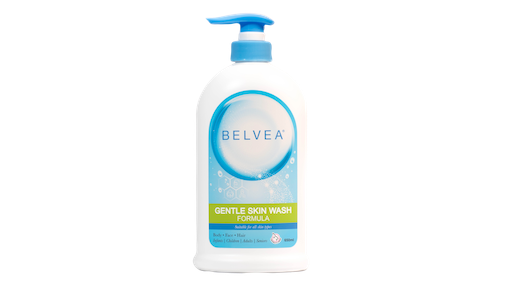 Introducing BELVEA's skincare range. By maintaining its stance as a clinical healthcare brand, BELVEA thrives in helping its customers to alleviate their symptoms of sensitive skin through its affordable and simple clinical dermatology range. This range is not only 30% - 40% lower in price point as compared to similar brands in the market, but is also formulated with simple and low-irritation-index ingredients, ensuring that consumers are reaping the benefits of the essential ingredients, without potentially harmful enhancers like fragrances and colouring that can be easily found in similar skincare products.
The BELVEA Gentle Skin Wash Formula is a synthetic botanic formulation and it does not contain any animal origin products. In fact, it is so gentle that it can be used on an infant's skin, baby's skin, children's skin, adult's skin and old-aged skin!
Vanilla Luxury Raves: BELVEA's Gentle Skin Wash Formula is a versatile full-body wash that can be used as a fash wash, body wash and shampoo. It does not contain the common soap agent Sodium Lauryl Sulphate (SLS) which irritates sensitive skin. Unlike other soap-free cleansers, this product lathers well, and at the same time, effectively moisturises the skin.
BELVEA Gentle Skin Wash is available for S$20 from Shopee.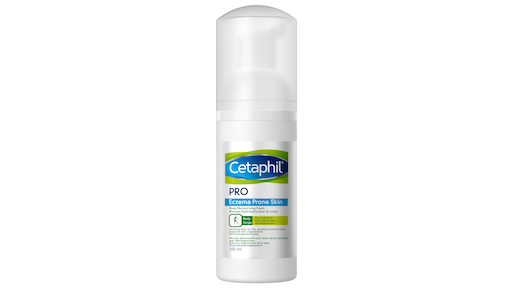 Known as "the itch that rashes", atopic eczema is a recurring condition that requires medical attention and a proper skincare regime. Undoubtedly, the worst thing about atopic eczema is the intense and incessant itch, which often leads to uncontrollable scratching, triggering the release of inflammatory mediators that cause redness and rashes.
This Cetaphil range is all formulated to contain synthesised oat extract, dihydroavenanthramide D. This ingredient mimics the natural calming effect of oats in reducing itch and irritation, gently and effectively helping to break the itch-scratch cycle. 
The PRO Eczema Prone Skin Body Moisturizing Foam provides immediate itch and dryness relief, strengthens the skin barrier, and has a sustained soothing and calming effect.
Cetaphil® PRO Eczema Prone Skin product range is exclusively available at clinics, hospital and polyclinic retail pharmacies.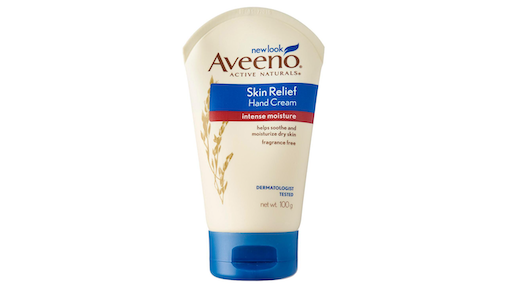 Formulated with prebiotic oat, the Aveeno Skin Relief range is clinically proven to soothe and relieve itchy, dry and sensitive skin. Gentle on sensitive skin, it helps to restore essential moisture for healthy-looking, balanced skin.
Prebiotic oat also helps to balance microbes on your skin and soothe dry, itchy skin from first use. Aveeno's unique prebiotic triple oat complex, a breakthrough formulation featured in the Aveeno Skin Relief Moisturizing Lotion, combines colloidal oatmeal, oat extract and oat oil to help seal in moisture, calm skin and strengthen skin's moisture barrier.
Prebiotic oats are one of the most beneficial skincare ingredients available, nourishing dry skin with exactly what it needs. It helps to promote your skin's natural barrier, ensuring you have a healthy, balanced complexion. 
The Aveeno Skin Relief Hand Cream is intensely hydrating and even lasts through hand washing while leaving hands feeling soft, smooth and protected for 24 hours. Non-greasy, fast-absorbing, steroid-free, fragrance-free and gentle enough for sensitive skin. The Aveeno Skin Relief range is available at leading online and offline retailers including Guardian, Watsons, Lazada, FairPrice and Shopee.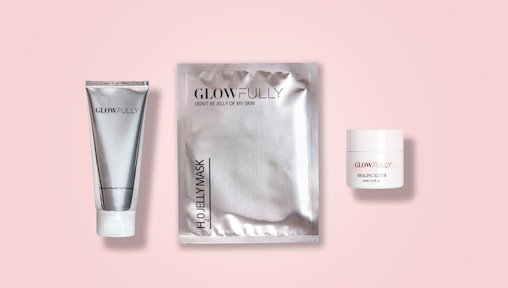 Glowfully's Founder Charlene battled with sensitive, acne-prone skin and eczema while growing up and when her mother battled cancer, she was determined to create a skincare brand that resonated with her belief that skincare should be simple and effective. Glowfully products are formulated without Paraben, Phthalates, Sulfates and Formaldehyde. Besides creating clean beauty products, Glowfully also hopes to have formulations that would cater to Singapore's hot and humid environment.
Vanilla Luxury Raves: Glowfully Charcoal Beads Gel Cleanser is a gentle gel cleanser that detoxes your skin without stripping away your skin's essential moisture. It contains charcoal that acts like a magnet to draw out pore-clogging pollutants and impurities.
Glowfully's Hydrating Mist Toner is the perfect spritz that is formulated to deliver the moisture-attracting hyaluronic acid deeper into your skin, restoring your skin to its optimum condition.
Glowfully's Healing Elixir is a gel moisturiser packed with nutrients that are specially tailored for sensitive skin. Bursting with amino acids, soothing aloe vera and chamomile extract; this refreshing and cooling gel emulsion is formulated to instantly quench your skin and soothe any irritation. It is quickly absorbed into your skin without leaving any residue.
Glowfully's H2O Jelly Mask is an affordable sheet mask for a weekly skin treat. Made with Aloe Vera, Acerola Cherry, and Carrageenan, these ultra moisturising face masks have antioxidating and collagen boosting properties. We love how you can dissolve your mask in hot water which turns into an essence that can be applied on your body!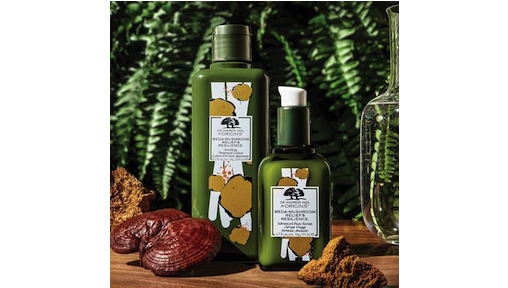 By combining naturally-derived ingredients with the power of science, Origins' famed Mega-Mushroom Power Duo, is formulated with Multi-Biotic Technology that helps strengthen skin's 'natural armour' for visibly healthier skin that's more resilient, luminous and translucent-looking. Recommended for red, sensitive skin types,  Dr Andrew Weil's Origins Mega-Mushroom range helps to rapidly reduce the appearance of sensitivity-caused redness for a healthier look.  
The Mega-Mushroom Skin Relief Advanced Face Serum is fortified with Sea Buckthorn plus skin-repairing Reishi, irritant-soothing Chaga and Cordyceps mushrooms, long used in Chinese medicine to heal, promote longevity and improve health.
Another power horse for sensitive skin types, the Mega-Mushroom Skin Relief Soothing Treatment Lotion is a mushroom-infused, hydrating, watery lotion that reduces the look of redness with just one use and preps cleansed skin for serum and moisturiser. You can now discover the Limited Edition Power Duo, beautifully visualized in an exclusive collaboration with famed illustrator Bruno Grizzo too. 
Vanilla Luxury Raves: Our Editor-in-Chief has really sensitive skin and has tried and tested several skincare products from Origins. She was really impressed with Origins Mega-Mushroom Relief Treatment Lotion and Advanced Face Serum that has helped to reduce the redness and dryness on her cheek. She saw an improvement in her skin condition after a week of application.
Suu Balm™  is formulated by Dr Tey Hong Liang, who runs the Itch Clinic at the National Skin Centre, a regional centre of excellence in skin disorders. With body wash, eczema creams and moisturisers and hairspray aiming to restore the natural skin barrier and provide rapid itch relief, Suu Balm™ helps to prevent excessive scratching to the point where your skin starts to bleed and become inflamed. 
Suu Balm™ products contain menthol and high concentration ceramide-based moisturiser that work within minutes to relieve itch and soothe your skin. The cooling effect from the menthol encourages frequent application, which is essential to allow the ceramides to repair the skin barrier. 
Vanilla Luxury Raves: Soothe and relieve your irritated and sensitive scalp with just a spray. Bestseller Suu Balm™ Rapid Itch Relief Scalp Spray Moisturiser is a rapid itch relieving water-based scalp spray moisturiser ideal for those with scalp conditions. 
Control your eczema and request for a sample from Suu Balm™ today. Available to Singapore, Malaysia, Ireland and South Korea residents only.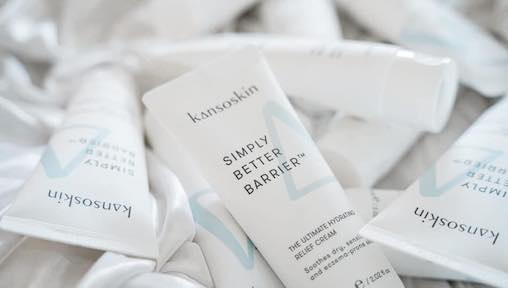 Want skincare for even the most sensitive of skin types? Kansoskin was founded by a brother-sister team to help people with compromised skin conditions find skincare that works. 
Their first product, the Simply Better Barrier™, a hydrating relief moisturiser is meant for use on the face and body. It's also perfectly fine to use for pregnant women and babies! 
As low pH and deeply nourishing moisturiser, it brings all-day comfort and relief. Ceramides and other superstar hydrators reinforce the skin's barrier and boost moisture levels. Combined with pre and probiotic complex and 17 types of Asian botanicals with anti-inflammatory and antioxidant properties, it reduces signs of sensitivity and balances the skin's natural microbiome. Formulated in Singapore and manufactured in South Korea, Kansoskin is fragrance-free, essential oil-free, pH balanced, cruelty-free and vegan. The brand uses mainly 17 types of Asian botanicals and pre and probiotic complex to restore balance to the skin's microbiome. 
Vanilla Luxury Raves: Since this product is designed for Singapore, Simply Better Barrier is lightweight and is suited for tropical climates. Other than a significant improvement in scaly and eczema-ridden hands, we also found it didn't leave a sticky feel to the skin. 
A handy tip we learnt from the brand was to apply our favourite hydrating balm on top of SBB™ and seal in moisture for longer. It also works well with natural oils - just add a drop or two and you'll uplift your routine(and mood) by miles!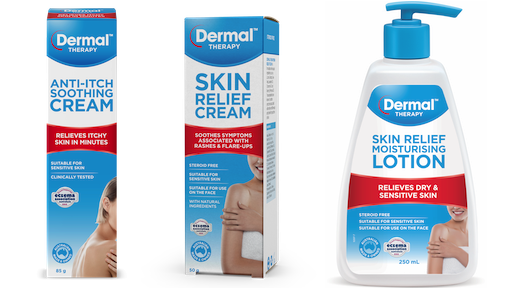 A result of in-depth product development, Dermal Therapy was developed to deliver the utmost efficacy in skincare. Their range of Skin Relief products moisturize and protect your skin while providing relief from that all-encompassing itch. Dermal Therapy Skin Care has been developed with Advanced Active Technology - containing Urea and Dimethicone in a rich emollient base, these products have been clinically proven to deliver the highest efficacy.
Vanilla Luxury Raves: Made with gentle formulations, sensitive or irritated skin will find great comfort in the soothing effect these products offer. Those with dry and sensitive skin should try Dermal Therapy's Anti-itch Soothing Cream that relieves the skin of itchiness and symptoms associated with rashes and flare-ups. For longer, daily hydration, consider the Dermal Therapy Skin Relief Moisturising Lotion which is designed to provide hydration for irritated skin for 24 hours. Available islandwide at Guardian, Unity, Watsons, Lazada, and Shoppee.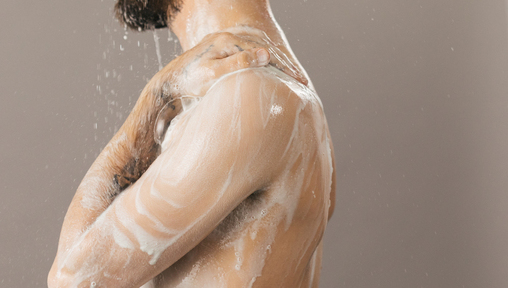 When your eczema is not flaring up, here's a luxurious and pampering shower cream to indulge in. Lush Cosmetics carries the Oaty Creamy Dreamy Shower Cream that is suitable for people with dry and sensitive skin.
Vanilla Luxury Raves: It contains Oats Milk which soothes and calms your skin, Organic Extra Virgin Olive Oil to moisturize and protect your skin, Fair Trade Organic Cocoa Butter to soften and condition your skin, and Rose Absolute which balances your skin. After taking a shower with it, we like that it did not strip off the natural oils of our skin and our skin felt soft and supple. 
Their Dream Cream has been a sell-out ever since a mum in United Kingdom claimed that it cured her 4-month baby eczema. Their Dream Cream is light, cooling, and easily absorbed into the skin. It consists of calming chamomile, organic, extra virgin olive oil, and creamy, Fair Trade, organic cocoa butter which quickly soothes and softens your skin.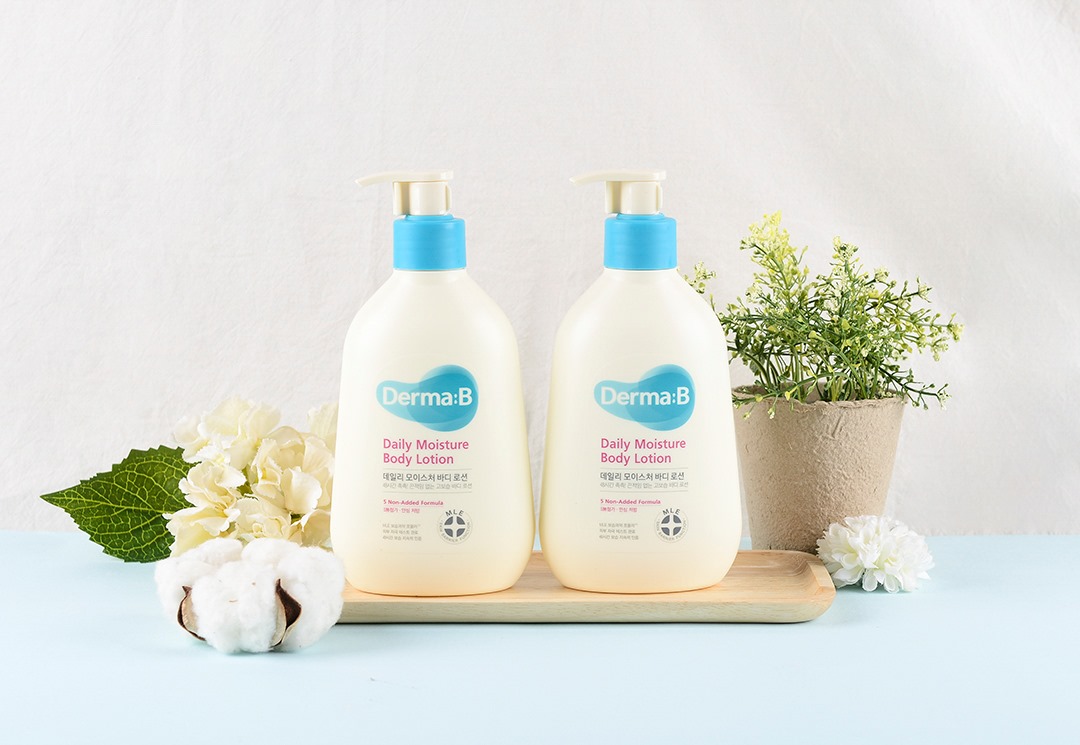 With it's breakthrough MLE® Hydration Science Formula™, Derma B leaves your skin moisturised for 48 hours without any irritation. The MLE® Technology uses natural plant derivatives to lock in moisture and help restore healthy skin, especially for those with stretched, cracked and eczema-prone skin. With its similar skin barrier structure, the MLE® technology aids fast absorption without feeling stickywhile leaving a long-lasting moisturising effect. All it takes is one application and it provides TWICE the hydration to your skin! This patent technology is implemented to all DermaB products.
Vanilla Luxury Raves: We especially liked the Derma B's Mild Moisture Milk Oil that gives you more hydration than a lotion but is less sticky than a regular body oil. Their Derma B Mild Body Moisture Lotion does not contain Fragrance, Parabens, Phenoxyethanol, Mineral Oil, Colorants and Ethanol, making it suitable for dry and eczema-prone skin.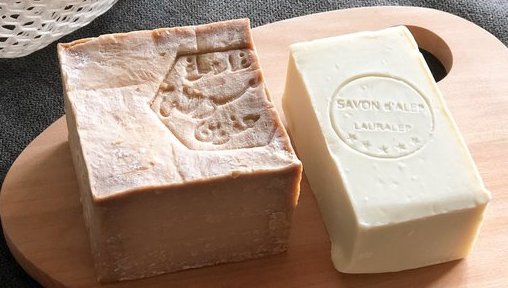 The Fair-trade Aleppo Soap is the ultimate gentle soap to heal different types of skin issues such as dry skin, eczema, acne, psoriasis and rosacea. The Fair-trade Aleppo Soap has four types of soaps in different laurel berry oil concentrations, which gives off soothing experience to dry skin and eczema sufferers. 
Vanilla Luxury Raves: The Legendary Aleppo Soap with 75% laurel oil is a creamy, antibacterial soap bar that is rich in vitamins and antioxidants, leaving your skin calm and hydrated. If you have eczema, use the soap as a face or body mask to soothe inflamed and itchy spots on your body.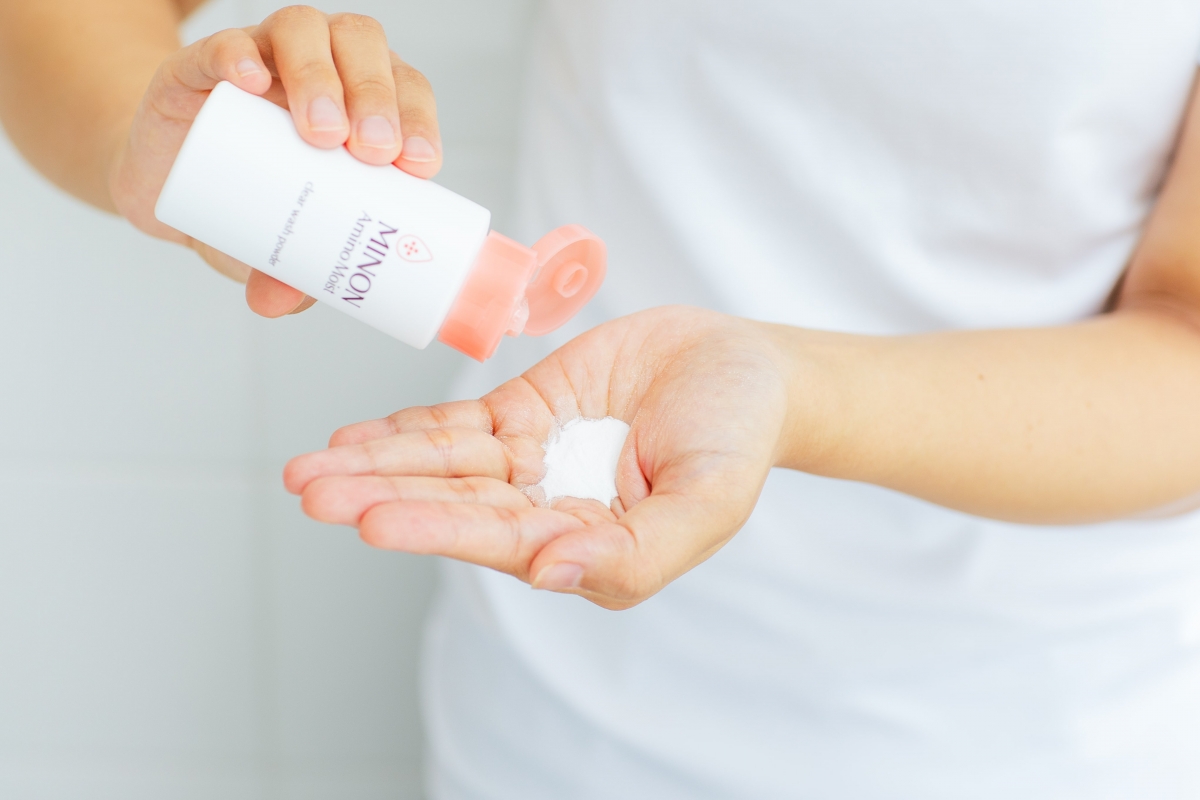 Japanese skincare brand has now broadens their sensitive skin-friendly range with the all-new Clear Wash Powder. Specially formulated for those with sensitive and dry skin, this is the very first enzyme facial powder cleanser by the brand.
MINON Amino Moist Clear Wash Powder offers a delicate cleansing alternative with its professional blend of amino acids and active enzymes. Alongside the gentle exfoliation action that removes dead skin cells and blackheads, the botanical amino acid-based cleansing ingredients also replenish and strengthen the skin's moisture barrier. This enzyme cleanser rids the skin of dullness by accelerating the removal of excess melanin with skin clarifying amino acids, and removes unwanted keratin that slows down cell renewal.
Vanilla Luxury Raves: We love that our skin did not feel dry or tight after several washes which shows how delicate it is.
MINON Amino Moist Clear Wash Powder is priced at $21.90 per bottle (35g), and available at Watsons, Don Don Donki, Welcia-BHG, Tokyu Hands, Venus, and MEIDI-YA Supermarket.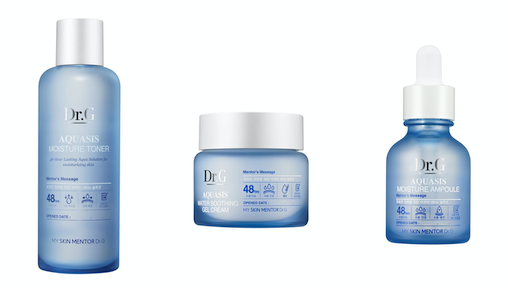 Korean's No. 1 cosmeceutical brand, Dr.G was created by Dr. Ahn Gun-young, CEO of Gowoonsesang Cosmetics.
With more than 1 million clinical experiences over 20 years, which involved 33 dermatologists, 80 nurses and 100 aestheticians, Dr.G offers you the pleasure and convenience of skincare at home as if receiving professional care at the clinic. Today, Dr.G is regarded as the epitome of K-Beauty, evidenced by its many accolades.
Hydration is key to conditioning the skin and balancing oil production. Created for those who suffer from insufficient moisture levels in their skin and recommended for those with dry to oily skin, the Dr.G Aquasis range provides powerful moisture for hydration that lasts for more than 48 hours. Moisture particles penetrate deeply into the skin and increase the absorption rate for denser skin, providing immediate moisture that truly lasts.
Vanilla Luxury Raves: The three-step process - starting with toner, then water soothing gel, and finally moisture ampoule - is comprehensive and powerful yet lightweight. The Buckwheat Seed Extractor in the gel leaves a cooling effect, while the Aloe Vera in the ampoule calms the skin.
The collection is exclusively available online from Watsons and selected Watsons stores.