We were recently delighted to meet Peru's Ambassador to Singapore, His Excellency Carlos Raul Vasquez Corrales and loved his enthusiasm about his country, Peru. Read on to find out more about Peru and what this country in South America has to offer.
Vanilla Luxury: What do you love most about Peru?
H.E. Carlos Raul Vasquez Corrales: What I love most about Peru is the fact that my country is considered one of the cradles of human civilization. Peruvians are proud of their long history. The prestigious British historian Arnold Toynbee identified the Andean civilization, that developed in Peru and some of its neighbouring countries, as one of the oldest nodes of cultural irradiation in the world. The uniqueness of this particular historical process is its complete autonomy. The Andean civilization developed without any kind of interchange with extra regional cultures, unlike the civilizations which emerged in the Eurasian landmass. This element explains its remarkable originality.
One of the most sophisticated expressions of Andean civilization is the archaeological ruins of Machu Picchu that nowadays is the main tourist attraction of Peru.  They represent an astounding example of the architectural refinement of this civilization and its wise adaptation to natural configuration of the rugged and steep Peruvian territory. Machu Picchu was built by the Incas but the empire they developed was the last expression of a historic process of more than four millennia. Before them cultures such as Caral, Chavin, Nazca, Mochica, Wari and Chimu paved the way to the emergence of the powerful Inca empire discovered by Spaniards in the beginning of the sixteenth century.
The Andean civilization was able to create, in an extremely diverse natural landscape, an elaborate agriculture which contributed to the world with products that now are staple food in international markets such as potatoes, cocoa, peanuts and quinoa among others.  In my opinion, this natural richness is the bedrock of Peruvian cuisine that was significantly enriched with the influence of Spanish, Arab and African ingredients and cooking techniques. Finally, in the nineteenth century large waves of Chinese and Japanese migrants arrived in Peru which gave an added value to our gastronomy.  This incredible mixture of flavours, textures, smells and colours from all over the world generated the exceptional value of Peruvian cuisine.
The presence of large Chinese and Japanese communities in Peru has developed, in spite of distance, a special connection with Asia. In Peru you can find a South American extension of the "bamboo network" established between China and countries in Southeast Asia, and is a very interesting common feature between Peru and Singapore.
To sum up, old historic traditions and natural and human diversity are key concepts to understand the exuberance of Peruvian culture and cuisine.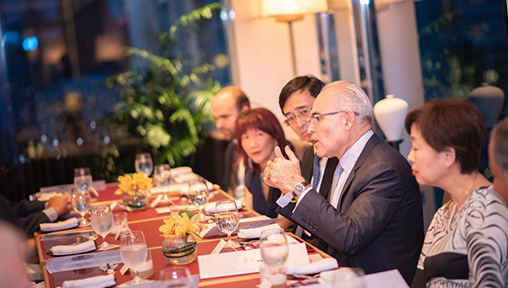 Vanilla Luxury: What are some Peruvian dishes that you can't live without?
H.E. Carlos Raul Vasquez Corrales: There is a lot of delicious Peruvian dishes but, if I had to choose, I would stick with "ceviche", "lomo saltado" and "aji de gallina". The first dish is a tasteful combination of raw fish marinated in lime juice with salt and Peruvian, chillies like the famous yellow chilli, accompanied by cilantro, onions, corn and sweet potato. In accordance with some historians, ceviche was already consumed in precolonial times in Peru. Apparently the original population of my country prepared raw fish marinated with juices of local fruits like tumbo or purple corn. Spaniard brought limes and the Japanese influence improved with some ingredients this mouthwatering delight.
The second dish "lomo saltado" is a beautiful combination of beef fried in a wok with yellow Peruvian yellow chilli, soy sauce, vinegar, tomato and onion, accompanied by deep fried potato slices and garnished with freshly chopped cilantro.  This dish is an emblematic example of the influence of Chinese migrants who arrived in my country since the middle of the nineteenth century and had a profound effect on Peruvian eating habits.  With its Asian soy sauce twist, this dish is a family favorite all over Peru.
Finally, "aji de gallina" which is a perfect example of fusion of Spanish and native ingredients.  It is boiled chicken shrouded in a delectable sauce made of soaked bread, Peruvian yellow chilli, cumin, freshly ground pepper, parmesan cheese and nuts.  This heavenly dish sometimes reminds me of the tasteful and subtle concoctions of the Indian food.     
Vanilla Luxury: Your favourite Peruvian restaurants around the world?
H.E. Carlos Raul Vasquez Corrales: In the last two decades Peruvian cuisine has experienced a real boom thanks to its traditional quality and sophistication and a new generation of very creative Chefs deeply engaged with the task of promoting Peruvian food overseas.  The Peruvian government and people are also committed to this national mission that has given us a purpose.
Among the great number of restaurants that have been established around the world, I would recommend Lima and Floral Lima restaurants in London and Ichu Peru in Hong Kong whose owner is the star Michelin winner Peruvian Chef Virgilio Martinez. I would also recommend Manko restaurants in Paris and Yakumanka in Geneva managed by the prestigious Peruvian Chef Gastón Acurio. If you go to Santiago in Chile or Bogota in Colombia, you could visit the restaurant Astrid and Gaston in both capitals. In Macao you could enjoy the delicacies of the Peruvian restaurant "Aji" influenced by the talent of the Peruvian-Japanese Chef Mitsuharu Tsumura. In Shanghai, you can visit the restaurant Colca conducted by the veteran Peruvian Chef Eduardo Vargas and, of course, here in Singapore the very famous Peruvian restaurant "Tono" of our dear Chef Daniel Chavez.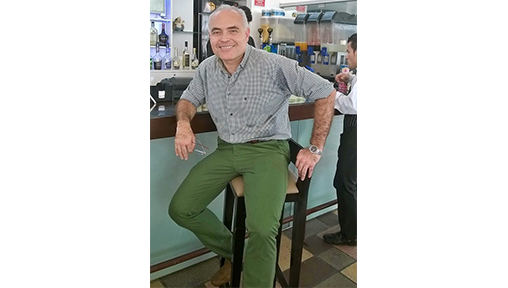 Vanilla Luxury: Peru is known for its Pisco. What are your recommendations for the best Pisco?
H.E. Carlos Raul Vasquez Corrales: Pisco is the national drink of Peru. It is a denomination of origin recognized by several countries in the world.  It can be produced only in some specific valleys of the Peruvian coast on the basis of eight varieties of grapes whose fermented juice is submitted to a process of distillation.  Four varieties are used to elaborate non aromatic Piscos and another four to produce aromatic ones. The blend of two or more varieties of grapes become what we call "acholado" Pisco. The finest version of Pisco is "mosto verde" to drink neat.     
The "quebranta" variety of Pisco or "acholado" Pisco are the best to produce the iconic cocktail of my country that is known as "Pisco Sour" but it is possible to prepare a large diversity of cocktails with Pisco, even with some local fruits here in Singapore or South East Asia like jack or dragon fruits. 
Vanilla Luxury: What do most people not know about Peru?
H.E. Carlos Raul Vasquez Corrales: Usually most people know Machu Picchu as one of the most emblematic cultural and touristic sites of Peru. Peruvian food has also become one of the most famous attractions of my country.   Some people associate Peru with the very good soccer team we had in the 1970's and 1980's and the current team which participated in the last Soccer World Championship in Russia.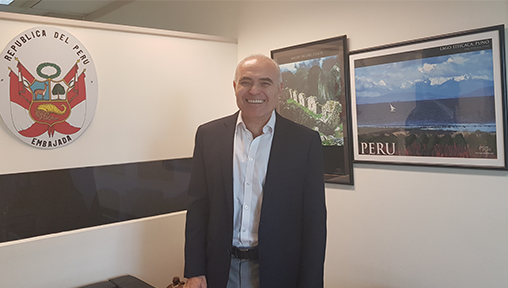 Vanilla Luxury: If you were asked to plan the itinerary for someone visiting Peru for the first time, what would be your travel recommendations?
H.E. Carlos Raul Vasquez Corrales: My first recommendation of course would be to visit the archaeological ruins of Machu Picchu and the amazing city of Cusco that was the capital of the Inca Empire. I would include in the itinerary a visit to the islands of the Titicaca Lake in Puno, the beautiful colonial city of Arequipa, a flight over the Nazca Lines, a gastronomic adventure in the best restaurants in Lima, a stay in the cozy resorts of beaches located in the northern coast and sailing along the captivating Amazon River.
Last but not least, I would also suggest visiting a new and fabulous attraction in the Andean Mountains close to the Amazon jungle: the fortress of Kuelap which is more than one thousand years old and  surrounded by an inspiring and misty natural landscape.