Who doesn't want to come back to a stylish and comfortable home? If you're looking to give your home a makeover or just inject some new life into certain spaces, check out our top picks for home decor and furniture in Singapore. You're sure to find pieces that spark joy!

For over 20 years, Journey East has been curating unique home furnishings from around the world. You'll find an eclectic selection ranging from stylish contemporary and timeless collections to restored vintage rarities and designer décor from exciting international interior brands such as District Eight, d-Bodhi, Qeeboo, Tala, Pappelina, United Strangers, and their in-house PLAYplay collection designed by Lanzavecchia + Wai for Journey East.
If you're looking for exclusive home decor products and furniture in Singapore, Journey East is the place to go. From unique metallic chairs in the shape of rabbits and luxe leather chairs to hand-knotted rugs and pendant ceiling lights, you're sure to find something to suit your home aesthetic.
Location: #03-02, 315 Outram Road, Tan Boon Liat Building, Singapore 169074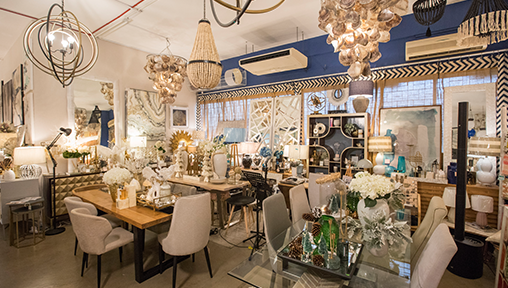 Started by self-trained interior stylist Caroline Chin Geyler, award-winning Arete Culture offers a one-stop-shop for furniture in Singapore as well as styling services. Arete Culture helps you transform your home with their complete home makeovers, styling services catered for renters who are conscious of investing too much into a temporary home, and express styling to optimise your space. They can also create bespoke pieces in their studio in three weeks and usually complete the styling and installation within a day.
Over at the Arete Culture store, you'll come across a wide selection of key pieces that make a home - dining tables and chairs, media consoles, wallpapers, lighting, textiles, cushion covers, artwork, mirrors, and statement accessories - including limited edition pieces and their in-house bespoke collections. Unsure of what to get? Just ask one of Arete Culture's expert stylists!
Location: #06-01 (Main) & #06-04 (Outdoor Living), Tan Boon Liat Building, 315 Outram Road, Singapore 169074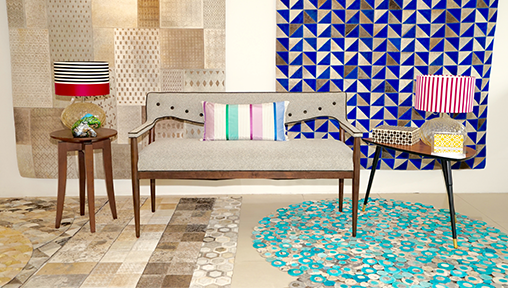 The Cinnamon Room offers a fabulous range of home accents and personalised design consultancy services by its owner, Singapore-born Visha Nelson, to turn a house into a stylish home. As an award-winning carpet and rugs store, you can find hide rugs using the finest quality of ox and cowhides ethically sourced from South America and India.
Apart from being available in standard stock sizes, all their rug designs can be customised as a bespoke piece to suit your space perfectly. The Cinnamon Room rugs are easy to clean, with food and drink stains being easily wiped off without seeping into the rugs. From vibrant hues, metallic hides with a glamorous shimmer, monochrome bold statements or stunning laser etched designs, The Cinnamon Room has something to suit every home!
Location: #02-74, Block 43 Jalan Merah Saga, Holland Village, Singapore 278115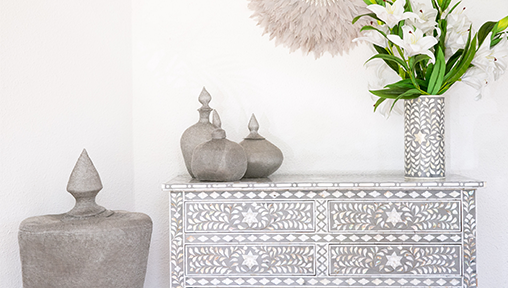 Founded in Singapore by Designer, Josephine Blunck, Hacienda Blue designs and sources unique, high-quality homewares and furniture in Singapore. Looking to customise your furniture and homewares made from bone inlay or mother of pearl inlay? Hacienda Blue works with artisans from India to bring you customised furniture made by hand using traditional techniques mixed with modern designs and colours to create striking pieces, which complement modern, contemporary and traditional décor.
It's as simple as providing Hacienda Blue with your required dimensions, colour and pattern, and voila, they create the furniture and homewares for you! If you're not sure exactly what you're looking for, take a look at their past custom work created for clients for inspiration.
Location: Woking Road, Singapore 138696
Call (+65) 9866 1024 or email [email protected] to make an appointment.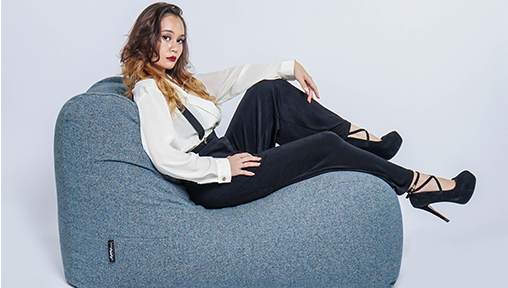 mrphy is a curated online marketplace that offers quality home accessories that complement not only your interior style but your personality as well. Find what you want easily; search by decor styles such as Scandinavian, minimalist or industrialist. Or search by room - whether you're looking for homeware for your living room, cushions for your bedroom, kitchenware for the kitchen, or even outdoor furniture for your balcony.
Mix things up a little at home and office with the wide range of high-quality bean bags offered at mrphy from SoftRock Living and doob Bean Bags. SoftRock Living bean bags are designed to complement a contemporary interior, yet stand out from regular furniture. If you're looking for something that can handle kids, pets and clumsy people, doob Bean Bags last extra long, are easier to clean, and safer for kids. With fun colours, shapes and sizes, doob Bean Bags are sure to make your living space stand out.
For further enquires, email [email protected] or SMS/Whatsapp/phone (+65) 9753 5927.

Award-winning Chinese Antique shop, Emperor's Attic offers a collection of authentic Chinese furniture and home decor, imported from a small number of suppliers in Northern China, with whom they have formed strong relationships over nearly 2 decades.
At Emperor's Attic, you can find one-of-a-kind Antique, vintage and new furniture such as cabinets, consoles and bookshelves, as well as home decor such as Chinese ceramics, calligraphy brushes, and Singapore-inspired art by local artists; as well as smaller gift-sized items such as Temple Candles and diffusers. 
The collection of furniture and home decor pieces at this furniture store are unique yet practical. So, if you are looking for statement oriental pieces to liven up your home then head on to Emperor's Attic.
Location: #01-10, Tan Boon Liat Building, 315 Outram Road, Singapore 169074
Tel: (+65) 9011 0380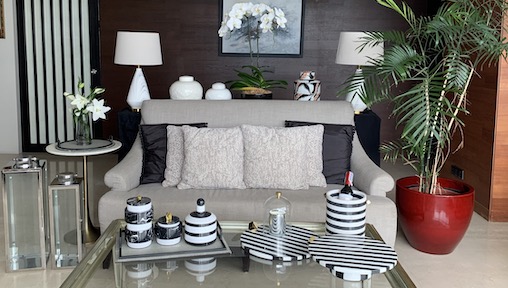 Meraki Lily curates statement home decor and functional yet stylish lifestyle products. The name Meraki Lily comes from putting together the Greek word 'Meraki' - meaning putting a piece of yourself in your work -, and 'Lily' - a flower that the founders identify with as symbolising simplicity, reflecting their aesthetic.
Elegance is reimagined with their various home decor collections including Serveware such as platters and trays; Tableware such as plates, cake servers and cheese knife sets; and Home Accents such as side tables, bar carts, upholstered plush stools, magazine racks and other decorative pieces. All these home decor products can seamlessly blend into your everyday furniture pieces, enhancing the space with a touch of glamour.
Newly launched, the Meraki Lily Monochrome Collection reflects the team's personal contemporary home decor style. The collection features neutral and timeless pieces in black and white, as well as shades of grey. Aesthetically appealing, simple, elegant, beautiful and versatile, these pieces can be creatively multi-functional. For example, the marble cheese platter and cake stand can also be used as a base for candles or the wine bucket can double up as flower vase.
Shop online or email [email protected] for further enquiries.
Shiva Designs Bespoke is your one-stop furniture store in Singapore for unique, design-led homewares, gifts and accessories. Their inspiring and eclectic store stocks products handcrafted by a range of artisans from around the world, each with their own story. From beautiful cushions, home accessories, jewellery, candles and more, their labels are exclusive to them only.
Shiva Designs Bespoke offers a beautiful range of Turkish ceramics including espresso and latte cups with matching breakfast bowls. Handmade in the USA, their ESCAPE travel utility bags have even gotten a cult following. Head to their online store, which offers worldwide shipping, to enhance your space!
Location: #04-02, Cluny Court, 501 Bukit Timah Road, Singapore 259760
Header banner: Meraki Lily