Here's a curated list of our favourite fine dining restaurants in Bangkok adored by both locals and tourists. These fine dining restaurants are a must-visit the next time you visit Bangkok as whether you're looking for a Michelin-starred restaurant or a World's 50 Best Restaurant, this list has got you covered.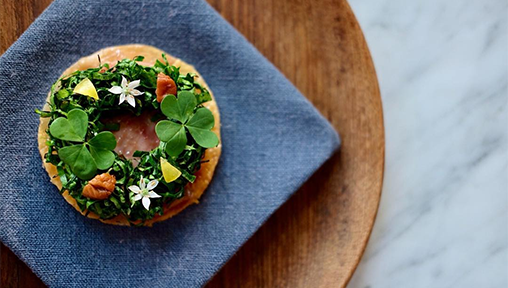 Image source: Gaa Facebook
1. GAA  - First Indian Female Michelin-Star Chef
Boasting the first ever female Indian Michelin-Star Chef Garima Arora, GAA's menu features the freshest ingredients of each season. The seasonal menu is based on locally sourced ingredients, prepared with traditional techniques featured heavily in Indian cuisine to give you GAA's unique take on Indian food. It's not hard to see how GAA earned its place on Asia's 50 Best Restaurants! GAA offers only set menus, but their vegetarian tasting menu is highly raved, even by non-vegetarians, do give it a go!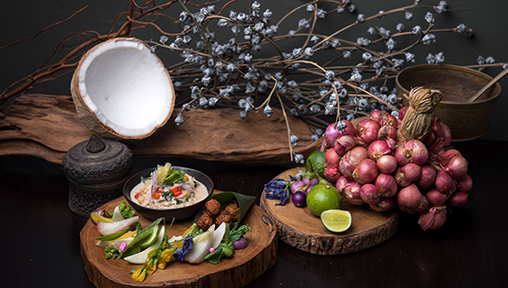 Image source: Bo.lan Facebook
2. Bo.lan - Zero Carbon Footprint
Here's fine dining without the guilt! Bo.lan aims to keep their carbon footprint to the minimum by maintaining its own vegetable garden and a waste recycling program. With a strong emphasis on sustainability, enjoy the best of sustainable fine-dining Thai cuisine in the stunning Bangkok restaurant. Be impressed by the fine dining Thai style from the wife and husband duo at Bo.lan as seen on Netflix.
Image source: Isaaya Facebook
Enjoy authentic Thai cuisine in a gorgeous setting at Issaya Siamese Club. Feast on high-quality, luxurious Thai dishes while surrounded by lush greenery in the bustling city of Bangkok. Feel close to nature with al fresco dining! Chef Kittichai's dishes are based mainly on Thai cuisine that features tastes and techniques from all over the globe. One of the pioneers of the farm to table concept, expect fresh ingredients to deliver a taste of local Thai flavours in the heart of Bangkok. Popular must-try dishes would be the Moo Hanglay (pork tenderloin) and the Mussamun Gae (lamb shank curry).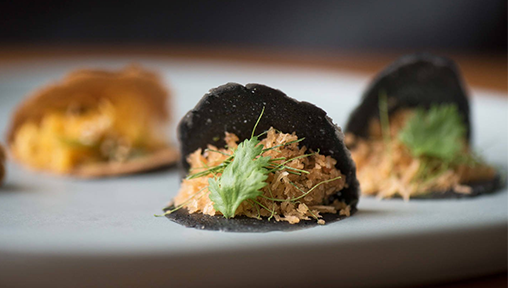 Indulge in the strong flavours that Thai cuisine is famous for at Nahm. Led by renowned chef Pim Techamuanvivit, this Michelin-Starred restaurant in Bangkok serves up bold flavours that balance hot and cold, sweet and salty. Traditional Thai fare gets a glow up at Nahm with dishes that are a feast for both the eyes and the tongue. A dish you cannot miss is their steamed leopard coral grouper.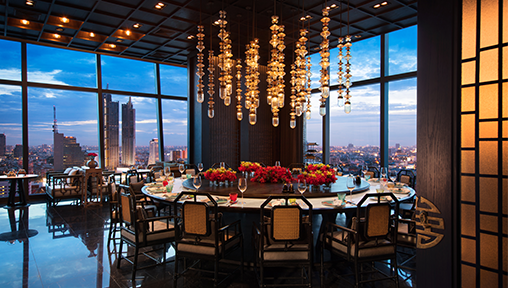 Craving for some Chinese cuisine? Yao Restaurant offers Chinese fine dining with a stunning view of the Bangkok skyline. Known for more than just their panoramic views, Yao Restaurant features the best of traditional Chinese food and offers its own unique take on Chinese food. It'll be a shame if you miss out on trying their dim sum! Their Foie Gras & Shrimp Dumpling is one of their more memorable dishes. Nestled on the 32nd floor of Bangkok Marriott Hotel, this Bangkok fine dining restaurant is great for a romantic dinner for two. There's also the rooftop bar if you want some fresh air and great drinks!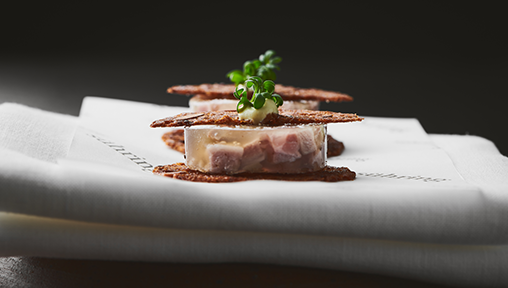 6. Sühring - German Fine Dining
Holding the Number 45th place in The World's 50 Best Restaurants 2019, enjoy modern European cuisine in Thailand at Sühring. German chefs Thomas and Mathias are twin brothers who bring to Bangkok their vision for contemporary German cuisine with touches of modern European influences. Their bond gives a touch of the warmth of family in their luxurious dishes. Join them in their cosy villa in Bangkok for a fancy meal and get up close and personal with the chefs themselves for a glimpse into their philosophy and love for food. A German classic and one of the favourite dishes at Sühring Modern would be their Pork Knuckle, wonderfully crispy yet not too oily!  
Image source: Som Tam & Chardonnay Facebook
Ever paired Som Tam with Chardonnay? This humble dish of raw papaya salad, a staple in Thai cuisine, goes well with Chardonnay; inspiring the name of the restaurant. Don't miss out on their Som Tam, the most expensive raw papaya salad in the world. Pair the excellent array of East meets West dishes with their wide selection of fine wines at Som Tam & Chardonnay Restaurant. We also highly recommend their Northern Thai Curry Noddles called Khao Soi Gai. Chef Sitti Suteerasan uses Tagliatelle pasta instead of regular noodles and this combination with Northen Thai curry elevates this local Thai dish immediately. Another must-try is their Kra-Proa Neua Donburi which comes with dry-aged beef, hot basil, rice and a fried duck egg. Chef Sitti uses duck egg because it is more creamy and encourages us to mix up the ingredients in the bowl for a burst of flavours. 
Vanilla Luxury's Tip: If budget is not an issue, pair your Som Tam with Champagne and you will be pleasantly surprised!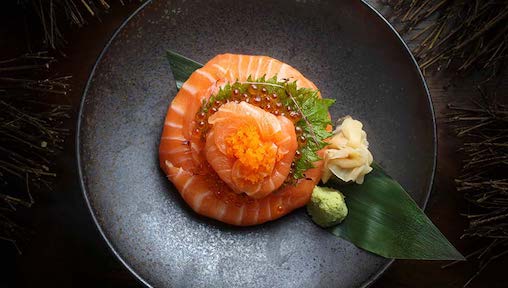 Situated on the 39th floor of Sathorn Square, this fine dining establishment boasts of iconic views of Sathorn's Skyline and Japanese fusion food with a Californian twist. Koi Restaurant is a Japanese Lounge situated adjacent to one of Bangkok's most lively night clubs, the Club At Koi. It provides guests with a perfect venue for Japanese inspired cuisine, their must-try dishes would be the Crispy rice cakes topped with Spicy Tuna for and their well-known cocktails, Midnight Train to Sathorn and Heaven on Earth for a delightful buzz. 
Koi Restaurant Sathorn, Bangkok truly is a great spot for business meetups or catching up with friends for pre-clubbing drinks and dinner, so Indulge in the quality food this restaurant food has to offer and be blown away by the fantastic views.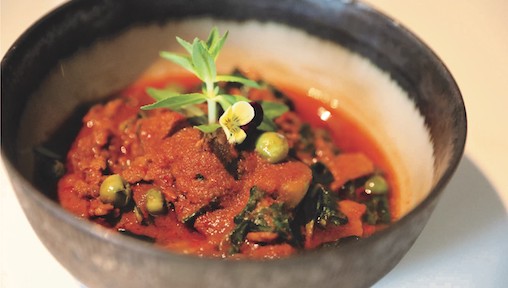 Located at The Athenee Hotel is The House of Smooth Curry. Serving sustainable Thai Fare with almost completely locally-sourced ingredients is no easy feat; yet this fine dining Bangkok restaurant, The House of Smooth Curry, has done so successfully. Emphasising a focus on Thailand's curry heritage, The House of Smooth Curry, has an array of curry-based dishes with inspiration drawn from Thailand's royal kitchens to more rural fishing and farming communities.
Vanilla Luxury's Tip: Do not miss out popular dishes such as the Gaeng Khee Lhek Kor Moo Yang also known as Grilled Organic Pork Neck Curry with Thai copper pod. For alcoholic beverages sip on their in-house cocktails, with flavours that are influenced by Thailand's provinces.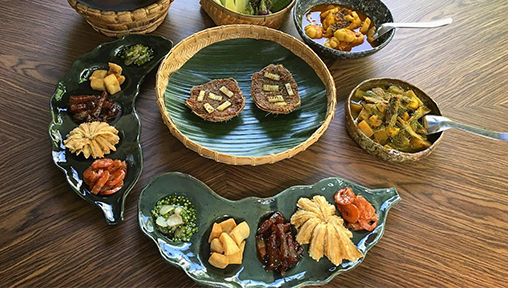 Image source: Sorn Facebook
10. Sorn - Southern Thai cuisine  
Be captivated by the colourful ingredients that Sorn uses in their traditional Southern Thai dishes! But first, don't forget to book months in advance. This popular fine dining Bangkok restaurant brings the best of traditional Southern Thai cuisine with the use of claypot to slowly cook the dishes to impart a subtle charcoal note. Their ingredients are sourced daily from 14 provinces in the region. Observe the chefs at work in the see-through Sorn kitchen whilst you enjoy your meal. One of the most interesting dishes would be the 2 Degree Lobster which is a raw 7-coloured Phuket lobster chilled exactly to two degrees for that creamy bite of lobster with spicy Thai seafood sauce.