fashion
Must-Have Summer Staples to Flaunt This Season
Published Date
: 06 Jul 2023 10:00

Whether you are going away on holiday or looking to soak up some of our island sun, here are the summer essentials to add to your shopping cart
Shopping for summer holiday essentials? We love upgrading our wardrobe every summer, especially when the stores are teeming with fluid, fun and trendy fashion choices.  
From flowing maxi dresses that effortlessly transition beach to brunch, to straw hats that provide both style and sun protection, there are countless summer fashion pieces waiting to breathe new life into your wardrobe. 
Embrace the warm weather with our pick of lightweight fabrics, and playful accessories that will have you feeling fresh, fashionable, and ready to take on the sunny days ahead. This is the list you want to save!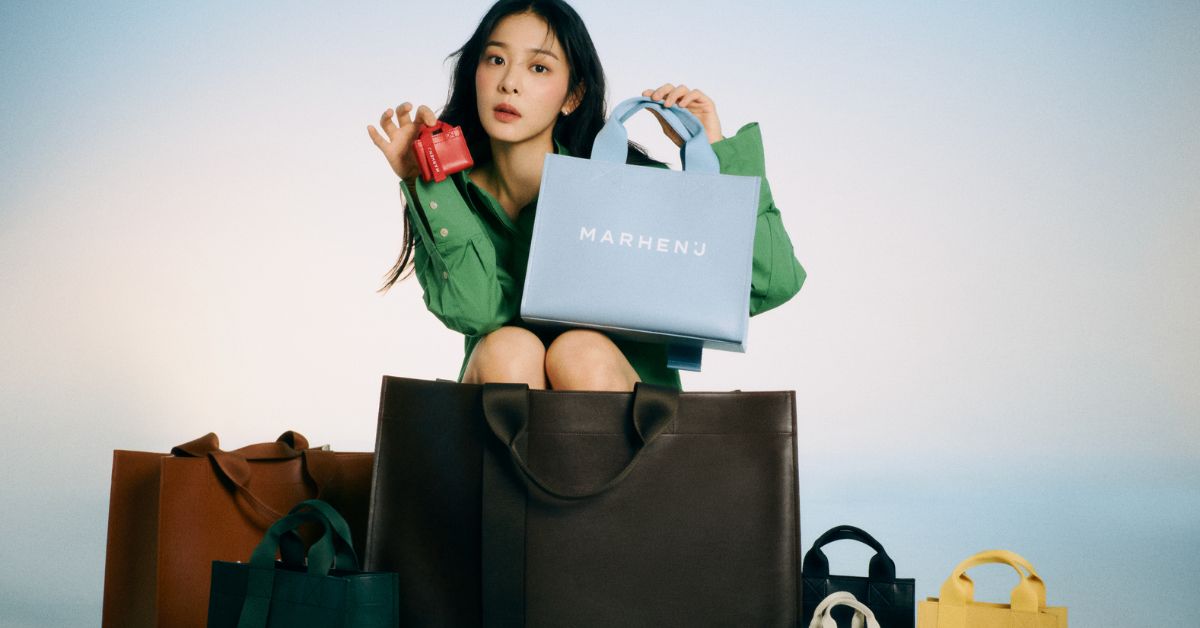 Sift & Pick's new store at 313@somerset in Singapore is an exciting addition to the local fashion scene. This creative fashion bag destination has earned a reputation for curating cult fashion labels such as MARHEN.J, Joseph and Stacey, depound, and the new store intends to provide fashion aficionados with an immersive experience. 
MARHEN.J is well-known among fashion-conscious people in both Singapore and South Korea for its useful and aesthetically beautiful bags. MARHEN.J offers a wide choice of bag types and bright colours that channel the spirit of summer. Best yet, all their bags are made from animal-friendly fabrics, with designs that combine style and usefulness.
The MARO MINI Sky Blue, with its vibrant sky blue hue, adds the perfect pop of colour to any outfit, instantly elevating your style and exuding a sense of playfulness. The compact and versatile design of the MARO MINI makes it the best companion for all your summer adventures. Whether you're heading to a beachside picnic, a music festival, or a casual brunch with friends, this bag is both fashionable and functional.
More bags and accessories available at siftandpick.com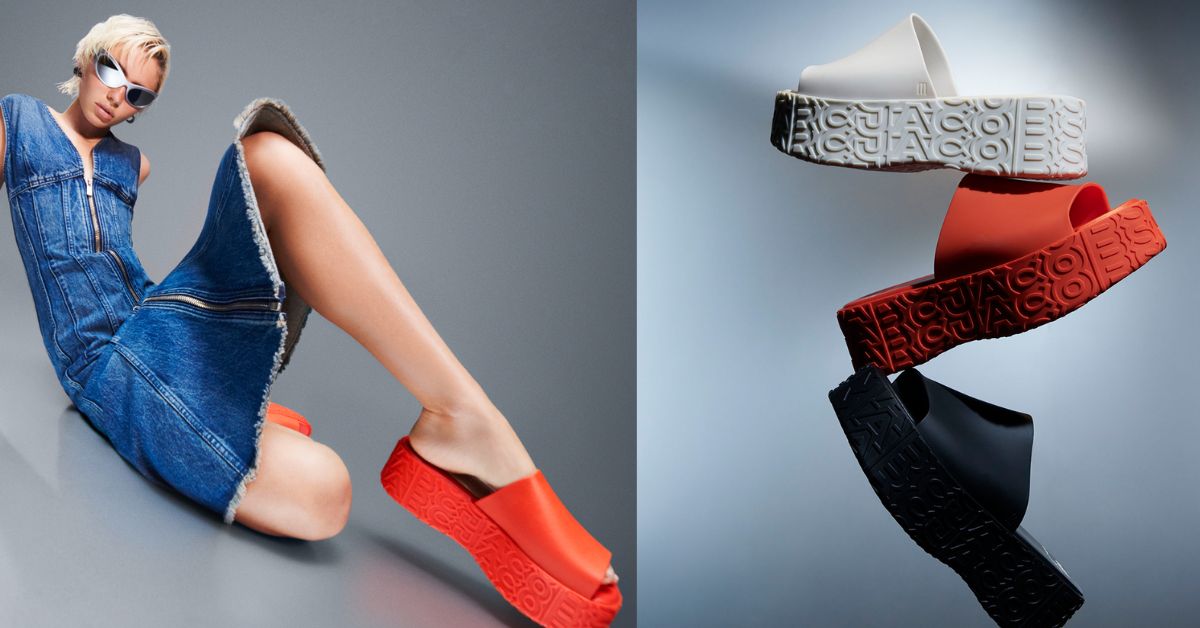 The Melissa x Marc Jacobs capsule collection is a must-have addition to any summer wardrobe. This special collaboration between the two iconic brands combines edgy style, design, authenticity, and sustainability. The collection features three stylish footwear options inspired by the colour palette of the Marc Jacobs ready-to-wear collection, with the signature Marc Jacobs monogram print incorporated throughout.
The Melissa Becky + Marc Jacobs platform slide combines the nostalgic vibes of the '90s with a modern twist, fitting for the summer Y2K trend. The signature Marc Jacobs monogram is featured across the band, adding a touch of sophistication to the design. What sets the Melissa Becky + Marc Jacobs slide apart is not just its fashionable appearance but also its commitment to comfort. The interior is filled with ultralight PU, providing cushioning and support for all-day wear.
Whether you're dressing up or down, the Melissa Becky + Marc Jacobs platform slides is a versatile wardrobe essential you need to get your hands on. 
Gets yours today exclusively at the Melissa flagship store located at Wheelock Place #B2-03, 501 Orchard Rd, Singapore 238880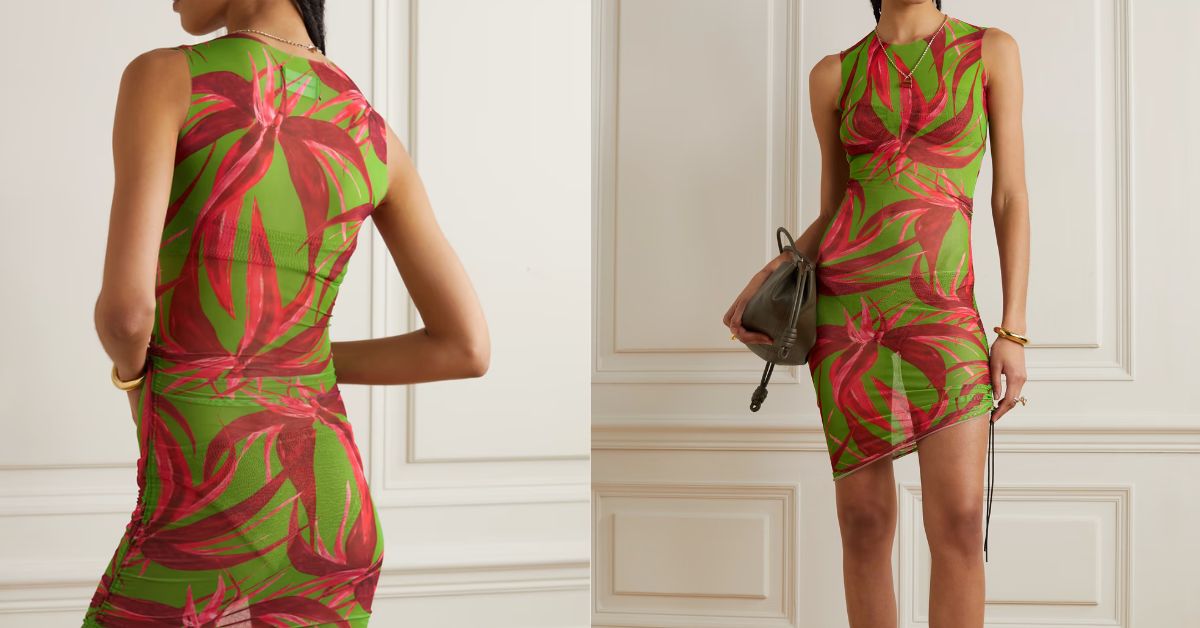 Summertime calls for a bold and loud printed dress for you to make a statement for any occasion. Every girl needs a dress like this as a wardrobe quintessential, luckily Louisa Ballou's Heatwave dress is a timeless piece that you'll find yourself wearing for many years to come.
The vibrant tropical-esque floral print instantly transports you to sun-soaked destinations,  reminding you of a sense of joy and adventure. Whether you're attending a garden party, enjoying a beachside stroll, or exploring a new city, this dress is sure to turn heads and make a stylish statement. Pair it with some bright pumps to complement the boldness of the floral print and create a cohesive and eye-catching ensemble.
Embrace the spirit of summer and capture the essence of the season in a single garment.
Available at net-a-porter.com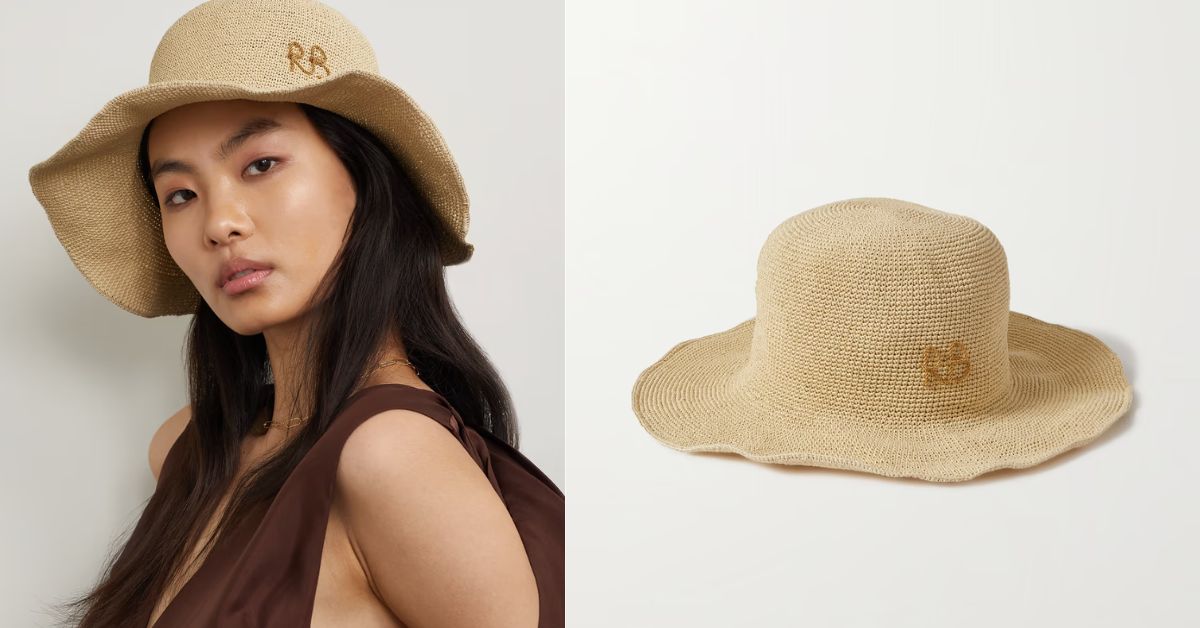 No summer wardrobe is complete without the addition of a stylish sun hat, and Ruslan Baginskiy's Embroidered Straw Hat is the epitome of vacation dressing. Crafted from natural straw, this hat is not only lightweight and breathable but also offers essential protection from the sun with its wide brim.
The straw hat seamlessly combines design and function, keeping you cool and stylish all summer long. The Ruslan Baginskiy Embroidered Straw Hat, with its timeless design and adaptable appeal, is a great accent to any summer wardrobe, giving a touch of elegance and ensuring you're ready to make a trendy impression wherever your adventures take you.
Available at net-a-porter.com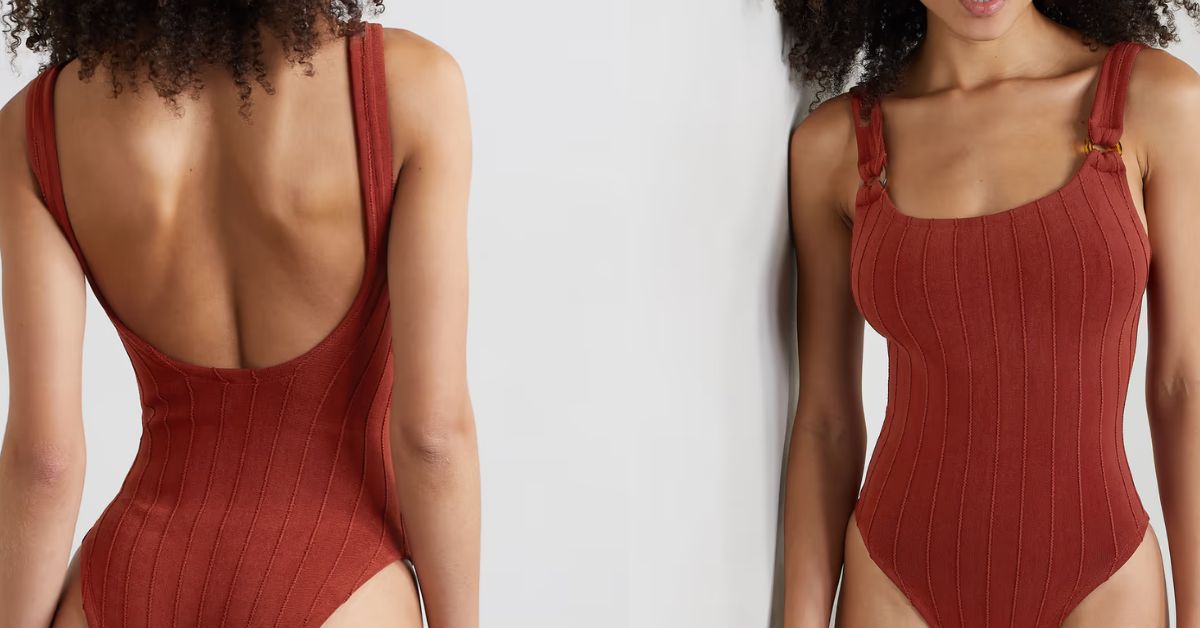 Hunza G + Rose Inc. Christy Seersucker Swimsuit is the ultimate beach vacation essential for the summer, giving the ideal balance of comfort and style. 
Created through an exclusive collaboration between Hunza G and Rose Inc, this swimsuit is a true style match made in heaven. The swimsuit is crafted from the signature Crinkle' seersucker fabric, known for its stretchy and textured feel, ensuring a comfortable and flattering fit. The rings at the straps add a touch of chic detail, elevating the overall design. Not only does this swimsuit offer maximum comfort, but it also offers effortless style. 
Whether you're lounging by the pool or swimming in the sea, the Hunza G + Rose Inc Christy Seersucker Swimsuit is the ultimate choice for people looking for both comfort and flair on their beach holiday.
Available at net-a-porter.com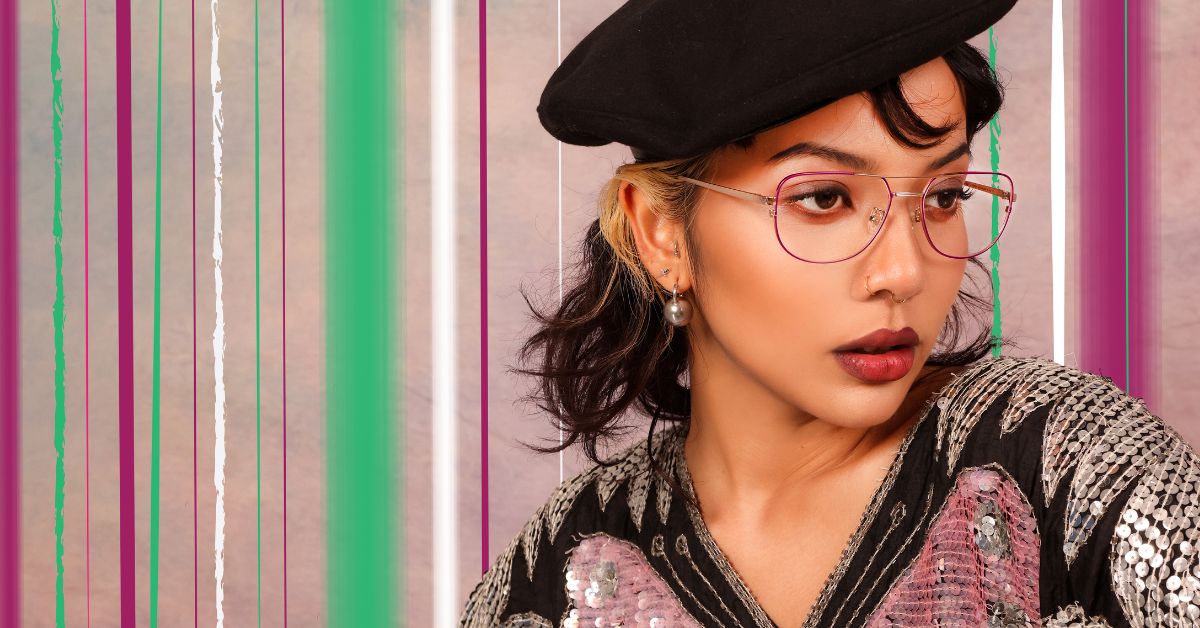 Lenskart has once again set the fashion world ablaze with its newest collaboration, this time teaming up with the effortlessly chic Aisyah Aziz. This exclusive collection of glasses captures the vibrant spirit of summer in every frame and is the perfect addition to any outfit.
The Gold Pink Full Rim Wayfarer Eyeglasses are the solution all glasses wearers need for a fashionable and chic summer to stray away from boring regular eyewear. These eyeglasses mix design and functionality, giving classic eyewear a new twist. The gold and pink colour combination provides a bit of glitz and playfulness, perfectly matching the summer's brilliant energy. The wayfarer frame design is timeless and universally flattering, making it a versatile choice for various face shapes.
Browse the rest of the collection at lenskart.sg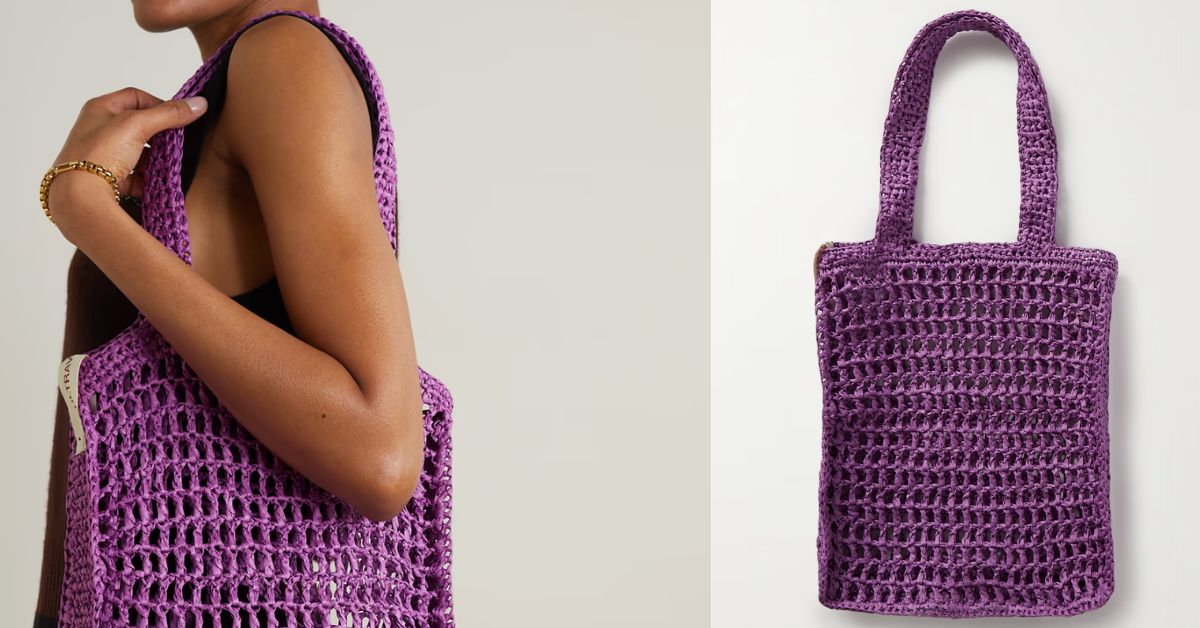 The Net-a-Porter Ultraviolhat Crocheted Tote is the new summer wardrobe essential for those looking to make a vibrant and stylish statement. With its colourful and bright design, this tote instantly captures the essence of summer.
Locally made in the Italian Riviera, it showcases the craftsmanship and attention to detail that is synonymous with Italian artistry. Crafted from certified viscose, the tote not only adds a pop of colour to your outfit but also prioritises sustainability with its use of considered materials. The spacious design makes it a suitable shopper bag for running errands or a fashionable accessory for casual hangouts.
If you're looking to change up your style or add a touch of playfulness to your summer ensembles, the Ultraviolhat Crocheted Tote is the go-to choice.
Available at net-a-porter.com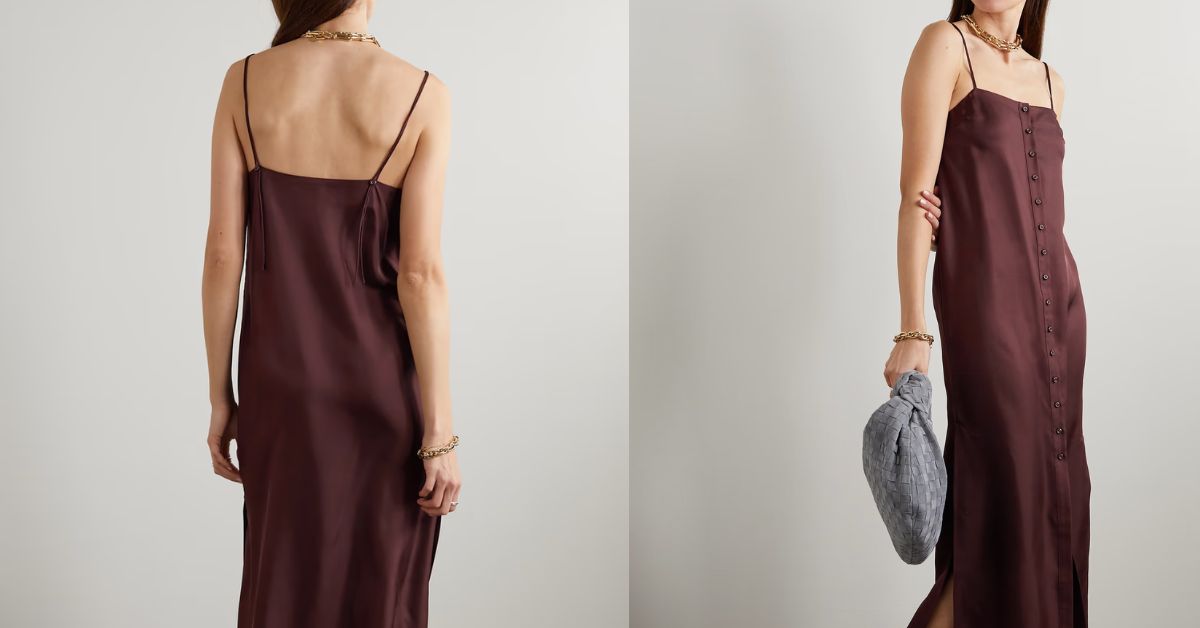 The Lou Lou Studio Vabea Silk-Twill Maxi Dress is the summer dress everyone has been dreaming of and embodies fashion trends transitioning into summer. Designed exclusively for the season, this dress captures the essence of elegance and sophistication.

Crafted from breathable silk-twill, it ensures comfort even on the hottest of days. The loose fit and square neckline, framed by slim straps, create a flattering silhouette for a carefree yet stylish look. This dress is versatile and can be styled with sandals and a sleek tote for a chic and put-together look. 
The lightweight fabric and timeless design make it the ideal choice for various summer occasions, whether it's a casual day out or a special evening event. 
Available at net-a-porter.com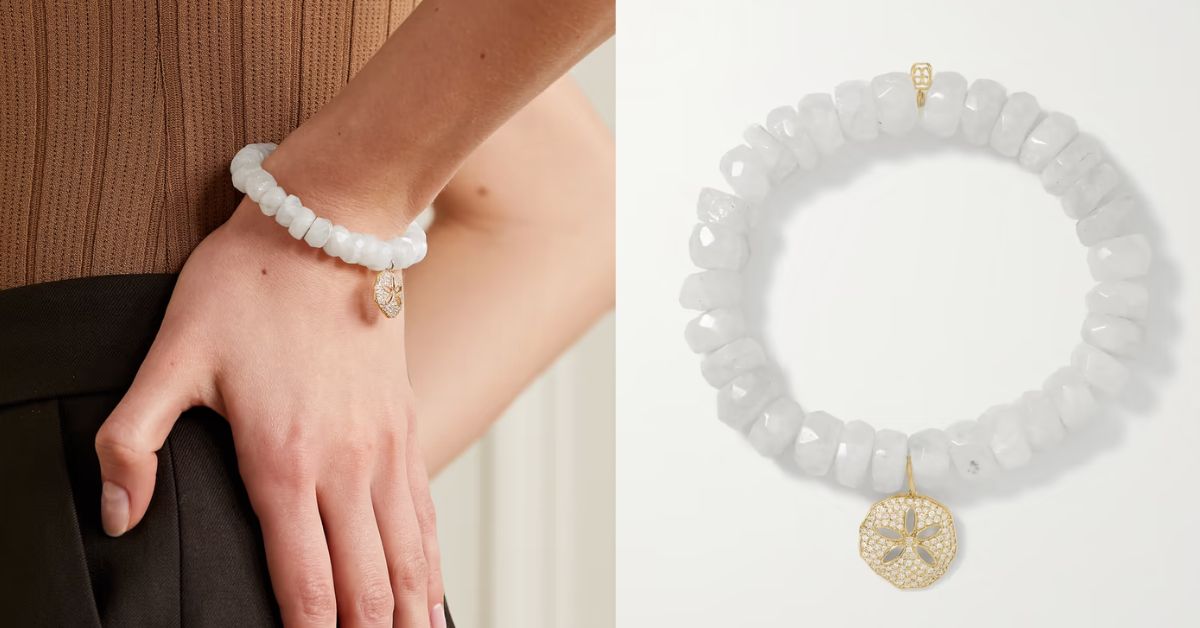 Sydney Evan's exquisite bracelet featuring a 14-karat gold diamond-encrusted sand dollar charm is the ultimate accessory to add a touch of class and sophistication to all your summer looks.  
The charm, which depicts a sand dollar found on the shores of a tropical island, conjures a sense of wanderlust and beachfront attraction. The bracelet is embellished with faceted moonstone beads that catch and reflect light wonderfully from every aspect, giving a captivating and radiant impression. Its versatile nature allows for easy stacking with other beach-inspired styles from the 'Under The Sea' collection, providing endless possibilities for personalization and creativity.
Available at net-a-porter.com
When it comes to finding the perfect sandals for the summer, the Dior Aqua Sandal is an excellent choice that effortlessly combines elegance with a relaxed appeal. Its design features an adjustable strap variation adorned with the iconic black Dior Oblique jacquard, showcasing the brand's distinct style.
The sandal is further complemented with the Dior logo on the ruthenium-finished metal clasp and a sophisticated tonal notched sole. The black notched rubber outsole and leather insole, both expertly crafted with attention to detail, guarantee longevity and grip. The welded design ensures a durable construction that will withstand all your summer adventures.
Versatile and effortlessly stylish, the Dior Aqua Sandal is the ideal companion for pairing with Bermuda shorts or jeans, making it a must-have for men seeking a fashionable and comfortable summer footwear option.

Available at Dior.com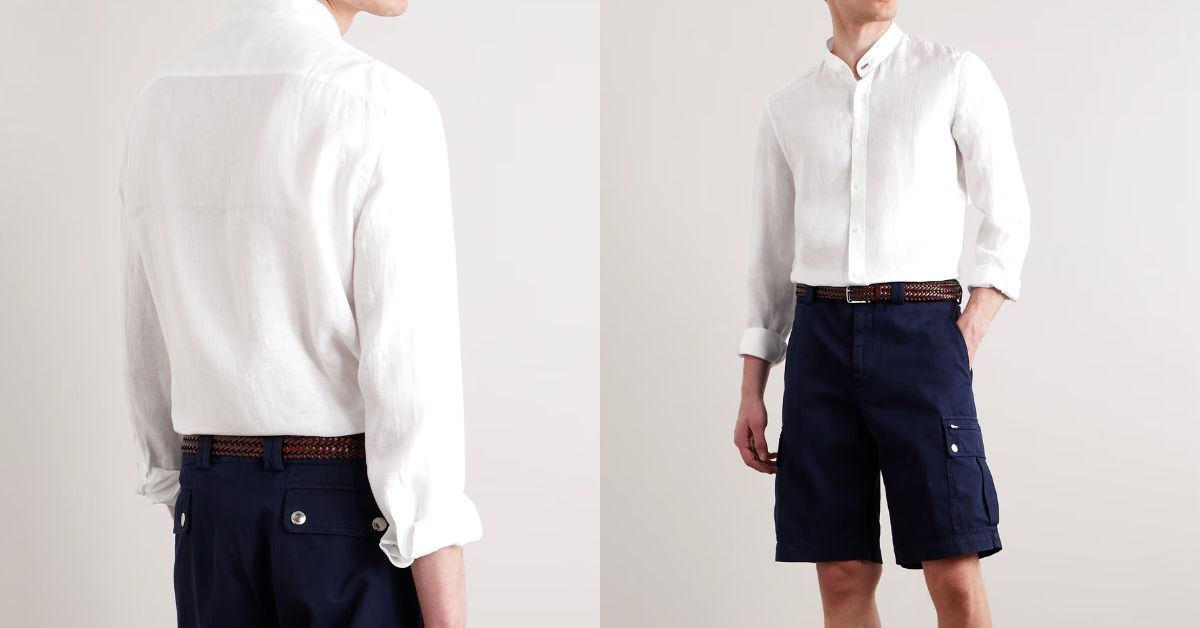 If you're searching for the perfect summer outfit that offers both a breezy and relaxed fit, investing in a good linen shirt should be at the top of your list. And there's no better option than Brunello Cucinelli's grandad collar shirt. 
This meticulously crafted garment effortlessly combines a relaxed aesthetic with refined style. Made in Italy from breathable linen, it guarantees optimal comfort even on the hottest days. The white linen fabric adds a touch of sophistication and versatility, allowing for effortless pairing with various bottoms. The button fastenings ensure easy wear and add a classic touch to the overall design. A notable detail is a top button outlined in burgundy stitching, providing a subtle yet stylish contrast.
Therefore, purchasing a high-quality linen shirt is essential if you want to upgrade your summer style with a breezy and relaxed fit. Brunello Cucinelli's granddad collar shirt is a great option because it blends comfort, elegance, and timeless appeal.
Available at mrporter.com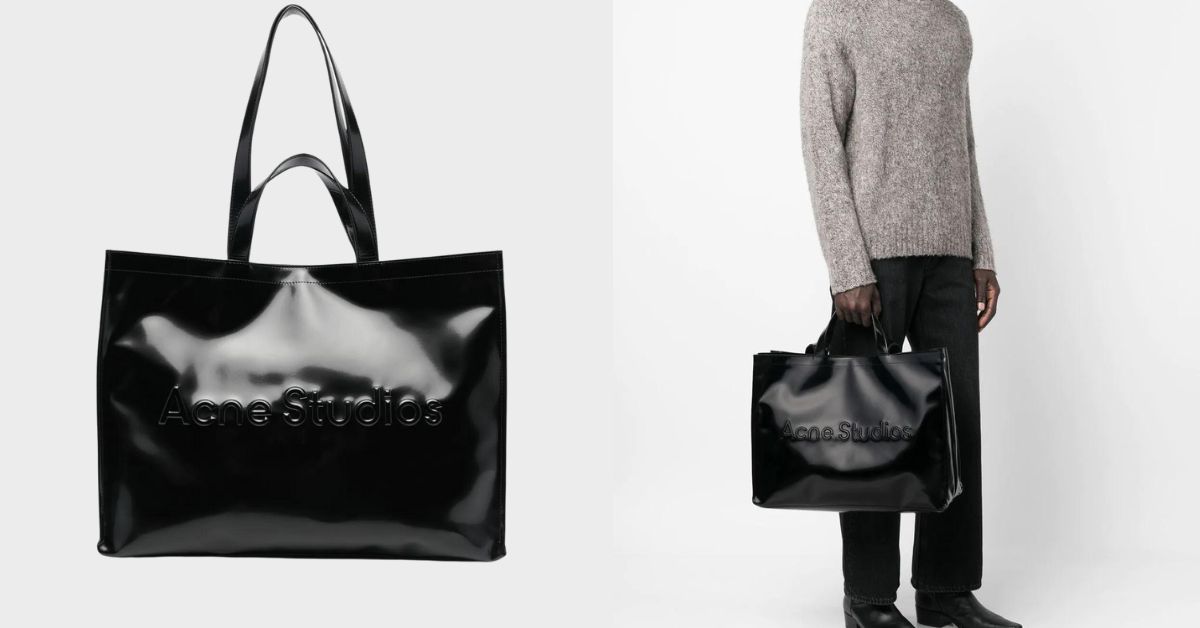 Looking to add a touch of style and personality to your summer wardrobe? The Acne Studios logo embossed tote bag is a sturdy yet chic addition that you definitely need this summer. This eye-catching tote is a true statement piece that effortlessly elevates any ensemble.
Crafted in Italy, it boasts a sleek black, laminated finish that exudes contemporary elegance. The embossed logo on the front serves as a bold and unmistakable signature of Acne Studios' impeccable craftsmanship. With two oversized top handles, this tote offers both comfort and convenience. The press-stud fastening ensures the security of your belongings, while the cotton lining adds a luxurious touch. Its spacious interior provides ample room for all your essentials, making it practical and versatile.
Get yours shipped to Singapore from Farfetch.com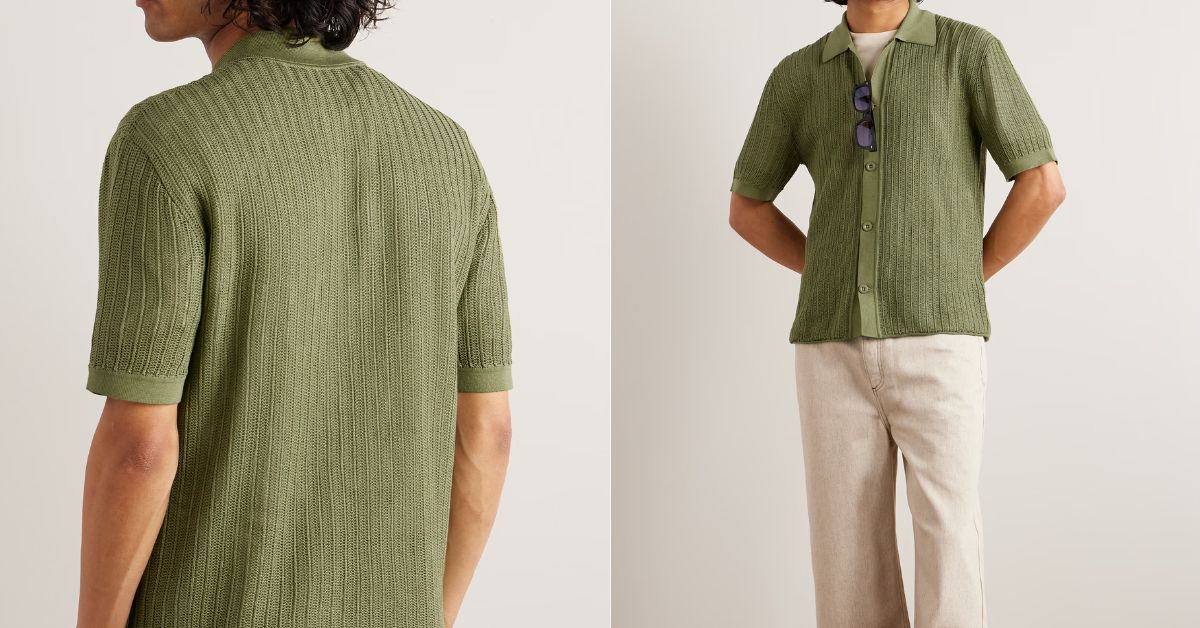 If you're looking to add a unique touch to your summer wardrobe, the crochet-knitted shirt by Mr P is a must-have piece. This distinctive knit top, designed by Mr Porter, offers a refreshing departure from regular button-down shirts. 
Crafted from breathable cotton in a loose stitch, it not only provides comfort but also introduces a delightful element of texture to your outfit.  The bright green colour creates a colourful and cheerful vibe, which is ideal for the summer season. Whether worn alone on a getaway or layered over a tee for a relaxed and fashionable appearance at home, this shirt effortlessly stands out.
Its unique texture, combined with the fun and lively green hue, will set you apart from the crowd and add a touch of individuality to your wardrobe.
Available at mrporter.com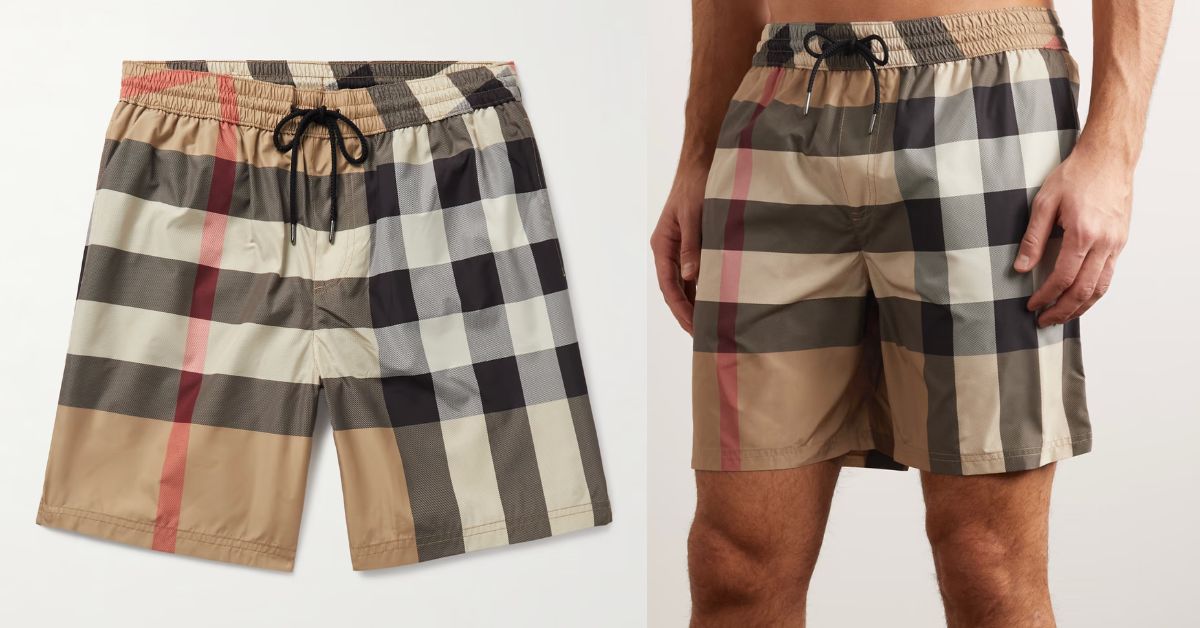 When it comes to finding the best swim trunks for a beach summer, Burberry's iconic check swim shorts are a top choice that effortlessly combines style and functionality. While Burberry's check pattern is often associated with rainy days and trench coats, these swim shorts showcase how versatile and fashionable it can be for beachwear.
Made from multicoloured polyester, they feature the iconic archival print that adds a touch of sophistication and instantly elevates your beach style. The elasticated drawstring waistband ensures a secure and comfortable fit, allowing you to move freely and enjoy your beach activities. With a longer length, these swim shorts offer both modesty and a trendy silhouette. The 100% polyester construction ensures durability and quick-drying properties, making them ideal for beach adventures.
Available at mrporter.com