Located just 90 minutes from Singapore, Kuching in Malaysia is one hidden paradise that makes a perfect weekend getaway. Having visited it ourselves, here's a cheat sheet for your next mini holiday.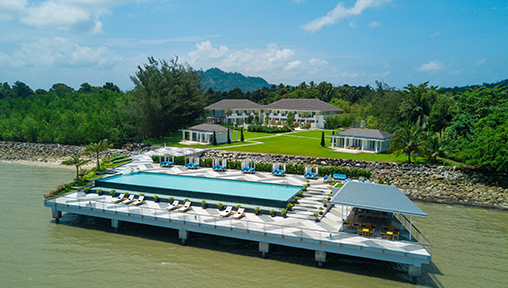 Stay
Cove 55 was originally a villa built for an Iban family. It's a perfect getaway from the hustle and bustle of the city. This private boutique hotel has a panoramic view of the mountains and the South China Sea. We loved the 5-star service we experienced and the spectacular view from the pool.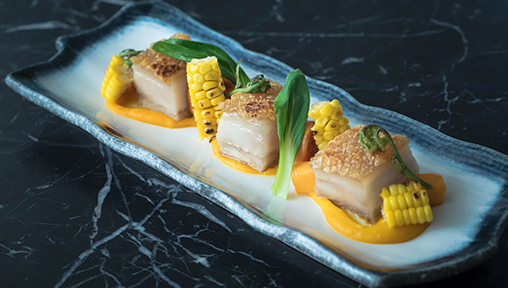 Dine
Kechala
Located at Cove 55, Kechala is a must try!  Serving both Western and Serawankan cuisine using local ingredients sourced from the surrounding jungle and organic produce from the chef's garden, we enjoyed the succulent 24-hour pork belly, creamy pumpkin risotto and the classic fish and chips. We ended up having lunch at Kechala daily and soon became a fan of Chef Andrew Fletcher.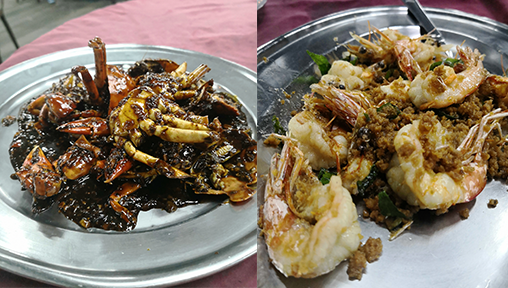 Lim Hock Ann for Seafood
Lim Hock Ann Seafood is unpretentious yet absolutely fresh and delicious. Located in a fishing village 10 minutes drive from Cove 55, it gets the best catch of the day. Lim Hock Ann does not advertise itself yet is very popular amongst locals and tourists. We enjoyed our black pepper crabs, crispy prawns, steam pomfret - all for less than RM 200.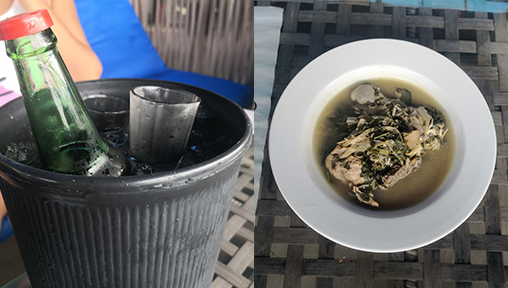 Escobar & Grills
Before heading to Sarawak Cultural Village, we stopped by Escobar & Grills to indulge in local wine and food. Located at the Sarawak Cultural Village, Escobar & Grill serves up Ayam Pansuh, which is chicken cooked in Bamboo as well as Tuak, a rice wine made locally.
Activities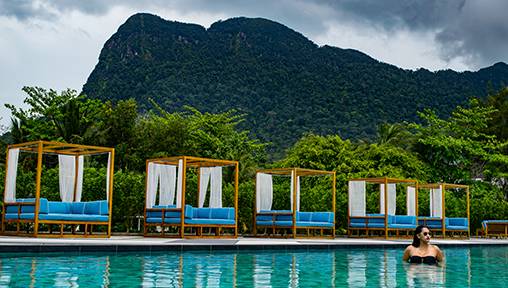 Climb Mount Santubong
We decided to climb the legendary Mount Santubong on Saturday morning after breakfast. Climbing Mount Santubong is rather fascinating with an extensive view of flora, fauna and waterfalls. Definitely not for the faint-hearted, mountain hikers will enjoy a sense of achievement once they've completed the challenging trails. Do not underestimate the difficulty in ascending the mountain especially after the 11th checkpoint.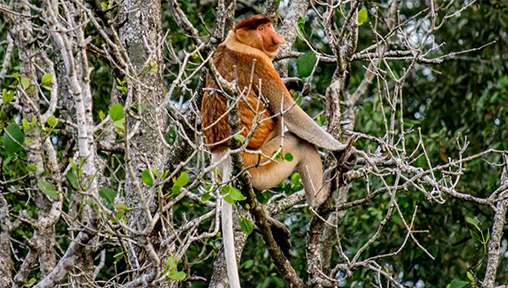 Wetland Wildlife Cruise
On Saturday evening, we decided to go on the Wetland Wildlife Cruise by Ooo Haa Tours & Travel that we booked through Cove 55 and it was a cruise that we'll never forget. We missed seeing any Dolphins but managed to spot several Crocodiles before sunset and even at night which was rather unnerving. There were many other animals and birds to spit and it was beautiful seeing fireflies while being in the water. Do bring your shades and good mosquito repellent as you will need it.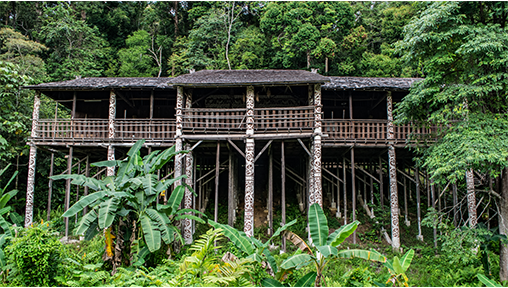 On Sunday afternoon, we took a 10 Minutes Drive from Cove 55 is the award-winning Living Museum that is worth spending the afternoon at. We started our tour by watching the performance of the various tribes which was rather fascinating.  We then visited the 7 authentic ethnic houses of the various tribes. Our visit to the Iban house was memorable as we went up close to inspect the sword used to behead a person during headhunting.
Scoot flies daily to Kuching in Malaysia and a return fare starts from SGD80.68.