Redecorating your home on your mind? If like us, all that time spent at home has got your creative juices flowing and you can't wait to spruce up your home, read along. We spoke to the stylists at our favourite online furniture and decor store, Nook and Cranny on how to make our homes look gorgeous - pro style! 
With a passion to create warm, liveable spaces with a selection of furniture and home accessories, Nook and Cranny understand that it takes more than just good furniture to make your house beautiful. A unique representation of your individual style means there should be a range of accessories and accents that bring out the style that YOU adore. Whether it is selecting that stunning rug, a patio table for bountiful family meals or vases, paintings and trays that bring out just the right hints of colour to your home, Nook & Cranny will have what you need. 
Take a look at their suggestion on 6 ways to re-decorate your home like a pro and create that cosy sanctuary you've been craving!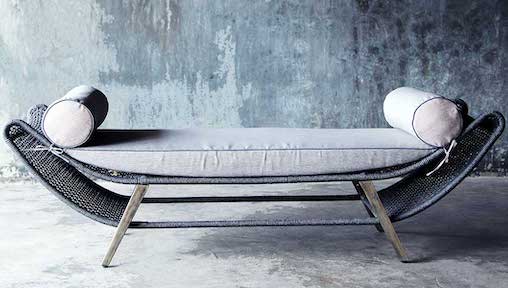 1. Bring Magic to Your Outdoor Spaces
More than ever before, this lockdown taught us the value of our outdoor spaces in our homes. Whether it's a balcony or a more generous patio, the right accessories and furniture will make a world of a difference! How about a laze around on a rocking chair dreaming of your next big idea? Or perhaps a nap on the Elias Daybed or have a swing on the King Pod swing. 
If you've got a bigger space to flaunt, why not create an outdoor entertaining area that's perfect for both family and friends to gather at. Think a barbecue set up with a stunning table like the Eden Dining Table Set. Add that little bit of jazz with the Johan Bar Table Set to get you started on those evening drinks, right in the comfort of your own home.  drinks session where you and your friends can unwind comfortably.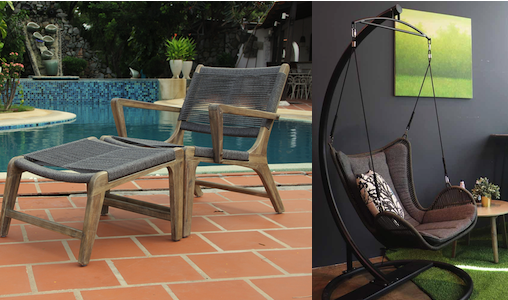 Lucky enough to have a pool? When the weekends come around, it's time to hang out by the pool and have some fun. A lounge chair is the perfect excuse to stretch out and enjoy basking in the sun! 
The rains and humidity in Singapore can be hard on outdoor furniture. Nook and Cranny's outdoor collection is made of solid acacia or eucalyptus wood, with rope handiwork to create strong durable outdoor chairs, tables and sofas. The unique design and quality workmanship ensure that your furniture gains maturity and elegance the longer you keep it.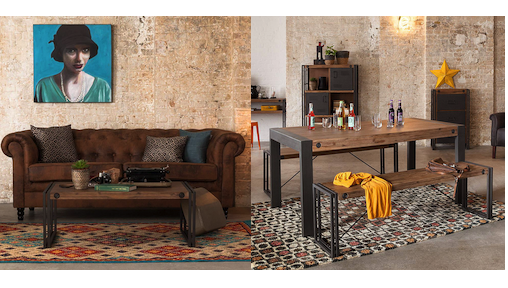 2. Upgrade Your Accent Furniture
Sometimes the smaller pieces can be as eye-catching and detailed as the larger ones. Should you not be looking to invest in a complete overhaul of your living areas, a great way to bring change is to upgrade or add accent furniture.  A coffee table, side cabinet or a bench can add newness to your space without emptying your pockets! 
Perfect for urban dwellers and city slickers, this solid Acacia Wood with anti-rust metal elements coffee table will fit right into your loft-inspired home. The industrial look has a brilliant combination of function, unique raw style and long-lasting quality. 
Alternatively, the Classic Gold Serving Cart is a unique accent that will add the flair of classic chic to your home. Featuring two tiers of safety-tempered glass,  and ideal for tea parties or even just serving your favourite beverages in an elegant and easy manner, it will be the perfect touch to your dining room decor.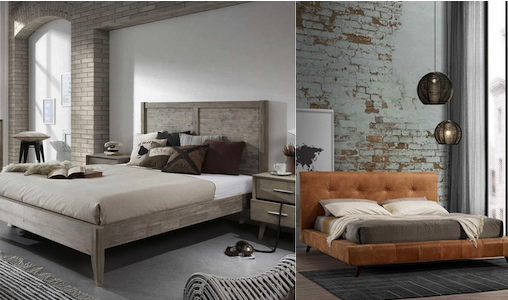 3. Bring Hotel Luxury to Your Home
So what if you can't go on holiday just yet, you can bring the luxury of a hotel right to your bedroom! Just think of the style you like and chances are you'll find it in a store to replicate at your own home. The Seattle Bed Range, for instance, is made of solid acacia wood, sandblasted to give a rugged greyish tint - think modern, 5-star luxury bed spaces. Simple fuss-free lines that show off the true natural beauty of the wooden elements and available in both Singapore Queen and King sizes. 
If you'd rather go all classy leather in your private haven, the CoCo Leather Bed Frame is an absolute beauty. Just team it up with the right pillows and cushions for an on-trend, stylish look. 
4. Get Those Cultural Elements In
Love Chinese Antique as a furniture style but unsure it will fit in with the rest of your decor? In fact, Chinese cabinets or sideboards in traditional oriental styles can add just the right amount of colour and exclusivity to your set up. What's more, they never really go out of style and are enduring in quality - often making great heirlooms to pass on forever! We adore the Chinese Antique collection at Nook and Cranny where you can choose from cobalt blue sideboards to tall wedding cabinets! 
Love yourself some Chinese Wooden Drums? Just take a look at their huge variety of colours (now on sale too!) and spew them around your living areas for some added charm.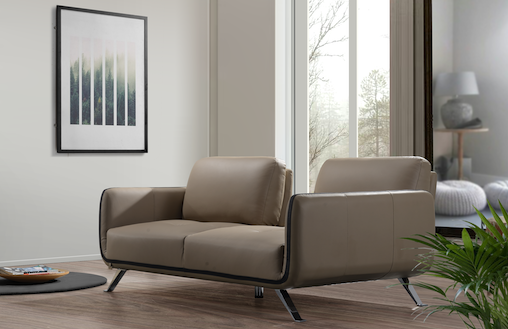 5. Use Technology for Comfortable Furniture
Never before have you had such a love-hate relationship with your sofa! If the need for something comfortable has become more evident after staying home for so long, switch it up with technology-led sofas that are meant to cater to your every bend and move! The Antone Electric Recliner Sofa creates a welcoming and relaxing ambience with its practical juxtaposition of comfort and modern design. It also features the sought-after individual adjustable headrest in the lounge section and the middle sofa seat. With its German headrest and chargeable electric recliner mechanisms, you can get comfortable with just the click of a button!
Want a more versatile design? Many love the Andre Sofa for its flexible function with a movable backrest. Move the backrest and use it the way you want it - sofa or lounge, it's all up to you!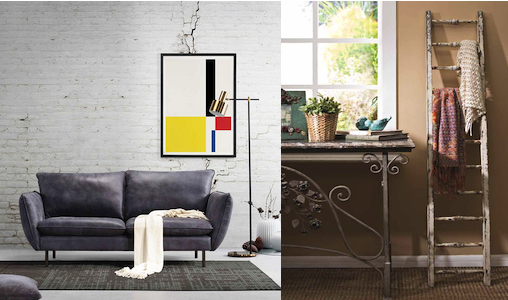 6. Accessorize Your way into Newness!
While you may or may not need new furniture, accessories are always welcome! There's no easier way to lift the mood in the home than with a few new accessories thrown in. Take for instance a Distressed Wood Mirror. Ideal for an entryway or simply as a decorative wall item, not only will it up your style quotient, it also adds more depth to your living areas making them look bigger!
Another way to bring change into a room is to accent with lamps and lights. The Gold Renaissance Lamp at Nook and Cranny features a beautiful, intricate design that will spruce up your space. Alternatively, add a quirky discussion point with the Puppy Lamp that will add just the right hint of light along with plenty of opportunities for smiles. 
Love decorative ladders as much as us? Adding a ladder to your bathroom or dressing area can serve to be both fashionable and useful.  Hang shoes, scarves, towels and simply let your imagination run free!
Like what you see? For more inspiration and ideas visit Nook and Cranny today. Their Complete Home Bargains Sale starts today - with up to 50% Off + $200 OFF, this is as good as a deal can be!