beauty
Hair Spas to Massages: Top Hair Salons in Singapore That Go The Extra Mile For Your Comfort
Published Date
: 26 Apr 2023 14:30

Want to experience the ultimate pampering experience at your next hair makeover? Indulge in top hair salons with high teas, hair spas, massages & more
Looking for a top hair salon in Singapore that goes beyond the ordinary? We're talking hair spa, high tea and drinks, massages, and more - some even complimentary! 
Indulge in luxury as we round up the best hair salons which provide exceptional hair services and pamper you with their list of added fun. Whether you need a simple haircut or a full day of grooming, these salons go the extra mile to ensure that you leave feeling refreshed and revitalised. 
Hair Spas to Massages: Top Hair Salons in Singapore That Go The Extra Mile For Your Comfort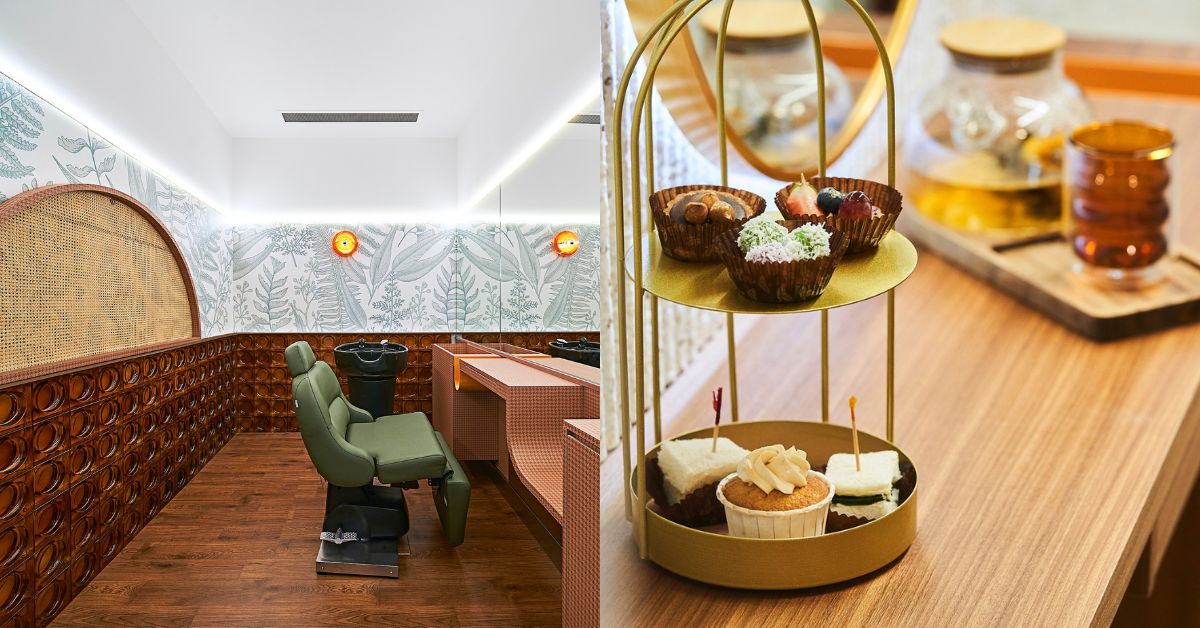 Guided meditation audios, anxiety-relieving devices, art therapy kits, head spa, Infrared foot warmer, facial sheet mask maker and De-stress gift sets are amongst the many extra perks you can request for at Singapore's premium new salon, Chez Vous: Private Space.
And if that's not enough you also enjoy highly-Instagrammable cold brew teas, tea-infused mocktails, Thai milk teas and blooming green teas along with a mini-tiered high tea set and instant noodles and porridge – in your own personal sanctuary as part of their service bundles, for free.
For those who like to get their work done alongside, you have access to a personal "work desk", high-speed Wi-Fi, power points, stationery and even a printing service (up to 10 pages). The salon also boasts an Apollo Neuro stress-relieving wearable device you can borrow to help you focus and feel better at work.
While personalised self-care, privacy and exclusivity are key at Chez Vous: Private Space, it is still an award-winning hair salon with director-level hair experts trained to provide excellence in service, and professional expertise with quality products for all hair types. 
Helmed by Chez Vous' stable of award-winning directors, all stylists at Chez Vous: Private Space have a minimum of 10 years of experience and are required to complete 35 hours of training annually. Moreover, they all had gone through Chez Vous - a 27-year-old veteran salon brand - "notorious" recruitment process and assessment where the passing rate is rumoured to be one out of thirty.
Do the extras make Chez Vous: Private Space pricey? We'd like to call it premium pricing but without the exorbitant tag. For instance, most chemical services (such as Balayage, Perm, Soft Rebonding, etc.), inclusive of haircut and express head spa, cost $385 (excl. GST). For chemical services with additional hair treatment, many cost $475 (excl. GST). The charges are similar to (if not lower than) many other top-tiered premium salons in Singapore. 
Not forgetting all the other extras you get to enjoy - go ahead, no one's judging! 
Chez Vous: Private Space.  #08-01, 391B Orchard Rd, Tower B, Ngee Ann City, Singapore 238874.
Call (+65) 6235 0345 to book an appointment, or log on to chezvoushair.com/privatespace/ for more information.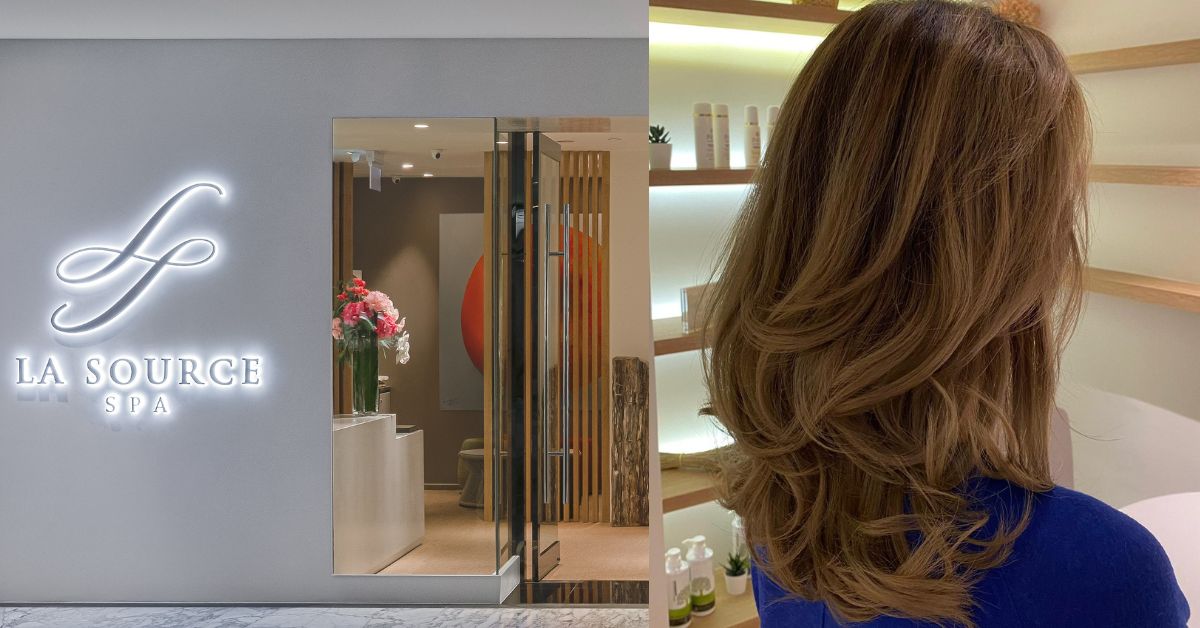 If only we could get our hair done, in the same setting as a spa. Turns out, with La Source Spa & Hair you can! Since its inception over a decade ago, La Source Hair has been on a mission to create stunning hair masterpieces and provide natural nourishment from within.
Whether you're after the usuals, such as hairstyling and hair cuts, or need to manage your scalp or hair loss, there are plenty of treatments for you to choose from - all tailormade to your needs.
Korean Creative Director, Nik Kim,  has over two decades of experience in the industry and has collaborated with innumerable clients and has achieved expertise in hair cutting and colouring. Nick and his team of stylists at La Source, use only the premium range of L'Oreal products, which is exclusively designed for professional use. This ensures your hair colour will stay vivid and lustrous for several months without any fading. 
Additionally, the hair stylists at La Source apply a scalp treatment before colouring to safeguard and nourish the scalp. Apart from hair colouring, the hair treatment incorporates Bond Building Technology which operates at a molecular level to restore damaged and split hair. This salon-grade two-step formulation is used both before and after shampooing, penetrating the hair shaft deeper than any home treatment.
Want a truly relaxing experience? Then book a foot massage option with your hair services, and enjoy a seriously pampering day from top to toe. And for those looking to manage their skin and body needs under one roof, La Source Spa & Hair has one of the best facials and massage options in Singapore. Their credits package can be used across both the Salon and the Spa, making it a flexible, and affordable option for customers who want to enjoy the best of both worlds. Make your bookings here

La Source Spa & Hair. Voco Orchard Singapore (formerly Hilton Singapore) #02-17/18 Singapore 238883. Phone: (+65) 6732 1318.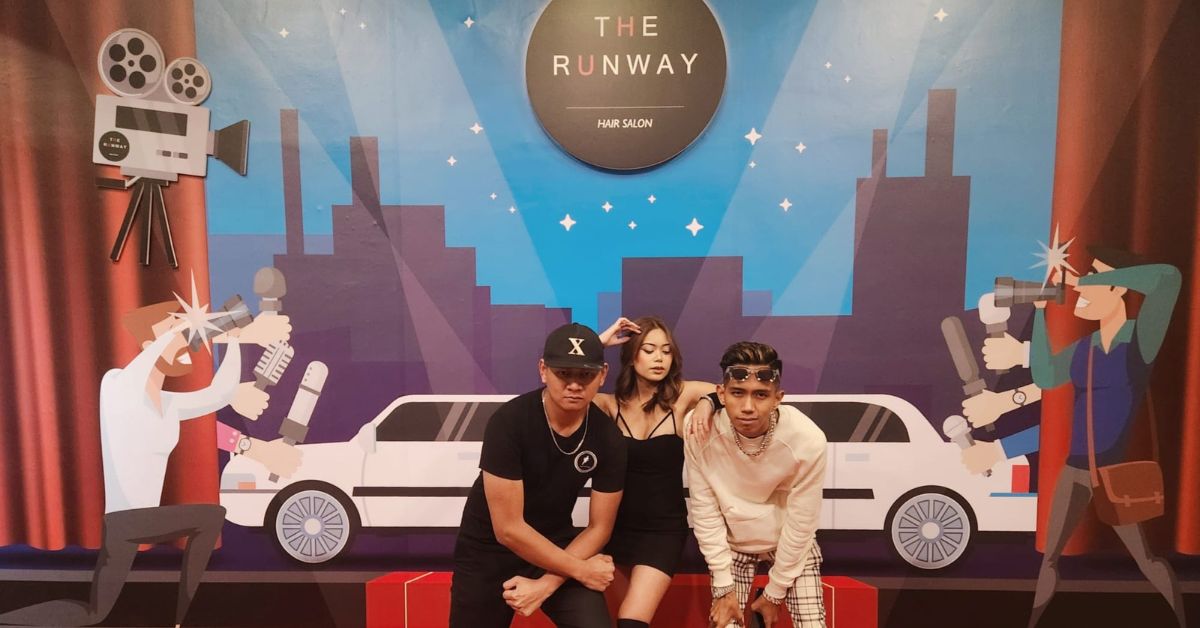 One of the hottest new salons in Singapore, The Runway Hair Salon is conveniently located at Tanjong Pagar, at the corner of Craig Road and Duxton Road. 
Complete with a fashionable red-carpet vibe the salon features an Instagram wall for post-service hair photoshoots. 
Their stylists have more than 15 years of experience in the industry and can offer all the premium hair services you'd like - from glamourous haircuts to high fashion hair colouring and highlights!
A big attraction here is their emphasis on scalp care. Their EKS Thalassotherapy is scientifically tested and formulated to target search-specific scalp types. From managing Sebum(for oily scalps) and providing necessary Scalp Comfort(sensitive scalps), to a Purity therapy for dandruff and Anti-Hair Loss therapy for thinning hair, these are the ideal treatments for those looking to nourish their scalps. 
Best of all, you get special online deals for the various scalp treatments available at The Runway Hair Salon. 
Want more? Every customer who buys a Scalp Treatment gets a complimentary head massage. You also receive free drinks and snacks from their favourite Korean restaurant such as an Iced Caramel Latte and delicious Kimchi pancakes! 
Also, a highlight at The Runway Hair Salon is their membership which allows you to pay $1 for monthly hair services of your choice. For example, get a haircut and a single-tone hair colour, with the cut only costing you $1! Collect enough credits and you can even redeem a free iPhone. 
*Terms and conditions apply. 
The Runway Hair Salon. 7A Craig Road, Level 2, Corner of Craig & Duxton Road, Singapore 089667. Facebook. Instagram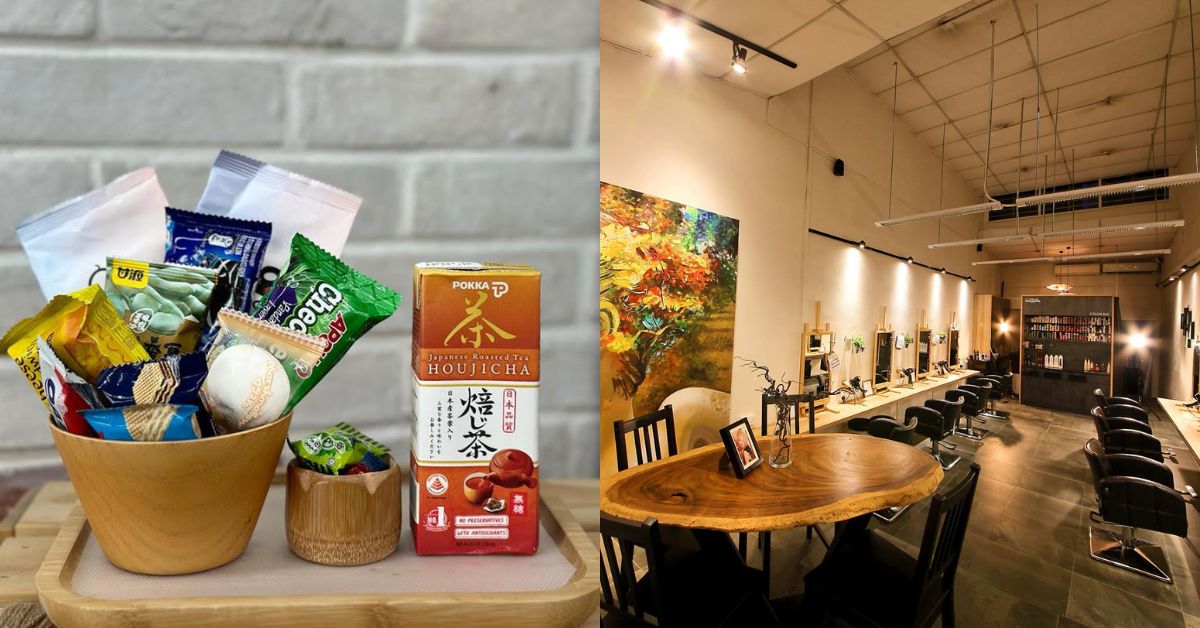 If you are looking for a hair salon for your next hair makeover, check out Picasso Hair Studio. With its team of experienced hair designers, Picasso Hair Studio prides itself on its perms and creative colouring services. Introducing the Picasso Experience, where customers can have a personalised experience as they receive a detailed analysis of their facial features, height and build, and skin tone to determine the right hairstyle and hair colour shades that best suits their overall appearance.
The best part is, customers can enjoy complimentary snacks, drinks and wifi during their visit. Picasso Hair Studio understands that perm and colouring services may take a while and customers have to wait between 3 to 6 hours to complete. Therefore, Picasso Hair Studio allows all customers to indulge in a variety of snacks, and hot and cold beverages that are provided for free with their services. 
Picasso Hair Studio. Various locations.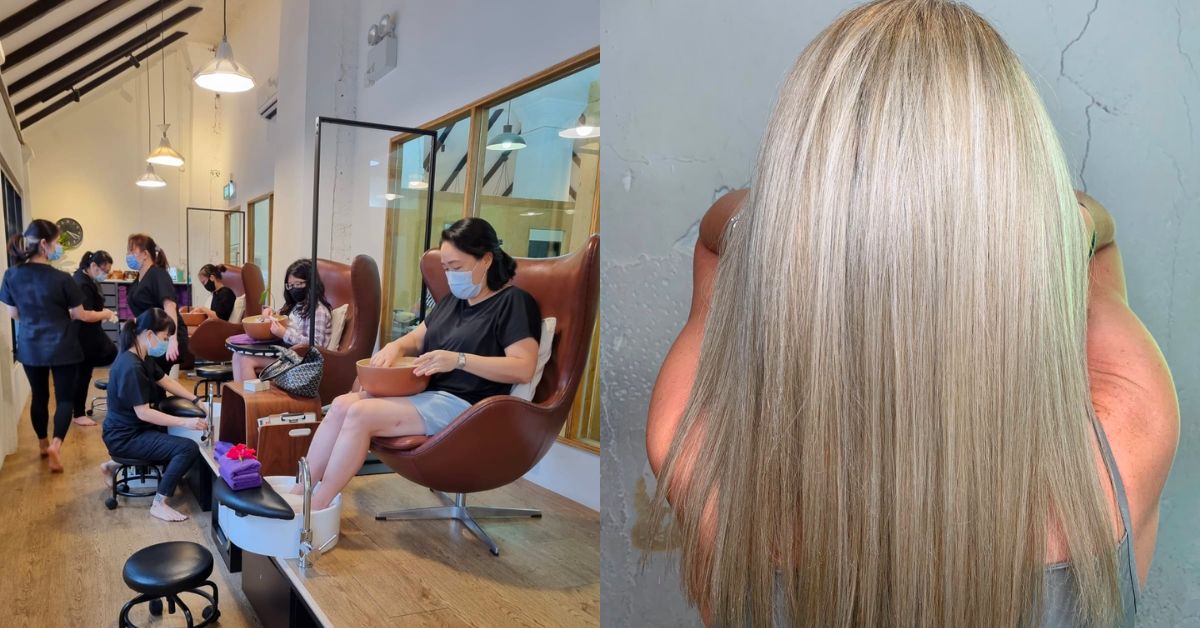 Trimmings Salon & Spa is where you can pamper yourself in ultimate comfort. The team believes that beauty is just like pampering with love, experience and passion, and should be kept simple. Since its founding, Trimmings Salon & Spa is driven by founder Amanda's belief in exceptional hair and spa treatments. The hair products they use are PPD-free, ammonia free and contain naturally derived ingredients, so you can expect the best results for your hair.
Trimmings Salon & Spa offers a wide range of hair services such as haircuts, hair colouring services, hair treatments and rebond services. Experience a full self-care day by pairing your hair service with their spa selection which includes facial treatments, massages, manicure and pedicure services, and more. 
Trimmings Salon & Spa. Various locations.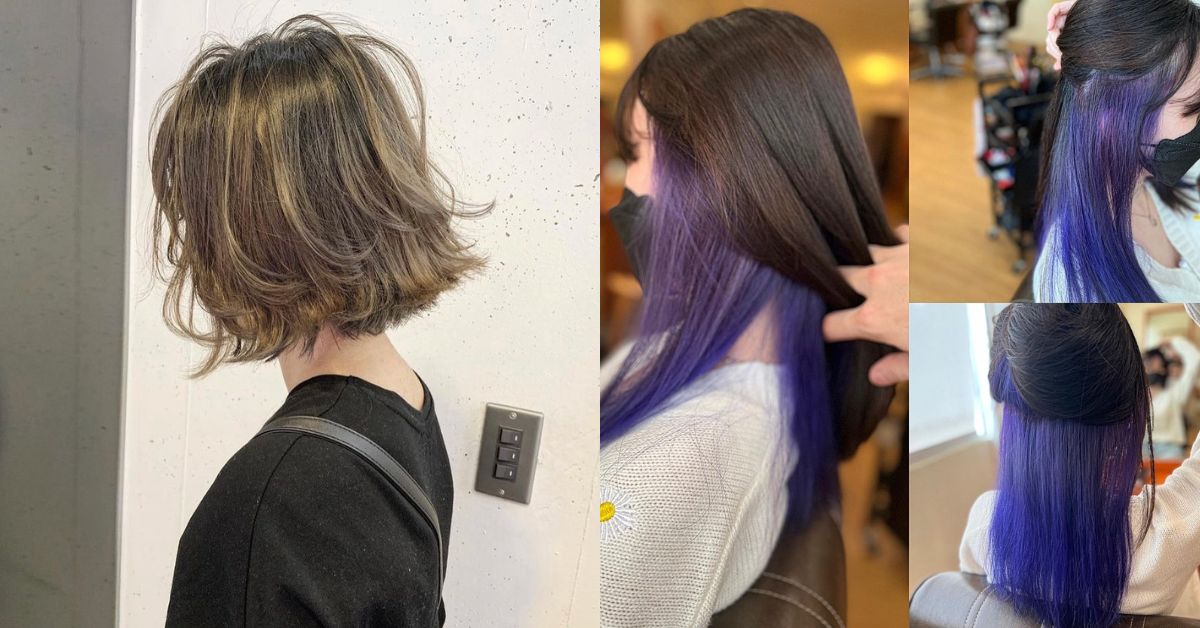 Art-Noise is a Japanese hair salon chain that has expanded to Singapore, with its first salon located in Ikebukuro, Tokyo. The salon in Singapore houses a team of experienced hair professionals, all of whom are senior stylists with many years of hairdressing experience in Japan. Art-Noise has mastered the art of hair colouring and provides smoothing and straightening services as well. 
What's more, Art-Studio offers various hair treatments that cater to specific hair needs and use products that contain non-damaging chemicals, ideal for those who dye or perm their hair regularly. The salon is popular for its head massages, so customers can enjoy a pampering experience along with their hair services.
Art-Noise Hair Salon. 38A Lor Mambong, Singapore 277694.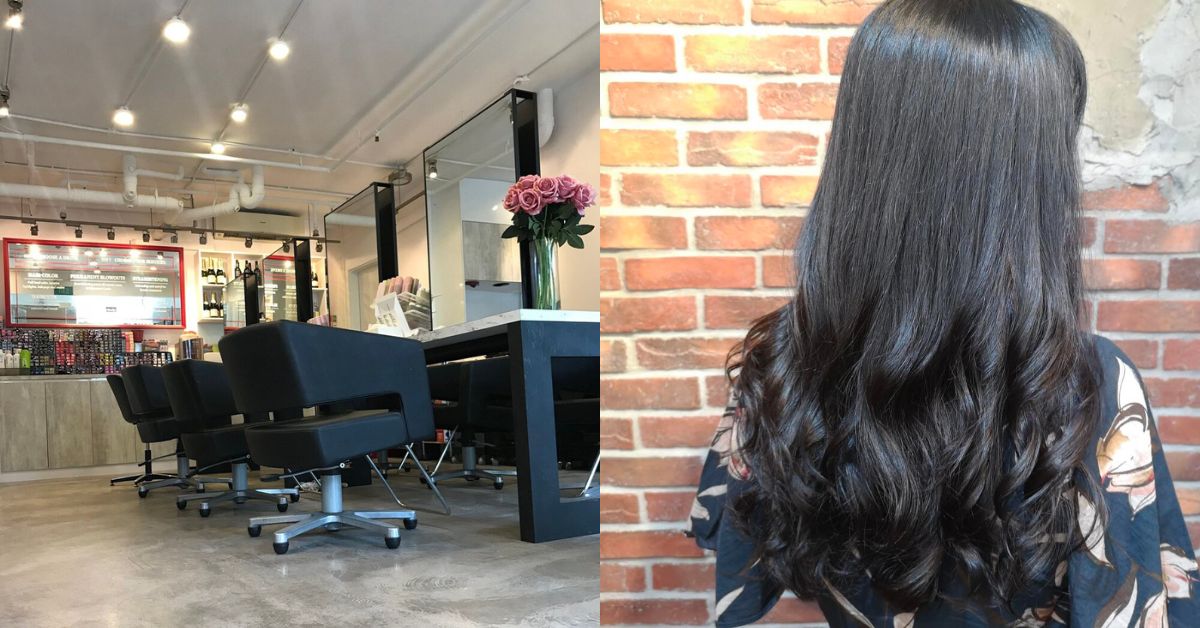 At Blow + Bar, they believe that getting your hair done should be an exciting experience. They are Singapore's top hair salon that offers a unique concept of enjoying drinks while getting your hair done and has been committed to providing its customers with their desired hair looks. Customers can enjoy in-depth hair consultations and customised hair makeovers with the help of their team of experienced hair stylists, leaving the salon feeling confident and satisfied. 
Blow + Bar offers a range of services catering to various hair needs, such as the Sheer Smooth Anti-Frizz Treatment, Permanent Blowout which creates glamorous textured curls, and Sunkissed Colours that offer natural-looking or bold highlights. Not forgetting to mention, customers can enjoy a wide selection of complimentary beverages along with their services, such as red or white wine, beer, soft drinks, coffee and tea.
Blow + Bar. Various locations.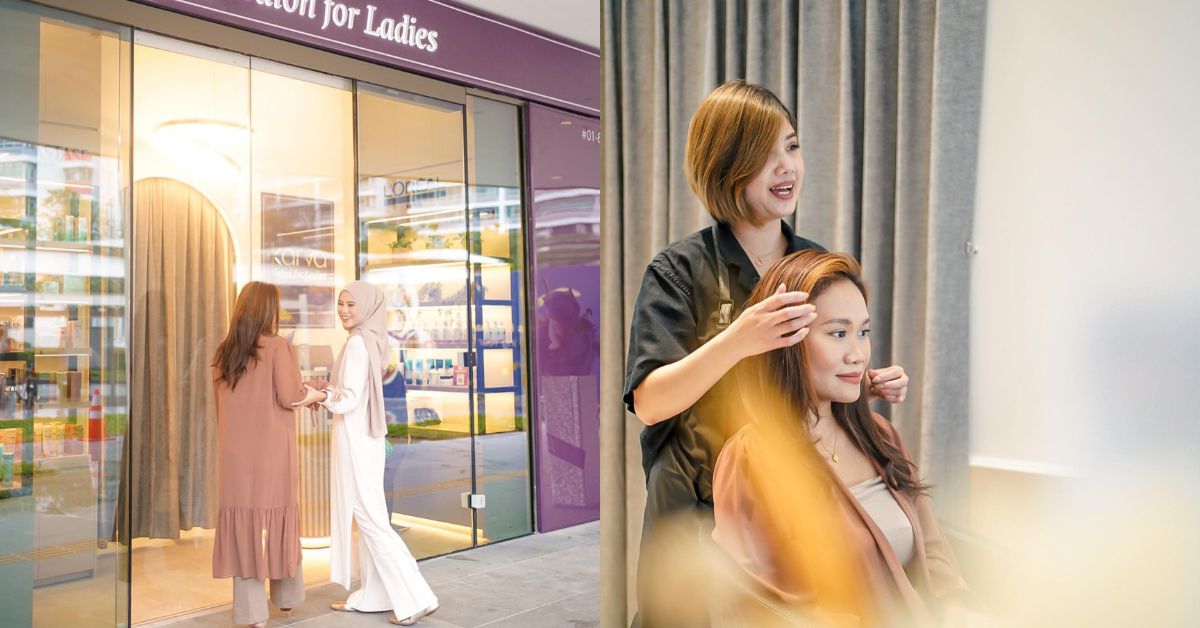 KARVA is a beauty salon exclusively for women with a mission to provide affordable luxury beauty services across various countries. With a range of beauty services from hair and scalp treatments, and hair styling services, to nail services, KARVA is a must-visit salon for a pampering experience. Additionally, this salon is hijab-friendly and their manicure and pedicure services use Wudhu-friendly polishes, making it a popular spot among Muslim ladies. To top it off, KARVA offers complimentary service for all customers to enjoy a selection of premium tea and other beverages during their visit.
KARVA. Various locations.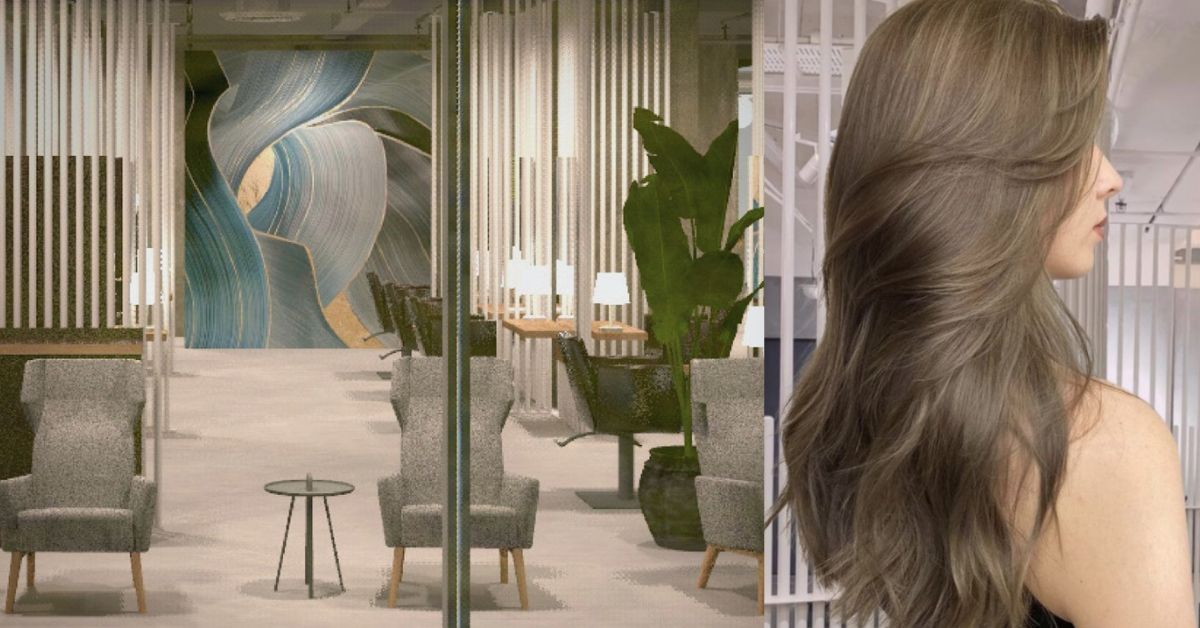 If it's good enough for Michelle Yeoh, sign us up pronto! UrbanHair are a well-known hair salon in Singapore with a roster of A-list clients, celebrities and and business leaders. Led by the Eugene Ong, the salon offers exceptional service with cheerful staff who go the extra mile to cater to your every hair-related requirement. 
Further more, stylists at Urbanhair are trained to work with Aveda Colour, top natural and eco-friendly brand for organic haircare and services. 
The studio is designed to pamper clients with extra space for each individual allowing for more privacy. You can also take advantage of both hair spa, makeup and nail services, in order to meet your grooming needs in just one visit. Want more? Look forward to a completely relaxing experience inhaling essential oils and a hot towel massage. Bliss! 
UrbanHair, #03-01 Shaw Centre, 1 Scotts Road, Singapore 228208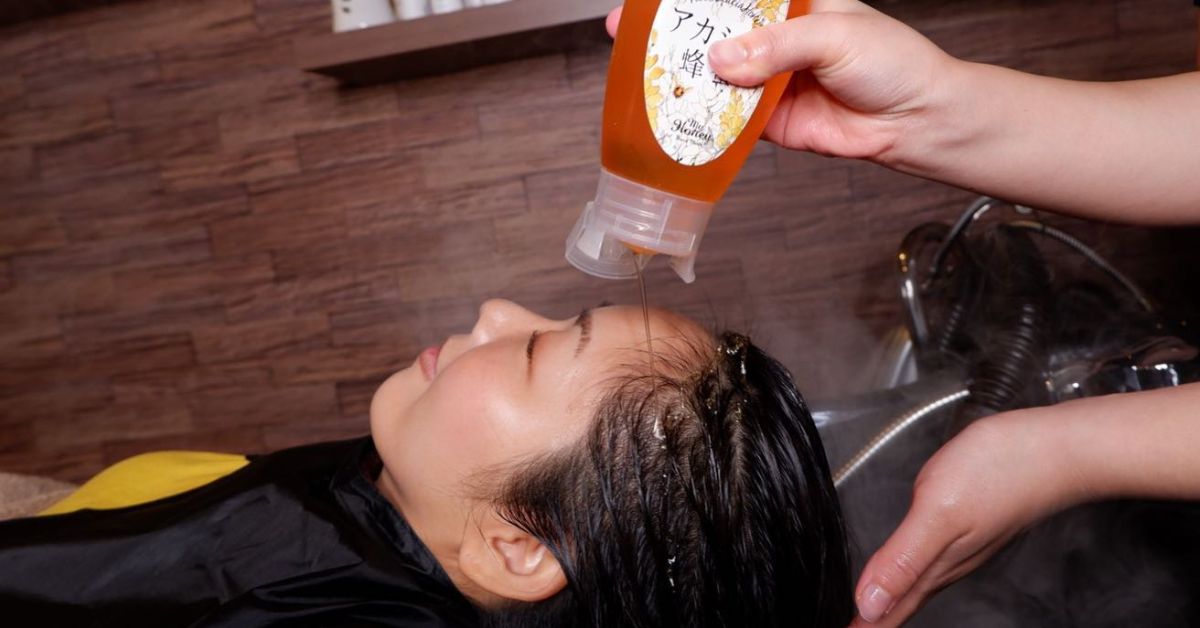 Lily Head & Hair Spa is a hair and scalp care spa that specialises in Japanese treatments. Located in Shenton Way, this hair spa is where you can enjoy ultimate comfort. They offer signature services such as the Cream Bath and the Raw Honey Head Spa, which use modern Japanese scalp massage techniques. Furthermore, their experienced team of scalp specialists from Japan can customise hair spa treatments tailored to each customer's hair and scalp concerns. The best part is, this spa has private rooms available (subject to availability), so customers can experience ultimate stress relief and relaxation. 
Lily Head & Hair Spa. 6A Shenton Way, #03-16A OUE Downtown Gallery, Singapore 068815.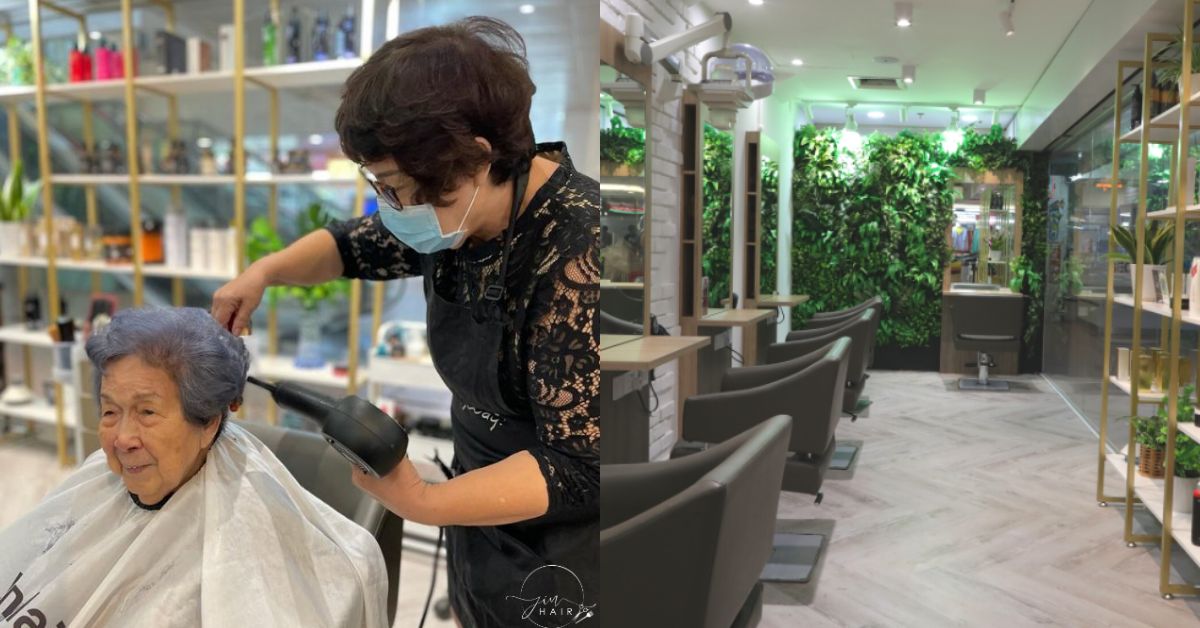 At Jin Hair Beauty, they believe in the importance of hair consultations to better understand their customers' needs and preferences, with a goal to create sustainable and comfortable hairstyles that boost self-confidence. Jin Hair Beauty offers a range of products carefully selected for their quality and environmental sustainability including local organic brands and ammonia-free colouring products to suit different hair needs.
Furthermore, Jin Hair Beauty offers a wide range of hair services from haircuts, hair colouring, hair treatments, perming and straightening services. Free perks? Customers can enjoy the ultimate pampering experience by purchasing bundles such as the Jin Happy which includes a haircut and scalp treatment with massage and scalp scan. 
Jin Hair Beauty. Upper Cross St, B1-63 People's Park Centre, 101, Singapore 058357.