While you start getting prepared for the festivities ahead, here is a way to give back to the community and those in need during the holiday season. Volunteer, donate to a charity or simply spread the word; no act of kindness however small, is ever wasted.
Here are 5 different organisations that are trying to improve the lives of the less fortunate. Sign up yourself or for your whole family and spread the joy!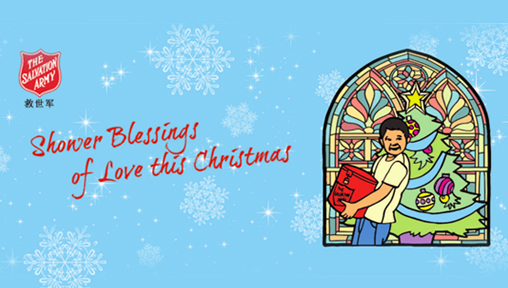 The Salvation Army has been touching lives in Singapore since 1935 and remain committed in serving the underprivileged in the community without discrimination. To them, every life is precious and hence actively help those in need regardless of age, race or religion.
The Christmas Kettle Appeal is a unique fundraising project that enables The Salvation Army to continue its work with the needy and underprivileged. Every year, staff and volunteers take to the streets ringing bells and encourage passers-by to drop a donation into the kettles.
Join in as Kettling volunteer and make a difference.You may choose to sign up in pairs with your friends or family or will be assigned another volunteer to partner up for the shift.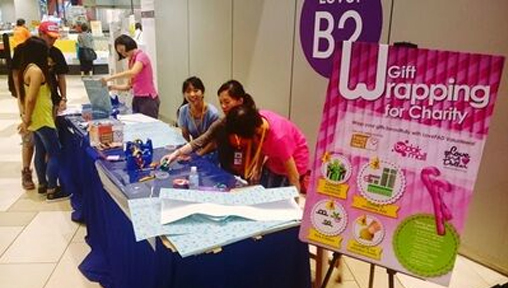 LoveFAD is a unique gift wrapping volunteering project that is organised by a small and passionate team of university students. The volunteers will be providing gift-wrapping services from 15-24 December at different malls to help raise funds for their adopted charities including Home Nursing Foundation (HNF) and Singapore Red Cross (SRC). This volunteering experience will make your Christmas more meaningful while you have lots of fun wrapping up gifts.
For the past 8 runs of this project, LoveFAD have raised a total of $115,700 for different charities. These funds have made a huge impact for them, in terms of defraying some of their daily operating cost, equipment and improving the general well being of the beneficiaries. While basic gift wrapping skills are essential, fret not, as a workshop will provide you with the necessary knowledge.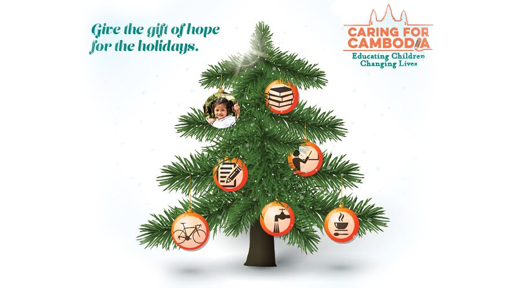 At Caring for Cambodia, the goal is to secure a better, brighter future for the children of Cambodia through education. By building schools that stand up to world-class standards, investing in teaching staff, training and by making sure all students understand the impact of nutrition and health on their future success; Caring for Cambodia are truly making that change happen.
The Giving Tree is their way of gifting hope this season. Honour a teacher, friend, neighbour or family member this holiday season by gifting the gift of education. Just select a needed item from their online catalogue and every recipient will receive a CFC ornament and a card letting them know of your thoughtful gift. While this is a thoughtful gift for your loved one, you will also be making a huge difference to the life of a child.
Some of the items on the wish list this year include School Supplies ($25), Feed a child for a year ($30), Bicycle ($50), Educate a child for a year ($180) and so on.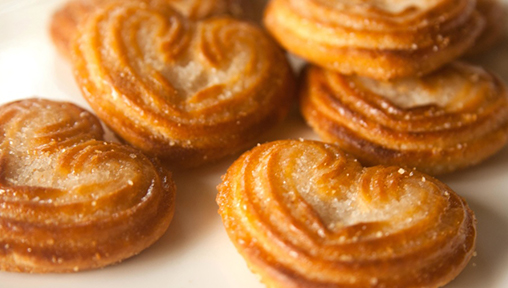 Food from the Heart (FFTH) is a non-profit charity that feeds the hungry through its food distribution programme. Stirred by reports of bakeries discarding their unsold bread, the charity decided to channel surplus food from bakeries to those in need.
The Bread Programme unites volunteers under the common belief that good food should not go to waste. If you have a vehicle, volunteer to pick up food from various eateries and hotels and distribute them to as many needy as possible. Besides this programme, there are many other ways to help the organisation and its various efforts.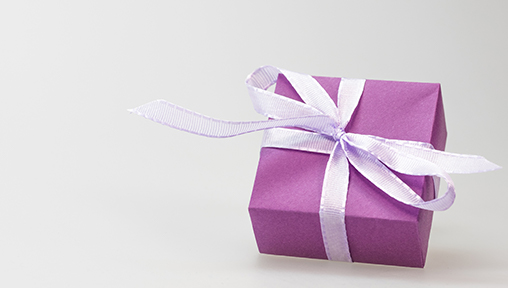 Organising a party? When you send your invitations through Gift-It-Forward, you automatically create a personal gift fund, where a portion will go towards a charity of your choice, and the other portion to a group gift you hope to receive. You can send this invitation or link to family and friends near and far to share in your joy!
Instead of guests bringing individual gifts to your party, they simply contribute to your gift fund online – no shopping, no guessing what you want! After your party is completed, Gift-It-Forward pools together your contributions and splits it between you and your charity.
For more volunteering opportunities across Singapore and the region go to www.expatgiving.org or https://www.giving.sg/.