Semi-permanent makeup is all the rage currently. From eyebrow embroidery and microblading to getting lip blushing, a permanent eyeliner and even scalp embroidery - the list is endless and the convenience it delivers, high! If you are as keen to get semi-permanent makeup and have a few questions in mind, this expert Q&A with award-winning, medical micropigmentation specialists Brow Mastery will show you the way forward. 
Well known for their International Accredited Cosmetics Tattoo and Permanent Makeup Courses, Brow Mastery International have been teaching semi-permanent makeup to salons in Singapore for over 15 years now.  We speak to Jenny Wong, the founder of Brow Mastery International and a member of the International Board of Medicine and Surgery. Over the years, Jenny has gained a reputation for providing the best comprehensive Semi-Permanent Makeup Training in Singapore and is often invited to judge semi-permanent makeup competitions across Asia.
Vanilla Luxury: What is semi-permanent makeup or Micro-Pigmentation? What all areas of the face can this be done on?
Brow Mastery International: Semi-permanent makeup is a procedure that involves using a needle to imbed pigment on to the most upper layer of the skin, the epidermis to enhance your features. You can get semi-permanent makeup done on various parts of your face and scalp. We at Brow Mastery International work on Eyebrow Embroidery or microblading, permanent eyeliner, lip blushing or embroidery, hairline, scalp and areola micropigmentation. If you need help with your scars, stretch marks or vitiligo, we can cover those up with a patented technique in micropigmentation.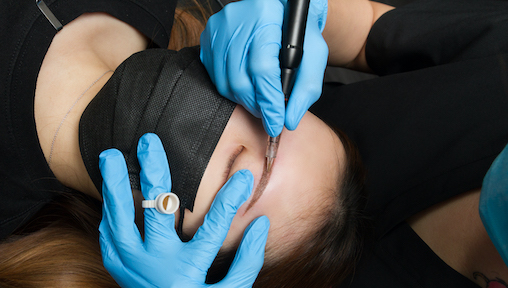 Vanilla Luxury: Is the process of getting semi-permanent makeup painful? Do tell us honestly which part of the face hurts the most.
Brow Mastery International: The use of topical anaesthetic creams is pretty common in semi-permanent makeup applications. So, while it sounds scary or painful, most individuals experience minimal discomfort. This also lies hugely on the skillset of your technician - pain levels at the Brow Mastery are around the range of 0.5-1 on a scale of 10. 
Lip blushing or lip embroidering is probably the most painful semi-permanent makeup as it is done on a sensitive area and is prone to infection if not performed properly. Lip blushing also requires specialised numbing. Many service providers use the same numbing cream as eyebrow embroidery which makes the process even more painful.
Vanilla Luxury: Is the no pain, no downtime, no scaling, no swelling claim by many service providers in Singapore a myth?
Brow Mastery International: Honesty is key in this profession and providers should let customers know that pain, downtime, scabbing and swelling depends on the individual's body reaction to the procedure. There is no guarantee at all that your body will not feel or show anything - everybody's body and skin are totally different.
Vanilla Luxury: Will my colour fade or change over time? How long before I need a touch-up?
Brow Mastery International: Yes semi-permanent makeup dyes do fade but this also depends on how the individual's body breaks down the pigment over time. A good eyebrow procedure will last about 2 years without a touch-up. Colour change is usually the chemical reaction of ferric oxide and iron oxide content in the pigment. At Brow Mastery International we manufacture our own pigments without all these nasties, so clients don't experience colour change.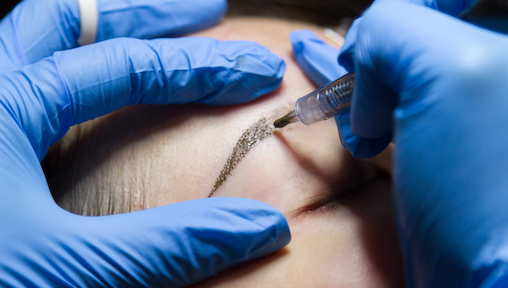 Vanilla Luxury: Can I drink alcohol on the day of the procedure and after the treatment?
Brow Mastery International: Your service provider should highlight what to do and what not to before you arrive for the appointment. Alcohol should be avoided 24 hours before AND after the process as it increases bruising and thins the blood, which could make your procedure complicated for no reason!
Vanilla Luxury: Can semi-permanent makeup be removed?
Brow Mastery International: It's a common misconception that semi-permanent makeup is not permanent. We are often asked if botched-up semi-permanent can be removed and the real answer to that is - NO. Semi-permanent makeup cannot be thoroughly removed and no matter what, it will leave slight scarring even if you use a laser several times. Semi-permanent makeup can only be lightened.
Vanilla Luxury: When can I start washing my face, wear makeup, apply acids and skincare after semi-permanent makeup?
Brow Mastery International: The way you manage your skin after your semi-permanent makeup will ensure the longevity of colour and procedure. You can wash your face as usual after a couple of hours. Try to use makeup after about a week. Also, try and avoid applying acids and other exfoliating skincare to your semi-permanent makeup area at all times as it will cause the pigment to break down and fade prematurely.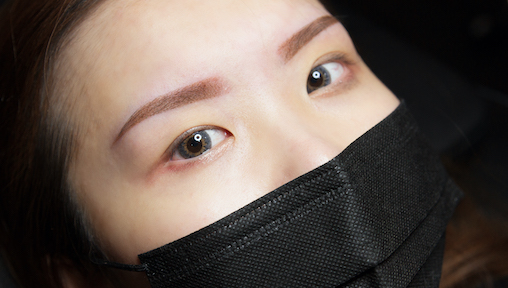 Vanilla Luxury: What should I make note of when getting semi-permanent makeup done?
Brow Mastery International: Do your research before shortlisting the salon or microblading specialist. Make sure to check their credentials and qualifications and years of experience. Ideally, take the time to go to a few places for brow mapping consultations before committing to a session and notice if they are using proper tools to measure your brows ratio (and not basing it on instinct or drawing by hand). 
At Brow Mastery, for instance, we use numbers to calculate your overall face ratio to ensure your brow shape suits your face. We then take into consideration the direction of your brow growth and your brow bone. Our pigments are botanical-based, suitable for extremely oily skin and usually last up to a few years, with no touch-ups required! 
At the end of the day, our face and body are particularly important to us. Do not rush into any micropigmentation procedure on impulse or because of the low price or promotional offers - if its too cheap to believe, you should pass on it. You might end up regretful and having to suffer through further remedial procedures which may or may not help!
Vanilla Luxury: Why should I consider Brow Mastery for my semi-permanent makeup or eyebrow embroidery procedure?
Brow Mastery International: As award-winning, medical micropigmentation specialists that have been training salon and semi-permanent makeup providers in Singapore for over 15 years now, you can expect absolute honesty with a superior skill set at Brow Mastery. With no downtime or aftercare needed, no hard selling or upgrading of packages and a free, first, no-obligation consultation - meeting with one of our consultants for semi-permanent makeup is definitely worth your time.
Brow Mastery International, 82 The Atrix #02-05 Singapore 388409. Email: hello@browmasteryintl.com