If you are anything like me you would have binge-watched the new Netflix horror series; The Haunting of Hill House. It seems horror is making a strong come back in 2018 - from the spine-chilling 'Hereditary' to the mediocre 'The Nun' getting your thrills from a good scare is the thing to do.
A lot has changed from the generic long-haired female ghost of the 90's. Today, there seems to be an emphasis on spirits with a personality. People are no longer satisfied with faceless ghouls. I am of course the biggest culprit of this. Ever since The Haunting of Hill House I find myself in search of my own Nell Crain to uncover a connection with the other world. It turns out my desire isn't new. After all and Mexicans have been doing this for centuries.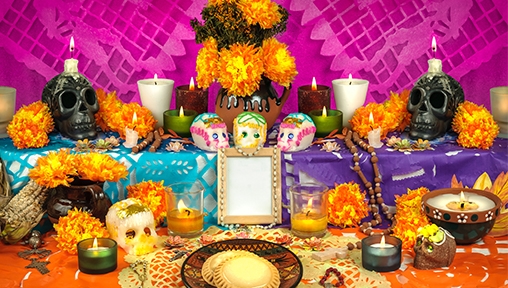 The Day of the Dead (Día de Muertos) is a Mexican holiday celebrated throughout Mexico. I am sure you have seen it in Disney's animated cartoon Coco and in James Bond Spectre (moments before an amazing helicopter scene).
Plans for the day are made throughout the year, including gathering the goods to be offered to the dead. During the three-day period families visit the cemeteries where their loved ones are buried and decorate their graves with ofrendas (altars), which often include flowers, candles, food offerings, and even poems. People often get their face painted to look like skulls and take part in a parade. As you can imagine variations of this great event has slowly made it's around the world and now its latest incarnation is in Singapore.
Local Mexican dive bar 'Chimichanga' is celebrating the Day of the Dead in Singapore with a twist. They are inviting you to contribute an image of your favourite icon for their Altar (ofrendas) and you can offer up tequila shots to Bowie and hope it lures him back for one night.
According to them from  'Anthony Bourdain to XXX Tentaction, we will build our very own 'Ofrendas' with their image to honour your icons.
You can also get your face painted with those cool skulls and try Mexican food. I am personally looking forward to getting my face painted and channeling Michael Jackson.
In Ancient Mexican time the festivities were dedicated to the goddess known as the "Lady of the Dead", corresponding to the modern La Calavera Catrina, if that name sounds familiar, Harley Quinn is rumoured to be her devotee. She is believed to make an appearance during the day of the dead. If you guys do take part let me know if anything interesting happens. Get your tickets here.