beauty
Best Places for Eyebrow Embroidery Removal in Singapore
Published Date
: 05 Sep 2023 10:00

Looking to salvage bad eyebrow embroidery? Seeking professional help is key to prevent scarring and hyperpigmentation after a botched eyebrow job
Have you had a bad experience with eyebrow embroidery and are looking to reverse it? A bad brow embroidery job can have serious consequences on one's appearance and self-confidence. When the treatment is performed incorrectly, it can result in asymmetrical or malformed brows, unnatural colour, or even scars.
The best way to recover from a botched eyebrow embroidery is by seeking professional assistance. Only the most qualified and experienced specialists, understand the complexities of eyebrow embroidery and have the expertise to analyse and correct the former aesthetician's mistakes.
Read on, to find our list of the best professionals in Singapore for eyebrow embroidery removal and restoration. These range from laser to non laser treatments, serving options for every individual's comfort and pocket. 
Take the first step towards fixing your eyebrow embroidery by making an appointment with one of these experts today. 
Best Places for Eyebrow Embroidery Removal in Singapore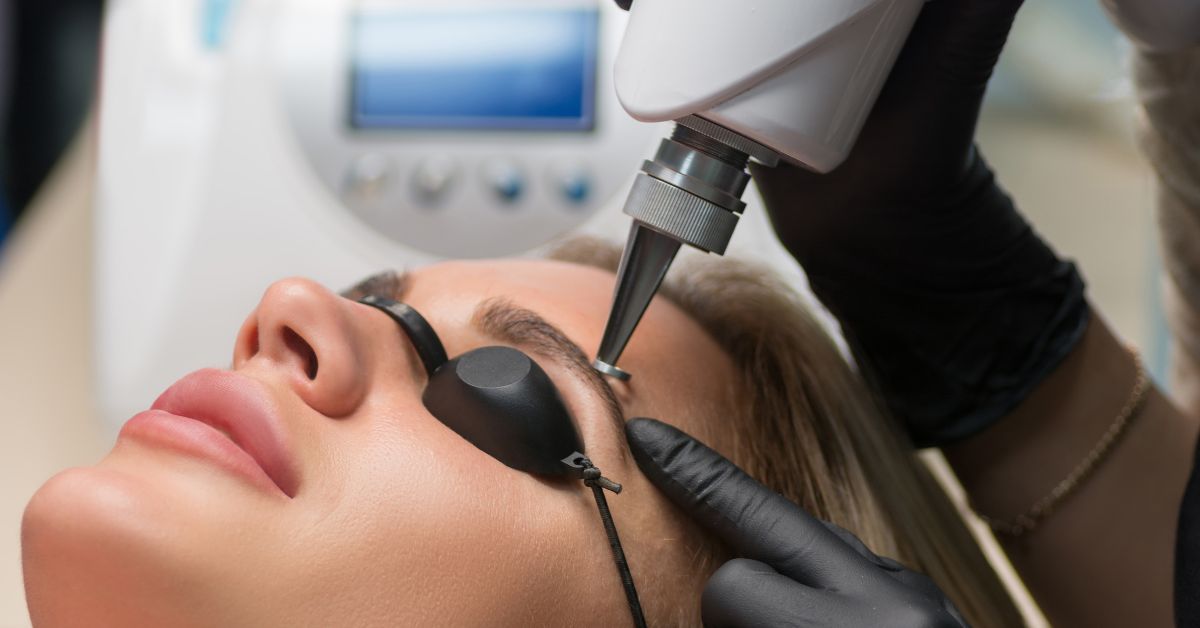 The PicoCare 450 available at Cambridge Medical Group, proves to be a remarkable solution for treating various types of pigmentation issues, including those caused by eyebrow embroidery with excessively dark pigments. 
This advanced laser technology employs picosecond pulse lasers, which deliver ultra-fast shots of laser energy at a trillionth of a second, shattering pigments into minute fragments with exceptional precision. Unlike conventional lasers that generate more heat and may lead to side effects like blistering and scarring, the Pico laser's rapid delivery of energy minimises the production of heat, making the treatment more comfortable and safer for the skin.
For those worrying about the state of a bad eyebrow embroidery, simply visit Cambridge Medical Group for a consult and their specialists will advise on appropriate care for your individual needs. 
Cambridge Medical Group is located at 391B Orchard Road, #08-05A1, Tower B, Ngee Ann City, Singapore 238874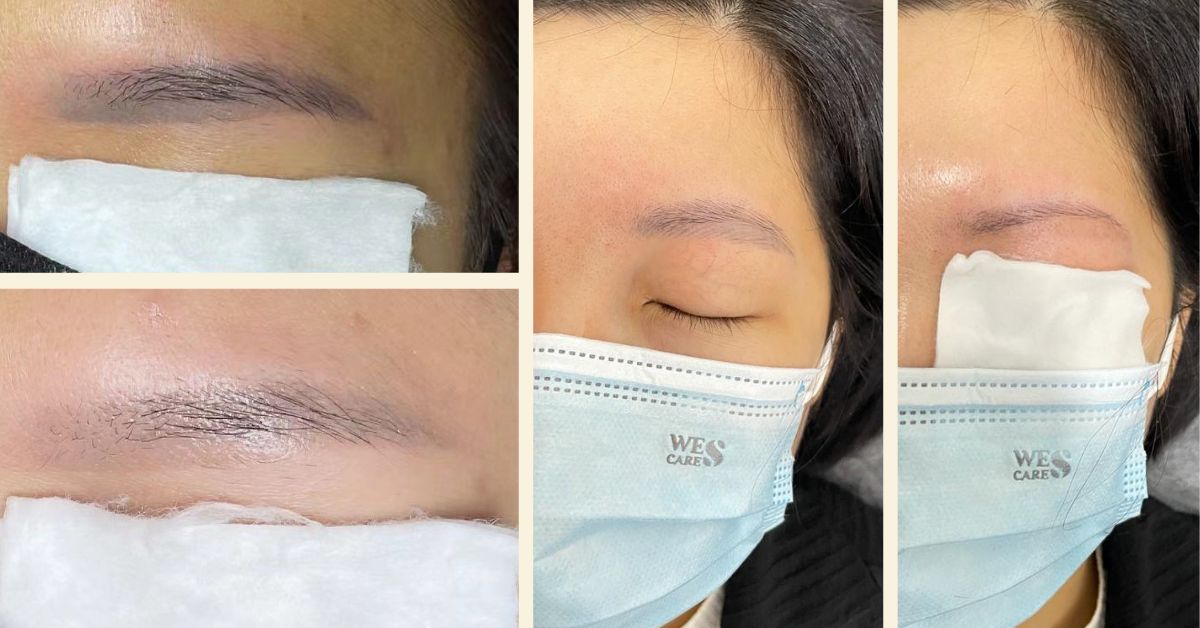 If you find yourself worrying about the state of your brows, Singapore's leading eyebrow embroidery salon Highbrow will help find a way to rejuvenate and redefine them. Established more than a decade ago, Highbrow has become a household name in the realm of eyebrow embroidery and microblading. Renowned for their ability to deliver results that are not only long-lasting but also free from unsightly bruises, deep cuts, or pigment discolouration. Their team has built a reputation for rescuing clients from eyebrow mishaps, often playing the role of eyebrow saviours for those in need.
Whether you've had a botched brow job or simply want a fresh look, the possibility of removing and redoing your brows using safe techniques, such as Pico laser, is readily available at Highbrow. The process is not as painful as you might think, with many customers reporting little to no discomfort during the procedure. 
First, an analysis of the customer's existing eyebrow embroidery is done to judge the type of eyebrow pigment. Next, you will be advised on how many laser sessions it will take to remove the botched embroidery job. Post that, a laser is chosen based on the colour preference of the client. 
With the option of using mild anaesthetic cream for sensitive individuals, the experience can be made even more comfortable. And don't worry, after your laser correction, the skin will not be damaged or broken as the advanced technology makes this a no-downtime procedure. In fact, you can still draw your eyebrows by yourself the next day! The healing process known also as the depigmentation stage takes about a month when the colour will lighten. 
At Highbrow, they can even redo your eyebrows after the laser treatment using advanced brow treatments, like Brow Enliven. This makes it possible to achieve more natural and finely detailed eyebrows that last longer than traditional methods.
Embrace the opportunity to enhance your facial features with the latest brow embroidery techniques and feel confident in the beauty of your brows once again.
Highbrow, Orchard Gateway, The Star Vista and Capitol Piazza. Call (+65) 87988988.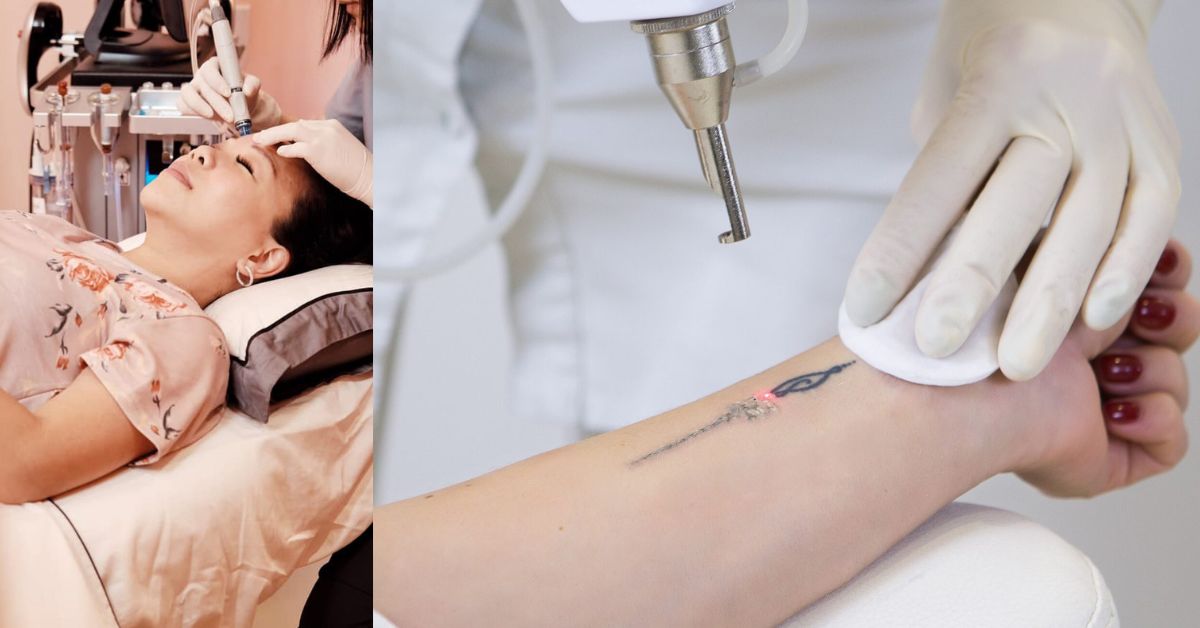 Laser tattoo removal treatments can vary from person to person based on several factors, such as the size and colour of the eyebrow tattoo, the depth of the ink in the skin, the type of ink used, and the individual's skin type.
A knowledgeable and experienced medical aesthetic practitioner, such as Kevin Chua Medical Aesthetic, will thoroughly examine the specifics of the brow embroidery and adapt their laser treatment accordingly. They will analyse aspects such as the pigment used, the desired level of removal, and the client's skin type before selecting the optimal laser technology, PicoWay or MedLite C6 system, to obtain the greatest outcome with safety and the least amount of discomfort. 
With professional guidance and a customised treatment plan, you can be confident that your botched brows will be erased, leaving behind a blank canvas for a better job.
Kevin Chua Medical Aesthetic is located at 360 Orchard Road, International Building #03-05, Singapore 238869
Did you know that Jenny Xu has done over 10,000 eyebrow embroideries and is one of the most sought-after semi-permanent makeup artists in Singapore? Jenny has worked in the Embroidery Department at the Plastic Surgery Hospital in Shen Zhen China and is skilled at designing, creating and modifying eyebrow embroidery. Jenny uses the latest patented technology to create the most natural and multi-dimensional eyebrows to match your profile. 
Need help with your botched eyebrow embroidery? Jenny Xu's modification and design of eyebrow shape is based on the customer's brow bone shape and face shape, tailor-made for each customer, and presented with the most natural effect. The process includes erasing old eyebrow embroidery and then creating a new eyebrow shape with hyper-realistic eyebrows that mimic natural hair growth. Jenny will work with you until you are satisfied with your new eyebrow embroidery and can step out in confidence to flaunt those soft brows.  
Men make note! Jenny offers eyebrow embroidery and modifications for both men and women and is well-versed in male contours. This means you can walk away with natural-looking eyebrows designed for your face and bone structure.  
Furthermore, Jenny Xu is also the only eyebrow specialist in Singapore to use registered trademarks and patents. She will carefully blend every hair stroke with your natural hair using pigment closest to your natural brow shade, to give a super-natural and fluffy effect. You will find the eyebrow embroidery process to be quick and painless, even for those with sensitive skin. 
Eyebrow Correction services at Jenny Xu are priced at S$3500.
Jenny Xu Pte Ltd. 16 Ipoh Lane. Singapore 438620. (Parking available on-site). Instagram @jennyxuhj. Facebook. Email: [email protected]. 
Whatsapp: (+65) 9716 1920. Google Reviews. 
At 1aesthetics, there are several effective options available to take care of any stubborn eyebrow embroidery that you wish to remove. They understand that cosmetic tattoos or embroidery, while popular for their convenience, may not always turn out as desired, leading to the need for removal. One of the advanced techniques they utilise is the Pico Plus, a second-generation triple wavelength picosecond q-switched laser.
This laser has a high peak power, which produces a greater photoacoustic effect with less collateral damage. This laser's ability to target distinct colours of tattoo ink pigments using different wavelengths promises faster and more successful tattoo removal with fewer treatment sessions necessary and a lower risk of problems such as scarring.
In addition to the Pico Laser, 1aesthetics also offers the Ultrapulse fractional CO2 laser, which is used to pretreat the skin before shattering tattoo pigments with the q-switched laser. Moreover, they provide Extracorporeal Shockwave Therapy, a hand-held device that transmits focused shockwave energy deep into the tissues, enhancing tattoo removal by increasing lymphatic drainage and metabolic activity. 
1Aesthetics, Medical & Surgery is located at #14-90 The Central Tower 1, 8 Eu Tong Sen Street, Singapore 059818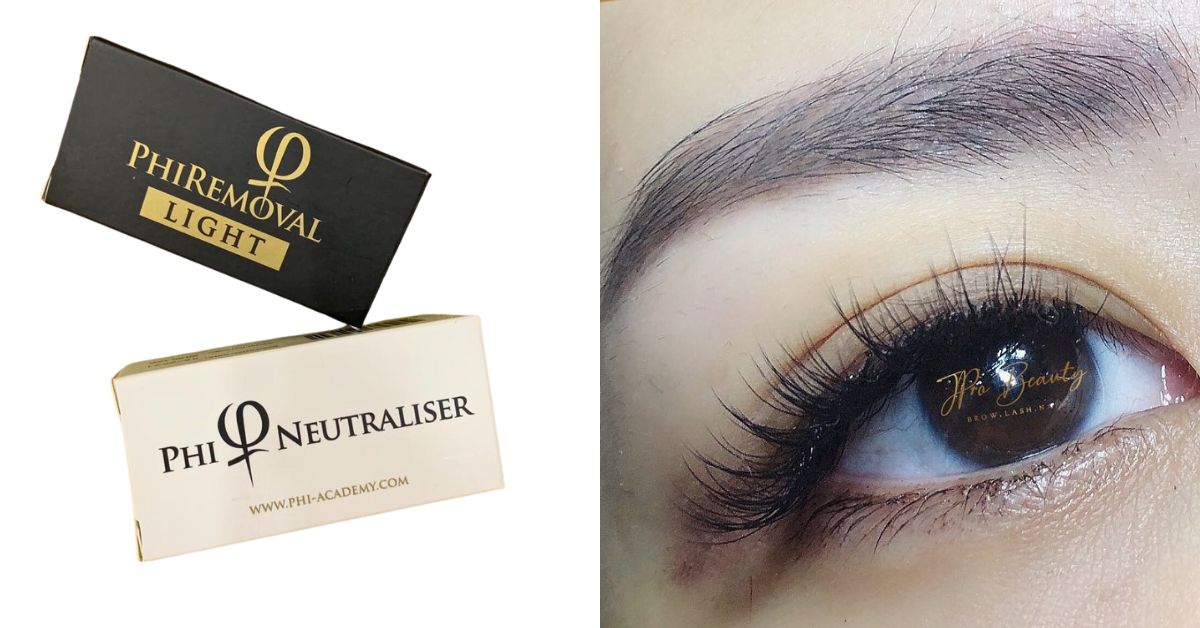 If you find yourself dissatisfied with your eyebrow embroidery results and are seeking a solution to rectify the issue, PhiRemoval at JPro Beauty can pave the way for effective colour correction.
PhiRemoval is the primary non-laser tattoo removal process at JPro Beauty. This treatment provides a faster alternative with low risk, making it perfect for those who want results quickly with minimal scarring. The artist utilises single-use needles and a specialised solution to break down the pigmented area impacted by the eyebrow embroidery during the PhiRemoval process.
While a course of PhiRemoval may require multiple sessions, it is a cost-effective option compared to laser removal. Additionally, for intricate colour correction, it is crucial to seek the expertise of highly skilled artists like the ones at JPro Beauty.
JPro Beauty is located at 04 Jurong East St 13, #01-102, Singapore 600104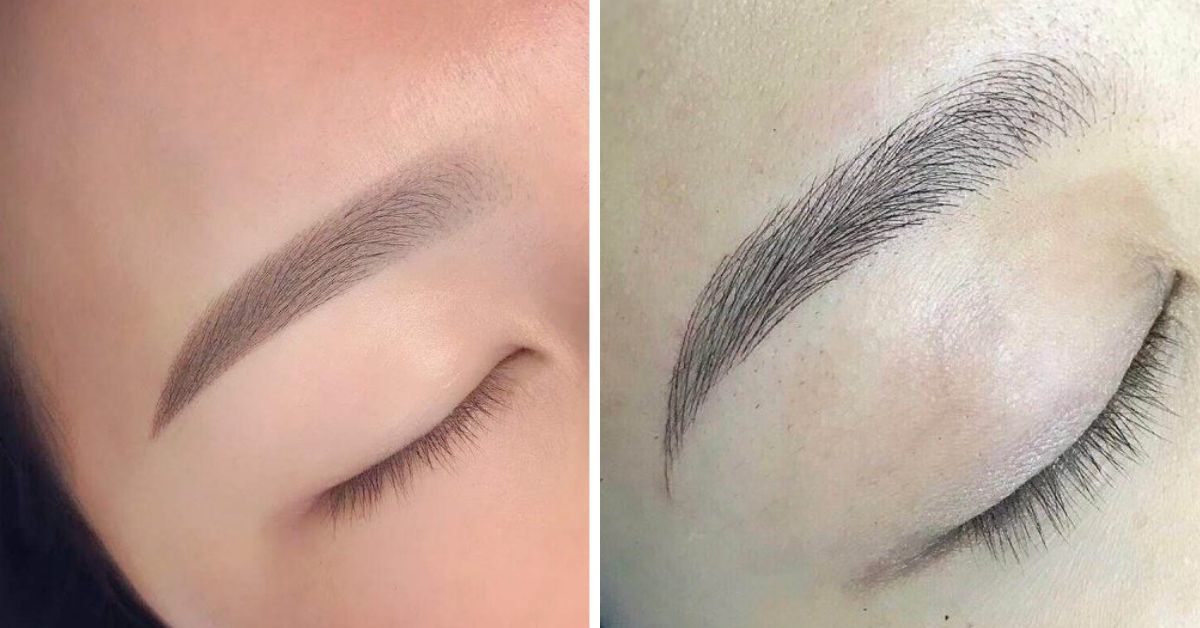 Non-laser tattoo removal treatments offered by Beauty Recipe Aesthetic and Academy, are an excellent option for removing eyebrow embroidery as they minimise scarring and provide numerous benefits. Unlike traditional laser tattoo removal, which may cause the skin to split open and lead to potential scarring, non-laser methods utilise a safe and certified removal solution that is gentle on the skin.
At Beauty Recipe, a safe, FDA-approved tattoo removal solution from the United States enters into the surface dermis layer of the skin using a tattoo instrument similar to that used for eyebrow embroidery or micro-pigmentation, which then pulls the pigment implanted into the skin out to the surface practically instantly.
With benefits like precise removal of specific parts and the ability to remove colour tattoos effectively, non-laser treatments offer a safe and effective solution for individuals looking to refresh their brow appearance without the worry of excessive scarring.
Beauty Recipe Aesthetics & Academy is located at multiple locations, find the one nearest to you here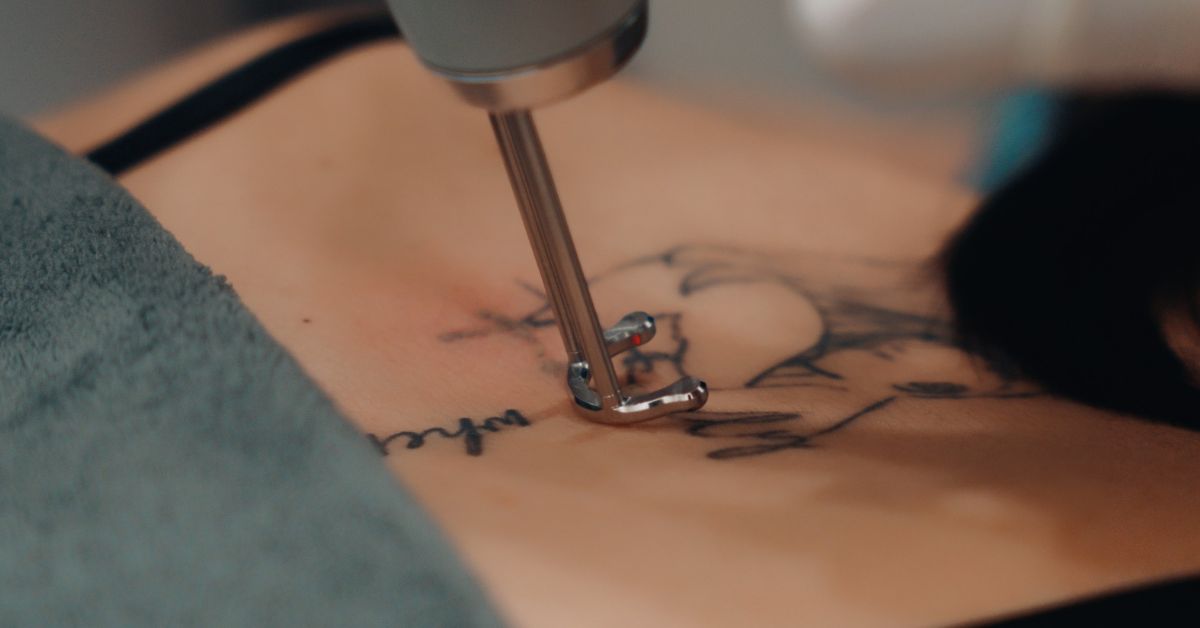 If you are looking for a reliable and trustworthy medical aesthetics group to care for any treatments required for your eyebrow embroidery removal, V Medical Aesthetics Group makes an excellent choice. 
With over 30 highly experienced medical doctors and a track record of serving more than 35,000 patients, you can trust that you are in capable hands. They offer a range of customised skin solutions, including Pico Laser treatment for pigmentation removal, which is safe and FDA-approved. 
 
Their patient-centred care approach ensures that you receive thorough skin assessments and proper holistic care without any hard selling. With transparent and affordable pricing, you can be confident that you'll receive the best possible care to address any concerns related to your eyebrow embroidery. 
V Medical Aesthetics & Laser Clinic is located at multiple locations islandwide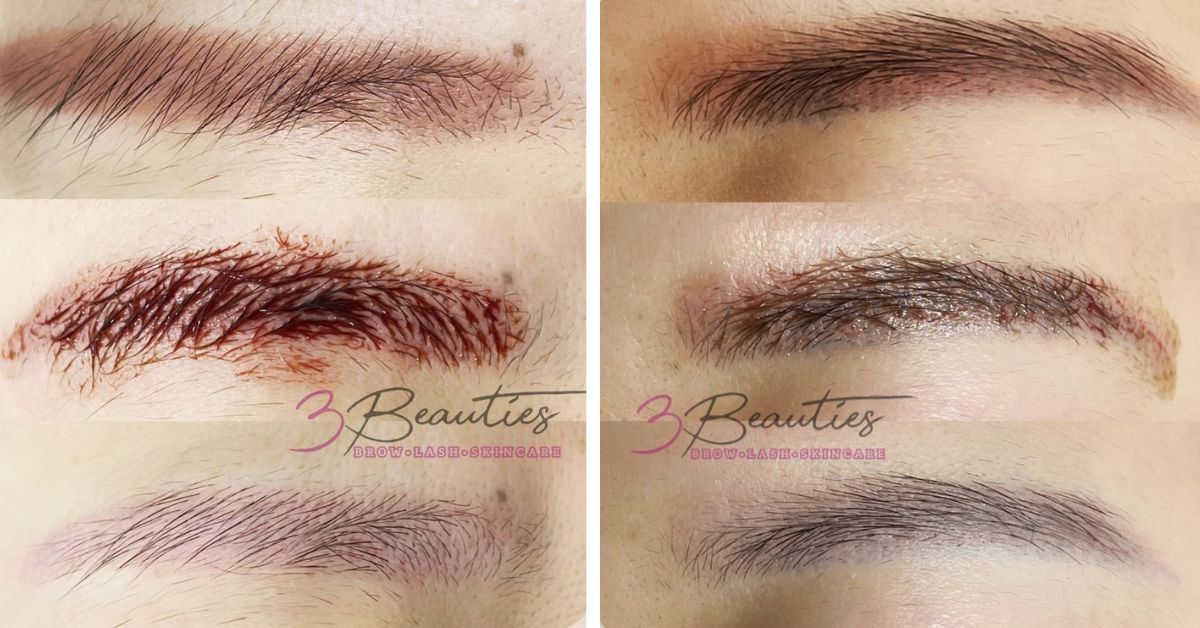 3 Beauties Tattoo Removal offers safe, effective, and affordable services with the support of their highly trained professionals. 
With a team of experienced tattoo removal specialists, they tailor treatment plans to suit each individual's needs, ensuring the best possible results. Whether you are looking to lighten or completely remove your tattoo, they use advanced techniques like PhiRemoval or NanoPulse, delivering quicker results with fewer treatment sessions compared to traditional methods. 
What sets 3 Beauties apart is their commitment to customer comfort, as they prioritise a pain-free experience during the removal process by utilising a two-step numbing method. Applying medical-grade numbing cream and liquid ensures minimal to zero pain, making the procedure more comfortable for clients. With their reputation as a trusted beauty salon in Singapore, they boast a highly qualified multi-disciplinary beauty team, guaranteeing that you will be guided and supported every step of the way during your tattoo removal journey.
They are even offering a trial promotion for eyebrow embroidery removal for just $120!
3Beauties is located at 8 Burn Road TRIVEX, #13-01 Singapore 36977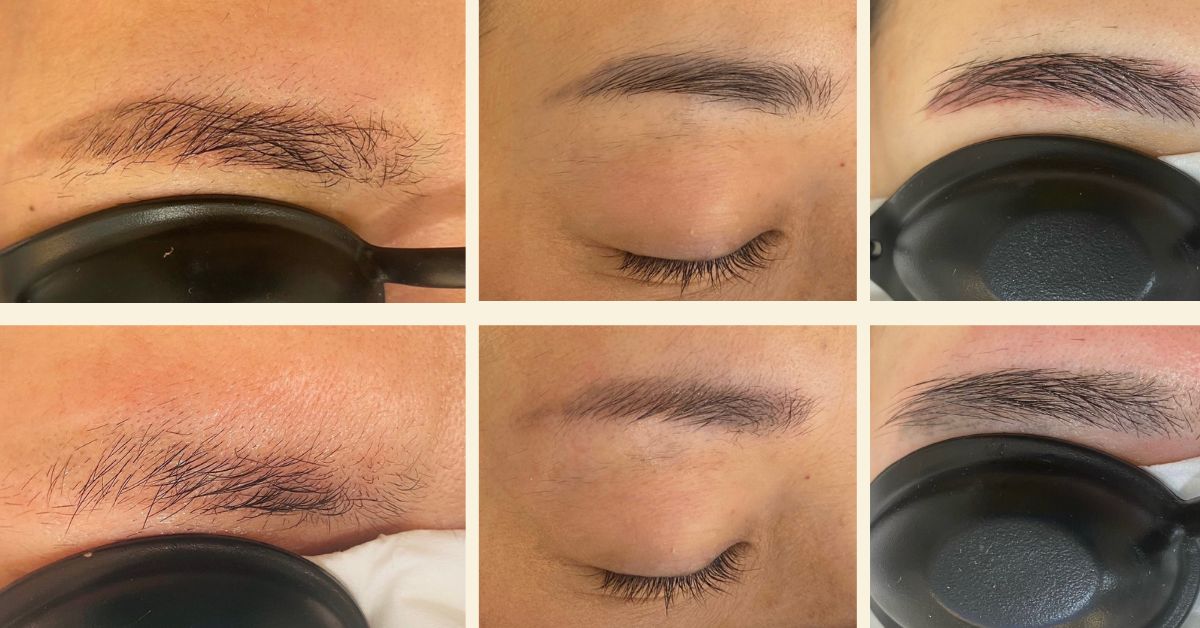 Eyebrow removal with PhiRemoval is an accessible and safe option for anyone seeking to remove their eyebrow embroidery or any unwanted permanent or semi-permanent makeup. PhiRemoval utilises a non-laser technique, making it a less invasive and more gentle procedure compared to traditional laser tattoo removal. The main ingredient, Glycolic acid, is safe and commonly found in cosmetics, making it suitable for use on the face and body. 
Furthermore, PhiRemoval is adaptable and suited for all sorts of colour removal, making it accessible to a wide spectrum of people. The healing period is quite rapid, with little post-procedural pain, making it an appealing alternative for people seeking efficient and effective brow removal.
The Brow and Beauty Boutique is located at 371 Beach Rd, #01-46 CityGate, S199597