beauty
Best Hair Smoothening and Anti-Frizz Treatments in Singapore
Published Date
: 03 Nov 2023 13:00
We help you narrow down the best hair smoothening treatments in Singapore. Scroll along and find the anti-frizz hair treatment of your choice
Looking for the best hair smoothening treatments that are anti-frizz? When you live in a tropical country like Singapore with high temperatures and high humidity, it is almost impossible to avoid frizzy hair. Along with the high humidity, your hair starts feeling dry, dull and brittle to touch – hence the cuticle tries to absorb the moisture from its surroundings, causing hair to swell and frizz! It's not just the humidity, but frequent heating and chemical contact with your hair can also result in frizz. 
To save you from all that agony anti-frizz hair treatments can be easily found across various hair salons in Singapore. In fact, there is a huge assortment of hair smoothening treatments like a Brazillian Blowout Sealant (for people who require urgent help with 'fried' hair), Keratine and fillers to fortify the hair from within and more. 
Overwhelmed? Fret not as we help you narrow down and list some of the best hair smoothening treatments in Singapore, in our round-up. Scroll along and find the anti-frizz hair treatment of your choice.
Best Hair Smoothening and Anti-Frizz Treatments in Singapore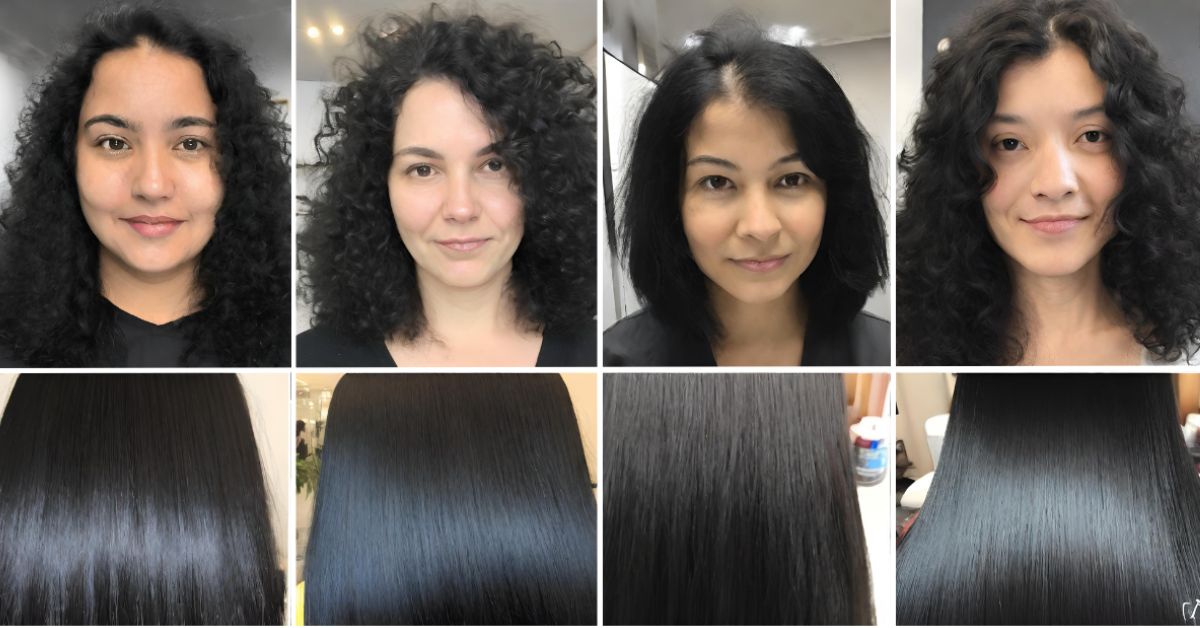 Experience the pinnacle of hair transformation with Nanoplasty at Chez Vous: Private Space – the ultimate solution for those in pursuit of the longest-lasting, cleanest, and most intense hair straightening treatment available today!
Are you on the quest for a hair smoothening treatment that stands the test of time? Or perhaps you are seeking the safest and cleanest anti-frizz solution? Maybe you are still on the lookout for a superior hair straightening therapy that rivals rebonding, regardless of your curl pattern's intensity, all while avoiding the damage caused by typical relaxers found in rebonding? 
Look no further, than the revolutionary Nanoplasty hair treatment at Chez Vous: Private Space, surpassing all other smoothening treatments currently dominating the market. 
Nanoplasty achieves semi-permanent hair straightening by penetrating the hair's microfibril matrix without compromising the cuticle or breaking any hair bonds. This groundbreaking treatment features nano-sized nutrients that mimic the natural composition of our hair, fortifying, repairing, and healing each strand from the inside out.
Nanoplasty is the epitome of clean beauty. It is free from relaxers, formaldehyde, or any formaldehyde-releasing ingredients. Taking it a step further, this innovative hair smoothing treatment excludes ingredients known or suspected to pose harm to human health, making it the ideal anti-frizz solution for women who are pregnant, breastfeeding, or health-conscious. Notably, it adopts a vegan formula and is cruelty-free – a testament to its commitment to clean and ethical beauty practices.
And the excitement doesn't end there! Nanoplasty claims the top spot for straightening stubborn curls or waves without causing damage. It boasts the highest straightening intensity among non-relaxer-based smoothing services. Plus, the results endure for an extended period, with Nanoplasty effects lasting an impressive 4 to 7 months, surpassing other anti-frizz technologies like Brazilian Blowout (2 months) and Keratin Treatments (3 months).
Chez Vous: Private Space proudly stands as the first and only salon in Singapore to offer this state-of-the-art Nanoplasty hair smoothening treatment. Available as part of an exclusive first-class bundle, which includes a haircut, express head spa, and a delightful high-tea experience, this value-packed offer is priced at $555 + GST. Say yes to long-lasting hair bliss!
Visit Chez Vous: Private Space at 391B Orchard Road, Ngee Ann City Tower B, #08-01, Singapore 238874, or contact them at 6235 0345 or [email protected] to secure your appointment. For more details, explore https://chezvoushair.com/privatespace/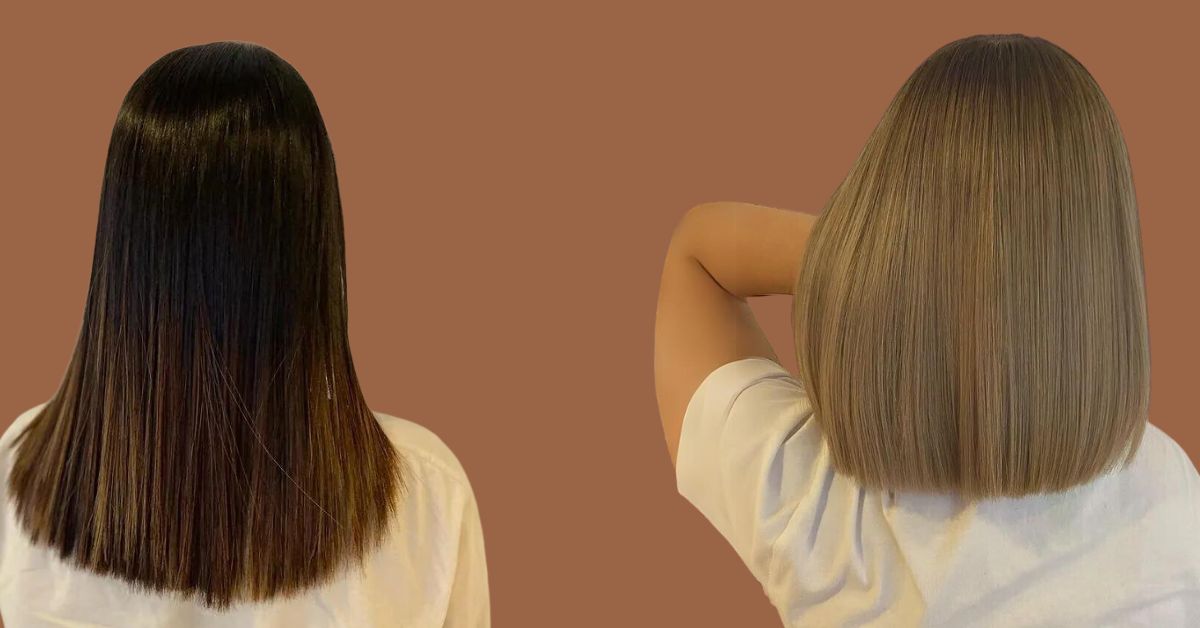 Looking for a smoothening treatment that tames frizzy flyaways and delivers shine to the hair? The Keratin Treatment at our favourite hair salon in Singapore, Kimage gives you all that and more. 
Established in 1994, Kimage is known for its hair crafting techniques across a range of services including hair colour, hair cuts and smoothening treatments. Today, the brand stands tall with 9 stores island-wide and is one of the most coveted hair destinations in our city. 
As the best-selling anti-frizz treatment in Singapore, the Keratin treatment at Kimage gives you the shine and smoothness of healthy hair. Keratin treatment is a special chemical-based hair therapy that is designed to increase the elasticity, thickness, and health of your hair. It helps to restore the lost keratin in the hair through an artificial process known as Keratin Treatment. While Keratin treatment isn't permanent, it is a great alternative to hair irons and works well for unwanted curls, and roughness or to simply invigorate your hair.  
The process involves deep cleansing via a Keratin treatment shampoo to rid the hair of any residuals. Following a cleanse, Keratin treatment is applied to the hair to absorb the formula. 
Then, a blow dry process helps to set the shape of your hair and tame frizziness. This also brings on a straightening effect. Finally, a flat iron helps to seal the Keratin on the hair to give it shine and smoothness. 
We love that Kimage also recommends a homecare set to maintain the results for longer. This bring-home set of a Keratin Conditioning Shampoo and Treatment helps to retain that shine even when you are out of the salon. 
The Keratin treatment at Kimage is priced at $360 for short hair, $460 for long hair and their Homecare Shampoo is priced at $56(300ml) and Homecare Conditioner is for $56(300ml).
Kimage, 9 stores islandwide. Book here or email [email protected] for more details.
Flagship Store, Kimage Cove: 6 Raffles Boulevard #02-321/322/323 Marina Square Singapore 039594. Phone: (+65) 62762700.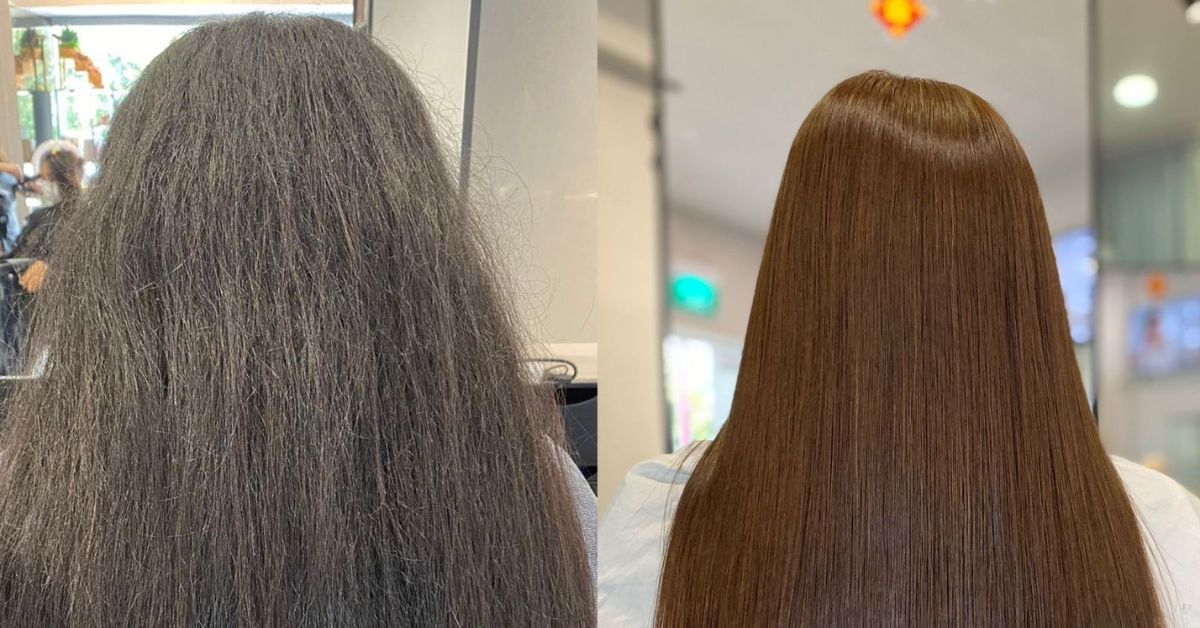 Invented by Mucota – a renowned Japanese haircare brand, it is not surprising that the Mucota Hair Treatment is uniquely formulated for Asian hair types for you to achieve those smooth polished locks! To get this popular hair smoothening hair treatment for your frizzy hair in Singapore, head over to Royal Hair Studio. So why exactly is this treatment so popular with the crowd? Unlike some haircare substances, you will be glad to find out that Mucota treatment helps improve and fix your damaged and frizzy hair without any of those harmful chemical concoctions. Free of formaldehyde, this hair treatment process makes it an ideal solution for pregnant ladies who are looking to fix their unruly frizzy hair. 
Done in 5 steps within a short time period of just 1.5 hours, the Mucota treatment is generally good for anyone with dry, frizzy or damaged hair – including those of you who frequently bleach or dye your hair. To start, the professionals from Royal Hair Studio will wash your hair and apply Argan Oil to your hair for 30 minutes before washing it out and blow drying your hair. To aid in efficient absorption, they will then flat-iron your hair for the hair follicles to steadily absorb the oil. Lastly, the fixing cream is applied to your dried hair and voila! – you will achieve healthy and shiny hair with a glossy sheen to it. 
Royal Hair Studio. 2 Kovan Road, Simon Plaza, #01-02, 548008
Phone: (+65) 6909 9301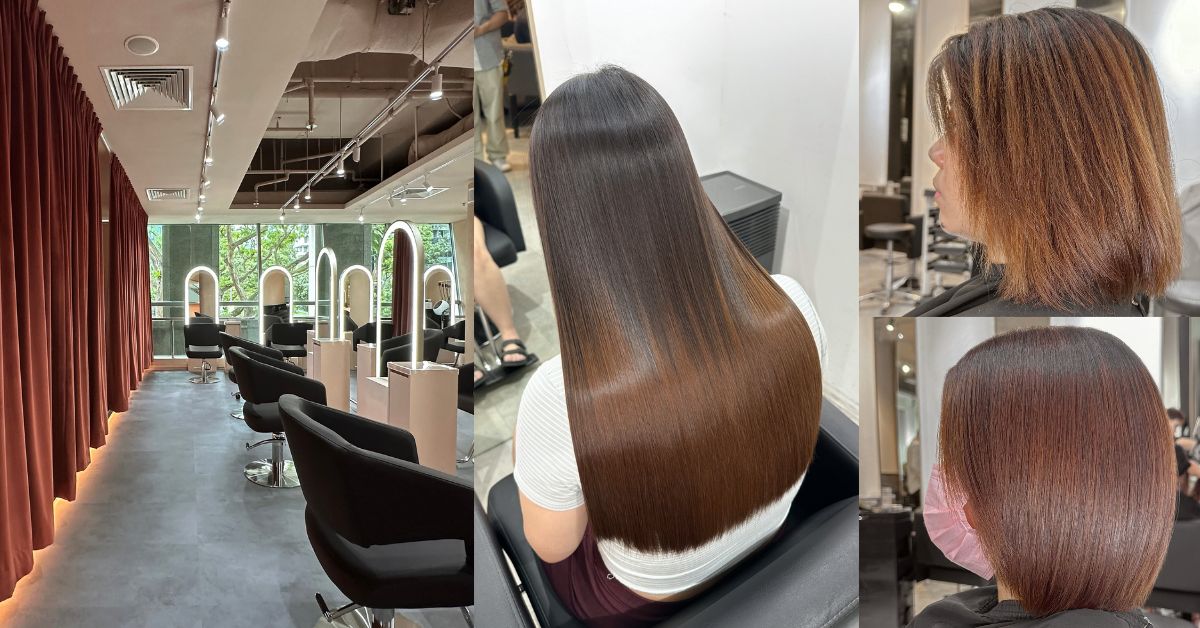 Be Salon has just entered its 7th year in the hairdressing industry, and now has two locations, Orchard and Millenia Walk. The team here focuses on designing bespoke hairstyles to help people achieve, not just trendy styles, but also manageable hair on their own – to make life better. This is why it is Be Salon provides a thorough (complimentary) hair consultation before starting any hair services for their clients. The Salon brand's stringent recruitment ensures that all stylists (with 10-24 years of experience) are qualified and highly skilled in all aspects of hairdressing.
There are no Junior/Senior Stylists and their team is made up of only Director, Associate Director and Leading Stylist levels. We love that there is no hard selling here and that the salon uses only premium quality hair products from Japan, Korea and the USA. 
The Waterfall Treatment at Be Salon is a powerful hair elixir that helps to quench and nourish extremely dry and frizzy hair. It contains ingredients with anti-frizz and antioxidant properties such as Cocoa Butter, Coconut Nucifera Oil and Amino Acids which effectively tame unruly hair, reinforce the integrity of your hair and restore your hair to a healthy state. The Provitamin B5 ingredient is a great humectant to help retain moisture and prevent water loss in your hair. While significant hair improvements are instant, you can reverse the signs of damaged hair with every repeated treatment session. 
This fibre protein treatment involves realigning your hair cuticles with the hair iron machine, to achieve high polish hair like a smooth waterfall cascading down gracefully with a glassy surface where the light reflects off like a mirror. Treatment results last for around 8~12 weeks depending on original hair texture, lifestyle and home care regimen. Book your appointment today to experience that plumped glow!
The Waterfall Treatment is priced at $225~325. 
Promo! Quote 'Vanilla Luxury' to enjoy a Cut+ Waterfall Treatment at these special prices. Short: $250, Mid: $300, Long: $350. 
Be Salon. Millenia Walk, 9 Raffles Boulevard, #02-19, Singapore 039596. Phone (+65) 6899 3667. Wheelock Place, 501 Orchard Road, #03-20, Singapore 238880. Phone - (+65) 6893 3667.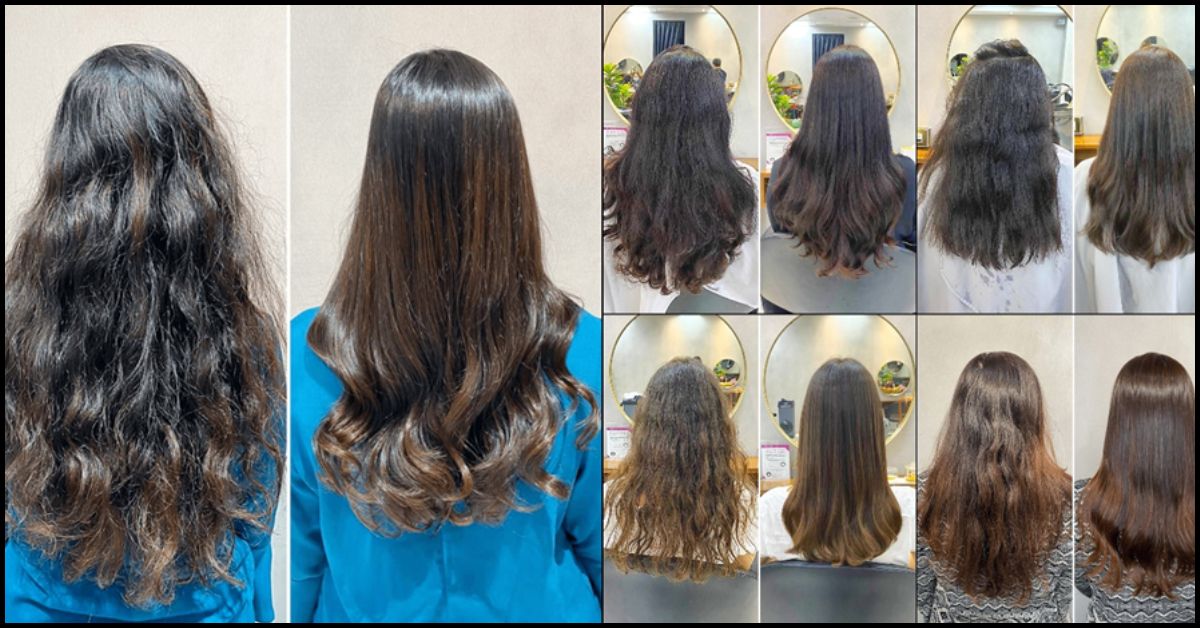 Sugar Hair Lamination – the next-generation hair smoothening treatment designed to provide instant nourishment and de-frizz hair by up to 40%, while delivering fluidity, movement, and shine without the pin-straight stiffness and rigidity commonly associated with straightening services.
This treatment stands out as the most flexible and versatile smoothing hair solution globally. It offers customers a level of flexibility unmatched by any other anti-frizz hair treatment, and here's why it matters!
Firstly, Sugar Hair Lamination can be applied immediately after hair colouring, thanks to its non-acidic formula that prevents significant premature fading. Unlike many other smoothing and keratin treatments that use acids, Sugar Hair Lamination won't cause hair dyes to fade severely or turn blonde and grey hair brassy. This makes it the perfect post-dye treatment option and eliminates the need for a separate salon visit. Say yeah to convenience!
Secondly, unlike other hair smoothing services and keratin treatments, Sugar Hair Lamination poses no complications for future in-salon perm and rebonding services. Traditional keratin-treated hair may become brittle and prone to breakage when permed or rebonded. However, Sugar Hair Lamination, free from keratin-associated ingredients, utilizes advanced sugar-based hair-strengthening actives, Camu Camu Fruit Extract, and Bixa Orellana seed Extract to repair, nourish, and smoothen the hair. This unique composition allows customers the freedom to opt for perming or rebonding after the treatment without the fear of complications that might result in severe hair damage.
Thirdly, Sugar Hair Lamination offers customers a range of strengths to choose from. The Advanced version preserves natural curl patterns to a certain extent, reducing curls and waves by 50% without straightening or de-volumizing the hair completely, lasting up to 6 weeks. On the other hand, the Supreme version delivers a stronger curl-reduction intensity for those desiring naturally neat, smooth, and healthy-looking hair. It lasts longer, up to 12 weeks, providing greater manageability.
If you need more reasons to consider Sugar Hair Lamination, here's one – it is the top-rated, most raved-about by media, and positively reviewed anti-frizz hair treatment in Singapore for the past two years!
Sugar Hair Lamination is now available at Chez Vous: HideAway, with prices starting from $235. Visit Chez Vous: HideAway at 391B Orchard Road, Ngee Ann City Tower B, #14-04, Singapore 238874, or contact them at (+65) 6219 3558 or [email protected] (please include "HideAway" in the email header) to secure your appointment. 
For additional details, explore https://chezvoushair.com/hideaway/.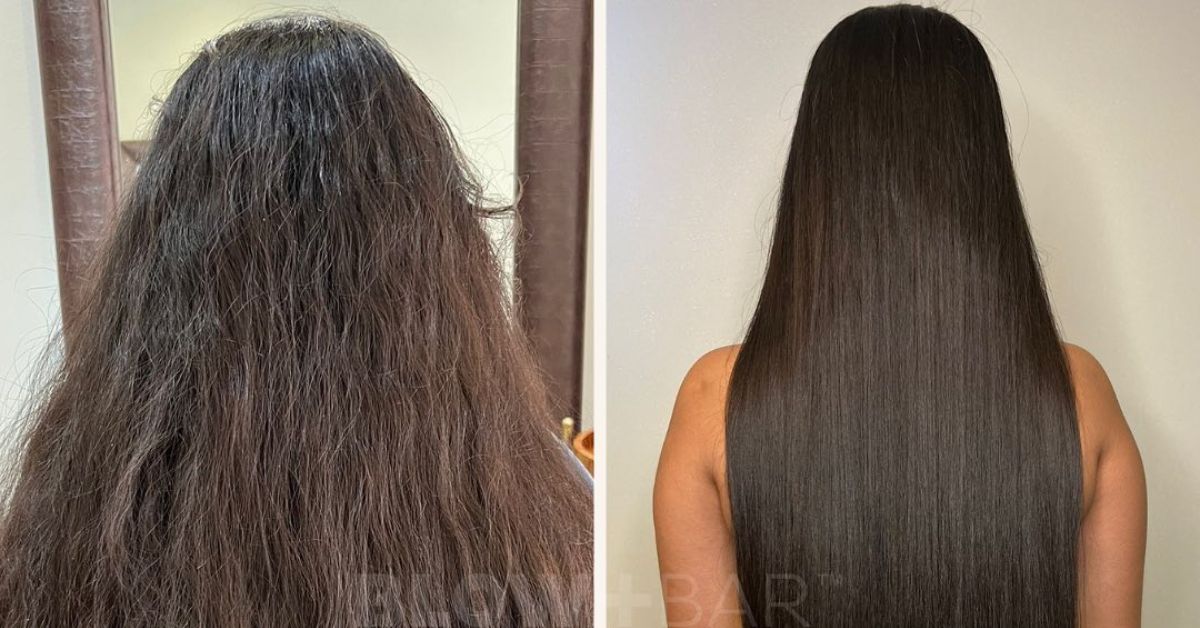 You deserve only the best hair treatment and that could very well be the Sheer Smooth Anti-Freeze Treatment! If you are fed up with unruly, frizzy hair and are seeking a solution that does not involve the unnatural stiffness of rebonding, the Sheer Smooth Anti-Frizz Treatment is the answer. This hair smoothening treatment is a clean and healthier keratin treatment that is entirely formaldehyde and toxin-free, suitable for all hair types, including bleached and permed hair. The treatment can even eliminate up to three levels of curls, leaving you with healthier, shinier hair that will be a breeze to manage. After the treatment, simply wait 24 hours to wash your hair and give it 7 days before you consider colouring or perming. 
Blow + Bar's Sheer Smooth Anti-Frizz formula contains fantastic ingredients like hydrolysed keratin, collagen, and hyaluronic acids: working together to repair, hydrate, and eliminate frizz, delivering results you will love. With the added natural goodness of Murumuru Butter, Argan Oil, Coconut Oil, Brazil Nut Oil, and Caviar Extracts, you can trust that only the best components go into this product to provide you with ultimate smoothness that lasts for up to 3 months. 
Blow + Bar. 140 E Coast Rd, I12, Singapore 428830, Phone: (+65) 6440 0316
7 Rodyk St, #01-32 Watermark Condominium, Singapore 238215, Phone: (+65) 6238 7338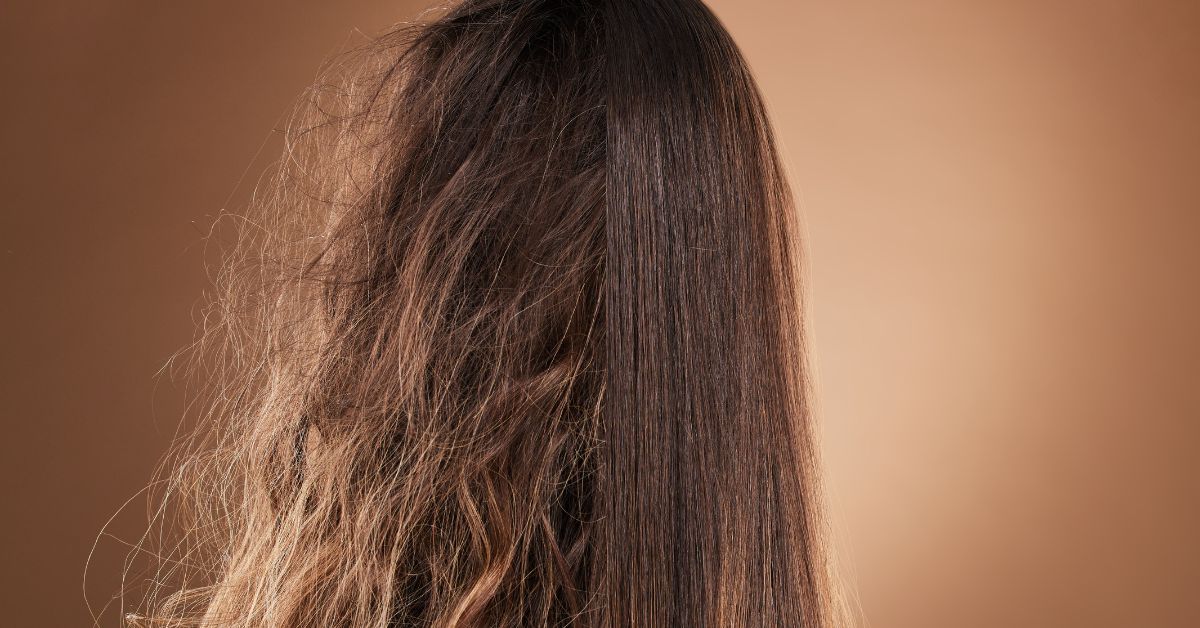 Tired of battling the frizz without wanting to go for the super-straight, overly processed look? Cue the Nano Keratin treatment from Salon B. This trusted in-salon solution is favoured by celebrities and millions worldwide and offers a natural and beautiful way to smoothen your unruly hair, all without causing damage. Available at Salon B, the Nano Keratin Treatment is keratin-based, mirroring the primary protein found in your hair, skin, and nails. This natural hair smoothening treatment revitalises your hair, bringing it back to its original healthy, shiny, and smooth state. But the best part? You have the power to choose your desired outcome, whether it's perfectly straight, slightly wavy, or effortlessly natural – giving you the flexibility to achieve the look you desire without the frizz. 
Salon B is a quiet and cosy space where comfort and relaxation are of priority – making it one of the best places for you to unwind as you get your ideal hair smoothening treatment done. With a special promotion available online at the moment, you can even enjoy 2 services for the price of 1! Simply book in advance then look forward to saying goodbye to frizz and hello to the lustrous, manageable hair you've been dreaming of with the Nano-Keratin treatment.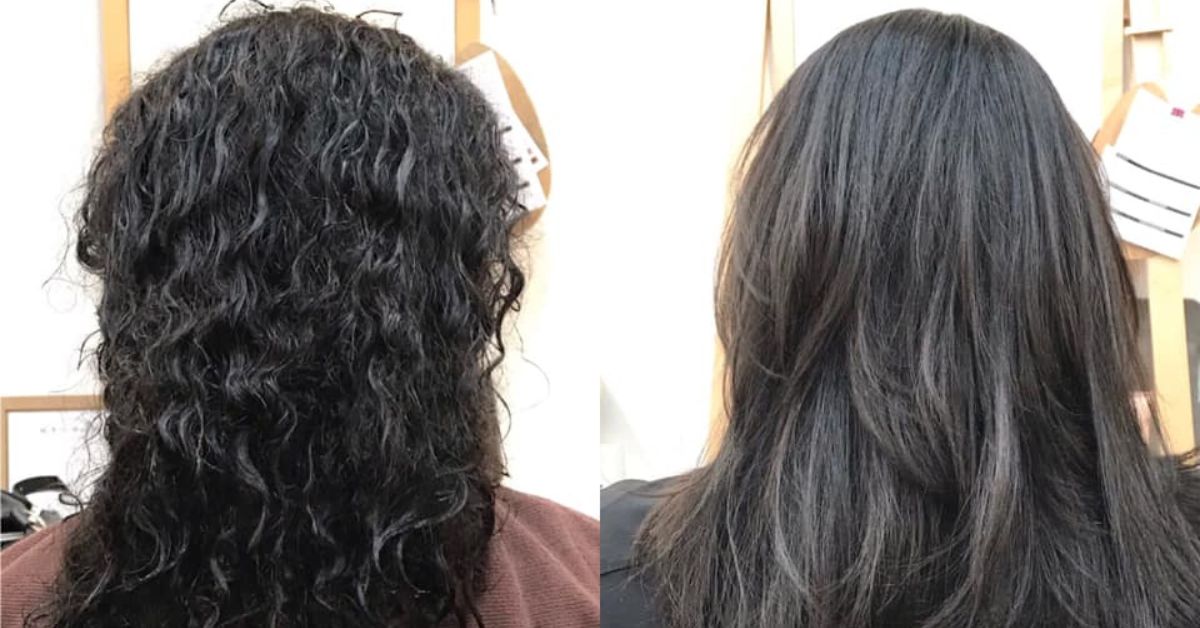 Want to get rid of the frizz in your hair but not ready to commit just yet? The Brazilian Blowout treatment from Picasso Hair Studio is the way to go for those seeking smooth, frizz-free hair without a long-term commitment. Unlike traditional keratin treatments, it utilises a smaller molecule form of keratin and boasts a higher concentration of treatment ingredients, resulting in soft and deeply moisturised hair. Although it may not last as long as a typical keratin treatment, with a duration of approximately 2 to 3 months, the Brazilian Blowout is ideal for customers who plan to change their hairstyles or even get a perm in the near future. Thanks to its unique formulation, this treatment allows for versatility, and your hair can still be permed post-treatment, unlike the typical Keratin option. 
The Brazilian Blowout process is also a quick process, taking only 90 minutes, and delivers instant results. It's your ticket to controlling frizz without sacrificing the natural curls of your hair. If you're looking for a practical and time-efficient way to achieve smooth, manageable hair, the Brazilian Blowout may just be your ideal choice of hair smoothening treatment.
Picasso Hair Studio. 1 Goldhill Plaza, #01-49, Singapore 308899, Phone: (+65) 62240221, Whatsapp: (+65) 97500221
662 North Bridge Road, Singapore 188798, Phone: (+65) 62910691, Whatsapp: (+65) 91520980.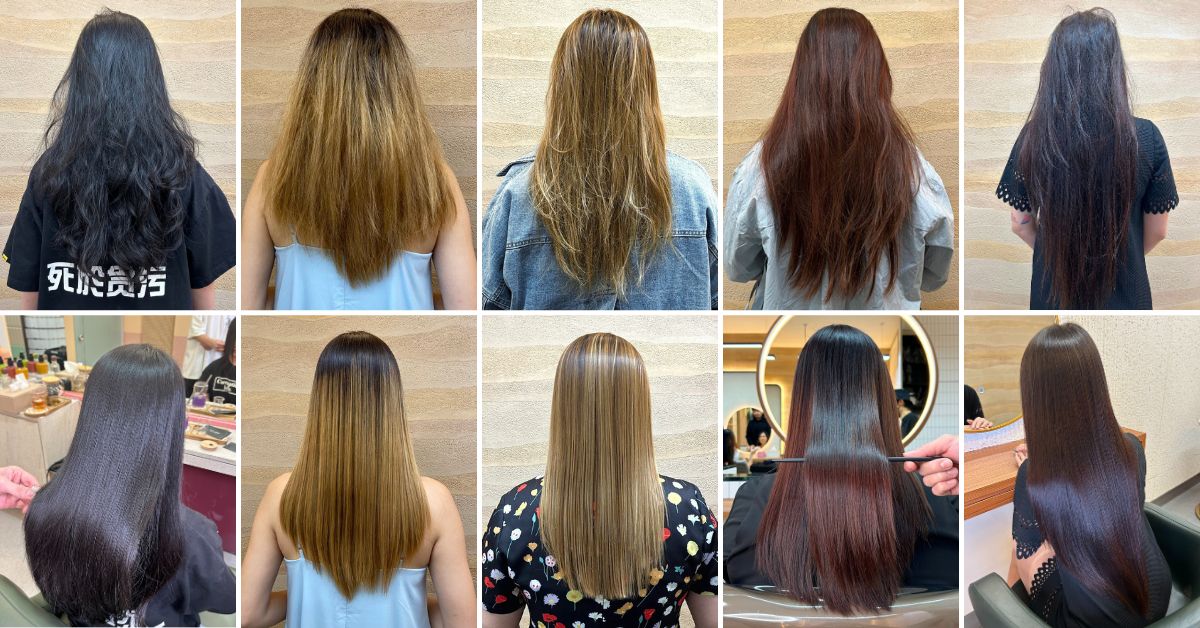 This is NOT exactly a hair smoothening treatment you may be familiar with per se. But before you dismiss it as just another conventional treatment, there are compelling reasons why you should be aware of it and even consider experiencing this innovative and exclusive therapy at Chez Vous for yourself.
Tailored for dehydrated and damaged hair, Liquid Hair Treatment stands out as the world's first bond-repairing therapy that not only addresses the structural integrity of hair bonds but also elevates hydration levels by an impressive 30% and reduces frizz by up to 40%, resulting in hair that feels as liquid as its name suggests.
Why is this revolutionary? You might ask. Currently, there are no anti-frizz or smoothing treatments in the market that effectively repair hair bonds. Bonds serve as the structural skeleton of our hair.However, these bonds can weaken or break due to chemical services, styling, and environmental factors. Repairing these bonds at a molecular level is vital as it enhances hair strength, elasticity, and resilience against damage. This process restores natural texture, improves manageability, and minimizes breakage. Therefore, bond repair is crucial for ensuring overall hair vitality and restoring healthy hair. Liquid Hair Treatment, being primarily a bond repair service, goes beyond cosmetic and superficial repair unlike all other smoothing services, offering a real deep restoration at the innermost layer of the hair.
But we are sure that there are already bond repair hair treatments available in Singapore right now, isn't it? Yes, that's true. However, there are no bond-repair treatments in the world that can ease frizz in a hot and humid climate like ours in Singapore. Chez Vous Liquid Hair Treatment stands out as the very first bond repair treatment to provide effective smoothening properties and temporal curl reduction of up to 50%, in addition to its deep molecular repair capabilities.
Unlike other bond repair treatments that require long-term usage for incremental benefits, Liquid Hair Treatment offers a lasting transformation of 6 to 12 weeks with instantly noticeable results. This is attributed to its unprecedented concentration of clinically proven bond-strengthening actives, positioning it as a leader in the market.
If you are someone seriously looking to improve your hair's health and transform it from damaged and dry back to its natural texture over time, while needing help to control your frizz, give Liquid Hair Treatment a shot. Over time, your hair will thank you for it.
Liquid Hair Treatment is developed by and exclusive to Chez Vous Hair Salon. Price starts from $255. Visit Chez Vous Hair Salon (Flagship) at 391 Orchard Road, Ngee Ann City Podium, #05-05, Singapore 238872, or contact them at (+65) 6732 9388 or [email protected] to secure your appointment. For more details, explore https://chezvoushair.com/.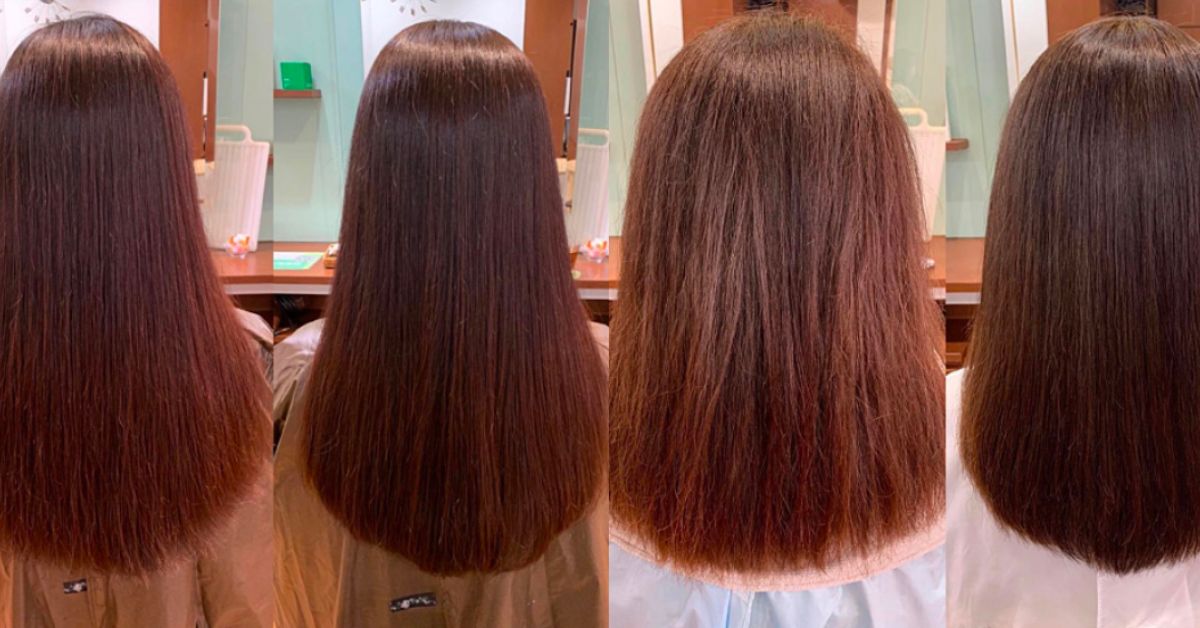 Not like any of your typical hair smoothening treatments in Singapore, the Science Aqua (S-Aqua) Hair Treatment has been recognised as the number one treatment in Japanese media and magazines. Making its debut in Singapore courtesy of ARTNOISE, this amazing hair smoothening treatment allows you to experience the same benefits that have impressed hair enthusiasts in Tokyo. An innovative hair treatment that stands apart from traditional methods, this revolutionary solution focuses on enhancing your hair's condition without resorting to any harmful chemicals. Unlike acidic chemical or keratin treatments, S-AQUA is a fresh and natural approach to achieving beautiful, smooth and frizz-free hair.
One of the key benefits of Science Aqua is its chemical-free composition, making it a preferred choice for those seeking a gentler yet effective way to smoothen their wild and frizzy hair. As you continue with this treatment, your hair will progressively become smoother, enhancing its overall health and texture. Depending on the level of damage, it is recommended to undergo the treatment once to thrice every two weeks for optimal results. Additionally, when combined with processes such as colouring or rebonding, Science Aqua Treatment can deliver even better results to help you attain your smooth glossy locks.
Art Noise. 38A Lor Mambong, Singapore 277694.
Phone: (+65) 6463 3651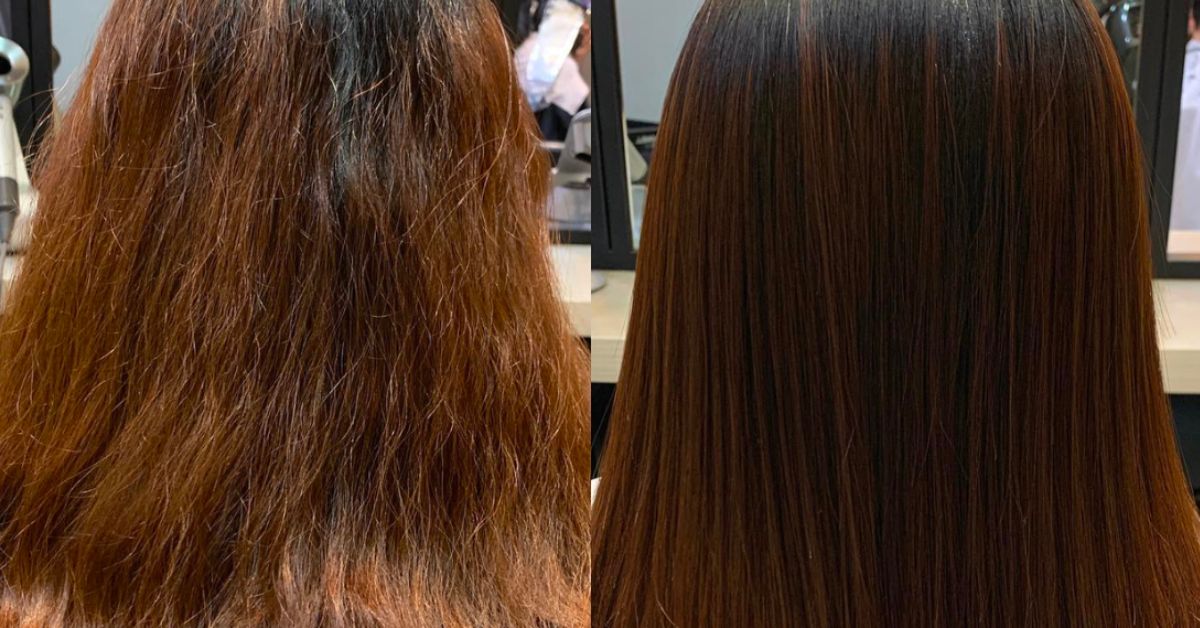 If you are seeking a frizz-free and straight hairstyle, the Signature Straightbond with Care+ Treatment may be just what you are looking for. This advanced hair straightening texture service offers the benefits of rebonding, but with an extra boost of Care+ hair treatment for enhanced hair health. Care+ deep conditions your hair during the straightening process, ensuring not only a smooth finish but also the strengthening of your hair.
The Signature Straightbond with Care+ treatment is designed to maintain long-term hair health. It straightens your hair without compromising its cuticles, preserving essential hair lipids. The result? Beautiful, shiny, and easily manageable hair that looks natural without any of the frizz. You even have the option to add a gentle curve to the hair ends or opt for a root perm to achieve more lift and volume at the roots, all at no additional cost. This customised service is suitable for frizzy and even lightly bleached hair! With proper care and maintenance, it can definitely last until your hair regrows. To ensure your straight hair remains gorgeous for an extended period, Black Hair Salon's hairstylists will provide you with essential hair care instructions after the treatment. As they show priority to your hair's long-term health, they offer a complimentary hair consultation service with their stylists to assess your hair condition before even proceeding with the service!
Black Hair Salon. 13 Stamford Rd, #B2-44 Capitol Singapore, Singapore 178905.
Phone: (+65) 6835 9976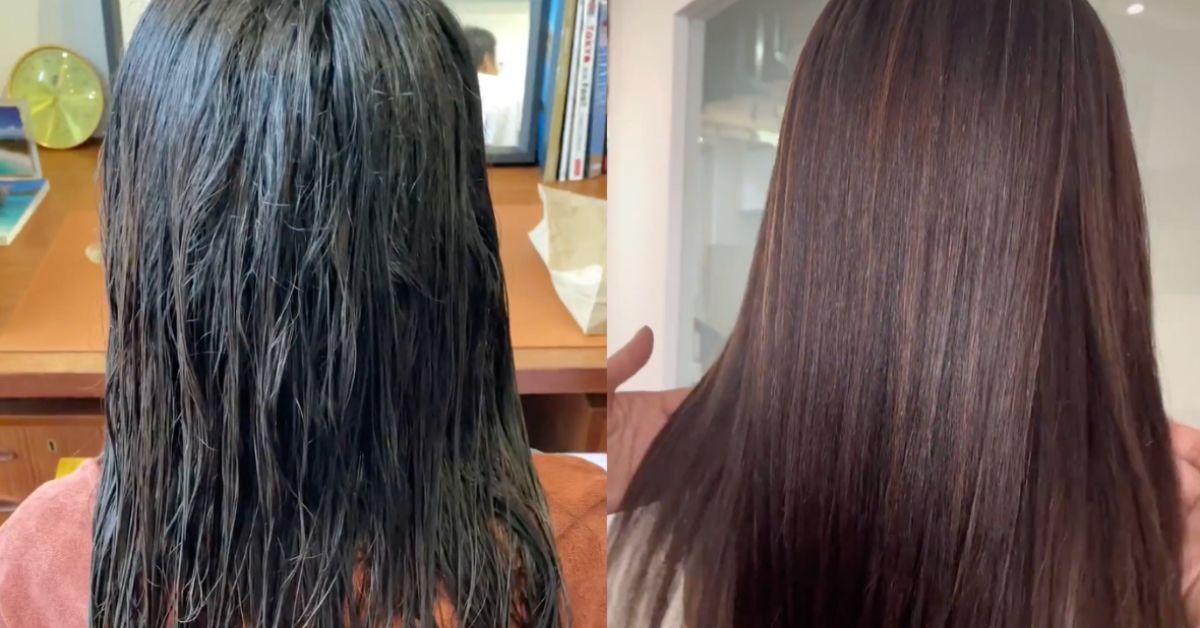 Have your hair enjoy a princess-worthy hair smoothening treatment at Room Salon with the Cinderella Treatment. This hair smoothening treatment is a luxurious and convenient way to easily manage dry, frizzy and damaged hair caused by various factors like genetics, sun exposure, or lifestyle changes. It is also ideal for restoring lustrousness and smoothness to bleached, damaged, thick and curly locks – even for those planning to colour their hair on the same day (subject to consultation). This treatment excels at texture control, reducing existing frizz before perming (subject to consultation). However, it is important to note that the Cinderella Treatment is not intended for individuals seeking a complete straightening effect or those wishing to maintain their natural curls as they are! It is specifically designed to reduce frizz while retaining some natural curl.
With a lifespan of 1.5 to 2 months and sometimes even up to 3 months, the treatment's longevity depends on your original hair condition and lifestyle habits, such as daily blow-drying, sun and UV ray exposure and the use of home-care treatments. This 2.5-hour process employs a unique combination of seven types of plant and wool keratin from Korea, oxidizing to form fibre protein that penetrates the hair to result in a straighter, stronger, and softer hair structure. This hair smoothening treatment is suitable for damaged and frizzy bleached hair, thanks to its organic ingredients and its lack of parabens to ensure the safety of your hair throughout the process. It involves several steps, including a clarifying shampoo, keratin application, and straight ironing, leaving you with reinvigorated and beautiful hair.
Room 49A Amoy St Salon. 49A Amoy Street, Singapore 069875.
Phone/SMS/Whatsapp: (+65) ​​8814 4360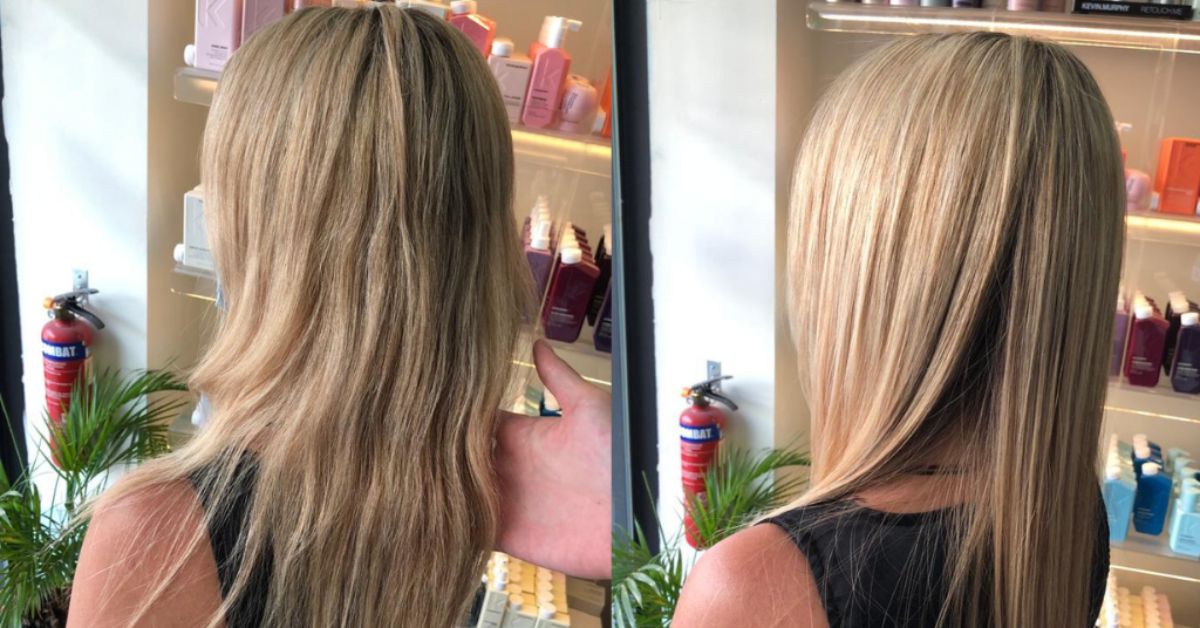 Natural Keratin Smoothing Treatment (NKST)/Cezanne hair smoothing treatments are created to help combat frizz and straighten curls and waves – catering to all hair types, whether natural or chemically treated. NKST has earned multiple awards for its excellence in hair care and this keratin hair smoothening treatment deeply penetrates the hair cuticle to reduce frizz and curls, resulting in hair that's not only sleeker but also stronger and healthier for a remarkable period of up to 5 months. This revolutionary smoothing treatment is more than just a cosmetic fix; it actively helps repair hair damage, significantly reduces styling time and provides a soft, smooth, and brilliantly sheeny finish. With its wonderful and impressive ability to block humidity and eliminate frizz, you can then effortlessly achieve fuss and frizz-free hair.
At Expat Hair Studio, they pride themselves on offering a comprehensive range of hair services while creating a wonderful and welcoming atmosphere for their clients. Since their establishment in 2014, they have consistently been recognized with Expat Living Gold awards for four consecutive years, a testament to their excellence as voted by the Singapore Expat community. The brand's commitment is to provide exceptional service that leaves clients feeling pampered, valued, and content. With NKST/Cezanne hair smoothing treatments and the professional touch of all the hair professionals from Expat Hair Studio, you can transform your hair to make it smoother and beautifully frizz-free, all in a cosy environment.
Expat Hair Studio. 422 Joo Chiat Rd, Singapore 427642. Phone: (+65) 6444 7929
40B Boat Quay, Singapore 049829, Phone: (+65) 6219 3117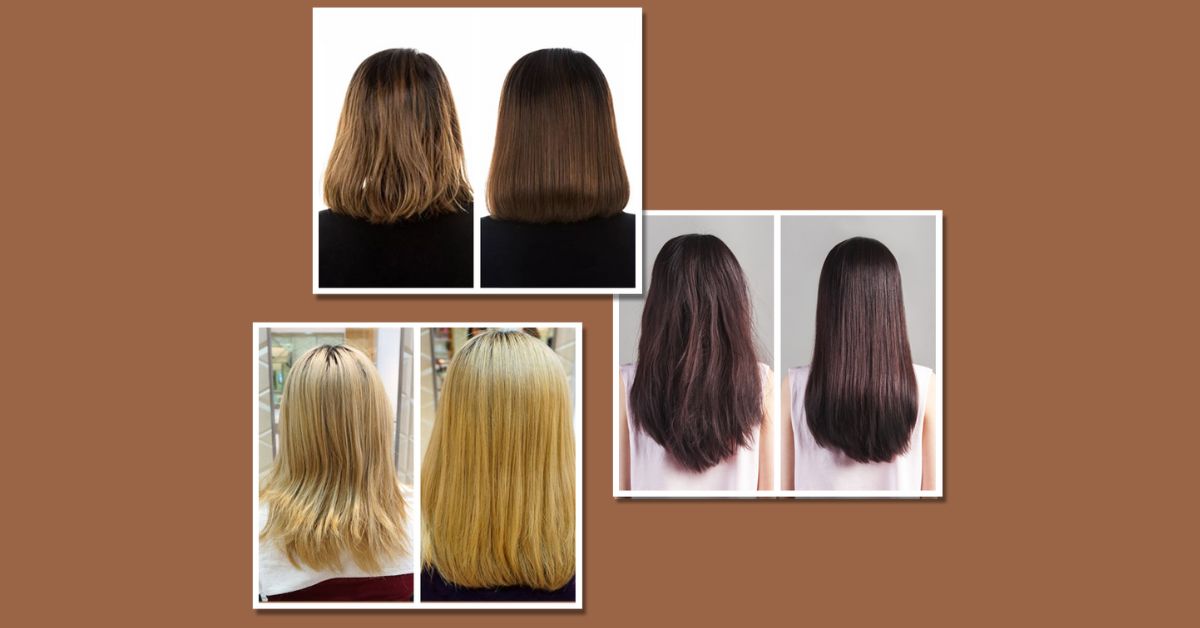 High humidity can often lead to frizz as hydrogen bonds with water molecules and proteins in your hair, causing damage and dryness. With that Yoon Salon has come up with their Hair Defrizzing Treatment, featuring Lisser 360TM, to get rid of your frizzy hair and heal it back to its strong and silky state. High humidity can often lead to frizz as hydrogen bonds with water molecules and proteins in your hair, causing damage and dryness. This advanced hair smoothening treatment then employs cutting-edge technology to repair, smooth and coat each strand's cuticles, providing a deep-reaching solution where conventional products cannot go. This process concludes with a protective sealing shield that guards against humidity-induced frizz, leaving you with visibly frizz-free, glossy, and resilient locks. To top it off, you will receive a free Collagen Hair Booster, ensuring your hair remains flawlessly sleek. This service is suitable for various hair types, and Yoon Salon's experienced stylists can tailor the treatment to meet your specific needs, so don't hesitate to consult with them!
The treatment typically takes up to an hour, with the exact duration depending on factors like hair length and volume. If you are short on time, drop by for a consultation to assess your hair and schedule accordingly for this invigorating experience. The protective sealant ensures long-lasting results, and maintaining your brilliant locks at home will be simple with the right hair care regimen. Safe and free of harmful chemicals, this process is suitable even for pregnant ladies!
Yoon Salon. 35, Rochester Drive, #01-02 Rochester Mall, Singapore 138639.
Phone: (+65) 6235 3816
No idea what to do about your stubborn frizzy hair? Prix Salon has the ultimate solution for you – the Cysteine® Shine Treatment! Unlike traditional straightening or rebonding methods, Cysteine® Shine Treatment doesn't just mask the problem; it genuinely restores, repairs, and rejuvenates dry, frizzy and split hair from the roots. Imported from Australia, this treatment boasts patented formulations designed to restructure frizzy and damaged hair. The magic ingredient here is Cysteine®, a vital amino acid that promotes hair strength and health. Promising to achieve 99.8% frizz-removal, your hair texture will be stronger, healthier, and definitely more natural.
What sets Cysteine® Shine Treatment apart from its counterparts is its commitment to hair health without the use of harsh chemicals like formaldehyde or silicon. It is undoubtedly the go-to choice for individuals looking to smoothen their frizz while maintaining an eco-friendly and sustainable lifestyle. This treatment provides a lasting solution – with results that can keep your hair frizz-free, smooth, and shiny for up to 5 months. If you're after an anti-frizz, natural-looking, and long-lasting transformation, Cysteine® Shine Treatment is the answer for all hair lengths, and Prix Salon is your trusted destination in Singapore to experience it.
Prix Salon. 107 North Bridge Road, Mall, #B1-16 Funan, Singapore 179105.
Phone: (+65) 6970 0578.
Did you find a hair smoothening treatment that can de-frizz your hair? For more pampering experiences at your favourite hair salons in Singapore, don't forget to read our feature on Salons That Go the Extra Mile - hair spas, massages and drinks included!