beauty
The Best Hair Repairing Treatments for Chemically Damaged Hair in Singapore
Published Date
: 27 Jun 2022 19:38

Looking for the best hair repairing treatment for chemically damaged hair? These top hair salons in Singapore are just what you need!
Frizzy or chemically damaged hair? Fret not, today we share the best-repairing treatments in Singapore to help your damaged tresses.
As we begin to experiment with chemical textures and eye-catching hair colours, it is almost inevitable to have a damaged head of hair. In fact, you can even end up with coarse hair simply by over-washing it!
To save your hair from all the damage, we've rounded up the best hair salons in Singapore that help restore hair to its lustrous state.
From the latest technology to formulas that repair and nourish at the same time, read on to find our favourite hair repairing treatments and breathe back life into your hair again!
Most treatments in the market target only one (or maximum two) hair concerns: repair, hydration, or smoothing. However, Chez Vous' Hair Botox and Fillers is the first treatment to target all three! This explains how customer reviews claim that this service helped them to resolve all their hair troubles – all at once!
Inspired by skincare for that flawless look, Chez Vous invented an all-new demi-permanent hair treatment that took Singapore by storm back in 2017. Yes, Chez Vous is truly the OG of Hair Botox treatments in Singapore! 
Reformulated recently for better results and efficacy, this therapy rewinds years of structural damage and allows women to walk away with smooth, nourished, and hydrated hair. The top-of-the-line therapy is best suited for hair that's unruly, chemically treated, and mechanically compromised. 
Only the best state-of-the-art and most concentrated ingredients are used in Chez Vous' Hair Botox and Fillers. Moreover, hair is layered with these premium ingredients - multiple times - justifying the high cost of this treatment in Singapore.
Compared to other treatments in the market, Chez Vous' Hair Botox and Fillers uses a higher percentage of naturally derived ingredients, such as coconut oil, acai extract, avocado oil, and pomegranate seed oil. It also does not contain any formaldehyde, preservatives, hair relaxers or softening agents. 
The outcome? Hair is supple, soft and healthy-looking with a natural smooth finish as opposed to poker-straight hair.  Daily blow-drying time is reduced by up to 50%. Results are immediate and last up to 4 months, with proper home care and maintenance.
Chez Vous. #05-05 Ngee Ann City Podium (Takashimaya), Singapore 238872.
Call (+65) 6732 9388 to book an appointment, or log on to chezvoushair.com for more information.
With its relaxing, Instagrammable location and exceptional hair designers, Do.My.Hair salon consistently ranks as one of the best hair salons in Singapore. Year after year, customers return to Do.My.Hair for its affordable prices, relaxing ambience and no hard selling policy. 
Each of the hair designers has been certified and awarded for a range of hairdressing skills. So, when it comes to repairing treatments for chemically damaged hair, who better to turn to! 
The world's first premium professional hair treatment to replenish lost keratin, Tokio Inkarami uses a patented technology from Japan. It also works by sealing up the cuticle and replenishing lost CMC reducing the amount of inner protein flowing out of your hair. Inkarami's main goal is to restore damaged hair back to its original health, allowing hair to regain strength, silkiness, shine and moisture!
The 5-step treatment begins with a pre-treatment to enhance penetration into the core of the hair. Then, other reparative treatments are applied in succession - starting from the inner core, layer by layer to the outer surface. 
Did you know that Tokio Inkarami contains the Nobel Prize-Winning Ingredient, Fullerene, the world's strongest anti-oxidant? The treatment uses a heat machine to aid in the penetration of ingredients, and also a unique "hair massage" technique known exclusively to Tokio Inkarami. The results include hair strength restored up to 140%, and a light, soft and shiny feel, unlike heavy silicone-based treatments. 
If you prefer a sensorial process, try the Kérathermie Ritual at Do.My.Hair Salon. Suitable for damaged hair, this signature ritual by Kérastase is inspired by keratin treatments – to replenish one's natural protein found in hair, as a result taming frizz for healthier, shinier and more manageable hair. 
The 5-step sensorial ritual starts by deeply restoring with a double boost of Fusio-Dose, customized to one's hair type or concerns. It then allows for deeper penetration of nutrients by sealing the goodness in with a low-heat flat iron. Finish with a nourishing hair mask and style with fragrance oils or serums as desired. Also, available for severely damaged hair. 
A Haircut + Tokio Inkarami treatment Or Haircut + Signature Rituals is priced at $188 before GST(U.P $315)
Do. My. Hair Salon. 181 Orchard Road, Orchard Central #04-13. Singapore. Phone (+65) 9722 8268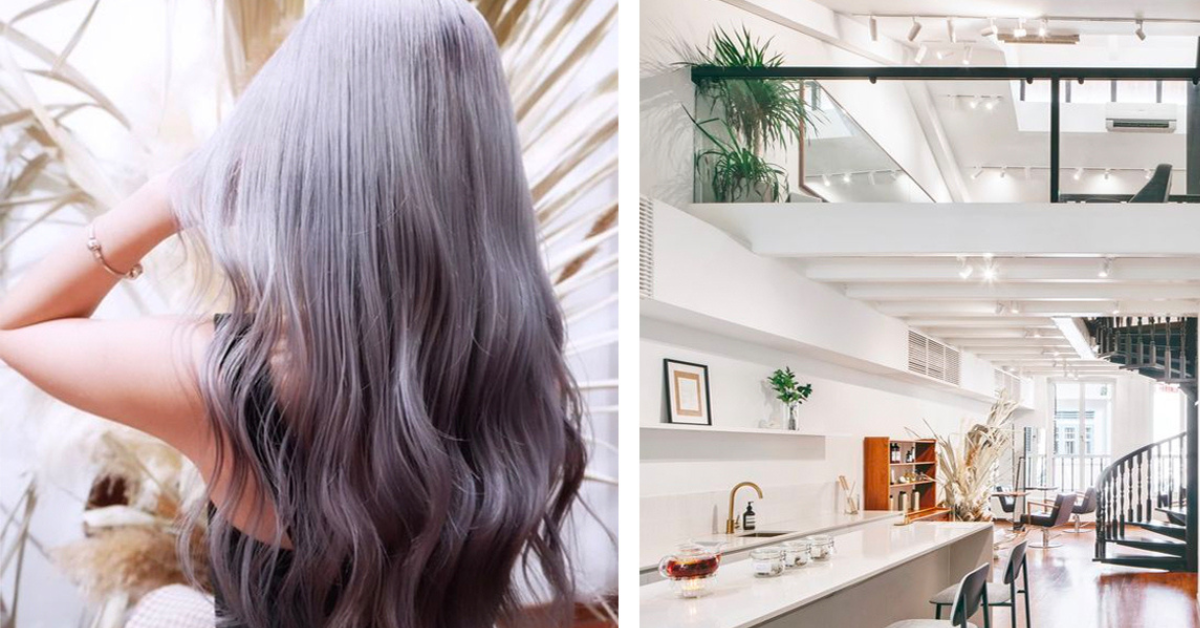 Room Hair Salon - Premium Scalp & Milbon Hair Treatment
Whether you are suffering from hair loss, hair breakage or any form of hair damage, Room Hair Salon is the place to go with their quality professional hair treatments. 
Feel at home as you immerse yourself in the cafe-esque and homely interior of Room Hair Salon. Room emphasises on being a safe space and sanctuary for their customers and encourages customers to voice any concerns they may have. With such comfort and ease, nourish your scalp and soften your hair with a head spa. 
Pick the Premium Scalp & Milbon Hair Treatment (S$250+S$39 for Wash & Blow) for a relaxing head spa session that starts with a complimentary scalp consultation to address your hair concerns and recommend suitable products. Enjoy a head massage that features a deep scalp cleanse with a 100% natural oil cleanser (chockfull of vitamin A, vitamin E and vitamin D) and unwind further with an aromatic hot pack to release your shoulders' tension! A personalised shampoo and wash session is done with the products chosen based on your scalp consultation session to aid both your damaged hair and scalp condition. Appropriate scalp oil will also be applied to further nourish your scalp. Look forward to a lymphatic drainage massage session where you get to loosen up and recline while having a warm eye mask on. 
This is followed by the Milbon Hair Treatment, to moisturise and soften your hair. Viege Medicate Essence - a hair tonic that contains tons of natural ingredients such as Ginseng, Bamboo Root, Licorice, Seaweed and more - helps repair and strengthen damaged hair. End off your treatment with another scalp check to see your refreshed scalp and healthy, bouncy hair! 
Room Hair Salon. 49A Amoy Street, Singapore 069875. 
Phone/SMS/WhatsApp: (+65) ​​8814 4360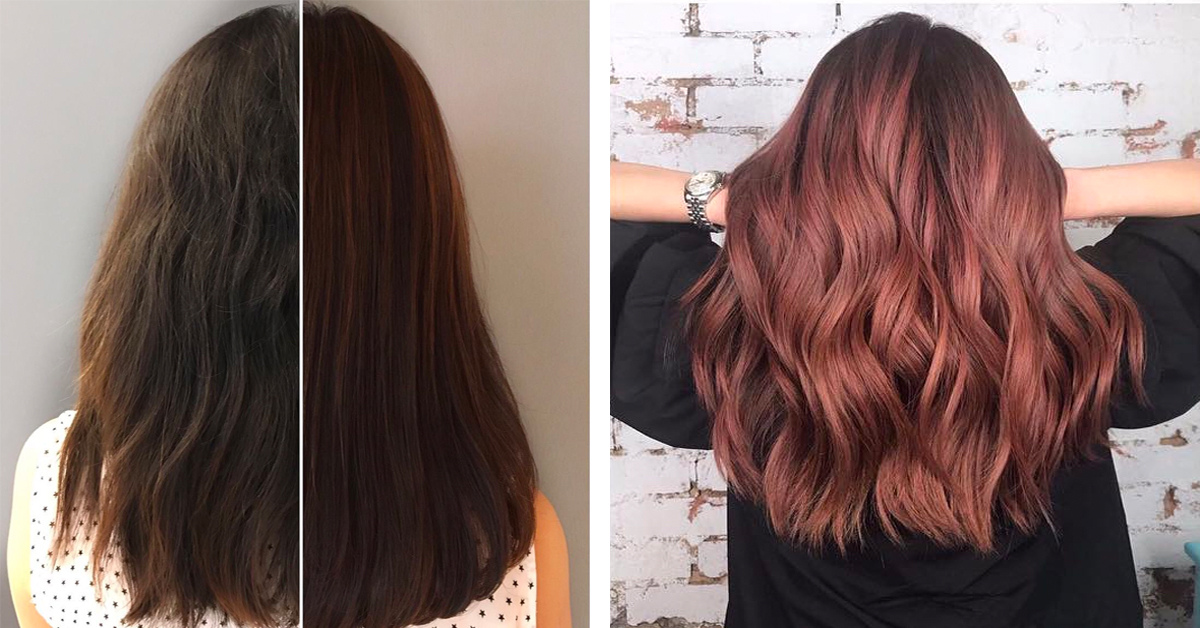 Salon Vim - Texture Control 2.0
Salon Vim is undeniably one of the best hair salons in Singapore and is well-known to be one of L'Oreal Professionnel's flagship stores in Singapore. Priding themselves based on constant innovation and meticulous customisation, Salon Vim regularly introduces new and exclusive services. 
One of the latest services to be introduced will be the Texture Control 2.0 treatment (S$$438.00). Created to rejuvenate dry and frizzy damaged hair from past chemicals or heat, this novel intensive 7-step treatment has won many awards in beauty magazines and is well-loved by celebrities and social media influencers. Texture 2.0 aims to ensure permanent frizz-free hair that is airy and voluminous while also achieving stronger resilient hair with a healthy shine. Only available at Salon Vim, Texture 2.0 is suitable for anyone with fine, normal colour-treated hair as it softens your hair while breaking significantly fewer hair bonds as compared to rebonding. 
With the combination of high quality premium ingredients and customised controlled timing for each individual, you can enjoy smooth silky hair that lasts for 4 to 6 months in just 2 to 3 hours of treatment. Save time and enjoy soft glossy tangle-free hair with Texture 2.0! For any enquires, feel free to DM @salonvim on Instagram.
Salon Vim. 435 Orchard Rd, #02-01B, Wisma Atria, Singapore 238877.
Phone: (+65) 6734 6404 or WhatsApp: (+65) 8868 4982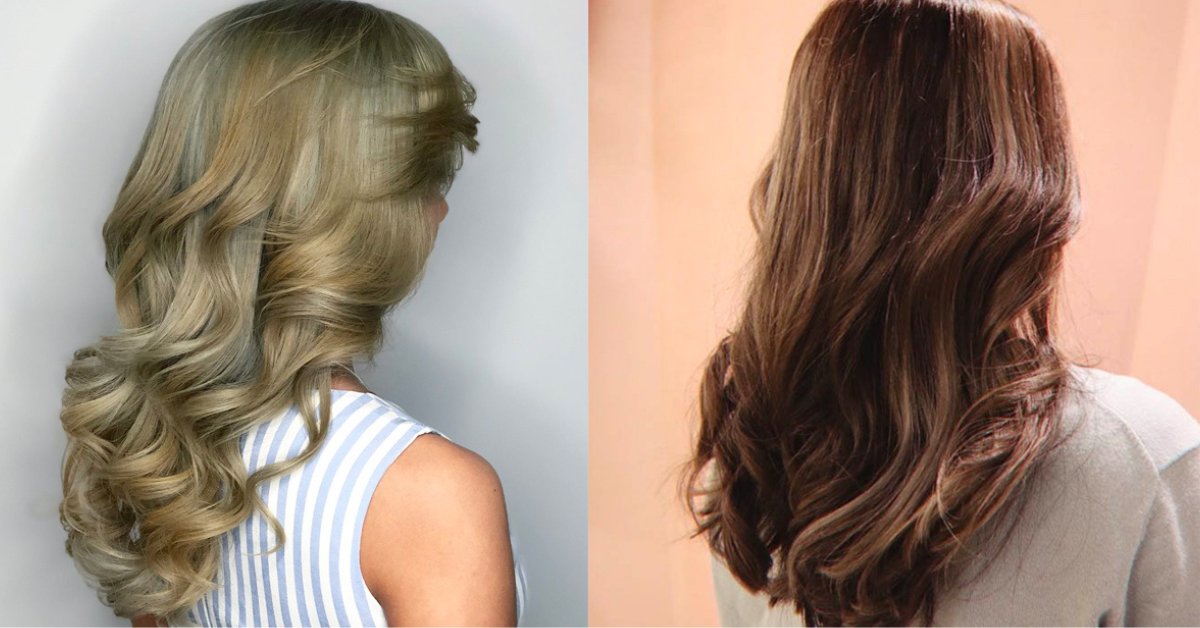 Pro Trim Hair Salon - K-Gloss and K-Hair Botox Treatments
Pro Trim Hair Salon is one of Singapore's top Korean hair salons that uses high-quality organic products and has one of the largest teams of award-winning hair hairdressers. Extensively trained to understand the natural textures of Asian hair, they strive to provide the best hair treatments available.
K-Gloss is a new hybrid water-based treatment that utilises the rebuilding power of keratin and collagen to revitalise natural, colour-treated or chemically processed damaged hair. If you are rushing for time, K-Gloss might be the right treatment for you as it only takes under an hour to be done! It is no surprise that this treatment is one of the top few choices for celebrities in Singapore and for those who are looking for a quick and simple fix to their dull hair problems. 
For natural shine and moisture supply for your dry and damaged hair, go for Pro Trim's Botox Vanilla Treatment! With Evane or Shawn, who are the masters of Botox Hair Treatments, rest assured that you will be in good hands and expect frizz-free smooth shiny hair. On the other hand, if you're tired of your natural curls, pick the Botox Violet treatment instead! The Botox Violet treatment is said to allow your hair to 'breathe' unlike Keratine and will keep your hair straight and glowing!
K-Gloss is priced at S$250 to S$500, depending on outlet and hair length.
A Botox treatment (Vanilla/Violet) is priced at S$250 to S$500 depending on hair length.
Pro Trim Hair Salon, Multiple locations 
- Ngee Ann City, Phone: (+65) 6235 5516 / (+65) 6235 0507 or WhatsApp: (+65) 9863-3038
- Causeway Point, Phone: (+65) 6894 1386 / (+65) 6894 1387 or WhatsApp: +65 9863-3038
- JEM @ Jurong, Phone: (+65) 6734 7883 / (+65) 6734 7882 or WhatsApp: +65 9863-303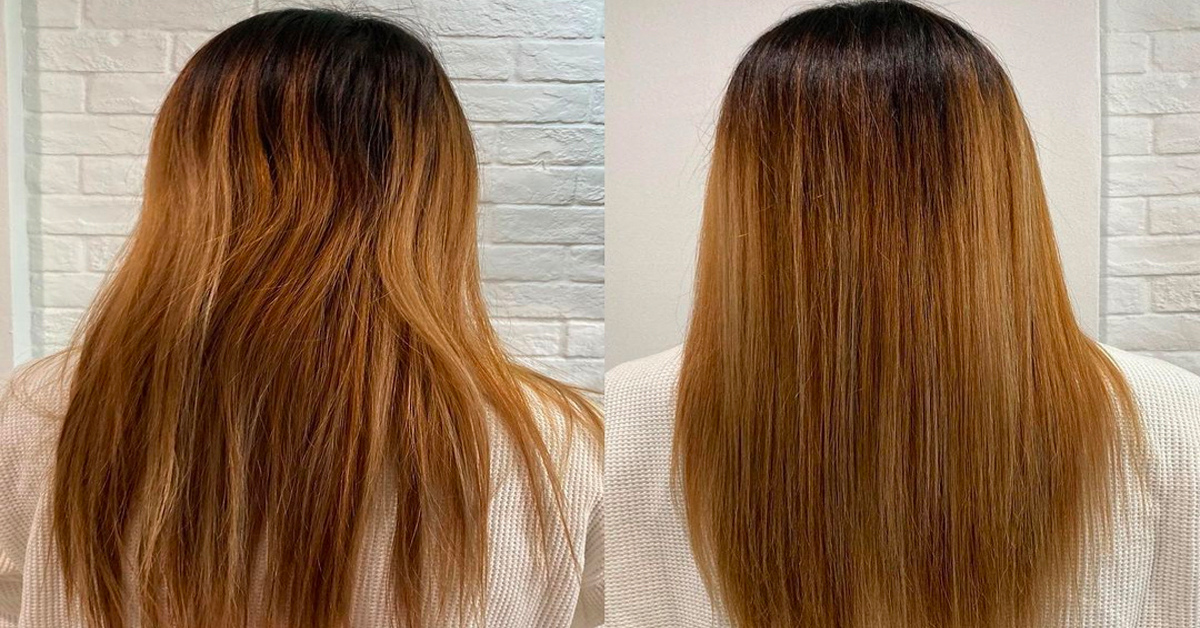 Michaela Japanese Hair Salon - Mochi Mochi Treatment
Have you ever heard of the Mochi Mochi Treatment? Touted as the best Michaela hair treatment, Michaela Japanese Hair Salon encourages those with damaged and dry hair to try this treatment, designed for the Singaporean weather. Due to the heat and humidity of Singapore, our hair tends to absorb excess moisture which causes frizzy and curly hair. With the Mochi Mochi Treatment, Michaela will help to restore your hair's structure back to its healthy state by regulating the 'moisture balance' and repairing hair cuticles that have become alkaline, to give your hair its lustre again. 

Using purified running water to enhance the experience, Michaela also uses its own in-house brand of products which possesses a high damage-repair care treatment for the hair. The Mochi Mochi Treatment focuses on creating new cystine bonds within your hair to improve hair texture and makes your hair smooth and silky. It uses malic acid, heat and hydrogen to neutralise the pH levels of your hair follicles, remove dirt and moisture inside your hair and eliminate the bacteria. Moms will be pleased to know that Michaela provides a kids' room, allowing busy moms to still pamper themselves while keeping their children close and entertained.
The Mochi Mochi Treatment is priced at S$250 till 30th June 2022. (U.P. S$300)
Michaela Japanese Hair Salon, 23 New Bridge Rd, 2nd floor, Singapore 059389
Phone: (+65) 6538-0263
Apgujeong Hair Studio - Mucota Scena+
Crowned as one of the best treatments for damaged hair, Mucota Scena+ is definitely one of the go-to hair treatments for those of you who love donning colourful hair. Mucota Scena+ (S$195 to S$210) is specially formulated for Asian hair type and covers everything you need in a hair treatment: intense damage repair, deep moisturisation, and of course, prevention and protection from future damages. 

The advanced nano CMC (Cell Membrane Complex) is the star of the Mucota Scena+. CMC is essential for your hair to bind the proteins, lipids, amino acids and polysaccharides in your hair together to give your hair that healthy luscious look! Unfortunately, as we age and put our hair through multiple chemical and heat procedures, our CMC count dwindles, resulting in weak and dry hair. With the Mucota Scena+, the advanced nano CMC will penetrate deeply into your hair locks, repairing and replenishing your hair's CMC count effectively. 
This, accompanied by the trapping and sealing of moisture, helps restore your hair internally and gives you your glossy k-drama tresses.
Apgujeong Hair Studio, Multiple locations, E-Appointment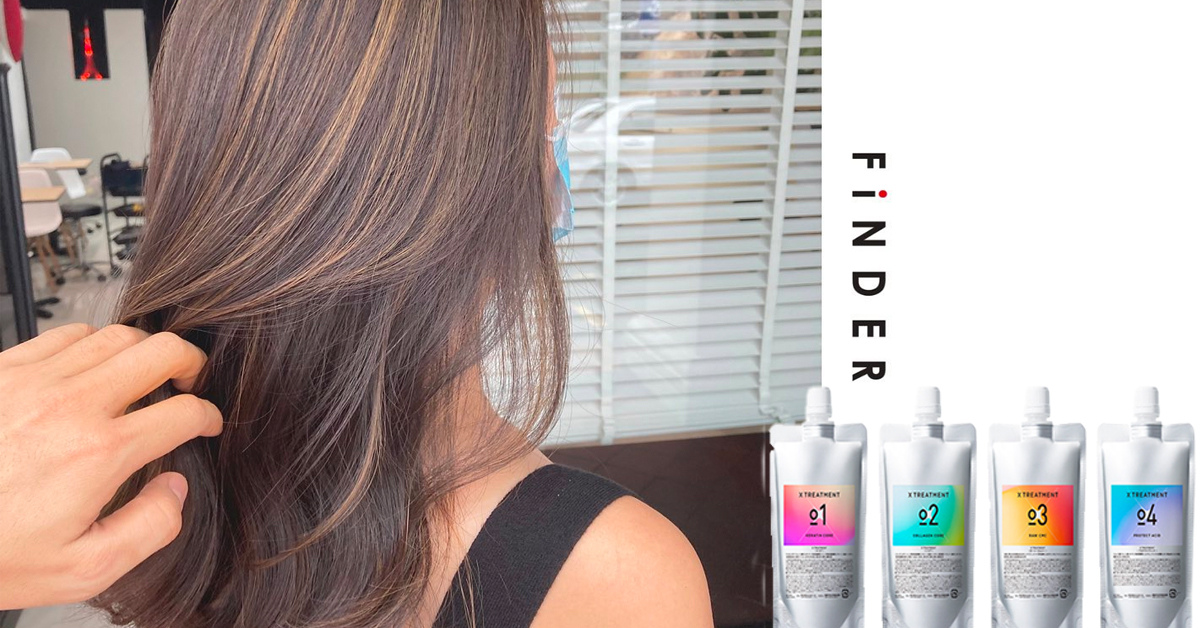 FiNDER by COVO Hair Salon - X Treatment (Apple Stem Cell Treatment)
As one who constantly dyes her hair and has dry, brittle and damaged hair, Apple Stem Cell Treatment may be one of the most long-lasting and effective treatments available. While most treatments last for 3 to 4 weeks, X treatment with Finder Hair Salon lasts for up to 8 weeks depending on the amount of damage you have!
So what exactly is X Treatment - Apple Stem Cell Treatment? Just like what it sounds, an orange solution formulated using stem cells from Uttwiler Spatlauber, a rare species of apple from Switzerland that is rich in phytonutrients, proteins and long-living cells, is sprayed on your hair. This is coupled with a mixture containing keratin, collagen and amino acids to nourish your hair. To ensure complete absorption and retention of the stem cells, the external part of your hair will be evenly applied with CMC (Cell Membrane Complex). To top it off, a special solution is used to neutralise the pH of your hair for 10 to 15 minutes. 
Depending on how damaged your hair is, the treatment and steps above are repeated 3x (X Treatment) or 5x (X Treatment Plus for those with badly damaged hair) for a thorough repair. As with hair treatments, the last step will be to enjoy a hair wash and a soothing head massage. 
Bonus point: Apple stem cells benefit the scalp with the reversal of the hair's ageing process by delaying greying hair and accelerating hair growth!
X Treatment is priced at S$200 and X Treatment Plus is priced at S$300.
Finder Hair Salon, Tanjong Pagar Singapore, 31 Duxton road, Singapore 089495
Phone: (+65) 6909-9589 or SMS/WhatsApp: (+65) 9836-0601