Bespoke engagement rings is a trend that is here to stay. Here is a list of local bespoke jewellery houses that understand your heart's desire and offer unique, rare gemstones to create your engagement ring that is one-of-a-kind!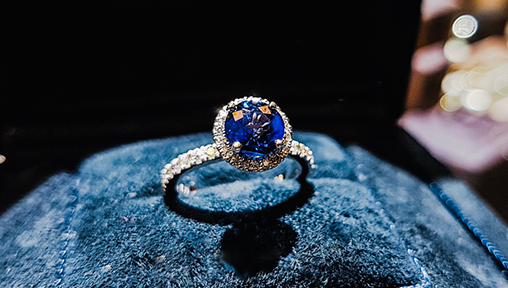 LES PRECIEUX is a private bespoke jeweller that specializes in creating exceptional sapphire, precious gemstone and diamond engagement rings. Known for their modern vintage designs, the "Classic LES PRECIEUX" bespoke engagement rings are pieces created to last for generations with the belief that classic never goes out of style. 
All precious and semi-precious gemstones from LES PRECIEUX are 100% eye clean, natural and free from any treatment. Most of the inventory belongs to the rare 1% unheated category whereas 99% of sapphires and gemstones in the market are heated. Handpicked by gemological experts, every gemstone undergoes a dynamic process from direct mine sourcing and rough processing to cutting and polishing by master cutters to maximize their colour, clarity and brilliance. 
Vanilla Luxury: What are the current trends you see for bespoke engagement rings?
Janice Lee: Undoubtedly over the past decade, there has been a paradigm shift from purchasing a traditional diamond engagement ring off retail stores to bespoke one of a kind pieces centred with sapphires, padparadschas, paraibas, alexandrites, rubies and emeralds. Even more so in recent years, semi-precious gemstones like spinels, tourmalines, aquamarines, tanzanites, morganites and garnets gaining popularity with couples due to their affordability, colours and clarity. 
Enjoy a highly personalised and private consultation by the co-founders in the comfort of LES PRECIEUX's boutique. Consultations are via appointment only, Monday-Friday from 2 pm to 5 pm and Saturday from 3 pm to 5 pm. For enquiries & appointment bookings: WhatsApp (+65) 96473 2673 / Email [email protected].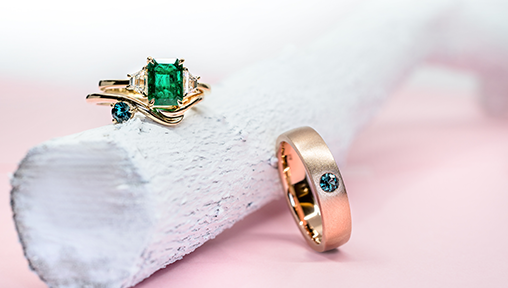 Breaking free from the norms of fine jewellery, MADLY is known for its bright and colourful bespoke jewellery. The 'classic MADLY' style features an extraordinary gemstone of exceptional brilliance and often embraces asymmetrical designs where stones are set slightly askew and occasionally a little off-centred, perfect for the unconventional bride looking for something unique.
Founder of MADLY, Maddy Barber's love for jewellery and knowledge of gemstones have translated into unique, collectable jewellery pieces in bright, vivid and joyful colours. The folks at MADLY start with educating you on the various gemstone so you know exactly what you are buying. From rare gemstones including the coveted Padparadscha and elusive Alexandrite - the finest grade Sapphires, Garnets, Spinels, and Tourmalines (just to name a few) to quality craftsmanship, you'll easily find something to custom make your bespoke engagement ring.
Vanilla Luxury: What are the current trends you see for bespoke engagement rings?
Maddy Barber: I feel that the current so-called "trend" of choosing bespoke jewellery is THE future and it's here to stay. Now that couples know that they can be a part of the journey; and have something different that is significant and personal to them be it the design, colour, shape and an array of stone types (or birthstones), why would anyone go for generic off-the-shelf solitaire rings that look just like the next one, if you had a choice? 
Viewings are by appointment only. Opening hours are Monday and Saturday from 10 am to 7 pm. Click here or call (+65) 6650 1544 or email [email protected] to book a slot.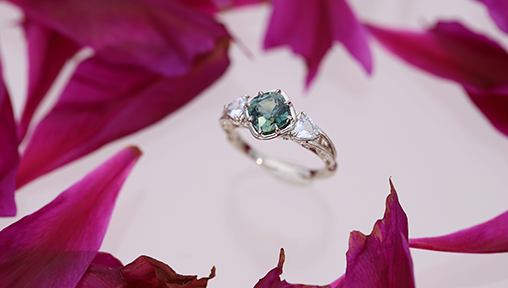 A deep love for colour, design, and storytelling is what drives the team at bespoke jeweller Calla Lily. The studio, known for its classic, feminine yet whimsical designs, was founded by Emily Tan, a graduate gemologist from the Gemological Institute of America (GIA) who has trained with respected artisans in the trade. With a background in interior design and architecture, co-designer Anita Shewchuk brings distinct shapes and lines to their creations.
At Calla Lily, every piece begins with a conversation. No idea is too outlandish, no detail too insignificant, and no occasion too small to mark. Whether you're new to gems, an ardent gemstone-lover, or are looking to breathe new life into old pieces, Emily and Anita can help you create a piece of beauty and personality.
Vanilla Luxury: What are the current trends you see for bespoke engagement rings?
Emily Tan: Couples want to mark this milestone with a unique piece, and many are looking beyond the Big Four – diamonds, emeralds, sapphires and rubies – and towards garnets, spinels and tourmalines in rare and unusual hues.
What is especially popular right now are bi-coloured gemstones that appear different under varying lighting and angles. The Malaia Garnet, for instance, shifts from peach to mauve, and the Burmese Grey Spinel can appear more grey or lavender depending on the lighting. These "interactive" experiences also extend to Teal Sapphires, which take on varying intensities of greenish-blue, and unheated Tanzanites, which can shift from greyish- to greenish-blue. No two stones are exactly the same, making them a true celebration of a unique union.
Studio consultations, which run from 10.30 am to 6.30 pm, Mondays to Saturdays, are by appointment only. Click here or Whatsapp/call (+65) 9772 9392 or email [email protected] to book a slot.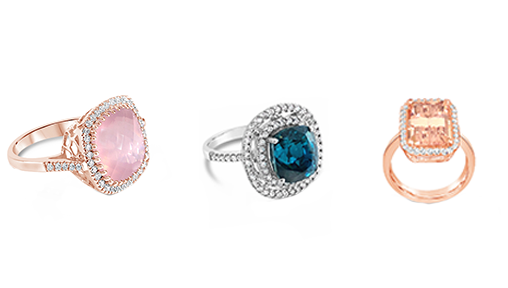 Elverd Designs grew from an intense passion to create beautiful collectable, contemporary and affordable gemstone jewellery. Natalie Elverd, the Australian jewellery designer behind Elverd Designs, draws inspiration from architecture, travel, and vintage aesthetic details. All the jewellery pieces are handcrafted with ethically sourced, premium quality gemstones in solid sterling silver or rhodium plating, solid gold and gold plating.
Natalie also offers a personal shopping service, where she sources gemstones for you to create one-of-a-kind custom bespoke pieces from her jewellery design collection. Each custom bought gemstone is independently tested and appraised in a lab and arrives with a certificate. All the jewellery pieces are handcrafted with ethically sourced, premium quality gemstones in sterling silver with rhodium plating or solid gold.
Vanilla Luxury: What are the current trends you see for bespoke engagement rings?
Natalie Elverd: We're seeing a shift away from the traditional single diamond solitaire style as customers favour coloured gemstone designs to express their own personal style. It's such an exciting time for me as a jewellery designer to be working with my passion and create unique pieces for our customers which hero coloured gemstones. There really are no rules and we can work with a wide range of budgets in all gold colours.
Some recent pieces have featured stunning London Blue Topaz, Black Onyx, Morganite, Tanzanite, Peridot and Emeralds. We have some special rings ready to shop now from our new location in Raffles Hotel Arcade at TheAC.
Stop by their boutiques and discover these and more or view the collection online at www.elverddesigns.com.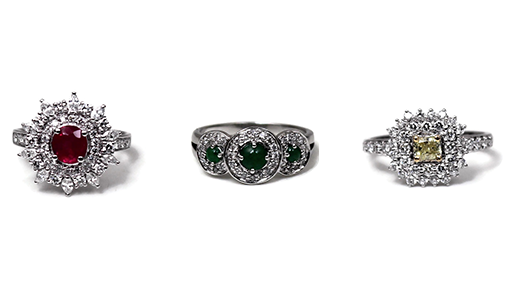 Born and raised in cosmopolitan Singapore, Chief Designer of KINCHOS, Basil Leong's designs reflect the vibrant and dynamic melting pot of cultures. His collections are classic and elegant, with a refreshing modernised twist. Basil is personally involved in every step of jewellery production, from sourcing the gemstones and designing to the inspection of the finished pieces. His ample knowledge of gemstones and jewellery promises the assurance of quality for you.
As a private bespoke jewellery design company,  KINCHOS uses 3D aided computerised designs to bring your dream engagement ring to life.  All the designs are currently made exclusively in Singapore, supporting local industries and craftsmanship.
Vanilla Luxury: What are the current trends you see for bespoke engagement rings?
Basil Leong: Halo rings remain the mainstay for most engagement ring designs, although 0.25 to 0.5 cttw solitaires are growing in demand. The wedding of the Duke and Duchess of Cambridge and the wedding of Prince Henry and Meghan Markel featured coloured stones.
Whilst not considered mainstream in Singapore, there is also a growing trend of using coloured gemstones and coloured diamonds, especially well-cut grey diamonds. Some of our customers have asked for selections of black diamonds as well for their engagement rings. Eternity guard rings are always an alternative to the woman who enjoys understated bling as her bespoke engagement ring.
Consultations are by appointment only. Click here or call (+65) 9335 4380 or send a direct message via their Facebook and Instagram.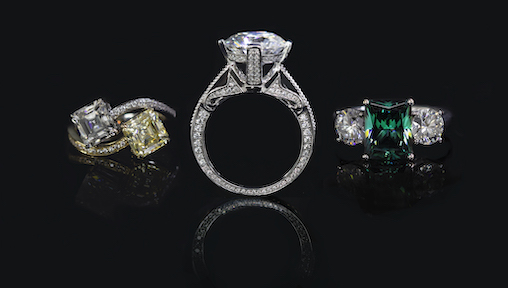 LeCaine Gems is a fine jewellery maker that focuses on creating inspirational jewellery pieces at truly affordable prices. Using solid gold and conflict-free diamond alternatives like the Moissanite as their main jewellery materials, they cater to a growing demand for fair pricing bauble. If you are the kind of couple who wants to keep a sensible check on wedding expenses, LeCaine Gems assures that every customised engagement ring is not exorbitantly priced.  
LeCaine Gems specialises in Moissanite with colours D-E-F which are very white and completely colourless. If you're looking for more colour in your ring, pick a Fancy Yellow or Green Moissanite gem which you can customise to an Asscher cut or pear shape.
Vanilla Luxury: What are the current trends you see for bespoke engagement rings?
Ashley LeCaine: Today's modern couples are looking for more than a creative statement ring to mark their engagement milestone. They actually care for the environment when choosing the types of gemstones for their rings. Conflict-free and ethically-sourced stones are an important part of their consideration. As a leading Moissanite jeweller, we meet clients who are well-informed of diamond alternatives such as Moissanite. Apart from looking almost identical with the traditional diamond, Moissanite rings are graded higher than most alternative rocks but cost far lesser, making it truly affordable for young couples planning for their weddings. This allows them to create their dream engagement and wedding ring designs with a peace of mind without having to go over the budget. 
Click here, call (+65) 8363 3168 to book an appointment or email [email protected] if you have a unique design in mind. You can also send them a direct message via Facebook.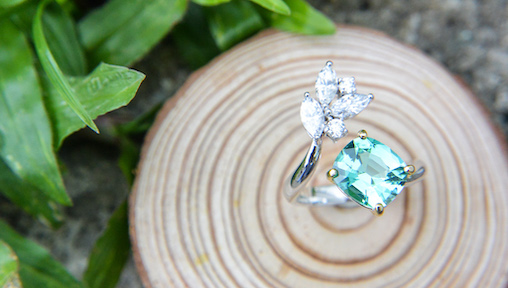 Coming from a family who owns the jewellery business Blue Diamonds since 1991, Rachel Pang created Rachel P Jewels offering bespoke and bridal jewellery for the modern generation. Realising that young couples place a huge emphasis on quality, value and personal experience, Rachel P Jewels provides consultations that can even be done online if you are out of Singapore.
Coupling their experience of traditional craftsmanship with modern design and new technology, you can design a unique engagement ring or any jewellery creation that expresses your own story. Attention is given to every jewellery purchased as well as after-sales service with the aim to add value to your entire experience and ensure the jewellery pieces become keepsakes for more generations to come.
Vanilla Luxury: What are the current trends you see for bespoke engagement rings?
Rachel Pang: More and more young couples are learning to appreciate gemstones and customised designs for their engagement rings and jewellery sets. Diamonds are still exquisite but there's a growing trend of breaking away from tradition. People are looking for something more unique such as coloured gemstones or a preference for fancy shapes. Such differences will enable them to express their own personal style and creativity through a one-of-a-kind engagement ring. 
Click here, call (+65) 6262 0428, email [email protected] or send a direct message via Facebook or Instagram for further enquiries.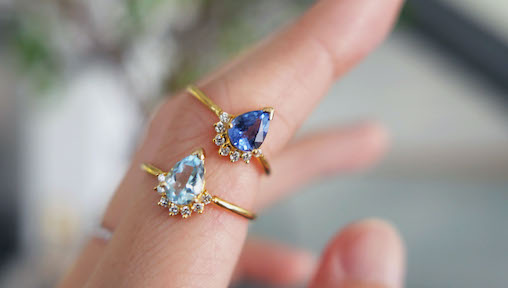 ICING by Debs is a fine jewellery maker based in Singapore offering a collection of one-of-a-kind engagement rings for couples looking for elegant designs with stunning unconventional twists like silhouettes and asymmetry, creating exquisite pieces of bespoke jewellery that stand out without breaking the bank.
The journey of each lovingly handcrafted bespoke engagement ring begins with the three core principles of self-expression, being a conversation-starter, and timelessness. The predominantly used feature gem is 100% natural sapphire, chosen for its resilient properties which make it perfect as an icing on top of your daily wear. Each sapphire is picked individually and is mostly unheated and untreated, picked for their uniqueness with a preference for bi-colour or parti gems. ICING by Debs offers both ready-to-wear jewellery and bespoke services for couples for engagement rings that represent the start of a lifetime together. 
Vanilla Luxury: What are the current trends you see for bespoke engagement rings?
Debra Tan: These days, we all want something that is uniquely ours and one-of-a-kind. Couples are, therefore, increasingly choosing engagement rings which reflect their personalities and lifestyles, and are no longer conforming to traditions, such as insisting on diamond rings. Engagement rings are developing into more expressive and creative jewellery which embody the ladies they are created for; this is true not just for Singapore, but all around the world.
For more designs or information, contact Debra on Instagram at @icingbydebs via direct message or email [email protected] to book an appointment for a private viewing.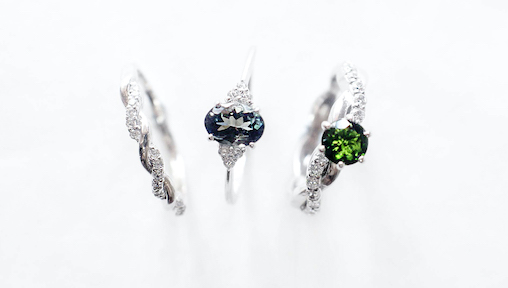 Tessellate.Co is a homegrown, Singaporean jewellery brand established in 2014 known for its quality gemstone jewellery made for everyday wear. Bespoke services are also available for those looking to add new designs to their jewellery collection or to mark special occasions such as engagement proposals.
Start by selecting a piece from their wide collection of gemstones, discuss with the designer, finalise the details and receive your final piece within three months. With a wide variety of gemstones, there is something for everyone and for all budgets. Whether you're new to gemstones or an avid gemstone collector, join Tessellate.Co for a non-obligatory viewing session to learn more about what they offer.
Vanilla Luxury: What are the current trends you see for bespoke engagement rings?
May: There has definitely been a shift in attitudes towards gemstone engagement rings that truly represent the couple's style and personality. At Tessellate.Co, Teal and bi-coloured coloured gemstones such as Indicolite and Sapphires have been a popular pick for brides looking for something unique, while Morganites have been a top choice for those looking for a gem with a subtle colour yet high lustre.
For high-quality gemstones and 925 Sterling Silver jewellery at pocket-friendly prices, shop the collections at www.shoptessellate.co or visit their retail store at Wheelock Place.
Head Banner: MADLY Bespoke Jeweler